Another year means the possibility of another rent increase for Ontario renters and landlords. After a temporary rent freeze in 2021, the province's Landlord and Tenant Board has resumed the release of yearly rent increase guidelines, with the latest numbers for 2023 announced in June. For those worried about steep rent hikes though, rest assured — landlords can only raise the rent up to a maximum amount dictated by the LTB, and this year's limit is set below what many experts had predicted. Just how much can landlords raise rent though? Today, liv.rent will be covering everything Ontario landlords and renters need to know about rent increases including the maximum allowable rent increase for 2023, when and how rent increases can occur, and more.
What renters need to know about rent increases
As of 2022, landlords may increase rent again in line with provincially set limits. This comes after rent increases were frozen at 0% for 2021 as a result of the COVID-19 pandemic. In Ontario and other Canadian provinces, tenancy boards outline a maximum allowable rent increase each year based on a variety of factors such as mortgage rates and the Consumer Price Index. The limits governments set typically mirror inflation, though this year proves that this isn't a hard and fast rule, since Ontario has set 2023's rent increase below the 5.3% inflation rate.
Increases for 2023 cannot take effect prior to January 1st, 2023, and a minimum of three months' notice must be given prior to any increase using the proper notice of increase form. Landlords can also only raise the rent for tenanted units only once every 12 months, and a minimum of 12 months must have passed since the tenant moved in.
Note that the above rules only apply if you are currently renting a unit and your landlord wishes to raise the rent. If a lease term comes to an end and the landlord chooses to re-list the unit, the maximum allowable rent increase doesn't apply to the price they rent to a new tenant.
What you need to know about rent increases
Ontario landlords are able to raise rent for standing tenancies up to the provincially set maximum amount, but they need to be careful to follow the proper procedures to avoid breaking any rules. The rent you charge doesn't increase automatically when the province raises its rates. Instead, Ontario landlords must give tenants 90 days written notice, using the proper form from the Landlord and Tenant board, available for download here. Depending on the type of unit and other factors, this will be either an N1, N2, or N3 Notice of Rent Increase.
Additionally, rent can only be raised 12 months after either the last rent increase, or the date the tenancy begins if this is the first time the landlord is raising rent. These restrictions also don't apply to vacant units, commercial units, long-term care homes, and community housing units. Landlords may also be permitted to raise their rent by more than the provincial guideline, but they'll first need to apply to the Landlord and Tenant Board.
For specific guidelines on how much landlords can raise rent for 2022 and 2023, please see below.
Ontario's maximum allowable rent increase
At present, Ontario landlords can increase tenants' rent by up to 1.2% so long as they give the proper notice at least 90 days before the increase. This number will stand until the end of 2022.
Effective January 1st, 2023, though, Ontario landlords can raise rent prices by up to 2.5% for existing tenancies, according to the latest announcement from the province's Landlord and Tenant Board. This comes after a freeze on rent increases in 2021 as a result of the COVID-19 pandemic, similar to what we saw in B.C. and other Canadian provinces as governments sought to protect renters from rising costs.
It's worth noting that this 2.5% increase, though steeper than previous years, was actually capped below inflation — which stood at 5.3% at the time of the announcement. Allowable rent increases have been tied to inflation since policy changes in 2017, so Ontario's maximum allowable rent increase for this year deviates from this established pattern.
You can find Ontario's allowable rent increases from year to year here: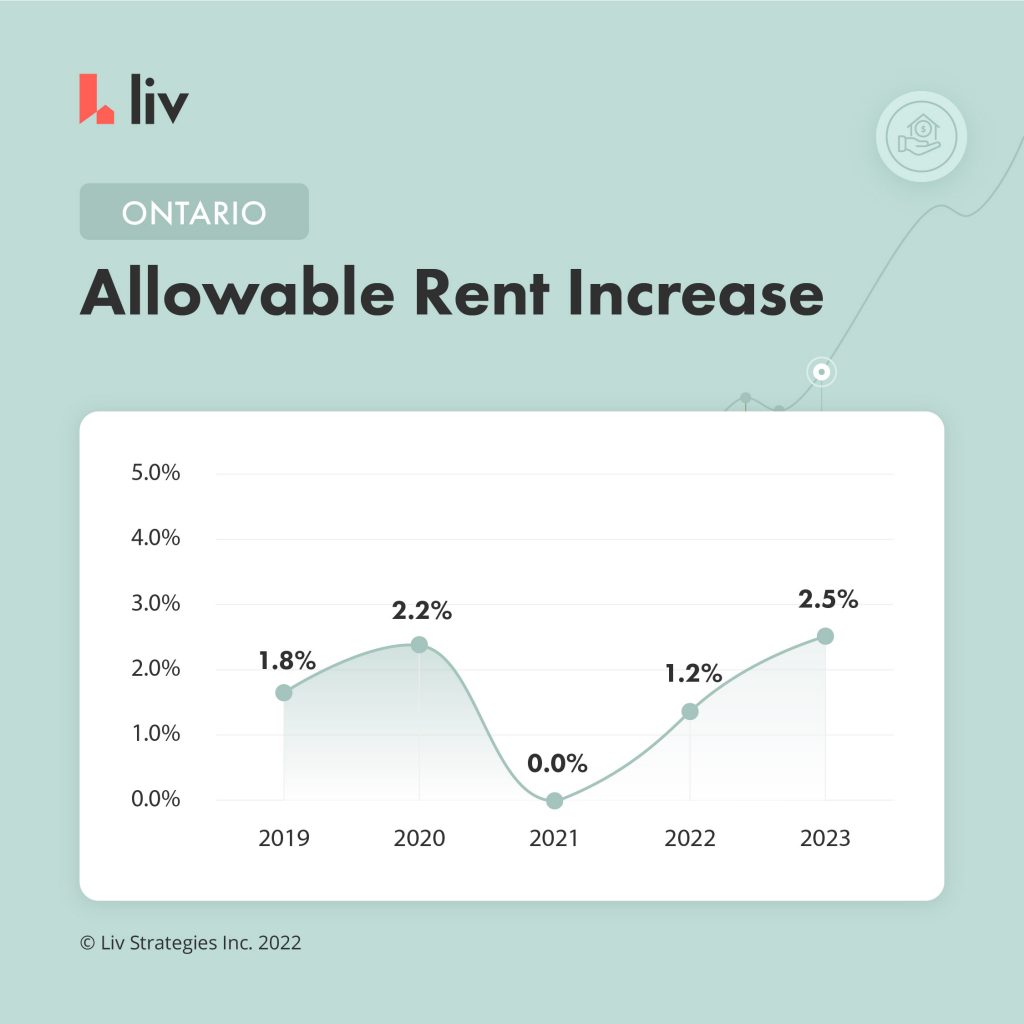 Looking ahead: interest rates and rent increases
Unlike other provinces like B.C., Ontario announces the province's rent increase guidelines sooner than September, so questions landlords and renters have about interest rates affecting rent increases have largely already been answered. Ontario has shown a willingness to set rent increase guidelines below the 5.3% inflation rate, which is a good sign of things to come as interest rates climb. It's worth noting that Ontario's 2023 guidelines were set before the Bank of Canada's July 13 rate hike, which could possibly have driven allowable rent increases higher.
It will be interesting to see how Ontario's Landlord and Tenant Board reacts if inflation continues at current rates continue throughout 2023. Though 2.5% is a reasonable number considering current market conditions, 2024 could see larger increases.
FAQ: Rent increases in Ontario
What is the allowable rent increase for 2023?
Ontario has set a limit of 2.5% for rent increases in 2023, up from 1.2% in 2022.
This means that if rent was set at $2,000 per month in 2022, landlords may increase the monthly rent to $2,050 for 2023. You can find more about rent increases and how to calculate them here.
When can my landlord increase my rent?
In Ontario, landlords can only increase rent once in a 12-month period and only 12 months after the date of the last legal rent increase — or the tenant moving in. Landlords must also give tenants a minimum of 90 days' notice that an increase is imminent.

This means that if your rent was increased in April 2022, your landlord can implement another increase as soon as April 2023, and must provide a written warning by January 2023 at the latest.
What are the exceptions?
Landlords in Ontario can only raise rent by more than the allowable limit in certain situations:
Landlords may apply to the Landlord and Tenant Board for permission to raise rent by more than the allowable limit.
In Care Homes, rent increase guidelines only apply to the rent portion of monthly expenses — not the cost of services.
New buildings, additions to existing buildings and the majority of new basement apartments that are occupied for the first time for residential purposes after November 15, 2018 are exempt from rent control.
What does allowable rent increase percentage mean?
The legislation specifies that a rent increase cannot exceed the percentage amount.  If you paid $1000 per month for all of 2022, then your landlord cannot increase your rent more than $25 in 2023 (1000 x 2.5%).

Also, a landlord cannot round up any cents left when calculating the increase. For example, if your rent is $1250 and the maximum allowable increase is $31.25, your landlord can issue a Notice of Rent Increase for a $1281.25 not $1282.
How is the allowable rent increase percentage calculated?
Each June, the Ontario LTB issues the maximum allowable increase percentage for the upcoming calendar year. Based on the Consumer Price Index in Ontario up to April, the allowable rent increase mirrors the rate of inflation.
In response to rapidly rising interest rates across the country, Ontario has decided to cap rent increase guidelines below 5.3% inflation, at 2.5% for 2023.
What are the reasons for rent increase?
There are many reasons why your landlord may increase rent, such as an increase in property taxes, maintenance fees, mortgage payments and more. For 2023, rising interest rates play a large role in dictating larger allowable rent increases, though like Ontario, many provinces may decide to cap rent increases below inflation.
When faced with a notice of rent increase, always be willing to have open communication with your landlord. If you won't be able to afford the increase in price, reach out and have a conversation about it. Reasons may be personal and specific for each landlord.
What if my landlord increased my rent higher than the allowable amount?
You do not have to pay an increase that is higher than the amount allowed by law. If your landlord's rent increase has exceeded the legal amount, and you have already paid rent under said increase, you may deduct any overpayments from future rent. Again, speak to your landlord if you believe you have been overcharged.
What is the average increase in rent per year?
In Ontario, rent increases are governed by strict guidelines set by the province's LTB. For 2022, this amount was fixed at a maximum of 1.2%, and for 2023 the maximum was 2.5%.
Typically, landlords who increase rent will use the maximum amount, so this also reflects the average rent increase from year-to-year.
What is a fair rent increase percentage?
While the annual allowable rent increase is an indicator of the maximum rent increase, your landlord may want to adjust this to fit your situation and the rental market. See how your rent compares to the average city and neighbourhood rental price.
---