The last thing any landlord wants is an irresponsible tenant. Choosing the wrong renter can result in late or non-existent rent payments, damage to your unit, angry neighbours, or worse — eviction. Having a rock-solid tenant screening process in place is the most effective way for landlords to counter these problems before they arise.
So, what can you do to streamline and improve the effectiveness of your screening strategies? We're liv.rent, an all-in-one platform that helps landlords simplify their rental process. Today, we're going to be outlining some ways to make screening tenants more efficient and effective, including the best tools to help you streamline your screening process.
Do you want to take the guesswork out of tenant screening?
Follow these 5 customizable steps and equip yourself with the right tools to secure your perfect renter.
How do I pick the right tenant?
Choosing the right tenant is a huge task for landlords, especially when you only have limited time to get to know them. While there's always going to be some level of trust involved when choosing a renter, there's plenty of ways to be sure you're making a sound decision. The best way to head off any potential problems is to be upfront about what you're looking for in a renter, and screen tenants thoroughly to ensure they align with your idea of a good tenant.
Here are a few of our top tips for starting your tenant search off on the right foot:
Create a detailed listing — Trust is a two-way street, and you're more likely to attract interested, qualified tenants if your post does a good job of advertising exactly what's on offer and what you're looking for in a renter.
Check applicants' references — Most landlords are already aware of the benefits of a thorough reference check, but it's worth re-stating here. References are one of the most effective strategies at your disposal to get an objective sense of who your future tenant is as a renter and as a person, so it's vital for you to make full use of this invaluable resource.
Perform a background check — It's not always enough to take renters at their word, landlords generally need to see things like proof of income, a credit check, and a public records scan before they trust someone to rent from them. With liv.rent's easy-to-understand Trust Score feature, landlords don't have to look far to get a comprehensive overview of their applicants, but we'll also be going over some other tools you can use to screen tenants later in this post.
Know what you can/cannot ask renters — A robust screening process is a key part of your landlord duties, but there are also things you cannot ask for. Any information that infringes on a renter's human rights such as their age, place of origin, marital status, etc. is off-limits during the screening process, as they're not relevant to renting. As well, there are some specific rental-related subjects that may be fine in some provinces, but not in others. For example, B.C. landlords are within their rights to request a damage deposit, whereas in Ontario, damage deposits are not allowed.
For more information on choosing the right tenant, check out our complete post on the subject, including more helpful tips, here.
How to properly screen a tenant
Now that we've covered the basics of tenant screening, let's dive deeper into the methods you can use to get a clearer picture of who you're going to be renting to. Here's how we break down the tenant screening process:
Pre-screen tenants — When you first post a listing, you'll usually receive a ton of messages from renters, the majority of whom are either just putting out feelers, or aren't qualified.
Ask for an application— Getting prospective tenants to fill out an application form gives you the chance to collect information you'll need later. This includes:

Employment information
Rental history
Financials
Permission to verify the above using a screening tool

Conduct Showings — Once you've narrowed down your field of candidates, you can invite remaining renters to attend a showing. Here, you can get a better sense of who your future renters are by asking a variety of questions to gauge their suitability for your rental.
Use a tenant screening tool — Assuming the renter gave you permission in their application, now is a good time to run a background check using the screening tool of your choice (we'll go over our top picks later in this article).
Call references — References provide an invaluable glimpse into your future tenants' rental history, and it's important to make the most of your conversations. Being able to get in touch with previous landlords is ideal here, but in the absence of a rental history you can also contact previous employers or personal references to inquire about renters' character.
What is the best tenant screening tool?
Asking the right questions is hugely important when screening tenants, but even this can only get you so far. At some point, every landlord needs concrete proof that the person they're going to rent to can verify their finances, is employed, and has a good rental history.
At this point, it's time to turn to a tenant screening tool. There exist a number of quality options to gather detailed information on tenants, including more traditional credit checks like Equifax and TransUnion, as well as newer solutions that integrate these checks with more extensive background information. We'll be covering the latter here, as these are the platforms that provide the best reference for landlords.
Here are our top 3 choices for tenant screening tools:
1. liv.rent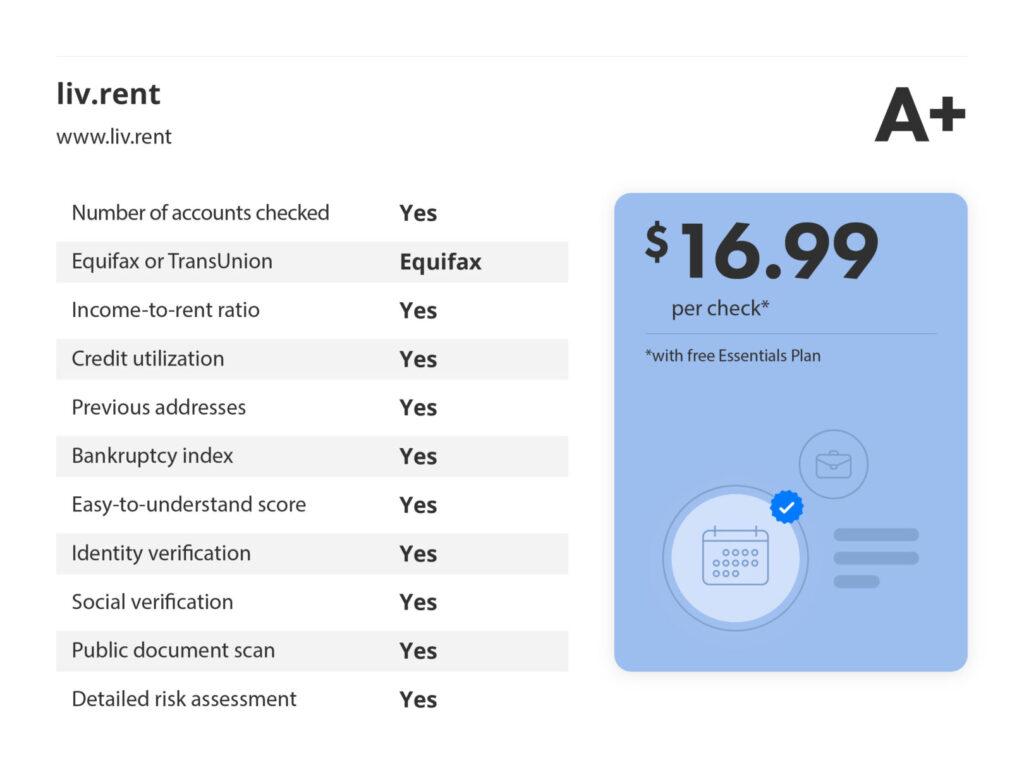 With liv.rent, screening tenants is a breeze. Not only can you communicate with renters instantly using the built-in chat feature, but you can easily view vital information about applicants through their Trust Score located in their renter profile. This allows landlords to bypass most of the guesswork inherent in the rental process and immediately start narrowing the field.
As you can see from the chart above, liv.rent provides landlords with the same detailed information as more specialized screening platforms, but condensed into an easy-to-read score that breaks down all of the key information you need to know. This is a huge benefit for landlords looking to filter out unqualified tenants quickly, as they can simply glance at a renter's Trust Score to get a sense of their viability for a rental.
Individual landlords can choose between a variety of flexible pricing options. With a free Essentials Plan, you can add on a Trust Score report for just $16.99, or you can opt to enroll in liv.rent's Growth Plan to receive two included Trust Score reports per month.
For renters, this feature also provides greater security as their Equifax info and uploaded ID are only stored until their Trust Score has been generated, at which point this data is securely deleted by the server. This means that landlords have access to the information they need to see, without being able to view confidential documents.
2. SingleKey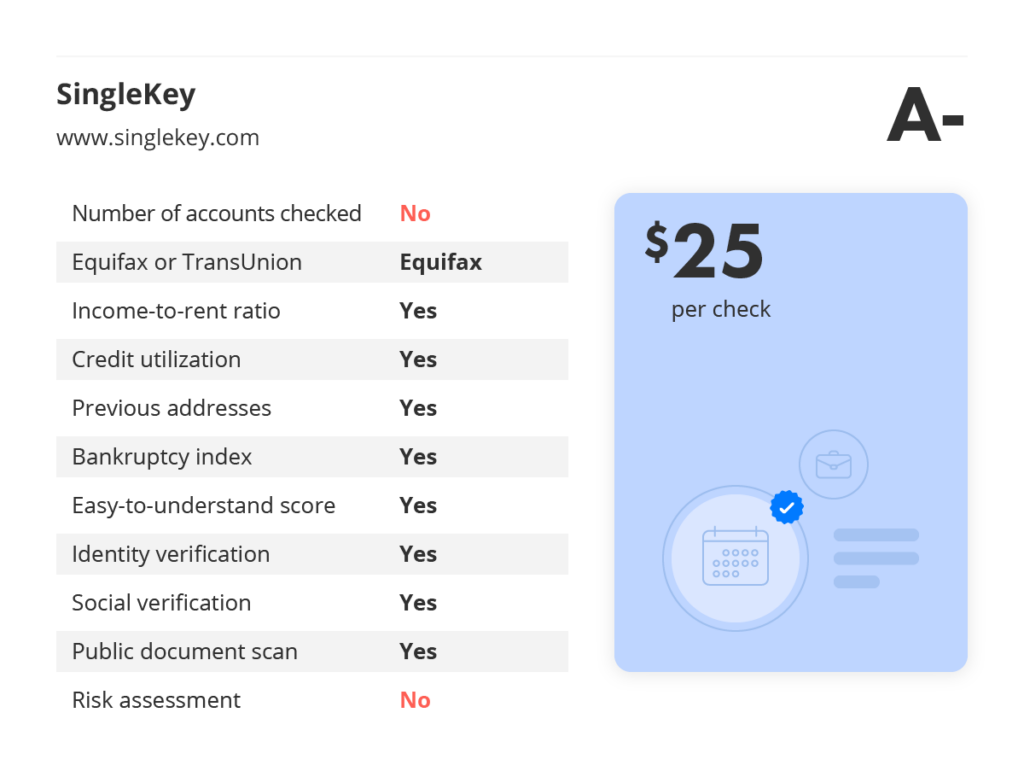 SingleKey offers a simple platform that provides detailed reports using Equifax screening. Where SingleKey sets itself apart is in its speed. The site advertises a less than five minute processing time for checks, which allows landlords to get the answers they're looking for faster. However, this speed can't compete with the instant response given by liv.rent through the Trust Score feature, which allows landlords to instantly view necessary renter information the moment they apply to a listing.
In terms of information, SingleKey offers a similarly comprehensive overview to other top options, combining an overall Tenant Score with a broken-down series of metrics that display the most pertinent information for landlords. The platform gives users the ability to pay-as-you-go rather than locking landlords into membership plans, at the same rate of $25 per report.
3. FrontLobby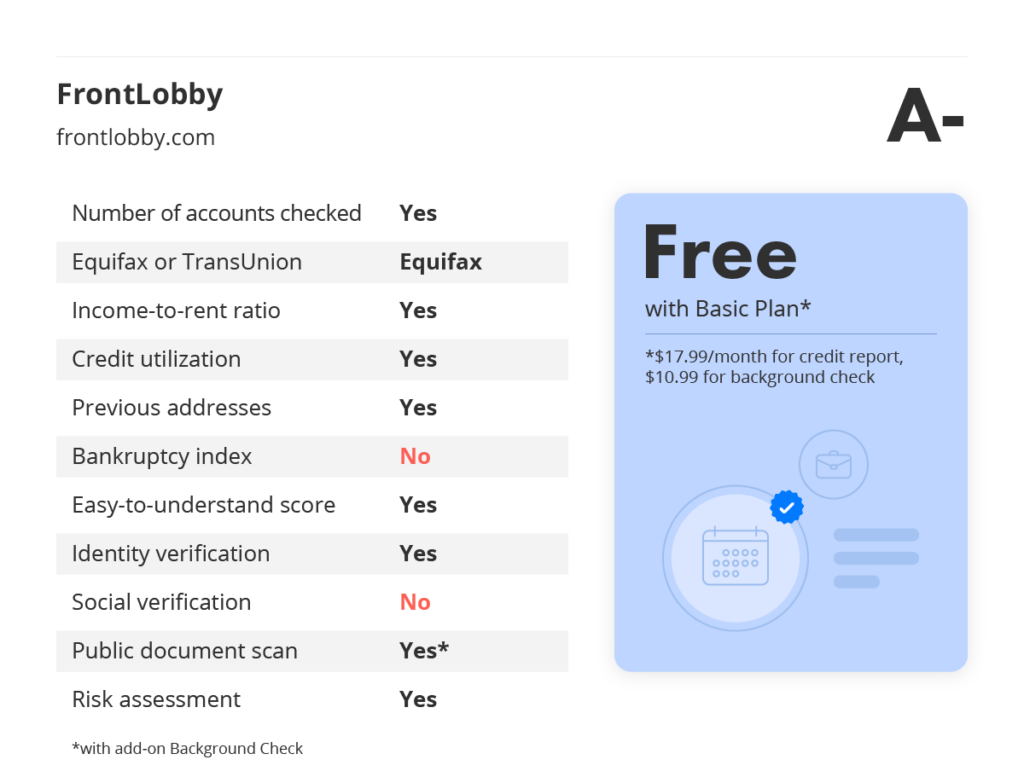 FrontLobby is unique in that it allows landlords to report tenants' rent payments to Equifax®, helping to establish renters' reliability while giving fellow rental managers an additional metric to look at. Additionally, landlords can purchase add-on credit and background checks, at varying prices based on the plan chosen.
For the most part, these checks are standard credit reports, although the rent reporting feature and additional functionality FrontLobby offers make it an intriguing choice for some landlords. With that being said, these features are only available through the platform's paid plans, which still require landlords to pay add-on fees for credit and background checks.
4. RentCheck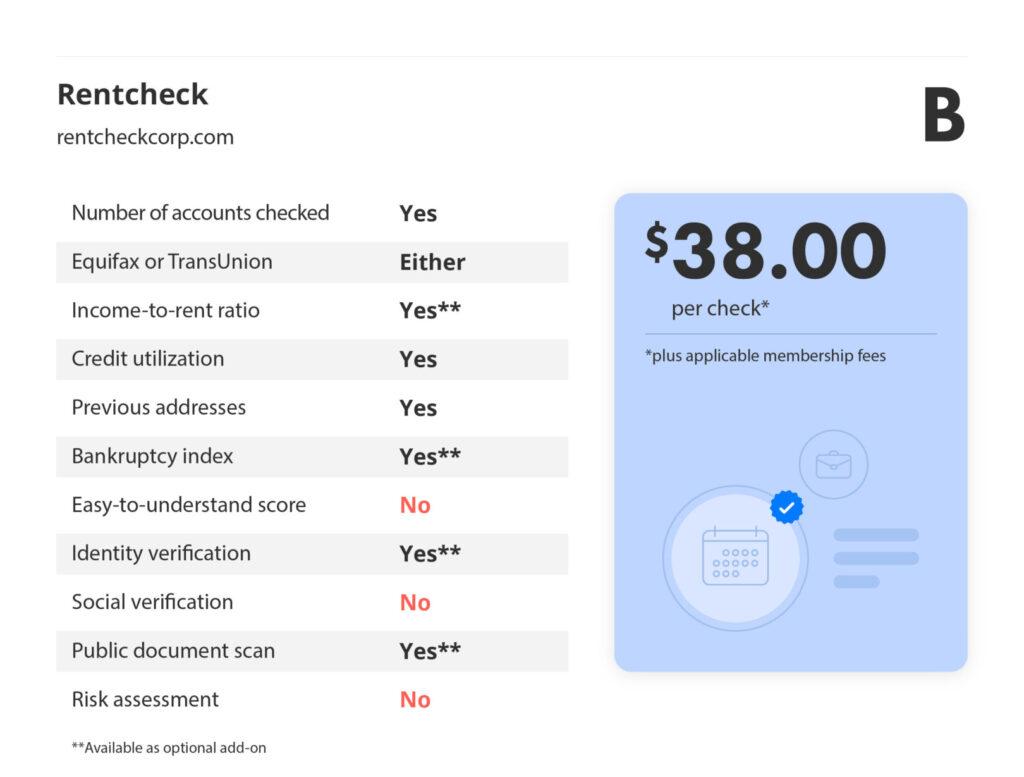 RentCheck bills itself as "The Housing Industry's Credit Bureau", offering highly-specialized services designed to adapt to the needs of property managers and landlords. Along with the ability to choose whether credit information is sourced from Equifax® or TransUnion®, landlords can also unlock a wide array of optional add-ons, like a bankruptcy predictor, extensive criminal record check, rent-to-income ratio, and more.
One potential issue with this platform, especially for beginning landlords is the comparatively high costs. At $38.00 for a full detailed credit report, RentCheck is the most expensive option on this list, and there are also additional fees and potential membership costs to consider as well. With that being said, its specialized services and breadth of information may appeal to property management businesses in particular.
Frequently Asked Questions
What is a good credit score for tenants?
Landlords should typically look for a credit score over 600 in prospective tenants, as this indicates a reasonable debt-to-income ratio. With that being said though, not all renters have an adequate credit history and it's important to factor in other metrics when deciding who to rent to. This is why modern screening tools are so valuable, as they provide insight into other factors that create a clearer picture of the tenant's rental and financial history.
For more information on credit scores in Canada, be sure to check out this resource for renters and landlords.
How much does it cost to screen tenants?
We covered a few of the top screening tools above, which are indicative of the pricing for background checks/credit reports. Not included here are subscription-based tools, as well as platforms that allow tenants to pay for their own report.
Landlords should take the time to choose a tool that works for their needs, as subscription-based tools can be a better deal for property managers or those with multiple rentals, whereas pay-per-report offerings generally give more flexibility for indivuals. It's worth noting as well that with liv.rent, tenant screening is included in a personal plan.
What questions should I ask applicants?
Beyond the essential information needed to verify renters' identities and financial standing, there are plenty of questions landlords can ask applicants throughout the rental process. Here are some examples:
Why are you moving?
How long were you in your current place?
Have you looked at other rentals nearby?
For more questions landlords can ask potential tenants, check out our complete list here.
For more insights into the tenant screening process, be sure to subscribe to liv.rent for the latest rental resources.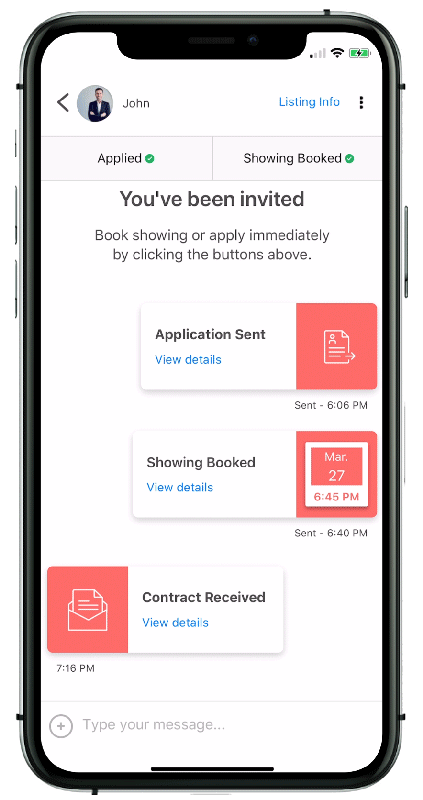 Rethink The Way You Rent
Not on liv.rent yet? Experience the ease of digital applications & contracts, verified tenants & landlords, virtual tours and more – all on one platform. Sign up for free or download the app.
Subscribe to receive the latest tenant & landlord tips and get notified about changes in the Canadian rental market.
>> Stay up-to-date on the average rent in Vancouver, Toronto and Montreal: Rent Reports.