Your tenant can be your best ally, or biggest problem. Tenant turnover is arguably the single biggest cost for you as a landlord. Whenever a tenant vacates, either voluntarily or through a tenant eviction, significant costs are incurred by a landlord.
The cost of vacancy, for example – your property may be vacant for one month or more, impacting cash flow. You will also likely have to pay for some maintenance like applying a fresh coat of paint or repairing damage (especially if the previous tenant was messy or destructive). In addition, you will have to foot the bill for utility payments until a new tenant is found. Considering all of this, the pressure to vet and select the right tenant is real.
Read on for our top tips on how to find good tenants:
Top 7 Tips On How To Find Good Tenants In Canada:
1. Design the right ad
When listing your property, be sure to include all the basic information like number of bedrooms, bathrooms, flooring type, pet-friendliness, amenities and, of course, rental rate. It is also important to indicate what utility costs are included or excluded in the rate. The more detail you provide, the more likely you are to attract serious tenants seeking a rental like yours.
Include as many photographs and/or video as possible. Ensure they are of good quality – well composed and of high resolution. These will sell your place so spend some time ensuring they show your property in its best light. During the COVID-19 pandemic, video tours have become increasingly important in providing prospective tenants with a more complete spatial understanding of a rental and limiting the number of in-person tours required.
Thankfully, Liv.rent allows for the easy uploading of video, enhancing your property listing and complementing the images you may already have uploaded.
RECOMMENDED READING >> 10 Tips for Photographing your Rental Property
2. Follow the fair housing rules
Be sure to follow fair housing rules and do not discriminate against any viable tenant based on any of the following:

This ensures you have the broadest set of tenants to choose from and you are adhering to the basic human rights and duties in housing as outlined by BC's Human Rights tribunal.
3. Check a potential tenants' references
These calls or emails are crucial to confirming information, establishing trustworthiness, and gaining a better understanding of the character of the prospective tenant. As a landlord, consider reaching out to previous landlords, employers and personal contacts to gain a more comprehensive understanding of a potential tenant's suitability.

A little extra work in checking references can save you countless hours of trying to get rid of a bad tenant later on.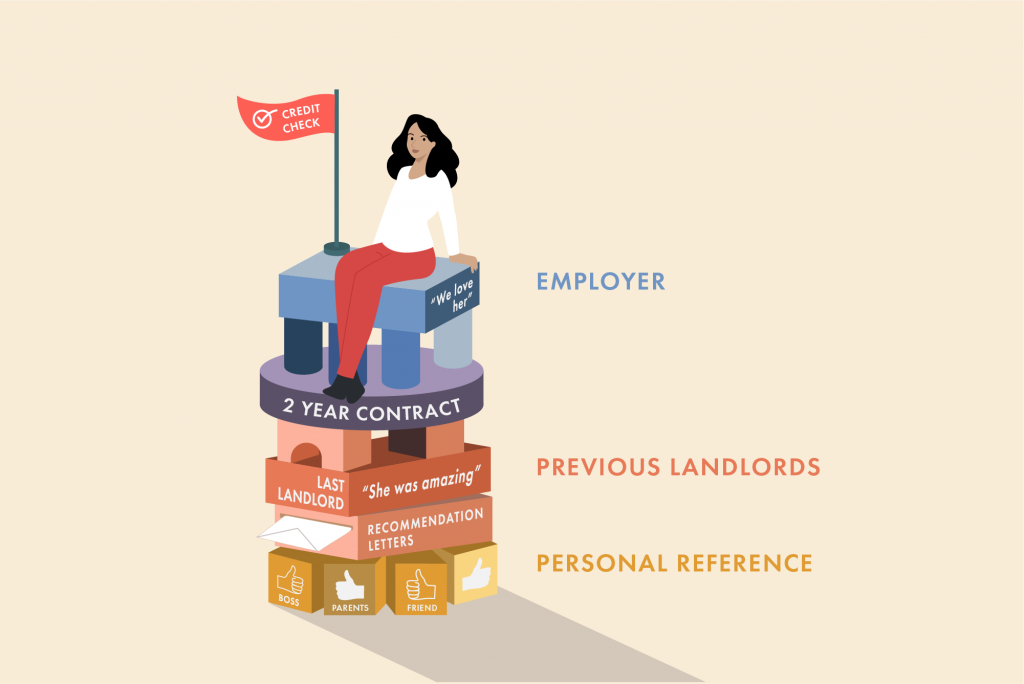 Here are some sample questions you might ask during a reference check: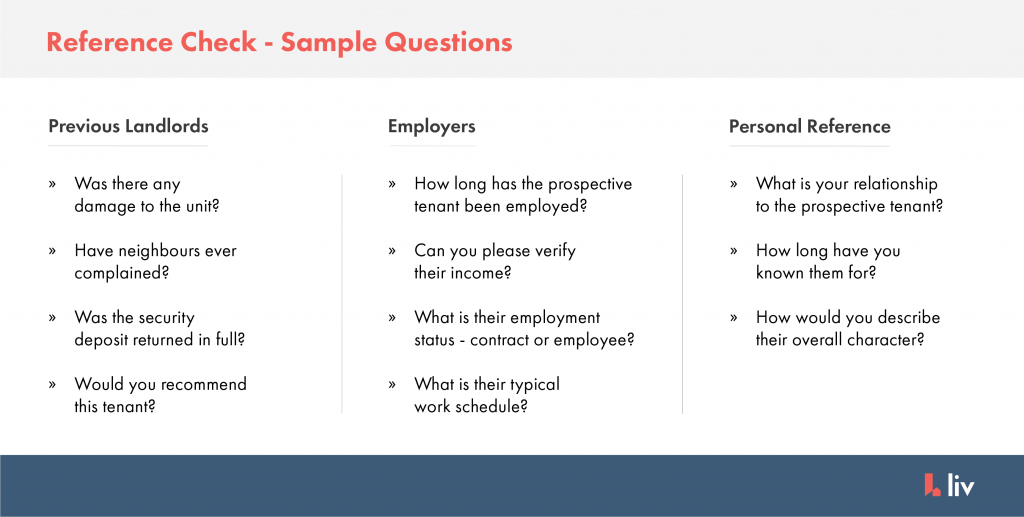 4. Run a credit check
This is the best way to determine the financial responsibility of a tenant. Don't consider someone with a score under 600 unless they can provide additional financial documentation like bank statements and employment contracts. Keep in mind that low scores could be because the tenant is new to the country and thus does not accurately reflect their financial record. Financially secure tenants should score above 700.
With liv.rent, we do the credit check for you. The Liv Score serves as a crucial tool for landlords to screen tenants effectively. Using AI and a powerful algorithm, the Liv Score gives landlords a secure and accurate measure of a prospective tenant's suitability. >>Learn more about Liv Score
5. Verify Income
To ensure a prospective tenant can meet their rent obligations for the duration of a lease, you should ALWAYS verify their income. You can ask a tenant to provide an employment letter, pay stub, a redacted T4 or bank statements showing regular deposits.
If you are using liv.rent, much of this work is done for you. When a tenant completes their liv.rent profile, which serves as their rental application, they provide these supporting documents which are then verified by the liv.rent compliance team so you don't have to spend your time validating tenants' employment records and income statements.
6. Consider tenant's stage in life
When you've narrowed down your list of potential tenants, take some time to consider what stage of life a prospective client is in. It can help determine your choice. For example, families or households with expectant mothers and pet owners typically stay longer in one place, thus reducing the chance of tenant turnover and the associated costs.
Students, who are beginning their university career, may also be committed to at least 4 years and the income may be guaranteed by their parents.
In contrast, if you have a furnished rental, then you may be content with having business travellers as tenants despite a more frequent turnover.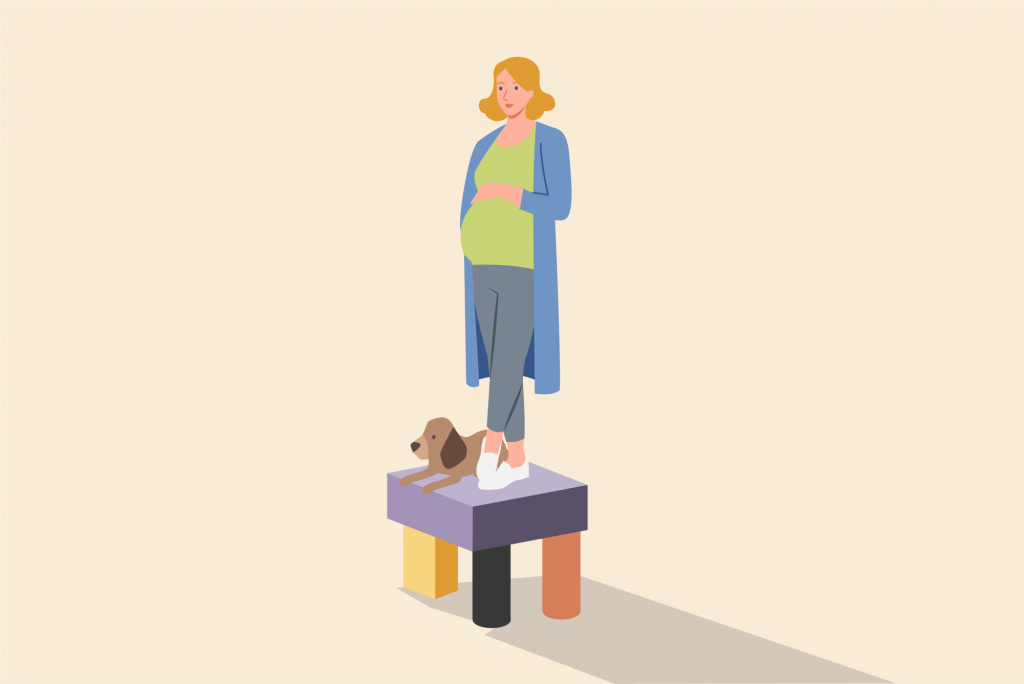 7. Establish list of reasons to accept or deny tenants
To maintain your professionalism and credibility, it is best to outline a checklist of criteria to help guide you through the tenant selection process. Identify the must-haves and the deal-breakers before listing your property so you can vet applicants more efficiently. You may always want to consider, for example, whether:
The tenant makes enough income to afford your rent.
Has employment or a co-signor with sufficient income
Has a history of paying rent on time
Has never been evicted
Fits your lifestyle requirements (i.e., no-smoking, pets)
Apply the same questions fairly to each tenancy application when deciding on a prospective tenant. This will help ensure you make a reasoned, researched decision.
---
The Liv Rent App is Here to Help Landlords
If you're a Vancouver based landlord, try out our Liv Rent app. There are hundreds of tenants, actively looking for places to rent in the city. But, most importantly, you can lease your rental directly in the app, get a Liv Score (similar to a credit score) on your potential renter, as well as view their detailed bio.
---
To begin creating, managing, and sharing listings as a landlord, download the liv.rent app from the App Store or the Google Play store or sign up here from your computer.