Pricing your rental unit correctly is key to attracting more leads and finding renters quickly. Landlords must take the time to figure out precisely how much they'll charge for rent before uploading or publishing their listing, by considering a host of key factors. Regardless of where in Canada your unit is located, you'll likely follow a similar process to determine the amount you'll be charging renters. In this post, we'll break down this process into three steps, showing you how liv.rent can provide invaluable insight and help find the perfect price for your rental property.
Table of Contents
Is your rental priced competitively?
Find out with a free rent estimate. Our team of rental experts will calculate your unit's true value based on your listing details & current market trends.
Why setting the right rental price is important
Setting the right rental price for your unit will have a huge impact on your financial outcomes, as well as the pool of renters you have to choose from when screening tenants. Set the price too high and renters will simply ignore your listing. Set it too low, and you'll be fielding countless applications and negatively affecting your bottom line. Finding the perfect middle ground will ensure that you're attracting the right tenants and still maximizing your investment.
A properly priced property will ensure that you're attracting a large, high-quality tenant pool, while still earning enough of a return to cover mortgage payments, property taxes, and any maintenance costs you might incur. Ensuring a reasonable rate that is affordable within your area's demographic also helps to prevent late or missed rent payments by not overcharging renters who may not be able to afford it.
1. Research rental prices
As with every part of the rental process, equipping yourself with the information you need to make better-informed decisions is a great place to start. When it comes to pricing your rental property, this obviously requires a close look at other units in your area, as well as an understanding of the data and trends that inform these constantly fluctuating prices.
When researching, you'll want to gain an understanding of not only the average price point, but what demographics primarily comprise your neighbourhood or city. This will help you to create more effective listing ads later on, by informing your decisions of what information to include. Students look for different things in a rental property than young professionals or families would, so it's important to determine exactly who you're marketing to.
There are a variety of resources out there to help landlords gain a better understanding of their rental market. For a starting point, look to the Canadian Rental Housing Index, which provides a ton of information about who's renting where, and how much they're paying.
For a more detailed breakdown that specifically relates to your listing, liv.rent is your all-in-one destination for rental market research. Our monthly Rent Reports break down rental data from Vancouver, Toronto, and Montreal to provide a comprehensive overview of the trends, prices, and other information that defines these key rental markets.
Shown below are the Neighbourhood/City/Municipality Breakdowns for Vancouver and Toronto. These comprehensive overviews show rental averages by property type for both furnished and unfurnished units to give landlords a good sense of how they should price their units.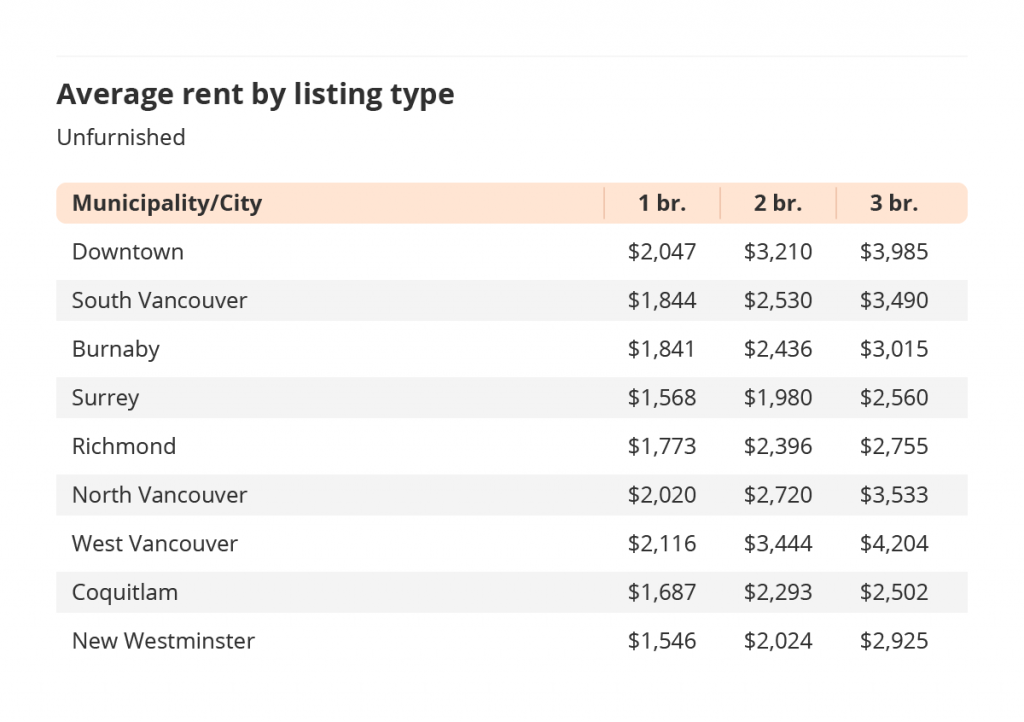 Landlords can also access their Listing Dashboard to quickly see how their listing compares to others in the area. Here, you'll see how many applications and views your listing has received, as well as insights into how your rental price stacks up.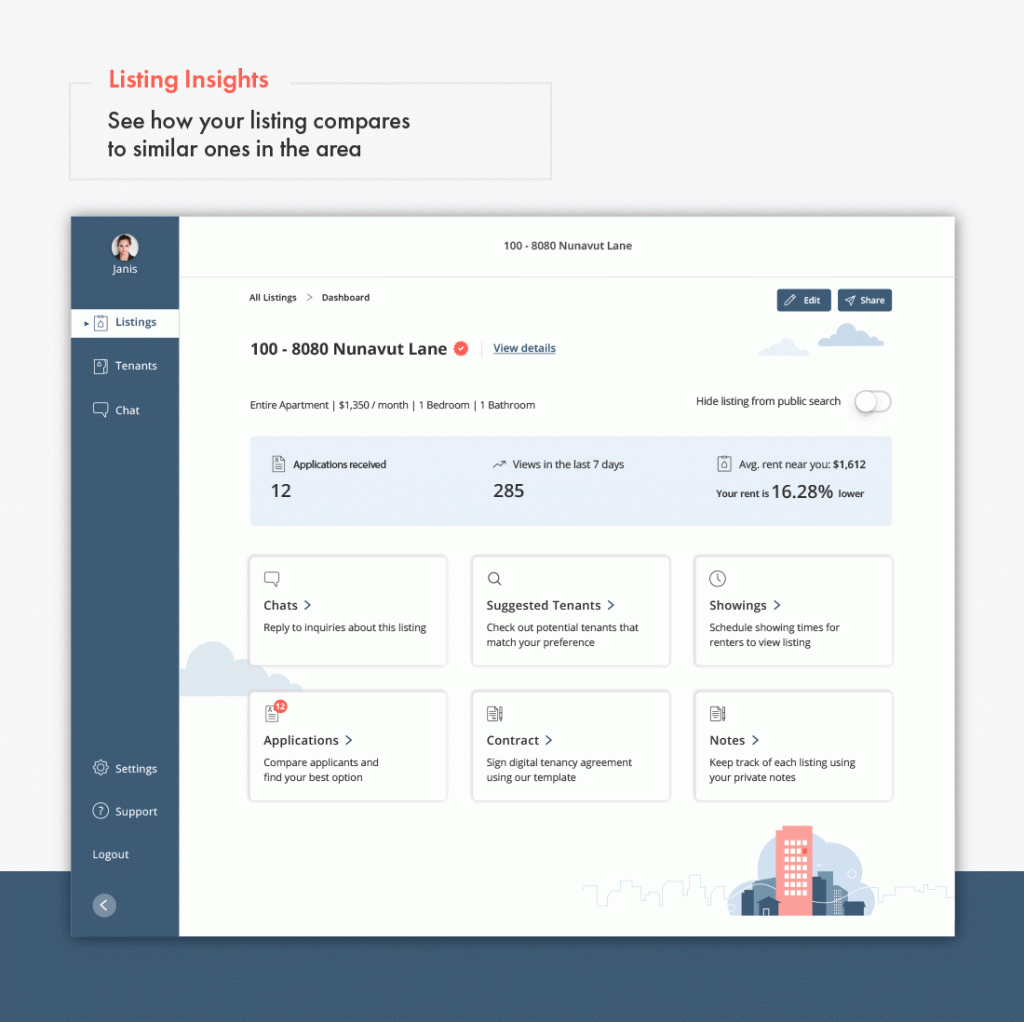 2. Factor in additional costs
Knowing the average rental price for units in your area will go a long way in helping you determine what to charge for rent, but landlords have to consider their own finances as well. The ultimate goal of a rental property is to provide you with a passive income, so it's important to be sure that you've chosen a price that can still make you money going forward.
There are a number of hidden costs associated with owning property, and being aware of these and factoring them into the initial rental cost of your unit is vital. Here are a few things to think about when considering what to charge for rent:
1. Maintenance costs — Like it or not, things will eventually deteriorate and break in your rental property. Property maintenance is a generally costly endeavour, particularly if you're paying for it out of pocket. Ensuring that you're earning enough return on your investment to cover any unforeseen costs that arise is a key factor when pricing your unit.
2. Mortgage payments — Ah yes, the mortgage. This is likely the first thing you'll look at as a benchmark for your rental price, as whatever you charge for rent must be enough to comfortably cover this monthly payment as well the other expenses mentioned here.
3. Property taxes — While most landlords remember and factor in their mortgage costs, many forget to consider the hefty property taxes they'll eventually have to pay. Pricing your rent so that you can still make a tidy profit after paying taxes is essential. Here's some information about property taxes in B.C. and Ontario.
4. Strata fees — In B.C., many properties are subject to strata fees. Determining at the outset of a rental term who will be responsible for paying these, whether you or the tenant, will make your life easier and potentially help cover another cost.
5. Property management/tenant screening costs — Finding the right tenant takes time and resources, even more so if you're using a property manager. Thankfully, liv.rent gives landlords access to the powerful, all-in-one tenant screening tool that is the Trust Score. By using this feature, landlords can quickly view both credit history and a unique trustworthiness ranking to get necessary information on renters quickly and easily.
Comply with rent control laws in Canada
Rental laws vary greatly from province to province, so landlords should always be sure to consult their local regulations before increasing rent. Provincial maximum rent increases, amount of notice required, rent freezes, and so on are all dictated by individual provinces.
Here's a quick breakdown of the latest rental laws for British Columbia, Ontario, Quebec, and Alberta
British Columbia
• 2.0% maximum allowable rent increase for 2023
• Rent increase allowed once every 12 months for existing tenancies, beginning 12 months after the start of the tenancy
• Must give three full months' written notice using the proper Notice of Rent Increase form
• Rent increase guidelines revised once per year based on inflation
Ontario
• 2.5% maximum allowable rent increase for 2023
• Rent increase allowed once every 12 months for existing tenancies, beginning 12 months after the start of the tenancy
• Must give 90-days' written notice using the proper Notice of Rent Increase form from Ontario LTB.
• Rent increase guidelines revised once per year based on inflation
Quebec
• No maximum allowable rent increase in Quebec, tenant has the right to dispute increase
• Rent increase allowed when lease is renewed, must provide deadline for dispute
• Must give 3-6 months' notice prior to lease renewal for 12-month fixed-term lease
• In Quebec, landlords and renters are free to negotiate a mutually agreeable rent increase. Disputes are facilitated by the Tribunal administratif du logement
Alberta
• No maximum allowable rent increase in Alberta
• Rent increase allowed one year after either the tenancy begins or the last rent increase occurred
• No notice required for fixed-term tenancies. Must give 3-months written notice prior to increase for month-to-month tenancies
• No limit on rent increases
4. Determine the rental price
The financial considerations listed above provide a good guide for establishing the break-even price of your rental unit, but don't necessarily tell the whole story. If you set the rent sky-high, you'll be left without any renters when the first of the month comes around.
It's important to note that there isn't a formula for pricing rental units. While you'll probably be told at some point to follow the 2% Rule (pricing rent at 2% of your property's value), this isn't always accurate or even realistic, and ignores many of the nuances of the rental market.
Let's look now at some other key factors to take into account when setting the price of your listing.
1. Seasonality
The time of year can greatly affect how much you're able to charge for your rental unit. In the summer, or in September during the back-to-school rush, landlords generally have no problem finding renters as long as their unit is priced competitively. In the Winter, however, fewer renters are willing to move due to cold temperatures and the frenzy of the holiday season, meaning you'll have a harder time finding tenants than you would during the warmer months.
2. Furnished vs. Unfurnished
Deciding whether to rent your unit furnished is an important consideration that can affect what you end up charging for rent later on. Mentioning this directly in your listing's title and criteria allows you to command a higher rental price, but be aware that this will narrow your pool of potential renters as many will already have furniture they'll want to bring along.
3. Amenities
Don't just go off of the rental averages in your area — if your building has any amenities renters look for, you'll be able to increase the price accordingly. Some things worth mentioning that can justify a raise in rent include:
Parking
Storage
Security
Fitness facilities & other building amenities
Yard/balcony/patio
In-unit features (eg. washer & dryer, gas stoves, dishwasher)
Tips for pricing your rental unit
There are a number of strategies landlords can use to gain more insight into rental pricing in their area, or to make their property more competitive and attract quality renters regardless of the initial price. Here are some tips to help you maximize your profits while keeping renters interested:
Take advantage of liv.rent features
As we mentioned previously, liv.rent provides landlords with all the tools they need to conduct market research and list their units faster. The Listing Dashboard allows you to easily view insights about your property, displaying exactly how it compares to others in your area in terms of both price and percentage.
As part of our commitment to educating both renters and landlords on the rental process, we release monthly Rent Reports with all the information you'll need to get a sense of your neighbourhood, as well as overarching trends for the area.
Make the most of your network
If you happen to know other landlords or property managers in your area, don't hesitate to get in touch with them. Numbers and data can tell you a lot, and are invaluable throughout the rental process, but your peers can help you get a sense of what exactly is going on in your local rental market, and provide insight into how they determine their rental prices.
Consider how long your rental listing has been on the market
If your listing has been up for more than a week or so and you've yet to receive any applications, you may have to think about lowering the rental price. Vacancy costs will cost you more than a slight drop in rent at the end of the day, so it's important for landlords to be proactive and respond accordingly to a lack of interest in their rental property.
Be open to offering discounts
This may seem counter-intuitive, but we can explain. Sure, you don't want to go handing out discounts as a first step, but it's equally important to not view your desired rental price as totally fixed should the perfect tenant come along. If you're faced with a lack of applicants and one tenant stands out as being a great fit, be willing to work with them.
Whether it's a bit out of their budget, or they're still looking at other units, landlords should be able to adapt in order to secure tenants that won't cause problems or miss rent later on.
Provide rental incentives
Another strategy landlords can take advantage of is providing rental incentives in order to avoid lowering their initial rate. Particularly in the slower months, or in renter-friendly markets, you may need to take matters into your own hands to secure a quality tenant. These incentives don't have to be anything too large, and should only be used when the situation requires — but they can prove highly effective at getting tenants in the door faster.
Popular incentives include offering the first month's rent for free, waving the security deposit, or relaxing a "no pets" policy if one exists.
FAQ: How much should I charge for rent Canada
How much rent should I charge?
Pricing your rental unit involves a variety of factors such as location, property type, seasonality, and rental trends. This guide should give you a better idea of what your unit is worth, but you can get a sense of current prices in your area with liv.rent's monthly rent reports.
What is the average cost of rent in Canada?
It's hard to gauge a country-wide average rent, since each province's rental market is so vastly different. Again, your best resource is consulting our monthly rent reports for your area.
What is the average rent in BC?
As of October 2022, the average rent in Metro Vancouver is $2,256 for an unfurnished, one-bedroom unit. You can see statistics for other types of unit as well as developing trends in our Metro Vancouver rent reports.
How is rent amount calculated?
Most landlords determine their property's rent amount either by a certain percentage of their home's value or based on their mortgage payments, while also taking into account trends and average prices in their area.
Landlords wondering what to charge for rent can consult this post. This guide has a step-by-step overview of how you can price your unit correctly if you require additional information.
Is there rent control in Canada?
Rent control is a provincially-regulated matter, with provinces like B.C. and Ontario allowing some level of rent control and other provinces opting out.
How much can a landlord raise rent in Canada?
Maximum allowable rent increases are determined by individual provinces, not on a federal basis. Before considering a rent increase, it's best to consult the latest regulations from your province's residential tenancy branch.
How often can a landlord raise rent in Ontario?
In Ontario, landlords can only raise rent one year after either the beginning of a tenancy, or following the previous rent increase.
How much should I rent my house for?
This depends on a variety of factors. If you're not sure how much rent to charge, you can contact our team of rental experts for a free rent estimate based on your listing's details.
Resources for landlords
If you're still not sure how much your unit is worth, a calculator can answer the question 'how much do I charge for rent?' Here are some examples you can use:
Here are some other resources from liv.rent as well:
---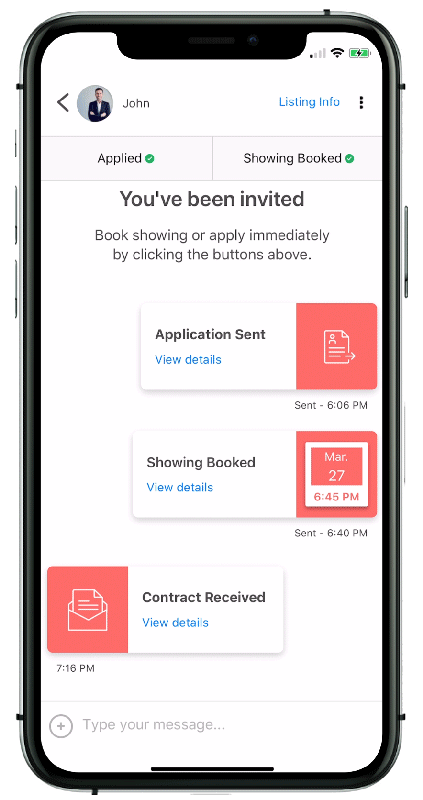 Rethink The Way You Rent
Not on liv.rent yet? Experience the ease of digital applications & contracts, verified tenants & landlords, virtual tours and more – all on one platform. Sign up for free or download the app.
Subscribe to receive the latest tenant & landlord tips and get notified about changes in the Canadian rental market.
>> Stay up-to-date on the average rent in Vancouver, Toronto and Montreal: Rent Reports.