The overall rental average has jumped once again to a new yearly high of $1,286.
The average price difference between furnished and unfurnished units has grown to $264.
Westmount now holds the highest average price for both furnished and unfurnished three-bedrooms, at $2,952 and $2,523, respectively.
November brings a new yearly high in terms of average rent, with a few significant increases and drops throughout the Montreal area. After months of trending up and down, Montreal appears primed for higher rental prices over the next few months and into the new year.
You can get the latest updates on the Montreal rental market straight to your inbox when you subscribe to keep on top of the trends.
This monthly rent report complete with liv.rent data and data scraped manually from top listing sites shows the most accurate reflection of the true cost of rent. Read the full report now to learn more:
Jump to the following Rent Report sections:

Average rent across Montreal
First, we'll take a look at rental trends over the last six months for an unfurnished one-bedroom apartment in Montreal. This month, we see the continuation of the upward trend that began in September, bringing Montreal to a new yearly high average of $1,286.
We predicted last month that we were finally seeing a breakout from the yo-yo pattern that has characterized much of the year, and it looks like this was correct as the average rent is now up $93 from the lows of June and August.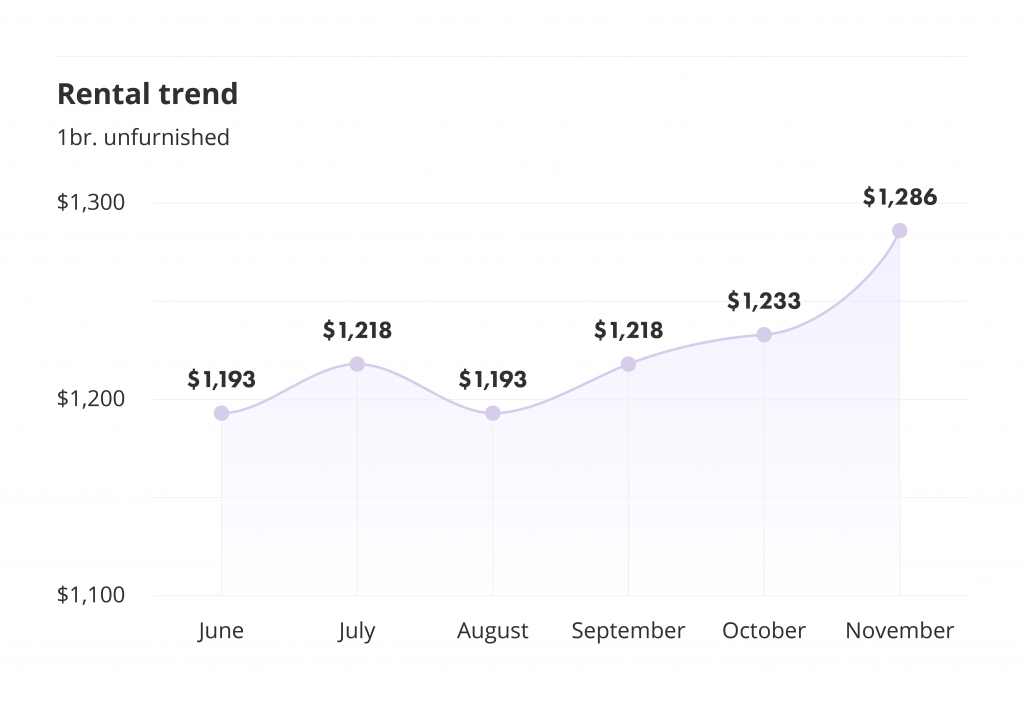 Month-to-month rent change
Rent prices in November for Montreal are characterized by stability in some areas, and significant shifts in others. Rent for both furnished and unfurnished units in Downtown has declined slightly (-3.27% and -1.13%, respectively).
Verdun remains on the rise – with a whopping 25.49% increase for furnished one-bedroom units, and a still-significant 6.31% increase for unfurnished units. Other notable changes include a -14.86% drop in furnished rental prices in Westmount, and a 16.57% gain for unfurnished rentals in Ahuntsic-Cartierville.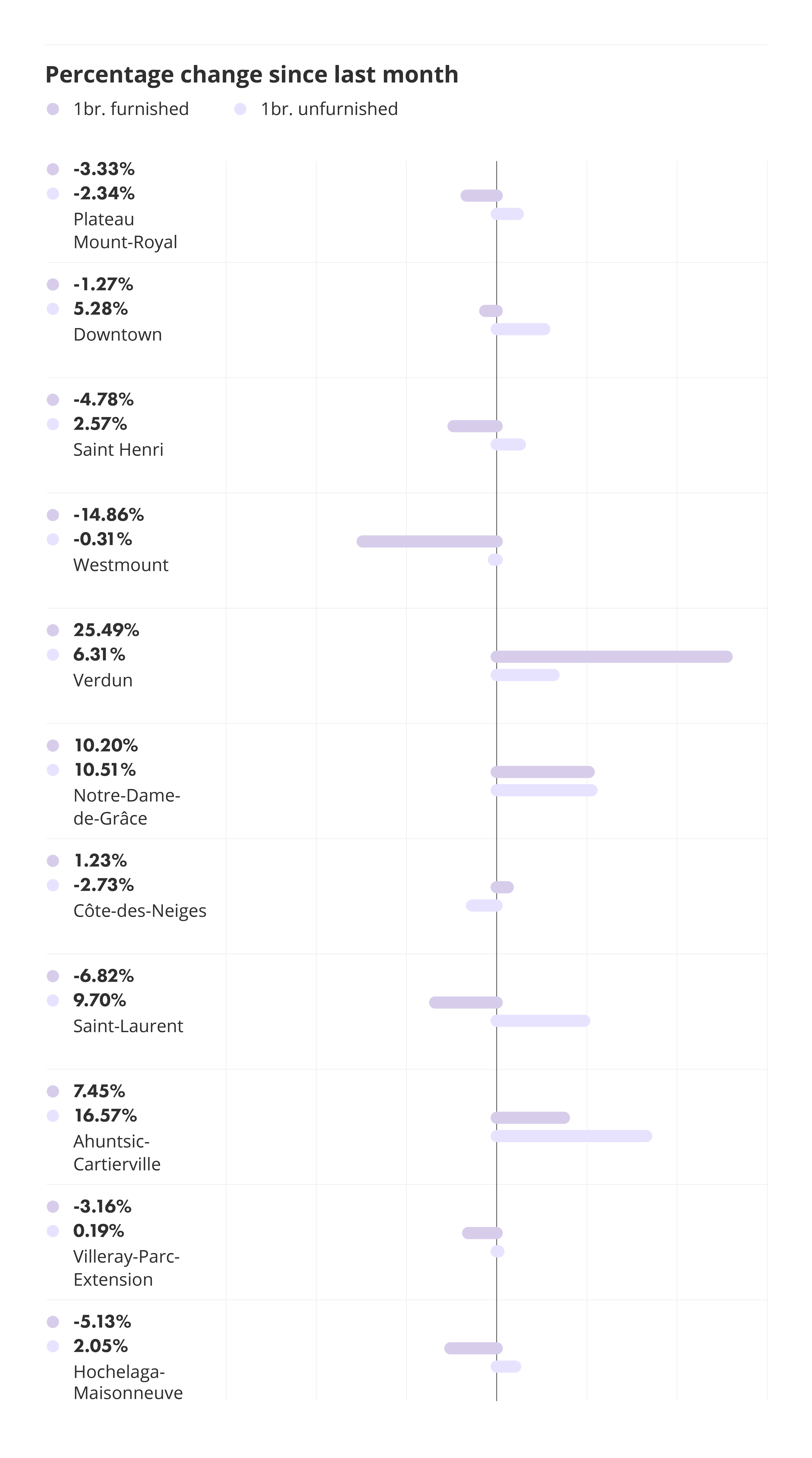 liv.rent – Canada's trusted house & apartment rental website
Search apartments, condos, and homes for rent.
Verified Landlords: Rent from a trusted landlord. Look for the "ID Verified" tag to identify which landlords have been pre-screened.
Quality Rentals: Browse listings that have been checked by our team. Verified by official documents or by mail.
One-Click Applications: Fill out your Renter Resume once and apply to multiple listings in just a few clicks.




Montreal unfurnished vs. furnished rent averages
As one-bedroom unfurnished units continue to rise in price throughout Montreal, the price difference between unfurnished and furnished units has fallen to $203.
Though the gap may have narrowed slightly, landlords can still earn a higher profit by renting out a furnished unit, on average. For renters, you can still save significantly on rent if you are able to bring your own furniture.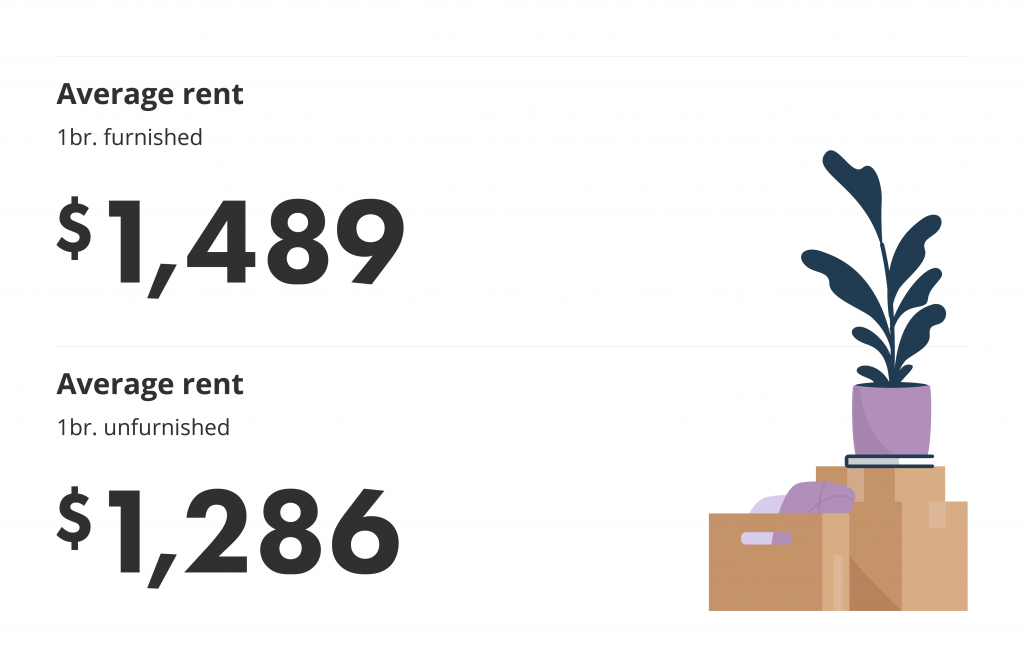 Neighbourhood breakdown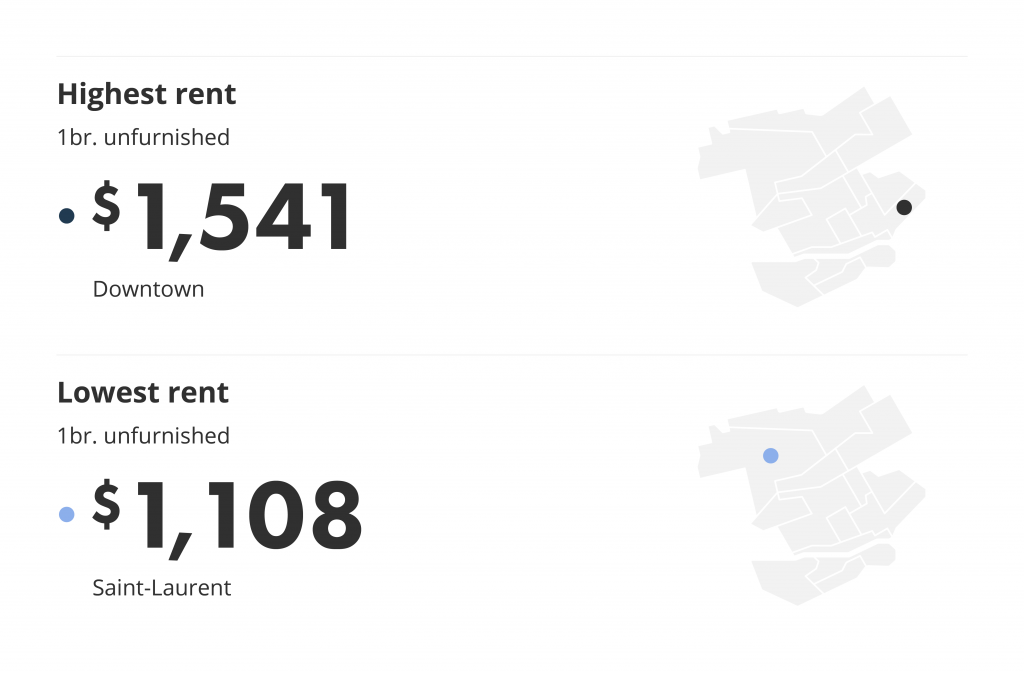 The price difference between Montreal's most expensive and most affordable neighbourhoods is $433 for an unfurnished one-bedroom.
Let's look more at the different listing types to see the differences in one, two, and three-bedroom rent rates across each area.
All Montreal neighbourhoods now average more than $1,100 per month in rent for a one-bedroom unit.
Three-bedroom furnished units in Notre-Dame-de-Grâce are now cheaper than two-bedrooms.
Plateau Mount-Royal edges out Downtown Montreal for the highest price for a furnished two-bedroom unit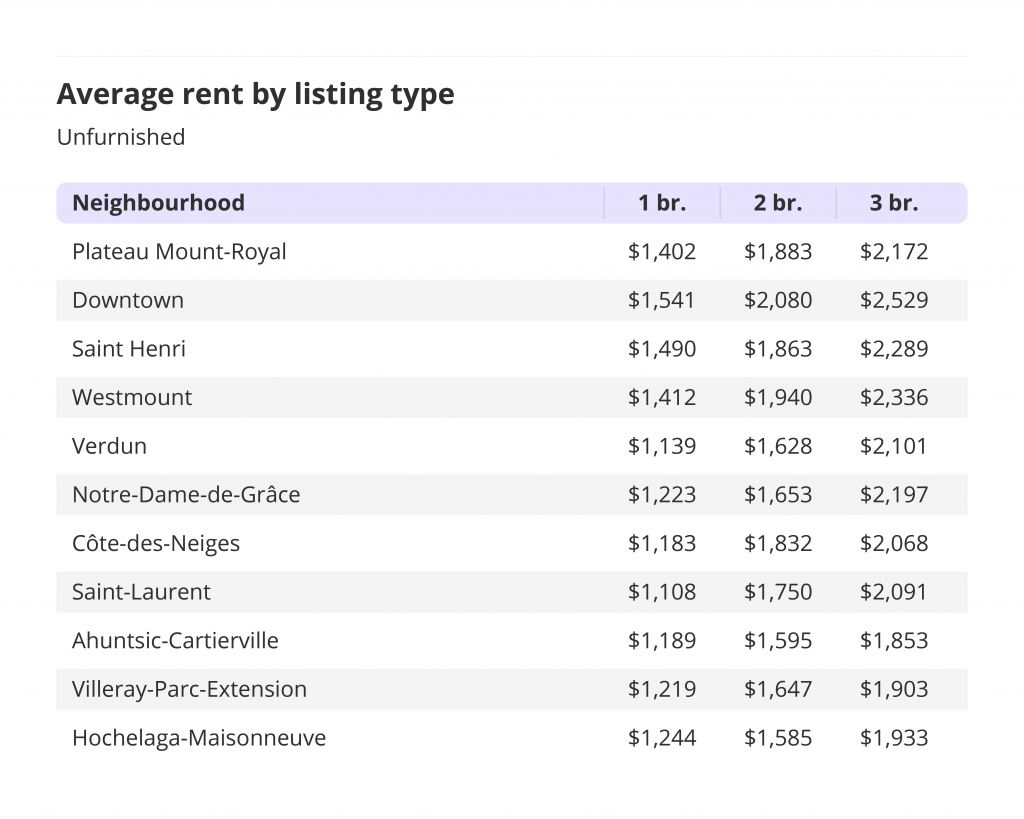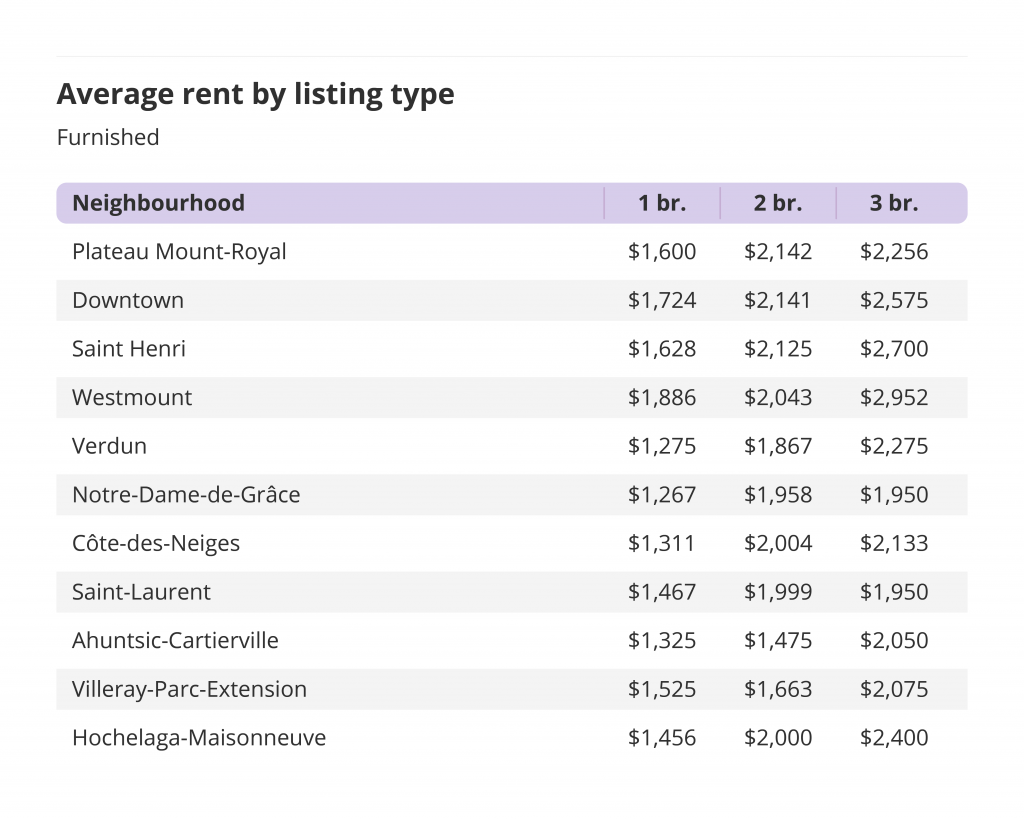 ---
Be sure to subscribe to our mailing list so you never miss an update on the Montreal rental market.

Downloadable Resources
Strike up a conversation at your next Zoom call and show off the latest rental averages with our custom virtual backgrounds.

Looking for the full report? Download it for free here.
---