Property Maintenance Responsibilities – Landlords vs Tenants
Renters often get a bad rap – a reputation for being messy, careless and disrespectful to rental properties. However, this is not necessarily the case. Instead, this can stem from confusion over who is responsible for what.
First and foremost, the upkeep of a rental property applies to both parties – landlords and tenants alike. Thus, playing your part is key to enjoying your apartment and helps ensure a landlord treats you better!
Here's a breakdown of common landlord and tenant responsibilities:
Is my landlord responsible for bed bugs?
Are landlords responsible for door locks?
Who is responsible for smoke detectors in a rental property?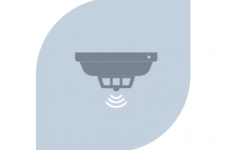 Smoke detectors are a seemingly small concern, but their implications are big and important. A landlord is required to replace batteries in fire alarms but, as a tenant, you must ensure they remain active. If alarm starts to sound, indicating low battery or other malfunction, contact your landlord immediately to let them know.  A landlord must investigate this immediately. Insurance policies hinge upon the presence of a working fire prevention plan which, of course, includes smoke detectors. The expectation is that landlords conduct an annual test of fire alarms and replace batteries as per the manufacturer's instructions.
Is my landlord responsible for water leaks?
Who is responsible for appliances in a rental property?
Who is responsible for heating system issues?
Is tenant responsible for garbage?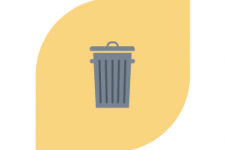 Yes! Seems basic, but it must be reiterated. Garbage disposal is a tenant's responsibility. Make sure you ask your landlord where garbage chutes, recycling bins, and building garbage facilities are located and on what day the garbage is picked up or refer to you municipality's website for the schedule.
Is tenant responsible for lawn maintenance?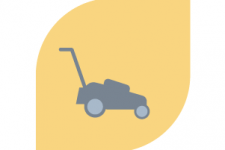 Generally, the tenant in a single-family home or townhome is responsible for basic yard work including cutting the grass and basic weeding. The landlord should make these expectations clear to the tenant and indicate where the necessary tools are for performing these tasks. The tenant shouldn't embark on any major landscaping efforts (i.e. digging new flower beds etc.) without consulting the landlord.
Are tenants responsible for cleaning the rental property?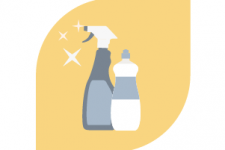 Tenants must maintain "reasonable health, cleanliness
and sanitary standards" throughout the rental property. Tenants are responsible for general up keeping of the rental property during the tenancy, and responsible for repairs of damages caused by the tenant or their guests. Tenants do not hold any responsibility for wear and tear of the rental property, that's a landlords responsibility.
Who is responsible for standard fuses in the rental property?
Who is responsible for snow removal at a rental property?
Are tenants responsible for changing light bulbs and fuses?
Is it a landlords responsibility to paint?
Is it a landlord or tenant responsibility for cleaning and maintaining the fireplace?
Is a landlord responsible for replacing carpet?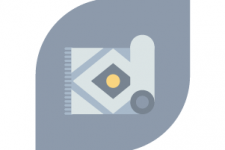 Landlords are responsible for providing tenants with clean carpets at the beginning of the tenancy. Throughout the tenancy, tenants are responsible for routine carpet cleaning and maintenance. At the end of the tenancy, tenants may be expected to steam clean or shampoo the carpets, regardless of the length of the tenancy.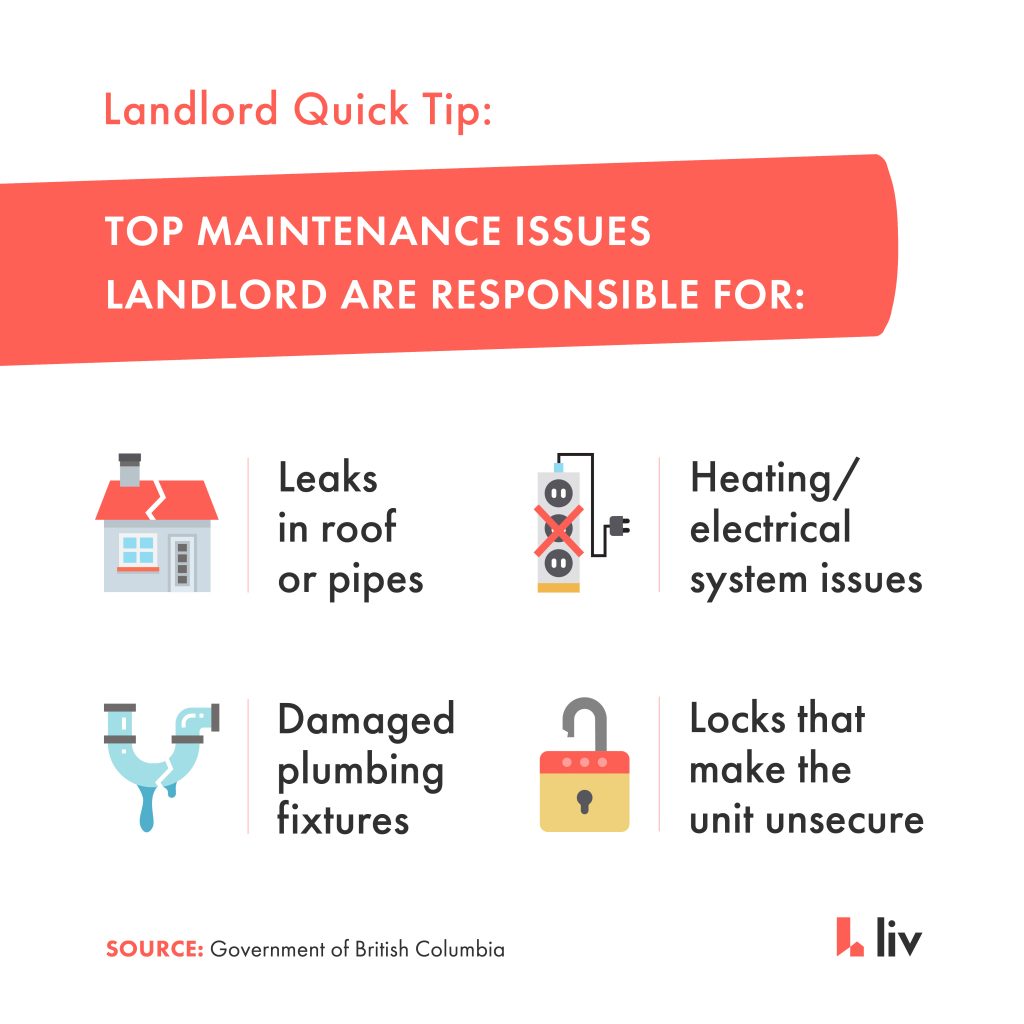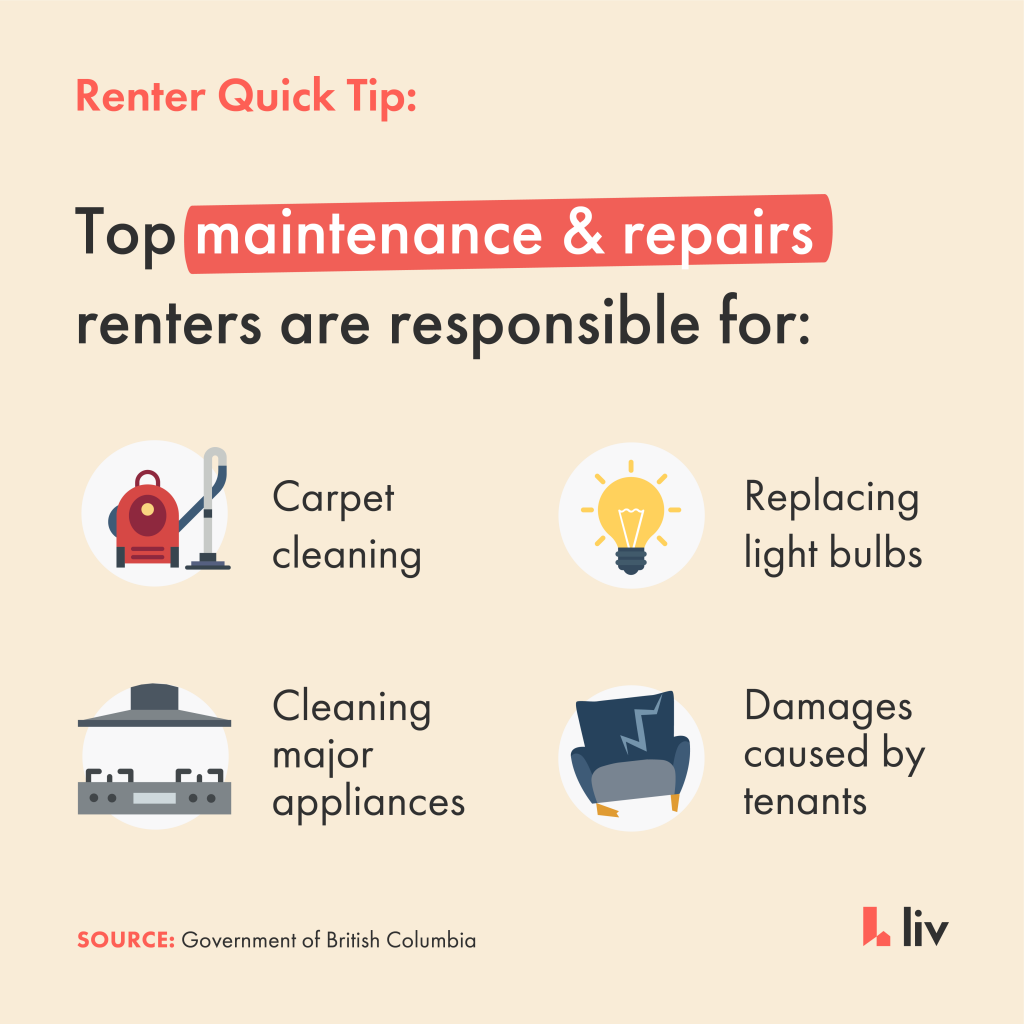 >> If you are looking to service, upgrade, or replace a heating system, be sure to secure a no-commitment, free online quote from Onles.
Communication is key – Contact your landlord
If you are ever in doubt over the division of labour, it is always best to contact the landlord even if it is simply to ask permission to perform a repair or contact a service provider. Oftentimes, landlords rely on a tried and tested list of repairmen and will recommend someone. It is also important to discuss payment responsibilities.
Every province has slightly different guidelines governing responsibilities. Make sure you research your legal obligations and regularly discuss expectations with your landlord. In BC, refer to the Policy Guidelines – Landlord and Tenants Responsibilities.
Want to see more? Discover our Tenant Rental Resource section for more tips.
---
Not on liv.rent yet? Experience verified listings, digital applications and contracts, and more – all on one platform. Click here to sign up now or download the app to get the full search by map experience.
Follow us on Instagram and Facebook for monthly rental stats, feature updates and other up-to-date rental info.