Furnishing a rental property is a considerable expense. Should you spend the money, or let your tenants furnish the unit themselves? We're liv.rent and we're here to make facilitate a smoother rental process from start-to-finish, for both landlords and tenants. If you're on the fence about whether you should rent your unit furnished or unfurnished, this guide will hopefully help make your decision a little easier.
Table of Contents
What is a furnished unit?
A furnished apartment has enough of the essential pieces and furnishings inside for people to live there comfortably without moving in their own furniture. For example, a furnished bedroom would likely come with a bed, mattress, and perhaps a dresser and a nightstand — at the very least.
Many furnished units you can find on various rental platforms are from subletters, or suites within someone's primary residence. However, many landlords rent their units furnished as well as a means of increasing the profitability of their rental property. Generally, furnished units attract people moving to the city for the first time, new renters, students, and newcomers to Canada.

Furnished vs. unfurnished price difference
Every rental market is different, and it's important to check the price difference between furnished and unfurnished rentals in your area when deciding whether or not to furnish your unit.
At liv.rent, we publish monthly rent reports in Vancouver, Toronto, and Montreal. For June 2022 in Vancouver, a furnished one-bedroom went for an average of just $26 more than an unfurnished one per month. With this minuscule price difference, it's up to landlords whether or not they wish to furnish their unit. Still, there are plenty of other benefits to renting your unit furnished as you'll see below.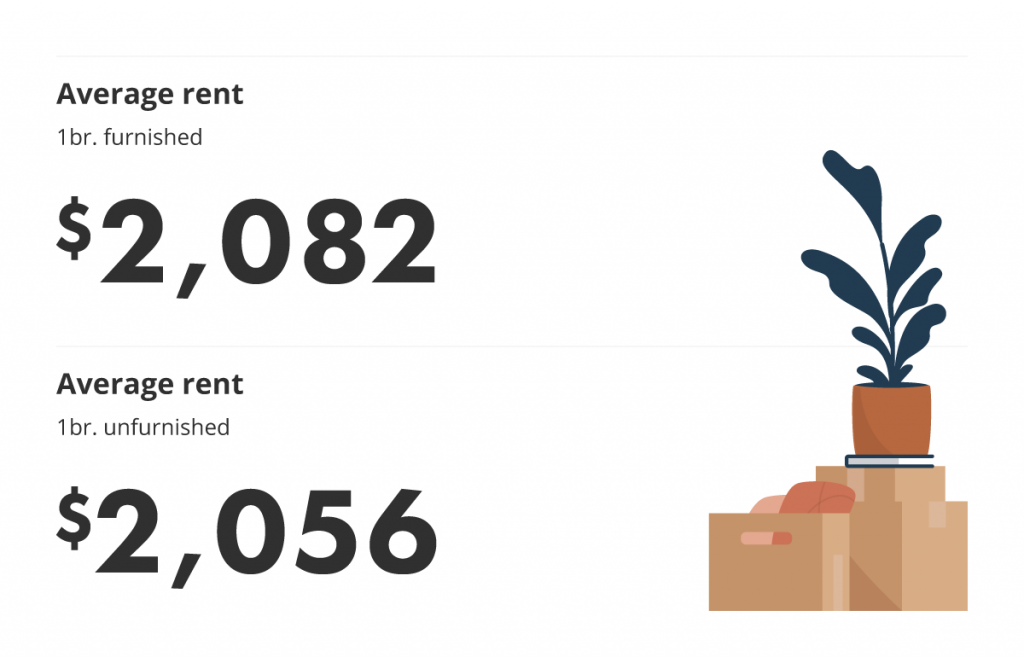 Toronto in June 2022 was a similar story, with a price difference of $37 more for a furnished unit; meaning that it might be a good idea to forego furnishing your unit unless you either already have the furniture, or want to take advantage of some of the other benefits of renting your unit furnished.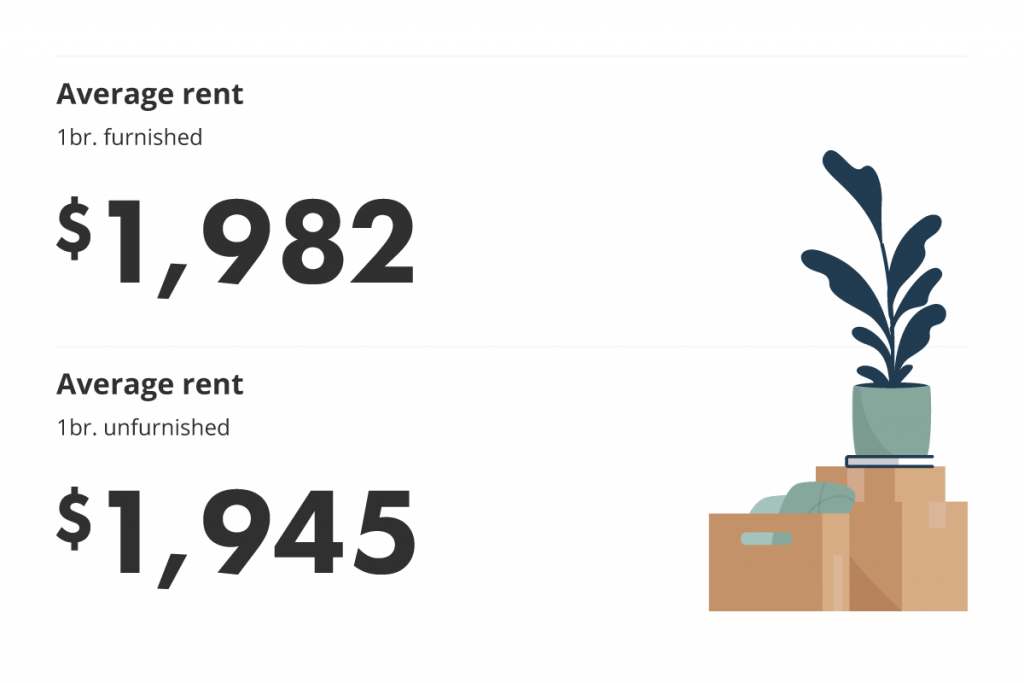 What to include in tenancy agreements for furnished units
If you decide to rent out a furnished suite, you may want to make some amendments to your standard lease agreement. These amendments will serve to protect your additional investments in the furnishings and fixtures you put in the suite and guarantee your peace of mind later on.
For example, you could insert a rule that all the furniture is to remain indoors and away from heating and ventilation systems, to protect from unlikely but unwelcome incidents.
It's also a good idea to include a list of the pieces of furniture in the unit and their condition. Then, you can set the expectation that everything remains in tip-top shape. That way, a tenant may be liable for excessive wear and tear or damage to furniture. You could also stipulate that they report back any damage, for example, if a table leg breaks, they have to let you know rather than throwing out the table without telling you.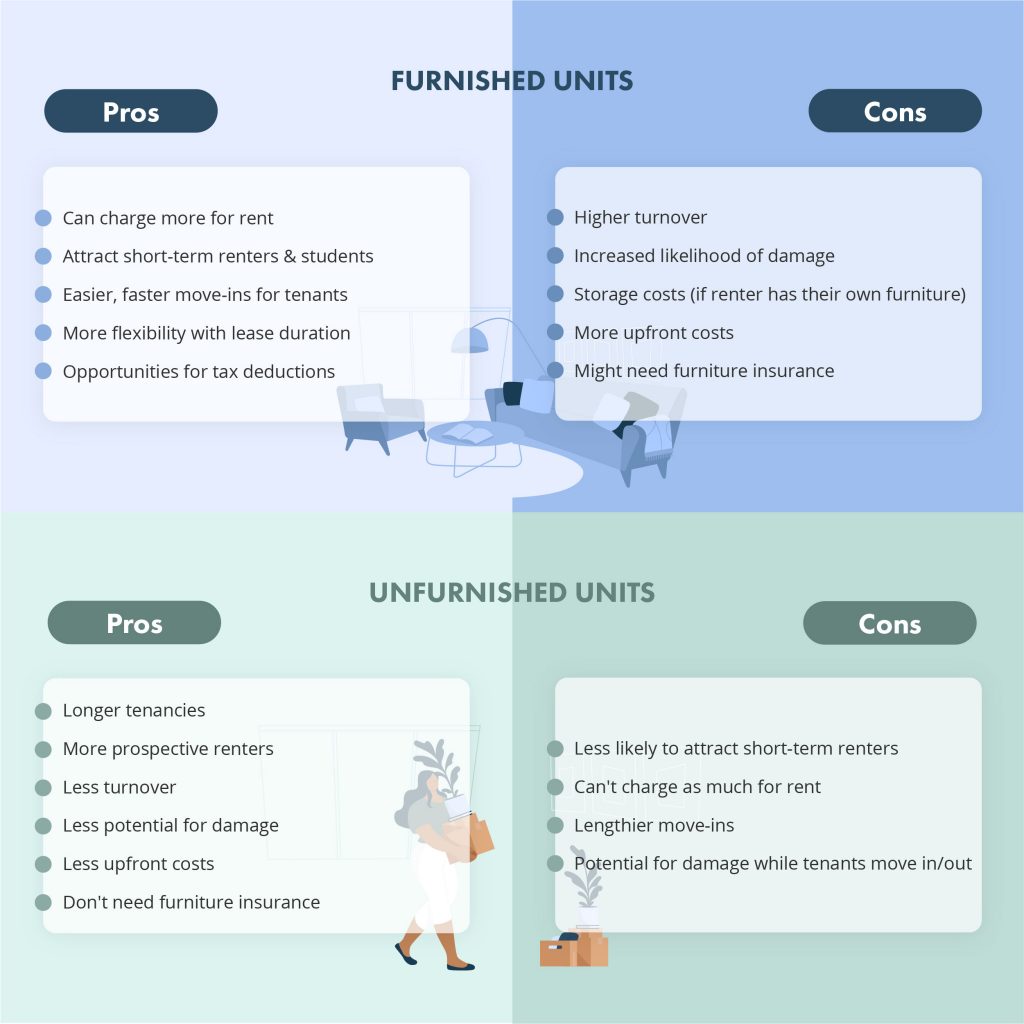 Benefits of renting a furnished unit
You can demand higher rent. A well-furnished property rents for 25 to 75% more than an unfurnished property. Across Canada, the difference in rent between the average furnished and unfurnished unit is around $400 – that's an extra $4,800 a year! However, the higher the rent, the less likely the tenant is to stay long-term.
More short-term rentals. If you are aiming to be in the short-term rental business (6-12 month leases), furnished units help attract more short-term rentals as renters don't have to move furniture.
Rent it out quicker. It may be rented more quickly as tenants can save on costs and time associated with furnishing. First-time renters will find furnished options less daunting when all they need is to bring their personal belongings.
Inventory of furnishings. When the tenancy ends, you will have the option to use the furnishings for yourself or use them in your other rental properties.
Tax deductions. You can deduct a percentage of the cost of goods for tax purposes. It's a good idea to know exactly which tax deductions are available for you.
Landlords & Property Managers
Advertise your rental for free on liv.rent – an all-in-one rental platform.
Maximize Exposure: Multiplatform syndication to Craigslist, Kijiji, Zumper, Facebook Rental Groups & more.
Generate Quality Leads: Chat instantly with ID verified renters & search from a list of suggested tenants.
Screen Tenants Smarter: Easily assess a renter's reliability & trustworthiness with Trust Score – the new intelligent rating system.
Benefits of renting an unfurnished unit
Longer tenancy. Tenants may stay longer as they've furnished the place to suit their needs and space. Furnished properties are typically rented as a temporary measure by travelling professionals or students who aren't planning to stay for long, or people moving between houses and waiting for furniture to arrive from a long-haul move. On the other hand, unfurnished units are geared towards tenants who want to make the space their own since they'll be staying for a set period of time.
Larger applicant pool. Since most renters already have furniture, you're casting a much wider net by renting your unit unfurnished. While furnished units may be attractive for rental properties close to universities and colleges, the majority of renters won't need the furnishings.
No need for furniture insurance. Without costly furniture in the unit, there's no need to worry about insuring it or amending your lease to include additional rules or stipulations.
Avoid wear and tear concerns. You don't need to worry about wear and tear on your belongings.
No carrying costs. Carrying costs can be transferred to the tenant whereas when the unit is furnished, the expectation is that the higher rent includes all utilities, cable/internet etc.
Longer leases, less tenant turnover. One-year leases are most common for unfurnished properties whereas you'd likely be negotiating shorter terms for furnished apartments.
Less management involved. Unlike furnished units which generally experience higher tenant turnover, unfurnished properties require less management.
Should you rent furnished or unfurnished?
Consideration 1: Target market and location
Typically, smaller properties, near the downtown core and amenities, attract younger, more mobile tenants who are more likely to enjoy the convenience of a furnished apartment. The same goes for rental properties in more student-friendly neighbourhoods, as those attending from out of town will usually want somewhere they can just move into and out of without worrying about furniture.
Landlords with larger apartments or houses could benefit from leaving them unfurnished. Tenants for these types of units are likely to be older and may have families of their own, and more likely to have accumulated furniture over the years.
Do your due diligence and evaluate your market, including knowing the latest rental averages, before making a decision.
Consideration 2: Additional costs
While a furnished unit has the potential to fetch a much higher market rental rate than an unfurnished one, there are additional upfront costs involved that you'd have to recuperate first before you see a significant profit.
Also, as tenants damage or create expected wear and tear, you will also have to update or replace pieces and fixtures as you go. Landlords can within reason use part of a damage deposit to replace some items and can write others off at tax time.
Whether you rent your unit furnished or unfurnished, using liv.rent to streamline your rental process will save you precious time and money. Learn more about how to get started with liv.rent today.
---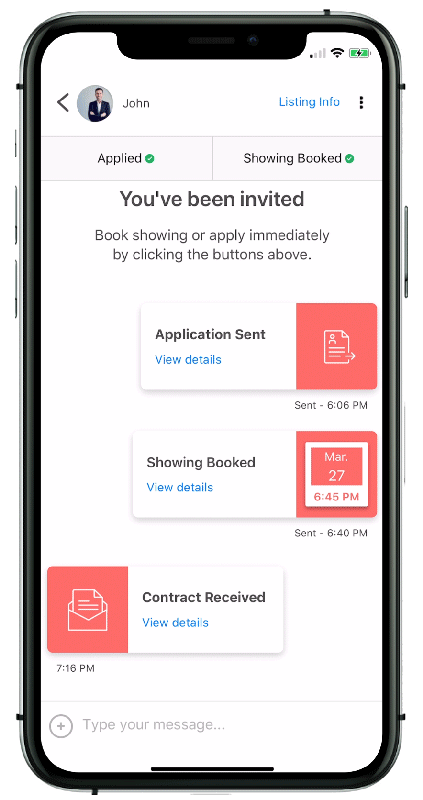 Rethink The Way You Rent
Not on liv.rent yet? Experience the ease of digital applications & contracts, verified tenants & landlords, virtual tours and more – all on one platform. Sign up for free or download the app.
Subscribe to receive the latest tenant & landlord tips and get notified about changes in the Canadian rental market.
>> Stay up-to-date on the average rent in Vancouver, Toronto and Montreal: Rent Reports.