Canada's two largest cities are diverse and exciting epicentres of culture that many people from across the country and across the world would love to call home.
But the cost of living in Toronto with rent can be high, so how does Toronto vs. Montreal cost of living stack up?
We'll start by taking a brief look at the major Toronto vs. Montreal differences. Then, we'll explore the biggest cost of all — rent — and see how far your dollar can go in each city by looking at some of the latest liv.rent rental market data.
Next, we'll do a complete financial breakdown of how much you can spend or save depending on which city you call home, plus additional info you need to know about everyday life in each city.
Let's jump into this Toronto vs. Montreal living comparison right now, or, use the table below to navigate to the section you want:
Table of Contents
Toronto vs. Montreal: Major differences
A quick overview of the cost of living in Toronto vs. Montreal shows that it's more affordable to call Montreal home than Toronto.
In fact, according to Numbeo, you'd need to earn around $6,504 per month in Toronto to afford the same standard of living that would cost you just $5,200 in Montreal — that's a difference of $1,304 per month.
So, if money is the #1 concern for you, Montreal is a better choice. However, for most of us, it's more than just money that factors in when you're deciding where to call home.
Here are some fast facts about Toronto vs. Montreal that are important to know if you're deciding where to call home:
Toronto has a larger metropolitan area than Montreal
Montreal is in Quebec, a primarily French-speaking province
Toronto is in Ontario, a primarily English-speaking province
Let's take a look now at rent in each city and see what kind of place you can get and for how much:
Average rent in Toronto vs. Montreal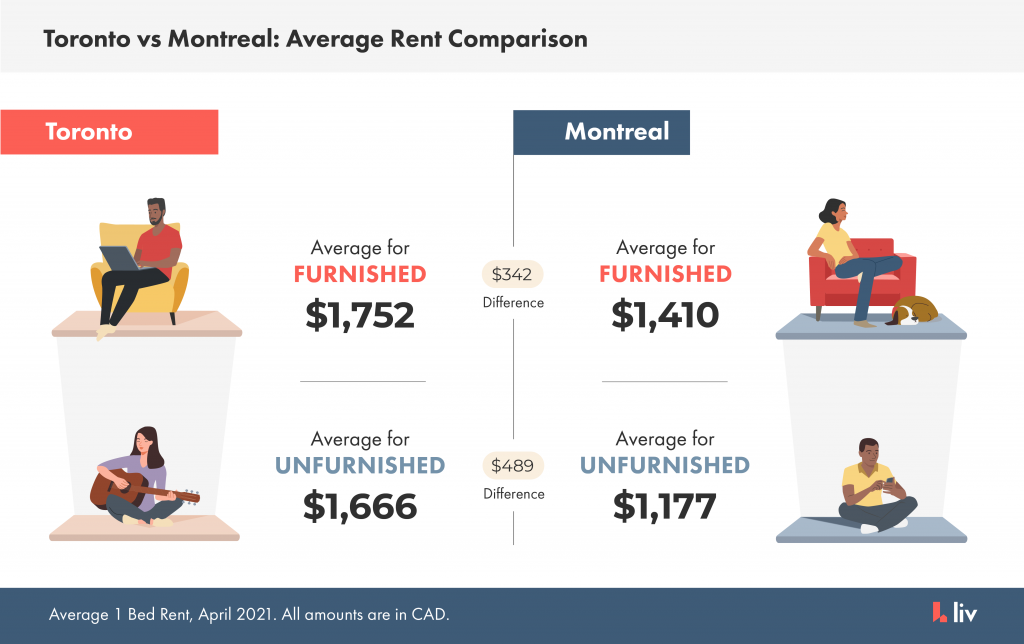 In April 2021, the average rent for an unfurnished one-bedroom apartment in Toronto was $1,666. In comparison, in Montreal, it was $1,177.
Even if you compare Toronto's most affordable neighbourhood, Scarborough, to Montreal's most affordable neighbourhood, Ahuntsic-Cartierville, the price difference is big.
The average rent for an unfurnished one-bedroom apartment:
Scarborough: $1,600
Ahuntsic-Cartierville: $950
Regarding rental types, both cities have furnished or unfurnished rooms for rent, apartments for rent, and houses for rent available depending on your needs.
Cost of living comparison: Toronto vs. Montreal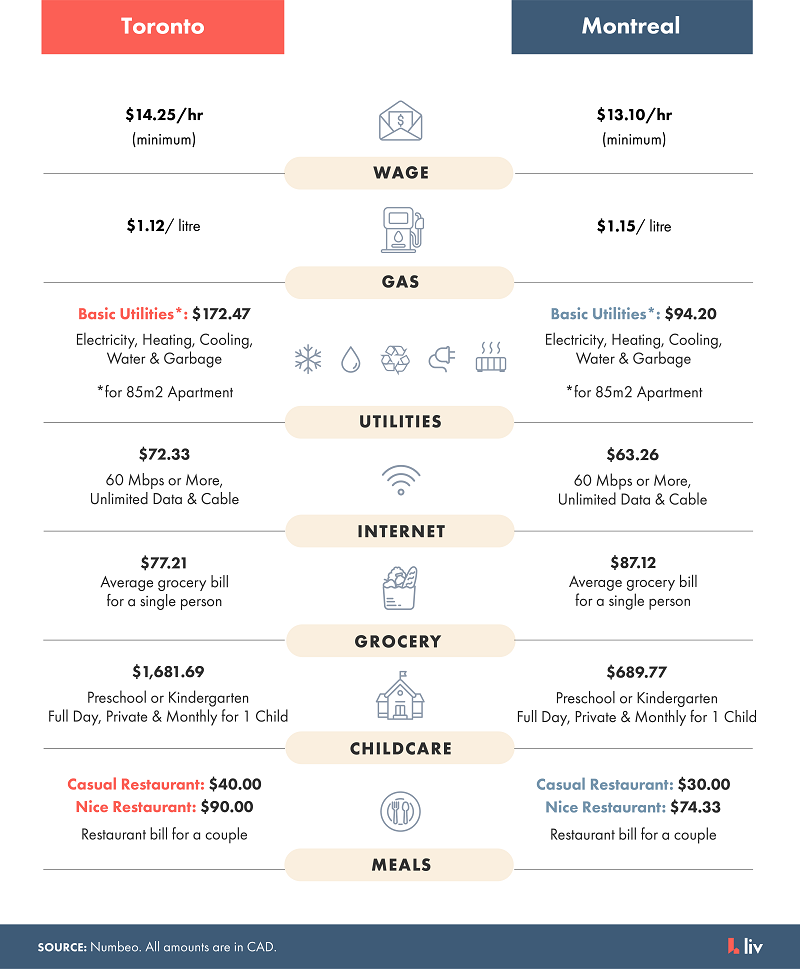 Population of Toronto vs. Montreal
The City of Toronto has a population of almost three million, while the entire Greater Toronto Area's population is just over seven million.
Meanwhile, in Montreal, the city has a population of almost two million while the entire Montreal Metropolitan Area has just over four million people.
Not only does Toronto have a much larger population than Montreal, but it's also much more densely populated. Toronto has 4,334.4 people per square kilometre while in Montreal it's 890.2, meaning that it might feel less crowded than in T.O.
With more people can come more competition for rental units. Historically, Toronto has been an extremely competitive rental market. Meanwhile, Montreal has a slightly higher vacancy rate and generally, it's less competitive.
liv.rent – Canada's trusted house & apartment rental website
Search apartments, condos, and homes for rent.
Verified Landlords: Rent from a trusted landlord. Look for the "ID Verified" tag to identify which landlords have been pre-screened.
Quality Rentals: Browse listings that have been checked by our team. Verified by official documents or by mail.
One-Click Applications: Fill out your Renter Resume once and apply to multiple listings in just a few clicks.


Traffic in Toronto vs. Montreal
For those who rely on their car to get around in the city, traffic is a huge concern. According to TomTom's Global Traffic Index, neither Toronto nor Montreal rank well for ease of traffic.
In fact, just behind Vancouver, Toronto and Montreal are the #2 and #3 worst cities in Canada for traffic congestion. In Toronto, 82 hours per year can get eaten up by being stuck in rush hour traffic and in Montreal, it's 80 hours.
Luckily, both cities have excellent public transportation options. In Montreal, Société de transport de Montréal (STM) — a network of buses and metro lines that connect the city.
And in Toronto, there are plentiful transit options and many networks depending on which neighbourhood you live in. In the city centre, the Toronto Transit Commission (TTC) runs extensive bus and subway lines.
Weather in Toronto vs. Montreal
Let's take a look at Montreal vs Toronto: weather! Both cities are located in Eastern Canada, where you can expect warm summers cold and snowy winters. Overall, the climates are fairly similar, although Montreal can have colder winters with more snow.
When it comes to precipitation, Montreal gets around 1,000 millimetres per year and Toronto gets 831 — so it might be a bit drier. However, the weather in Toronto tends to feel pretty muggy and humid in the summer, perhaps more so than the weather in Montreal.
Rent your perfect home with liv.rent
Search houses, rooms, condos and apartments for rent. Chat instantly with verified landlords. Apply to multiple listings. Save your chat history & signed documents all on one platform.
Cost of living for students in Toronto vs. Montreal
If you are planning to study in Canada, then both Montreal and Toronto are excellent places to live. They are home to some of the country's most highly-ranked and desirable schools like the University of Toronto and McGill University.
However, student life can often mean watching your living expenses closely. As we saw earlier, rent in Montreal is significantly cheaper than rent in Toronto. So, something students should note is that they might be able to afford to live on their own or with fewer roommates compared to living in Toronto.
Here's some more data relevant to students about the cost of living in each city:
| | | |
| --- | --- | --- |
| | Montreal | Toronto |
| Cappucino | $3.97 | $4.52 |
| Litre of regular milk | $2.53 | $3.10 |
| A fresh loaf of white bread | $3.48 | $2.82 |
| Student Monthly Transit Pass | $53 | $128.15 |
Source: Numbeo
Which is better, Toronto vs. Montreal?
After comparing what it's like in both cities, we can say that it's significantly less expensive to call Montreal home. That said, it's more than just the cost of living or the cost of rent that goes into the decision-making.
Curious about Toronto's different neighbourhoods? We've created guides to help you understand the city and see what it's like to call each corner home:
Join us at liv.rent and start your search today for listings in Toronto and Montreal.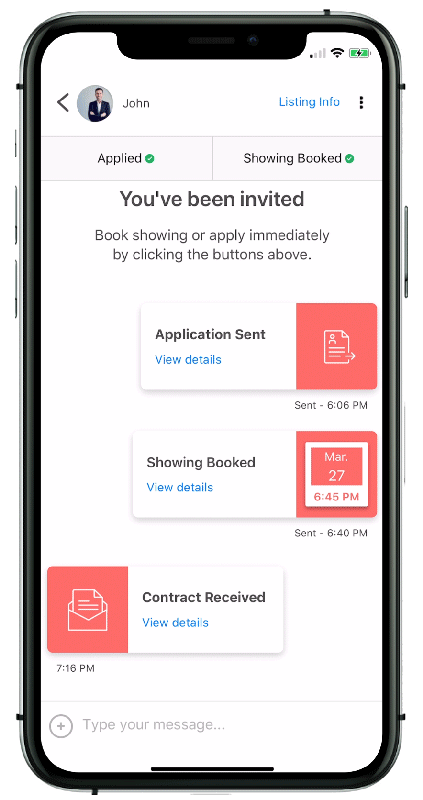 Rethink The Way You Rent
Not on liv.rent yet? Experience the ease of digital applications & contracts, verified tenants & landlords, virtual tours and more – all on one platform. Sign up for free or download the app.
Subscribe to receive the latest tenant & landlord tips and get notified about changes in the Canadian rental market.
>> Stay up-to-date on the average rent in Vancouver, Toronto and Montreal: Rent Reports