The two largest cities in B.C. are less than an hour apart. When it comes to everyday life, however, they're a world away. We're pitting Surrey vs. Vancouver in a battle royale of livability by comparing key costs of living indicators. We'll show you exactly how you could save or splurge depending on which city you decide to call home.
Table of Contents
liv.rent – Canada's trusted house & apartment rental website
Search apartments, condos, and homes for rent.
Verified Landlords: Rent from a trusted landlord. Look for the "ID Verified" tag to identify which landlords have been pre-screened.
Quality Rentals: Browse listings that have been checked by our team. Verified by official documents or by mail.
One-Click Applications: Fill out your Renter Resume once and apply to multiple listings in just a few clicks.
Vancouver vs. Surrey: Major differences
According to Numbeo, your money goes further in Surrey. You'd need $6,127.65 for the same standard of living that would cost you $6,600 in Vancouver — that's a savings of $473 per month. But when you're deciding on where to live, it always comes down to more than just dollars and cents.
Surrey is far larger and more suburban than Vancouver. In fact, it's more than twice as large. Living in Vancouver is great because it's highly walkable, especially since there are no freeways in the city. On the other hand, unless you're living within walking distance to a Skytrain Station in Surrey, you're going to want to have a car.
On a good day, you could zip between Vancouver and Surrey in about 40-minutes either by car or on the Skytrain. They are well connected by highways and rapid transit, making living in Surrey good for commuters for with many people calling it home but going into Vancouver for work each day, especially pre-pandemic.
Average rent in Vancouver vs. Surrey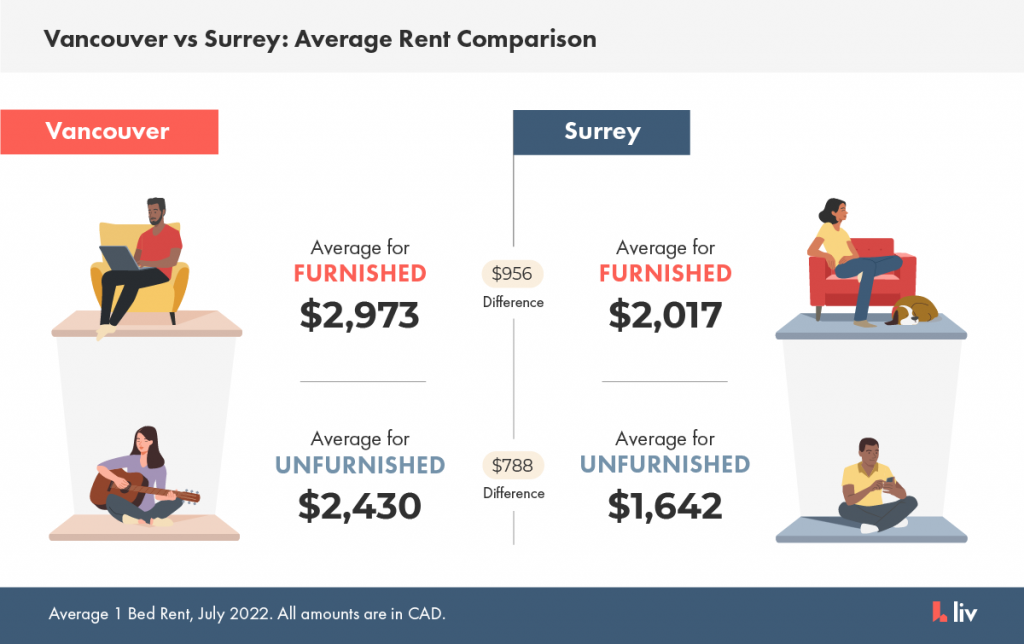 The further you live from the centre of Vancouver, typically the cheaper the rent. Surrey has Vancouver beat when it comes to low rental prices. In July 2022, the average rent for an unfurnished one-bedroom apartment in Downtown Vancouver was $1930. In Surrey, it was $1293. That's a considerable difference.
Plus, you'll find that in Surrey, you could even get a two-bedroom for less than the cost of a one-bedroom in Vancouver. For people looking for an extra room for a home office or just more space, Surrey could be a good option.
Rental types in Vancouver vs. Surrey
Both cities have apartments for rent, houses for rent, and rooms for rent. And if you thought that Surrey wouldn't have many apartments since it's a bit more on the suburban side, you would be wrong. Surrey is becoming more densely populated, especially around Skytrain Stations, and new condo buildings are always going up.
Cost of living comparison: Vancouver vs. Surrey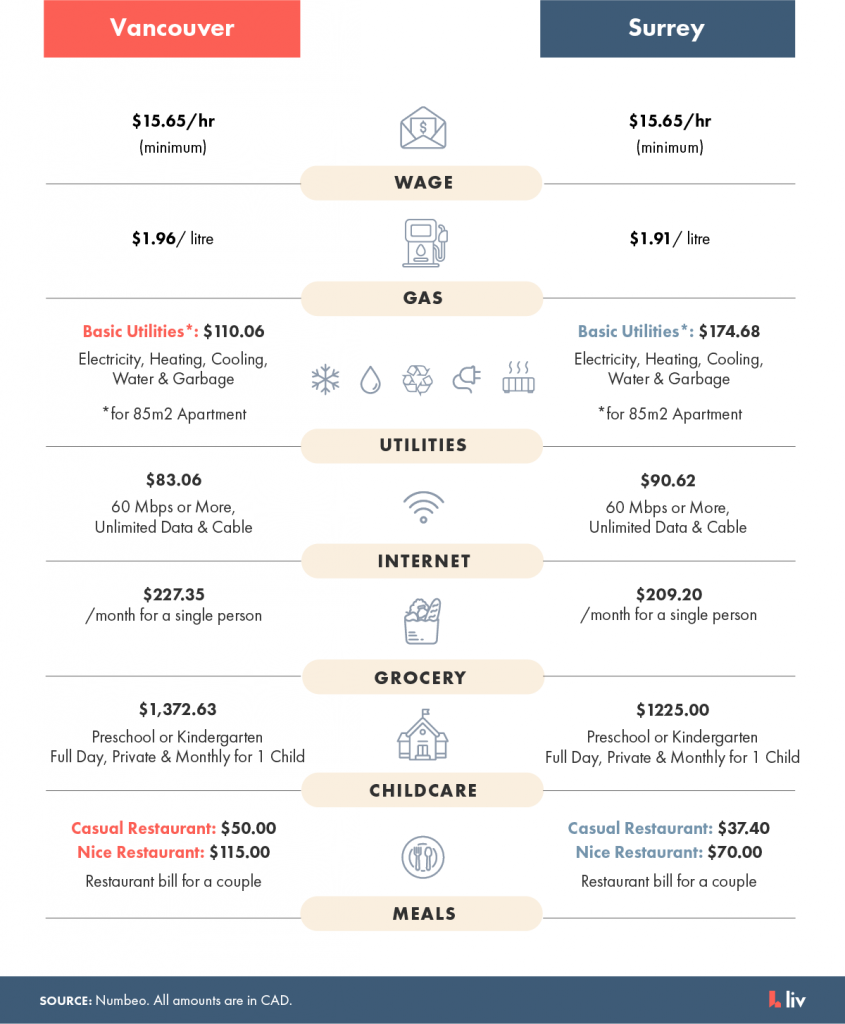 Population of Vancouver vs. Surrey
The entire region of Metro Vancouver has a population of around 2,606,000. That includes Vancouver, Surrey, Richmond, Coquitlam, Burnaby and more.
Even though Surrey is more than twice as large as Vancouver, it actually has a smaller population. Surrey is home to 518,467 while densely populated Vancouver fits in about 675,218.
Crime Rate in Vancouver vs. Surrey
The Vancouver Police Department is the city's own municipal police department. In Surrey, they do not have a municipal police department. Instead, they use the RCMP and it's the biggest detachment of its kind in the country.
According to Maclean's in their report on Canada's Most Dangerous Places 2020, Vancouver came in at #59 while Surrey lagged behind at #85.
If you compare the homicide rate, which is the number of incidents per 100,000 people, it's 2.21 in Vancouver and slightly higher in Surrey at 2.64.
Typically, both cities are relatively safe. Although locally there's a perception that Surrey is the most unsafe place in Metro Vancouver, that's not backed up by the data. In fact, places like Chilliwack and Langley have higher crime incidents than places like Vancouver and Surrey.
No matter which city you call home, you should always use caution when you're finding a place to live so you can avoid rental scams.
Traffic in Vancouver vs. Surrey
Vancouverites have it worse than anywhere else in Canada when it comes to traffic. According to TomTom, it leads the country in bad traffic and it's the 52nd most congested city in the world.
But there's more to the story. As we mentioned earlier, Vancouver doesn't have any freeways through it so drivers are typically travelling at lower speeds through the city.
So while it might seem like Vancouver has worse traffic than Surrey, most of the traffic actually happens between the two cities during rush hour. Taking public transit is a good way to avoid getting stuck in traffic, but if you're commuting by bus, train, or car then you're going to feel more of a pinch in Surrey than in Vancouver.
Health care in Vancouver vs. Surrey
Access to health care in between the two cities is virtually identical. Canada has a universal public healthcare system. In B.C., their additional Medical Services Plan is even free for most residents since the NDP government eliminated MSP fees as of January 2020.
The cities fall under different health care authorities — Vancouver Coastal Health, responsible for Vancouver, and Fraser Health, responsible for Surrey.
Rent your perfect home with liv.rent
Search houses, rooms, condos and apartments for rent. Chat instantly with verified landlords. Apply to multiple listings. Save your chat history & signed documents all on one platform.
Education in Vancouver vs. Surrey
Vancouver has a slight edge over Surrey in that they having higher ranking private schools and universities. Still, overall public education is pretty similar in both cities.
Surrey has the largest school district in the province and it's growing. There are lots of reports of overcrowding in Surrey schools and the district has plans to open 13 more schools in the next decade.
When it comes to higher education, Vancouver is home to the University of British Columbia. It is consistently ranked highly on the world stage and UBC is second in Canada.
Although there are plenty of post-secondary institutions in Surrey as well including Simon Fraser University Surrey Campus, Kwantlen Polytechnic University, and Douglas College.
If you're curious to learn more about Vancouver's different neighbourhoods, then we've created guides that will help you get the lay of the land and understand better what it's like to call each place home.
Which is better, Vancouver or Surrey?
After reviewing what it's like in both Vancouver and Surrey, we can confidently say that you'll probably end up saving a lot on rent if you decide to adopt a more suburban lifestyle. One is not better than the other, it depends on your priorities and what makes sense for your life.
---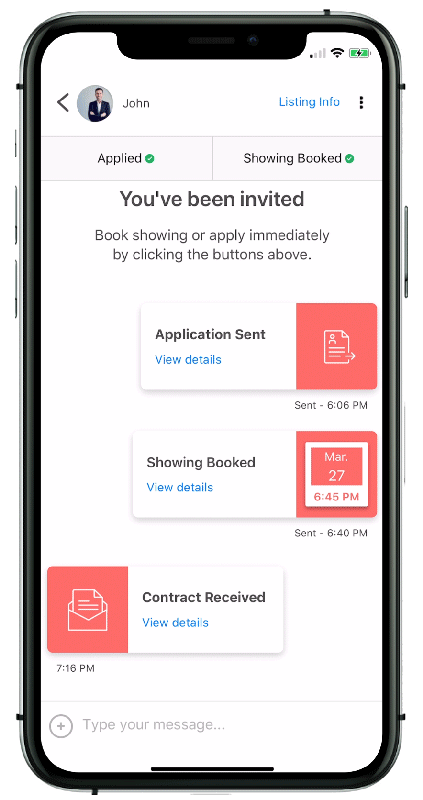 Rethink The Way You Rent
Not on liv.rent yet? Experience the ease of digital applications & contracts, verified tenants & landlords, virtual tours and more – all on one platform. Sign up for free or download the app.
Subscribe to receive the latest tenant & landlord tips and get notified about changes in the Canadian rental market.
>> Stay up-to-date on the average rent in Vancouver, Toronto and Montreal: Rent Reports.