We've partnered with Vancouver-based, international relocation specialists, Vanmates for this article. With services specifically tailored to the needs of international students and young professionals, Vanmates has helped thousands of clients find the right home in Vancouver. Vanmates has cultivated a vibrant, like-minded community of new Vancouverites who continue to support each other long after their move is complete.
Sharing our collective knowledge and experience of international student housing and the Vancouver rental market, we're here to present to you our international students guide to homestay vs. renting alone.
Jump to the following sections to get started:
Homestay vs. Renting – Which one is better?
The exciting part of coming to a new country as a student is the freedom of making choices for yourself and experiencing everything a beautiful new place like Canada has to offer. However, along with the thrill of new adventures, there are some more mundane, logistical matters to address – like finding a place to stay. It can be a challenging and complicated experience navigating the process in a new country, especially if English isn't your first language, but companies like liv.rent and Vanmates can help ease your rental journey.
Though there are many accommodation options available to students, typically student housing options are divided into a homestay option or renting a space on your own. This might include a private room in a shared house or your own apartment alone or with roommates.
Both of these options can offer rich and valuable experiences; however, when deciding between the two, be mindful of the different experiences each delivers. Below we shed some light on both options, outlining their pros and cons.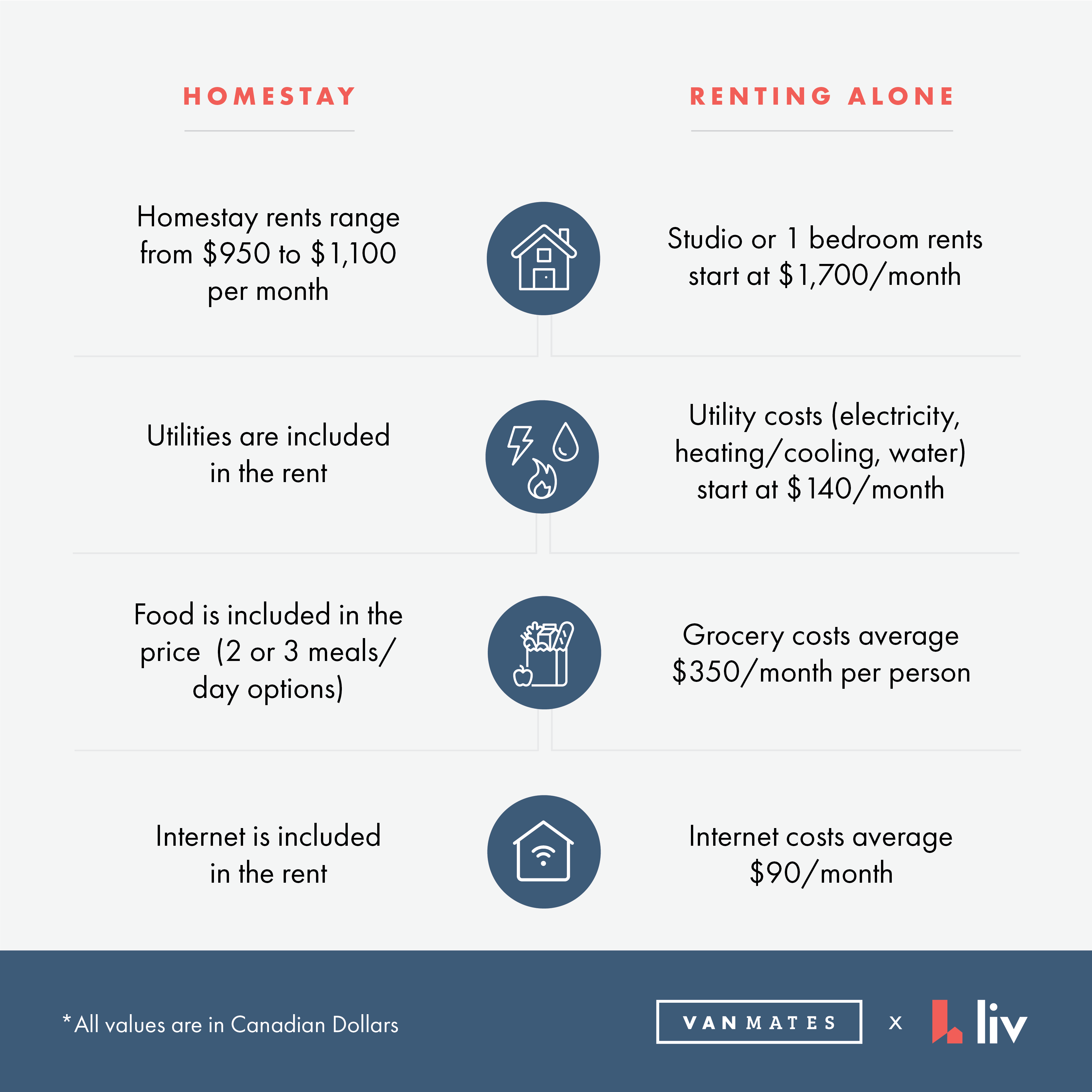 Homestay Accommodation – Pros & Cons
The homestay option is a great choice if you want a fully immersive Canadian experience. Staying with a local family can be rewarding and life-changing. Arriving in a new country by yourself can be daunting but knowing you will be living with supportive Canadians who can help you navigate their customs and their community can alleviate a lot of relocation stress. A homestay living arrangement offers newcomers a home away from home and an opportunity to forge lifelong friendships with Canadians right from the get-go.
Vanmates ensures all host families are screened beforehand to make sure they meet the highest standards of safety, security and friendliness so your homestay experience is positive and enriching.
Pros of Homestay in Vancouver
Immersion – Offers a deeply immersive social, linguistic and cultural exchange between students and hosts.
Local Scoop – Taps host's knowledge of the city and region, providing students with accessible, up-to-date, insider knowledge of where to go, what to see, how to get around etc.
Fully Furnished – All homestay bedrooms are fully furnished.
Language Learning – Fosters language improvement opportunities.
Food provided – Includes two to three meals per day based on your requirements.
Household Maintenance – Removes the responsibility of performing household chores and managing expenses like food and utilities.
Cons of Homestay in Vancouver
Location – Could be up to 40 minutes away from downtown
Privacy – Less privacy as common areas are shared with the family.
Restrictions – House rules must be respected.
Socializing – Potentially fewer opportunities to meet other students/people your own age.
Available Homestay Listings
Here are some Vanmates homestay listings available on liv.rent now:
Bright, cheery, fully furnished bedroom in family home, $1,050/month including: 3 meals/day, all utility costs and internet. A suitable location for Langara or UBC students.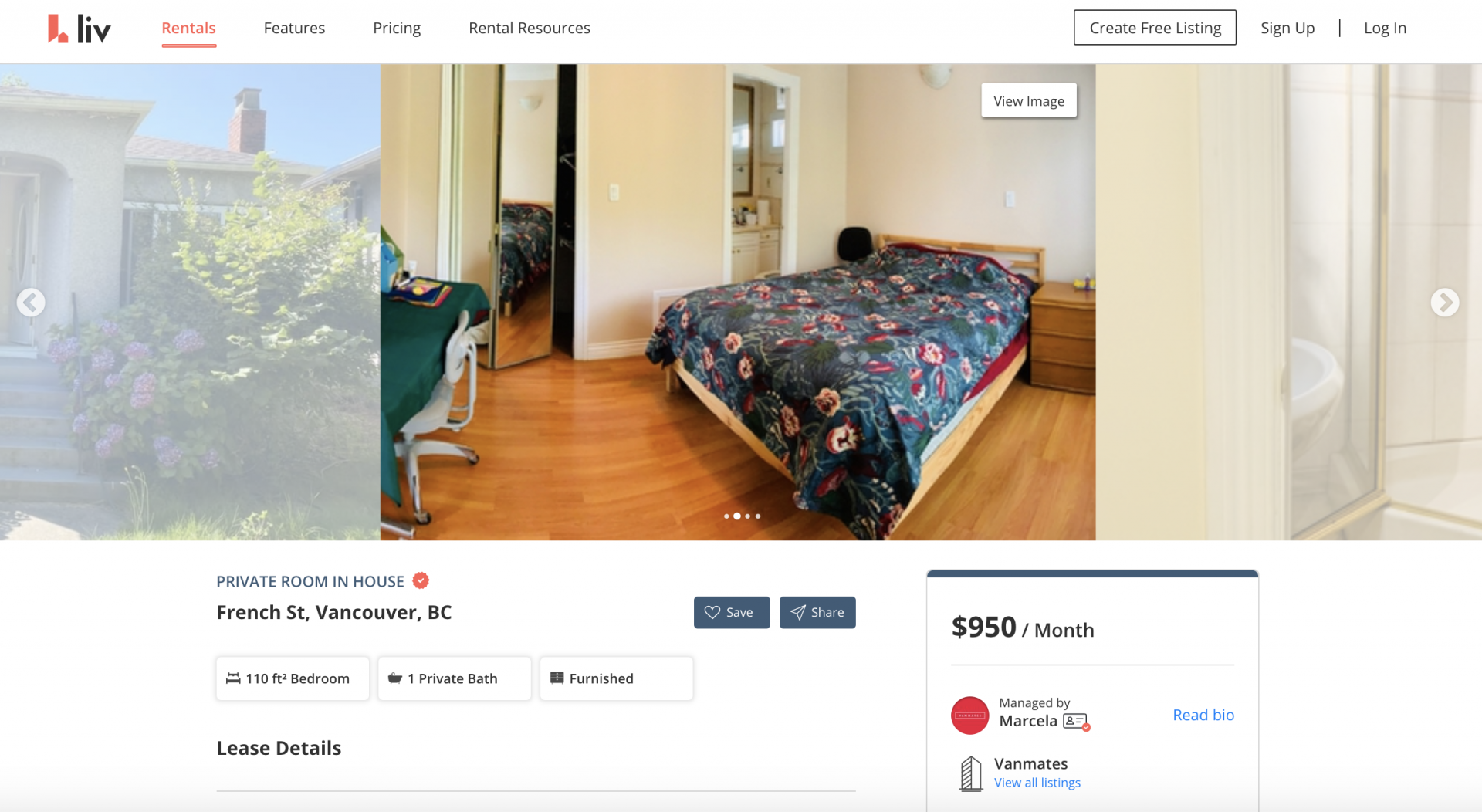 Learn more about this home-stay experience here.
---
---
Tidy, contemporary bedroom in Vancouver's Kerrisdale neighbourhood, $1,100/month including: 2 meals/day, all utility costs and internet. Easy access to transit. Well situated for Langara or UBC students.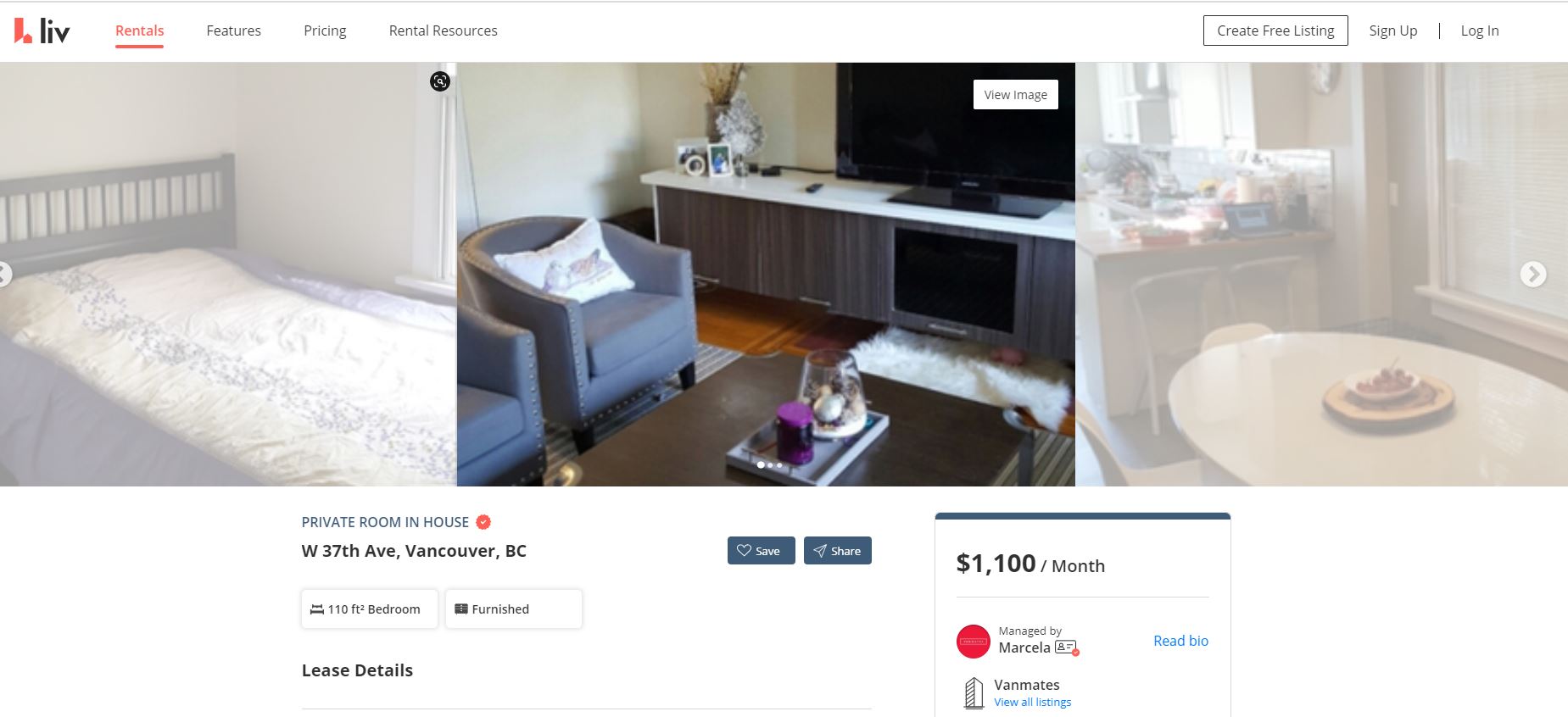 Learn more about this homestay listing here.
For other Vanmates listings, click here.
Renting Alone – Pros & Cons
Nothing that makes you feel more like an adult than living on your own, or with roommates, in a place you've chosen. However, finding that place can be challenging in an expensive, new city. liv.rent, however, makes it simple and easy thanks to an intuitive interface, thousands of verified listings and the fact you only need to complete your profile once! It will serve as your application for all properties you apply to. In addition, the liv.rent app features video tours, touchless contract signing and rent payment functionality. For newcomers, during these pandemic times, these features are very welcome. Plus, liv.rent enables you to secure a rental digitally from overseas before you arrive!
Pros of Renting Vancouver
Choice – The city boasts many vibrant neighbourhoods and a variety of housing options to choose from.
Availability -Though still high, rents are decreasing and more properties are becoming available as short term rentals are converting to long term and new apartment buildings are completed.
Personalization – You can exercise your creative juices, setting up and decorating your own place.
Reference Building -You will hopefully secure a solid landlord reference to help you find new places in the future.
Cons of Renting in Vancouver
Expensive – The city is the second most expensive in Canada after Toronto. (See our September Rent Report for more information on Vancouver rental trends).
Low Vacancy – Vancouver has some of the country's lowest vacancy rates though recently rates have eased.
Extra Costs – You will be responsible for costs on top of rent including utilities, cable, internet, etc.
Furniture Required – If you rent an unfurnished place, you will need to spend a significant amount on furnishings.
Fraud – There are rental scams to be aware of and avoided.
RECOMMENDED: Adulting 101 – Renting For The First Time In Vancouver
Available Rental Listings
For more tips on moving during a pandemic, check out our article on Tips for Moving During COVID-19. And find more COVID-19 related resources here: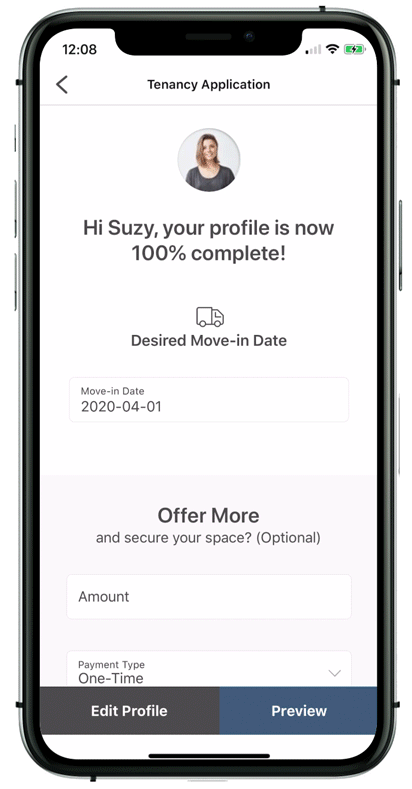 Rent Anywhere, Anytime
Secure a rental from anywhere in the world. Browse though verified listings with virtual tours to find your next home with liv.rent.
Connect with verified and trusted landlords directly on the platform and when you're ready to secure the rental – digitally sign a lease from abroad safely and securely.
Start your search from anywhere in the world now.
Follow us on Instagram and Facebook for monthly rental stats, feature updates and other up-to-date rental info.
---