If only we had a pair of ruby slippers. Then, we could just click our heels and get a fantastic home for rent — with all the features we want, in our ideal neighbourhood, and for a price we can afford.
Sadly, such slippers do not exist — but liv.rent does! And we know that finding a place to rent can be daunting. It can be so overwhelming, in fact, that it could be tempting to hire some expert outside help to give you a hand.
So, if you're wondering, "should I get a realtor to find an apartment?" We are here to help. We're going to look at all of your options from exactly how to find a realtor for an apartment, the benefits and drawbacks, plus the costs associated with realtors and the alternatives.
Table of Contents
10 Must-Haves To Avoid Rental Scams
When it comes to rental scams, knowledge is power. Look out for these 10 things when searching for and applying to rentals.

Do I need a realtor to find an apartment?
So, you know you need to find a new home, possibly even in a new city. But do you need a realtor to find an apartment?
No, it's not necessary to have a realtor to get an apartment for rent. Although, it can be helpful in certain situations. They can help when it comes to:
Finding units with special considerations
Navigating rentals in a new place
Understanding rental documents
Avoiding scams
1. Finding units with special considerations
Every rental journey is unique. For renters with special considerations, using a realtor to help look through homes for rent could be extremely helpful.
For example, if you are a wheelchair user and you require a unit that's built or been upgraded with accessibility in mind, then it could help to tap into a realtor's network of connections to find a home.
Also, if you have lots of pets or perhaps a large dog, it could benefit you to use a realtor.
Of course, depending on local laws, landlords may not be able to refuse your rental application on the basis of pet ownership. However, it's always easier to live knowing that your pets are also welcomed tenants. Just don't put their names on the lease!
Pro tip: liv.rent has more pet-friendly rentals than any other listings website — 38% compared to others at 30%.
2. Navigating rentals in a new place
New city? New province? New country? It can be intimidating to look for house rentals in a new place, especially if you've never been there before.
That's where getting a local realtor may be useful, especially since they could answer questions about neighbourhood suitability based on your needs.
Pro tip: liv.rent was designed for wayfinding through a sea of listings and to make every step of the rental process seamless and smooth. You can search, apply, and sign a contract on a new place completely online or in-app from wherever you are.
3. Understanding rental documents
One way in which realtors are extremely helpful is when it comes time to understand your lease. Since they are real estate professionals, they know the ins-and-outs of the local laws and regulations.
They can help you figure out what you're really signing and alert you to anything suspicious in a lease agreement, for example.
Here are some more resources about leases and other rental documents in Canada that you'll want to know:
4. Avoiding scams
For as long as there has been renting, there have been scammers. These grifters are out to part you with your money, and if you're moving to a new area, then they have the home-court advantage.
If you're skimming through listings on your own and giving out personal or financial information or even payments without your due diligence, then you could become the victim of a scam.
For those who are worried about rental scams, choosing to rent through a realtor may give you peace of mind.
Pro tip: liv.rent is Canada's most safe and secure rental listings site because of our intensive multi-layered security and our verification processes.
Renting a house through a realtor
So what does using an agent to help find a rental property look like? There's no standard way of using realtors to find rentals. Additionally, it's more common practice in some cities more so than others.
For example, it's not that common in Vancouver, B.C. But in Toronto, Ontario, it's a lot more common.
Here's how renting through a realtor can look in Toronto:
Connect to a realtor
Explain your needs
Review the listings they have gathered
Make your choice
The process is fairly straightforward and highly customizable based on your individual needs. Typically, you are not obligated to do any of these steps including making a final decision. In this way, using a realtor to find a place is pretty low-risk.
Rent your perfect home with liv.rent
Search houses, rooms, condos and apartments for rent. Chat instantly with verified landlords. Apply to multiple listings. Save your chat history & signed documents all on one platform.
Do I have to pay a realtor to find me an apartment?
So, how much do realtors charge to find a rental? This will vary from market to market. Let's take again the example of Toronto where renters do not typically pay any realtor fees for rental properties.
In Toronto, for example, it's quite literally a race to match a suitable tenant to a unit. Many realtors will post listings on behalf of one landlord.
Whichever realtor gets a suitable tenant with whom the landlord ends up signing a lease — that realtor will be paid by the landlord. They will typically get a commission of anywhere from half a month to a full month's rent for their services.
How to find a realtor for an apartment
Keep in mind that not all real estate agents or brokerages handle rentals at all. Additionally, they tend not to work in the low-end of the rental market. Here's how you would go about connecting with a realtor to help you find a place:
Do your prep work
Ask your network
Search online
1. Do your prep work
Before you go looking for a realtor to find apartments for you, make sure you're organized.
If you bring everything you need to the table, then the realtor knows that you're here in earnest and you're ready to rent, they may go the extra mile for you. Or at least, they'll appreciate how you're saving them time.
Here are some ideas for what you should have ready to go before you approach a realtor:
your credit score, a letter of employment, or your paystubs
a realistic budget
additional information on what you're looking for, like an ideal neighbourhood or number of bedrooms
Pro tip: you can set your preferences easily on liv.rent and you can upload all of these documents into your renter's resume so they're safely stored and always ready when you are to apply to a listing.
2. Ask your network
It's definitely worthwhile to check with your network. Start by asking friends, family, and coworkers, "who can help me find an apartment for rent?"
You might be surprised at how many people you know either know realtors or have worked with them in the past.
3. Search online
If your network search doesn't turn anything up, then your best bet is to look online. You can try a general search, or even look through the local community media listings, but another bet is this — search for listings posted by actual real estate firms.
You can reach them to start a conversation and see if they know of other units available and if they'd be open to help you start your search.
How to find an apartment without a realtor
Of course, there are lots of ways to find an apartment without a realtor. For example, if we simplify the whole rental process, then it looks like this:
Apply to a listing
Sign a rental contract
These are all steps that you can do on your own without an agent. Here's how to get an apartment without a realtor:
1. Search apartments for rent near me
The first step in your rental process is to sort through listings. liv.rent should be your first choice because it's always free for renters and it's Canada's most secure listings website.
You can rent from verified landlords and verified listings — meaning we already checked their identity and made sure that they are the owner of the property through documentation.
Through the app, renters can instantly chat with trusted landlords or property managers to inquire about units. Plus, by searching for real estate companies on liv.rent you can connect to a realtor right away.
There are other listings sites you can use as well. Popular ones include your local Craigslist postings and Kijiji. liv.rent shows additional critical information like distance to public transit options in every listing.
2. Apply to a listing
Your next step is to apply for an apartment. If you are using any other listing site than liv.rent, then the process is varied, but you'll likely have to apply through the site or reach the landlord directly. You'll have to fill out separate forms and follow different application processes for each unit you are interested in.
On liv.rent, you can inquire about and apply for apartments with just a few clicks. When you fill out your profile once (we like to call it your "renter's resume") you can use it to apply to multiple listings, either online or in-app.
3. Sign a rental contract
Once your application has been accepted, it's time to sign the contract! On liv.rent, the landlord or property manager will send you the contract in your chat timeline that you share together and you can digitally sign it.
Outside of liv.rent, you may receive an emailed or paper copy of a lease and have to return the signed document to your landlord.
---
So if you're still wondering, "do I need a realtor to find an apartment," just know that they're not necessary.
They can be helpful in certain situations, especially if you have very particular needs, you're new to an area and need help navigating the rental landscape, or you would like more assistance understanding rental documents.

Be sure to subscribe to keep up with our latest tips and updates on the rental market.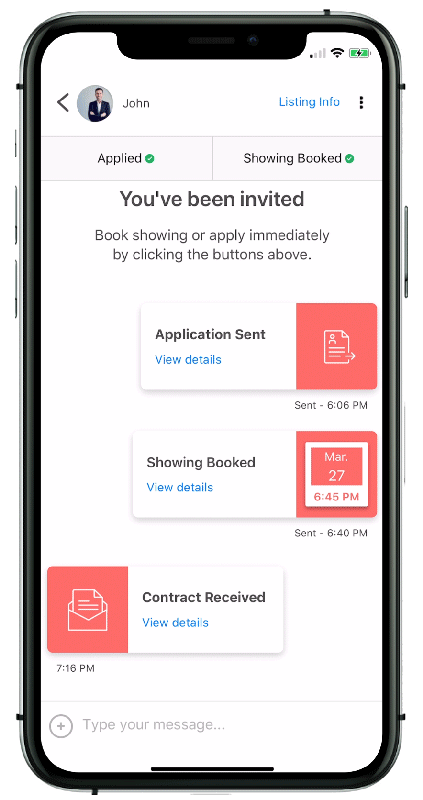 Rethink The Way You Rent
Not on liv.rent yet? Experience the ease of digital applications & contracts, verified tenants & landlords, virtual tours and more – all on one platform. Sign up for free or download the app.
Subscribe to receive the latest tenant & landlord tips and get notified about changes in the Canadian rental market.
>> Stay up-to-date on the average rent in Vancouver, Toronto and Montreal: Rent Reports.