The latest data from the Canadian Mortage and Housing Corporation is in, and there's plenty for both renters and landlords to be aware of concerning 2021's rental vacancy rates in Toronto. Here, liv.rent will be looking at vacancy rates across the City of Toronto and beyond, contextualizing this year's numbers in terms of how they compare across Canada, as well as to Vancouver specifically.
Table of Contents
Download The Latest Toronto Rent Report
For the complete Toronto rent report, download here.
What is Toronto's rental vacancy rate?
Toronto's rental vacancy rates have risen for the second year running. Across the GTA, the average vacancy rate in 2020 was 3.4%, and this number has grown again to 4.6% in 2021. This is largely owing to an increased supply of purpose-built rentals hitting the market, with demand still not yet returning to pre-pandemic levels. With that being said, it's worth noting that these higher vacancy rates are also fuelled by higher-rent units, as vacancies for more affordable units remained below the historical average.
Within the City of Toronto itself, rates were up from previous years across the board – which is surprising to see as other key Canadian rental markets have seen rates fall as travel and schools resume normal activity. In Q4 of 2021, Toronto's vacancy rates were the highest they've been since at least 2012, at a significantly large 8.0%. Again, though – this information should be taken with a grain of salt as this largely reflects the increasing availability of high-income rental properties. To provide a better sense of the city's overall rental market in 2021, let's now break down the City of Toronto into its individual neighbourhoods.
Vacancy rates in Toronto by neighbourhood
The CMHC has conveniently broken down Toronto into its six primary districts to give us a better idea of what vacancy rates are like across the city. Note that while it's listed here as the City of Toronto to match the CMHC's report, the data actually refers to the area encompassing Old Toronto.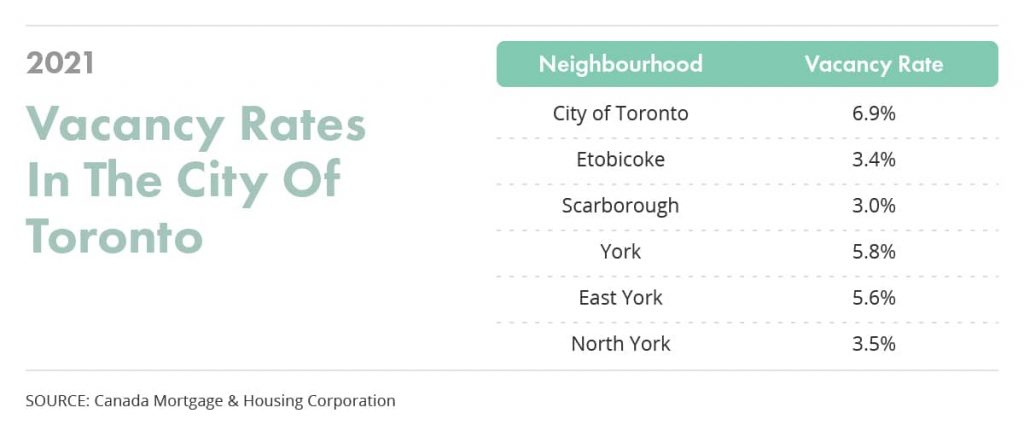 How does Toronto compare to other Canadian cities?
While Toronto's rental vacancy rates for 2021 were notably higher than the country-wide 3.4% average, the city is still far from the top when it comes to Canada's highest vacancy rates. Of the four cities we're looking at here, only Calgary had a higher vacancy rate – at 5.1% for 2021. In other provinces, vacancy rates are considerably higher such as Manitoba (5.4%) and Saskatchewan (6.1%) on aggregate.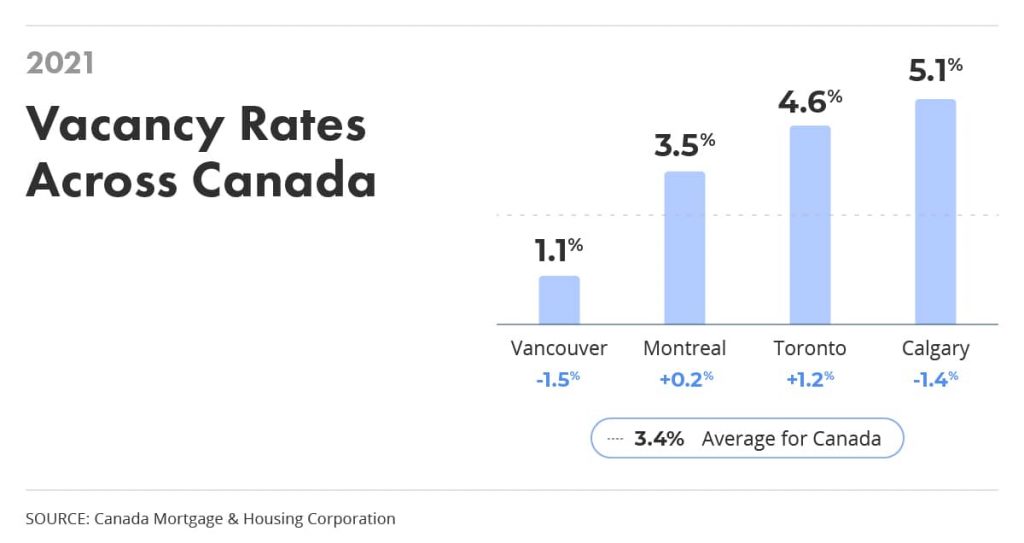 Rental vacancy rates in Toronto vs. Vancouver
Compared to Vancouver however, Toronto has significantly more availability – with the former falling 1.5% from 2020 all the way down to 1.1%, which is more or less exactly in line with the city's pre-pandemic levels. Looking at Vancouver's individual neighbourhoods in particular, only Downtown has a vacancy rate above 1% of the areas accounted for here – which is well below the national average.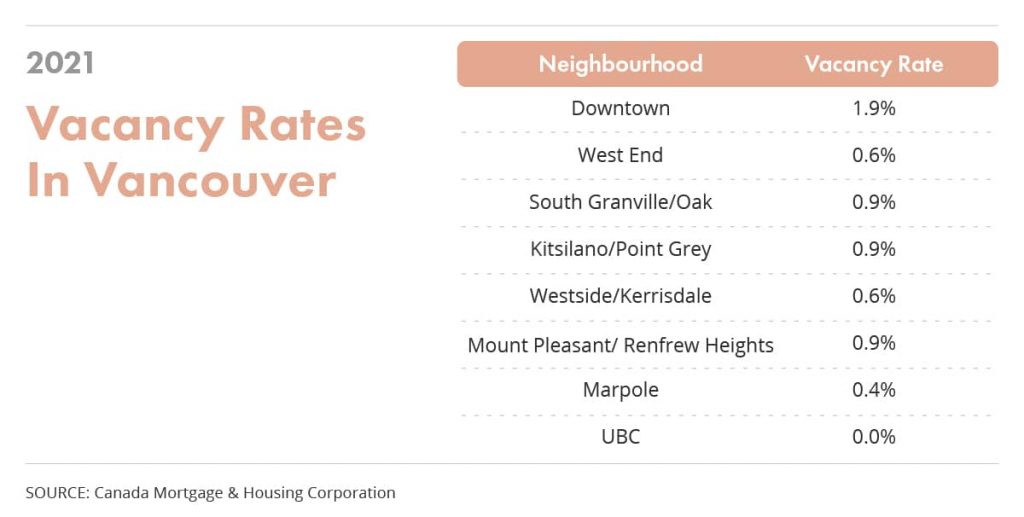 How does Toronto compare to other cities in Ontario?
In 2021, Toronto had the highest rental vacancy rate among all Ontario cities included in the CMHC's annual report for the province, except for North Perth which had a 7.2% vacancy rate, although only 595 units were surveyed in the municipality. This could be the result of two factors: first, Toronto had a disproportionately large sample size compared to anywhere else in Ontario, accounting for nearly half of the over 700,000 units surveyed to qualify this data. The second reason is that since the onset of the COVID-19 pandemic, we've seen more and more renters move away from the big city in favour of medium-sized cities or towns, which could account for the shrinking vacancy rates in many of these communities.
Numbers from other larger cities in the province back up these justifications, with Ottawa at a 3.5% vacancy rate for 2021, Hamilton at 2.8%, and Kitchener at 2.0%. Across the province, the average vacancy rate for the year was 3.4%.
Is Toronto's vacancy rate considered healthy?
Typically, a vacancy rate of around 3% is considered healthy in that it means that there are sufficient options for renters, and landlords have enough demand to rent their units for a reasonable rate. The general consensus is that rates above this 3% threshold signal a renter's market – which actually doesn't seem to be the case in Toronto right now. As of our March 2022 Rent Report for the GTA, prices across the area are markedly higher than the same time last year which is a good indication that things are beginning to return to normal.
As with anything, this 3% rule isn't set in stone. We mentioned earlier that Toronto's current 4.6% average rental vacancy rate could be driven by an increased supply of high-rent properties rather than an abundance of options for low-income renters, which certainly seems to be the case from the data we've personally collected on price, trends and different unit types.
How has Toronto's vacancy rate changed over time?
While Toronto's rental vacancy rates are certainly higher than usual right now, it's important to look at the big picture to get a sense of just how much higher that is. Thankfully, the CMHC has published the city's average vacancy rate dating all the way back to 1990 to give us an idea of where we stand now.
Looking back, these current levels certainly aren't unprecedented and in fact, aren't necessarily alarmingly high – especially given that rental markets in Canada and around the world are still reeling from the effects of a global pandemic. Between 2011 and 2019, vacancy rates in Toronto never went below 1.1% or above 1.7%, but if we look a bit further back we see that the city actually maintained rates between 2.0-4.4% for the majority of the years in which data has been collected. While these current rates are the highest since 1990, they came close in 2004 (4.4%) and 2005 (3.8%).
Looking ahead: What will 2022's vacancy rates look like?
The last two years have proven that it's impossible to predict where the Toronto rental market's heading, but it's worth a shot. At liv.rent, we've already seen prices in the city rise significantly from their 2021 lows. Since March of last year, prices are up $79 on average for an unfurnished one-bedroom unit in the GTA, and show no signs of stopping any time soon. We're not the only ones predicting higher rental rates in 2022 – Rentals.ca forecasts a strong bounce-back for Toronto's rental prices this year, with a predicted 11% increase over the course of 2022.
What effect will this have on vacancy rates, and vice versa? While it can be speculated that high rental prices would have an inverse relationship with vacancy rates, there are more factors at play than this – particularly as Toronto and the world as a whole continue to regain their post-pandemic foothold. As such, we would hazard a guess that Toronto's vacancy rates will continue to decline this year as the economy as a whole recovers and more renters flock to Canada's financial capital to occupy many of those higher-income properties that were responsible for this year's inflated rates. Recall that lower-priced rentals saw average vacancy rates in line with what they typically have been in the past, so there's certainly reason to believe that vacancy rates will fall further in 2022.
Is your rental priced competitively?
Find out with a free rent estimate. Our team of rental experts will calculate your unit's true value based on your listing details & current market trends.
Frequently asked questions: Rental vacancy rates in Toronto
What does 'rental vacancy rate' mean?
The rental vacancy rate refers to the percentage of units that are vacant or unoccupied in a city, region or a given property. This rate is important to a city's rental market as it's an indicator of both desirability and scarcity within the area.
How is the rental vacancy rate calculated?
Determining the vacancy rate formula is fairly straightforward. You simply multiply the number of vacant units by 100 and then divide that result by the total number of units. The vacancy rate plus occupancy rate should add up to 100%.
To better illustrate this formula, let's look at a sample apartment building with 50 rental units, 5 of them unoccupied:
5 x 100 = 500
500/50 = 10% vacancy rate
Why is a city's rental vacancy rate important?
Maintaining a healthy rental vacancy rate is key for a fair and sustainable rental market. If vacancy rates are well below 3%, this can be a sign that housing is too scarce and there isn't enough supply to keep up with demand.
The opposite is also true – rates above 3% indicate that supply exceeds demand, which can cause units to sit empty and eventually lead to landlords lowering prices to entice renters.
---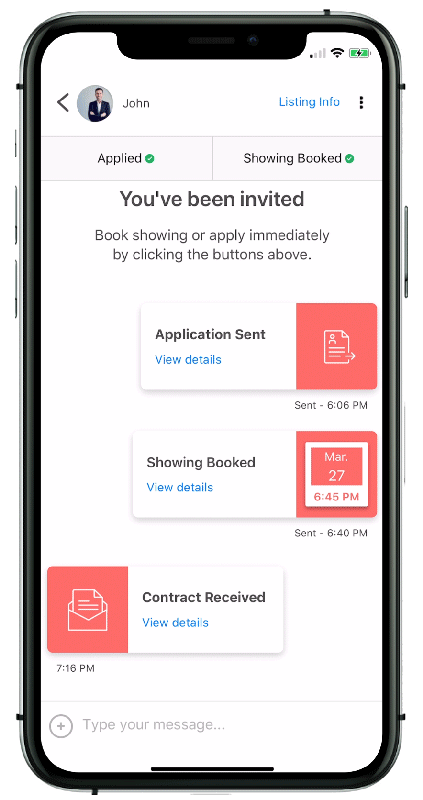 Rethink The Way You Rent
Not on liv.rent yet? Experience the ease of digital applications & contracts, verified tenants & landlords, virtual tours and more – all on one platform. Sign up for free or download the app.
Subscribe to receive the latest tenant & landlord tips and get notified about changes in the Canadian rental market.
>> Stay up-to-date on the average rent in Vancouver, Toronto and Montreal: Rent Reports.