Toronto is truly a world-class city in many regards, but did you know that it's actually been recognized globally for its pet-friendliness? A 2022 study by Luko revealed that Toronto was among the top ten most dog-friendly cities in the world. It's not hard to see why – the city is home to over 230,000 dogs, has over 114 pet shops and 65 off-leash dog areas, and affords easy access to plenty of trails and parks. For this post, we're exploring the Greater Toronto Area to compile our list of the top pet-friendly neighbourhoods, giving each a ranking based on the number of pet-friendly parks, shops and other amenities nearby.
Table of Contents
liv.rent – Renters Can Now Create Alerts
Don't see what you're looking for? Set up an alert and get notified about listings that meet your criteria (location, price, housing type, bedrooms, pet policy, and more).
Note: If you're not a liv.rent user, sign up first. Then apply your filters and click the "Create Alert" button on the upper right hand corner to set up your alert.
Toronto's most pet-friendly neighbourhoods
1. Riverdale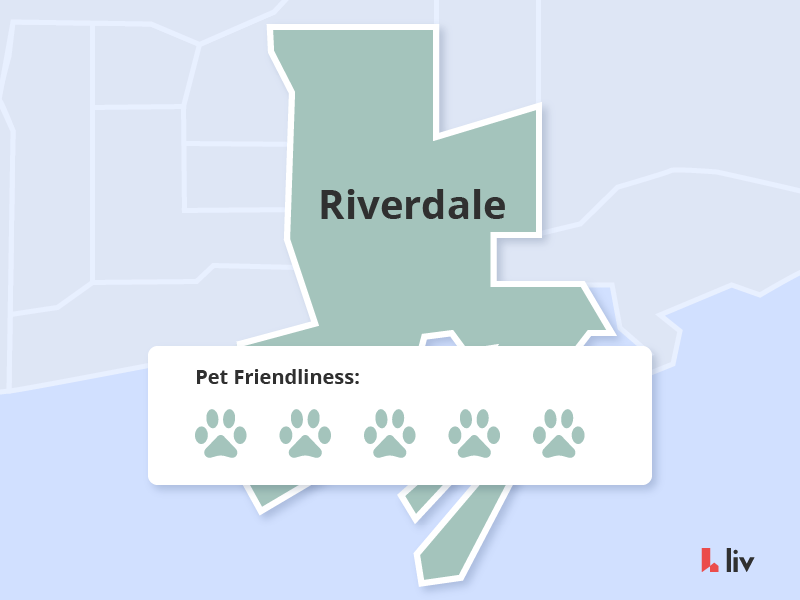 About the neighbourhood:
Toronto's Riverdale neighbourhood has an idyllic setting amidst quiet tree-lined streets, gorgeous brick houses and an extremely close-knit community. Most notable for dog owners is Riverdale Park, a fixture in the neighbourhood that spans 104 acres between Cabbagetown to the west and Broadview Avenue to the east. The park is divided into East and West segments, with Riverdale Park West having off-leash areas year-round. The nearby Rooster Coffee House is just around the corner from the park's east end, and is very amenable to four-legged guests. Riverdale also has its own Animal Hospital, as well as a number of pet shops close by.
Pet-friendly rentals:
Riverdale is home to many older houses which lend the neighbourhood its reputation as a relaxed, suburban locale within the big city. There are some smaller apartment buildings in Riverdale that allow pets, as well as partial houses and townhomes for rent within the neighbourhood which would be ideal for pet owners.
Transportation:
In spite of its scenic, blissful location, Riverdale isn't far from Toronto's downtown core. Residents can be in the centre of the city in about 10 minutes by car, or 15-20 by bus or tram.
2. Liberty Village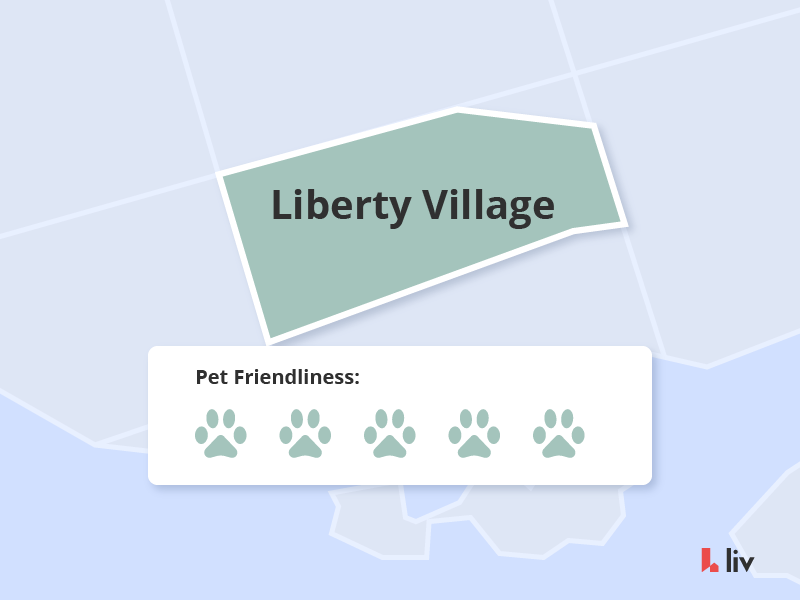 About the neighbourhood:
One of the more recent areas to be recognized as its own distinct neighbourhood in Toronto, Liberty Village is quickly gaining a reputation as a haven for pet lovers across the city. In fact, some sources say that as many as 50% of Liberty Village's residents own a pet of some sort, with some estimates even more generous. A fixture among Liberty Village's dog owners is Bill Johnston Park, a small park near King Street West and Strachan Ave in the heart of Liberty Village. This on-leash area is great for a quick jaunt around the neighbourhood and even provides fantastic views of the city. Liberty Village also has its own full-service animal hospital as well as a number of groomers and pet supply shops close by.
Pet-friendly rentals:
Liberty Village is known for its relaxed pet policies, even more so than the rest of Toronto. The area has become a destination for pet owners and many of the newer developments in the area have adjusted accordingly.
Transportation
Located just beyond King and Queen West, Liberty Village isn't far from the centre of Downtown Toronto. By Car, it's about a 15-minute drive in average traffic, and the bus and subway combine for about a 30-minute trip.
3. Leslieville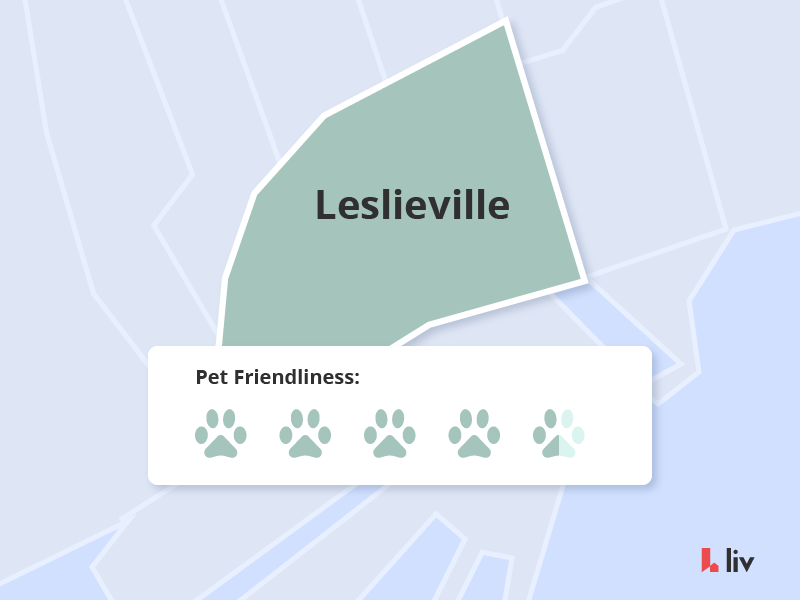 About the neighbourhood:
To the south of Riverdale on the east end of Downtown Toronto, Leslieville is another quaint community that's ideal for pet owners. On top of its many cozy cafés, restaurants, and locally-focused shops, Leslieville is best known for being home to Cherry Beach. This expansive off-leash beachfront area is perhaps the city's most popular dog beach, and is also connected to the Martin Goodman Trail for the best of both worlds. Leslieville certainly caters to its many pet owners with a selection of businesses like Paws Playground, a luxury dog kennel/daycare facility, and Tom & Sawyer – a pet-focused restaurant that makes prepared meals for your four-legged friends.
Pet-friendly rentals:
Since it's known for its pet-friendliness, many of Leslieville's rental properties are open to your furry companions. The large neighbourhood has seen lots of development activity in recent years, with new housing options that are willing to accommodate you and your pets.
Transportation:
Leslieville isn't too far from Downtown Toronto, approximately a 15-minute drive or a 35-45 minute trip via the 501 or 506 bus routes.
Curious about rental prices in and around the GTA? Download our latest monthly Rent Report here for a complete guide to Toronto's rental averages.
Download The Latest Toronto Rent Report
For the complete Toronto rent report, download here.
4. High Park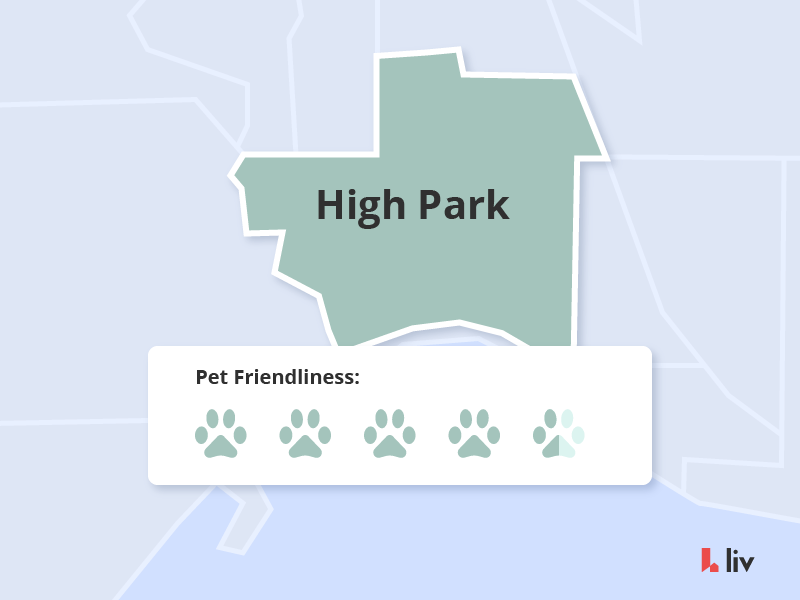 About the neighbourhood:
Built around its namesake 400-acre park, the High Park neighbourhood has so much more to offer renters with pets than just its abundant green space – though that certainly doesn't hurt. The area caters to its many pet owners with a number of pet shops and amenities like Mollywagz, a boutique pet store, and Global Pet Foods on Bloor St. and High Park both nearby. High Park itself is Toronto's largest urban park, with many hiking trails, lakefront access, and off-leash areas for your furry friends.
Pet-friendly rentals:
There are plenty of pet-friendly rentals in the High Park neighbourhood and in the areas surrounding it, as developments emerge to house the area's many pet-lovers. Renters can find a number of pet-friendly apartment buildings close to the park, typically at rates below those of Downtown Toronto.
Transportation:
High Park is on Downtown Toronto's west end, not far from the centre of the city. By car, residents can arrive in the heart of downtown in about 15 minutes, and the 501B bus can take you downtown in about 45 minutes.
5. Roncesvalles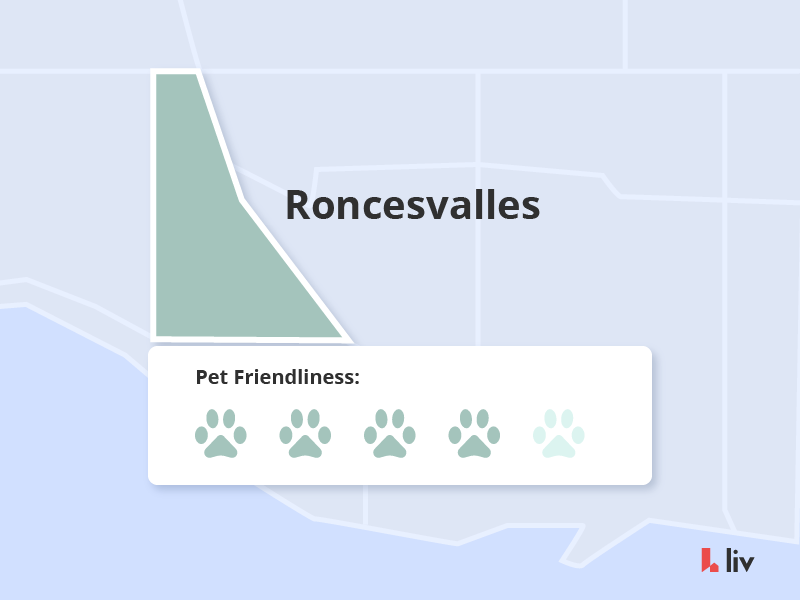 About the neighbourhood:
Just east of High Park is Roncesvalles, a trendy neighbourhood on the west side of Toronto. The area's strong community feel and the number of hip restaurants, bars, cafés and local shops that line its streets are a major draw for young professionals and trendsetters across the city, many of whom have brought pets along with them. With High Park just blocks away and its own green spaces like Sorauren Avenue Park for dogs to explore and play in, Roncesvalles has plenty of outdoor activities for pet lovers.
In terms of amenities, the neighbourhood has multiple animal hospitals like Roncesvalles Animal Hospital on its south end and Dundas West Animal Hospital to the north. As well, places like Kennel Café and Wholesome Canine ensure your pets have access to the same trendy businesses as you do.
Pet-friendly rentals:
Roncesvalles enjoys a reputation as one of Downtown Toronto's more renter-friendly neighbourhoods thanks to the sheer selection of rental properties available. The prime location means you may have to pay a bit more, but the good news is many of Roncesvalles' apartments, detached homes and townhouses are amenable to pets.
Transportation:
Roncesvalles is ever-so-slightly closer to Downtown Toronto than neighbouring High Park, with about a 15-20 minute drive to city centre, or a 45 minute journey by bus.
6. Trinity-Bellwoods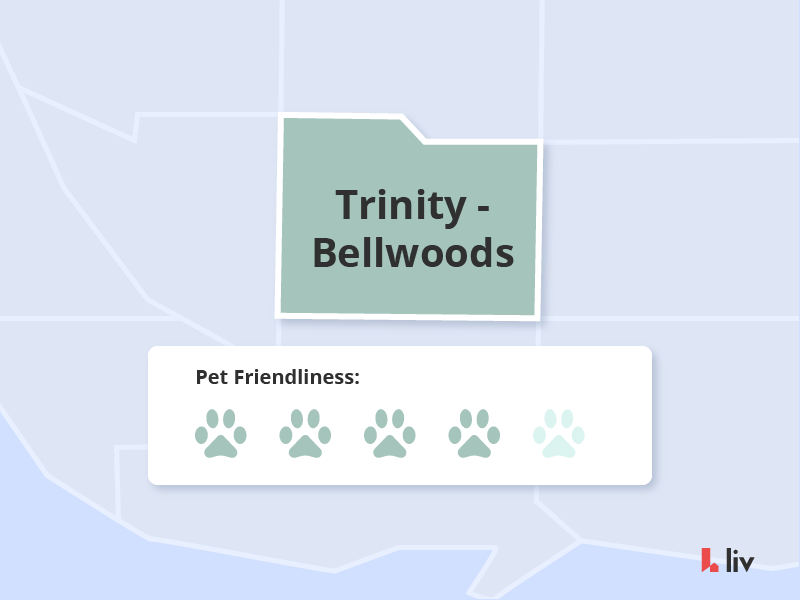 About the neighbourhood:
Much closer to Downtown, Trinity-Bellwoods also offers its own famous park in addition to the many restaurants, shops and amenities that make it such a popular rental destination for younger and older demographics alike. The focal point of the neighbourhood is Trinity Bellwoods Park, which brings people (and their pups!) from all around Toronto, particularly in the summer months. Slightly smaller than the High and Riverdale Parks, Trinity Bellwoods comes in at around 38 acres, but does have its own "dog bowl" – a spacious off-leash area where pups are free to play.
Nearby pet supply shops include Helmutt's Pet Supply and The Dog Bowl, and the area also has two nearby animal hospitals: Queen West Animal Hospital on the park's south end, and Dundas Euclid Animal Hospital to the northeast.
Pet-friendly rentals
Trinity-Bellwoods has long been a popular area for renters thanks to its trendy selection of businesses and urban appeal. Those with pets shouldn't have much trouble finding housing in the area, with a good selection of both new & old apartment buildings as well as lots of slightly older detached homes in the neighbourhood.
Transportation:
Trinity-Bellwoods has an ideal location just south of Little Italy and west of Kensington Market, placing it just outside Toronto's city centre. As such, it's incredibly easy to access the city – just a brief 10-minute drive, a 15-minute trip on the 505 bus, or, if you're planning on taking a furry friend with you, a 30-minute stroll.
7. The Harbourfront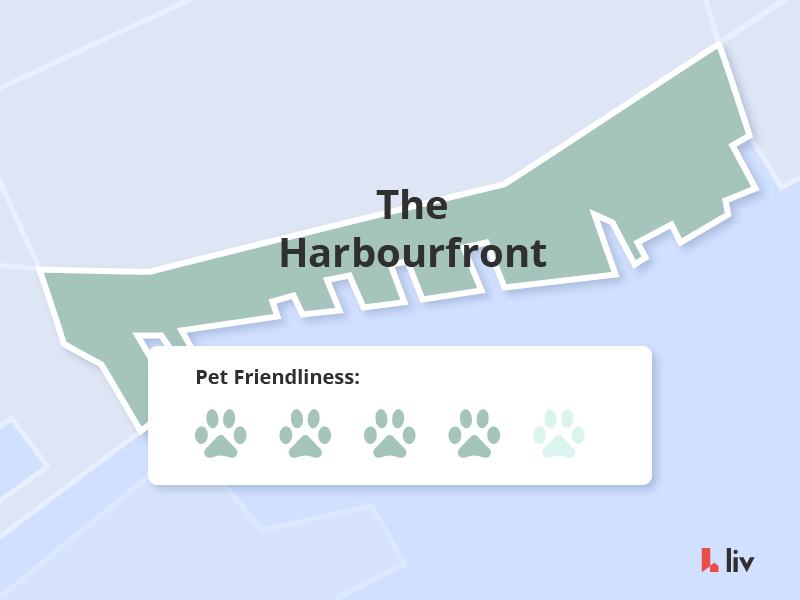 About the neighbourhood:
Toronto's Harbourfront neighbourhood has plenty of appeal for renters, tourists, and especially pet owners. The name of the game here is beautiful waterfront trails & beaches for you and your pups to enjoy, with plenty of options for new scents, sand and scenery. HTO Park is perhaps the best known of Harbourfront's beaches and has everything from grassy hills to brilliant sandy shores bordering on Lake Ontario. Sugar Beach is another popular option that's equally great for pet owners to cozy up with a good book, or walk their furry friend along the beach or through one of the neighbouring trails. Nearby pet shops like Cosmopawlitan and Petview offer chic options for picking up supplies for your pets.
Pet-friendly rentals:
Although its lakefront location can mean a hefty price tag, Harbourfront does have lots of newer developments where renters can bring pets along. This urban escape is a great option for pet owners looking to enjoy the seaside life with their furry friends.
Transportation:
Located right on Lake Ontario, just south of Downtown Toronto, Harbourfront residents are just steps from the best of the big city. Take your four-legged friend for a walk and be downtown in about 20-25 minutes, or take the car and be there in about 8-10 minutes. Transit options are plentiful and all take approximately 15 minutes to get you to city centre.
8. The Beaches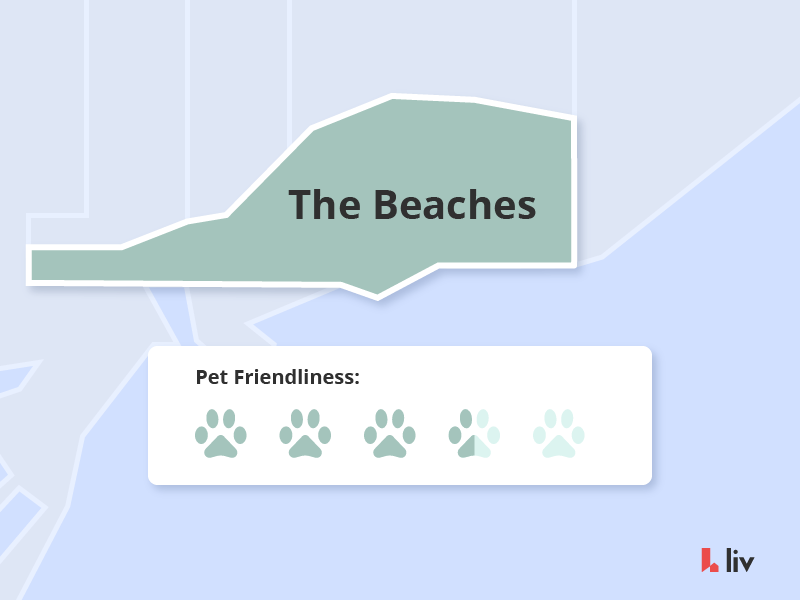 About the neighbourhood:
The Beaches, also known as just "The Beach" among residents, is visited by plenty of vacationers each summer, but it's a great neighbourhood to live in with your pets year-round. Located southeast of Leslieville and Riverdale along the shores of Lake Ontario, this seaside neighbourhood has a relaxed, small-town feel befitting its scenic locale. The area's best-known beach is Woodbine Beach, which has its own fenced-off leash-optional area for pooches to play in the sand and swim freely, and dogs are allowed to frolic entirely unhindered during the winter months when visitors are scarce. Additionally, the neighbourhood has amenities for its pet owners like Pet Valu and The Dog Market to keep you stocked up on supplies. There's also The Beaches Animal Hospital close by, and the Boardwalk Animal Hospital.
Pet-friendly rentals:
Apartments, condos, and seaside houses are plentiful in the Beaches – especially for those looking to stick around for the entire year. As one would expect, many of these properties are pet-friendly due to the proximity to both water and parks.
Transportation:
Located south of East York on Toronto's eastern end, The Beaches isn't too far from the middle of the city. Residents can reach Downtown Toronto in approximately 20 minutes by car, or 45-55 minutes by train/bus.
How to find pet-friendly listings on liv.rent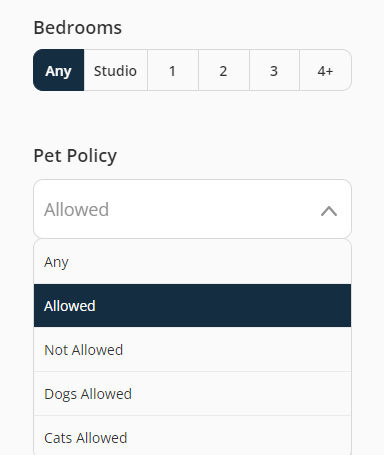 So, now that we've covered where in Toronto pet owners should be looking for rentals, let's go over how exactly you can find the perfect home for you and your pet. Here on liv.rent, we've seen that a whopping 67% of our listings in the GTA are pet-friendly, compared to 37% across all of our Canada-wide listings.
It's easy for renters to search for pet-friendly listings with our customizable filters. When you're searching for rentals using List View, simply navigate to the 'Filters' icon in the top left corner of your screen. From there, you can choose from a number of different options to see units that allow any kind of pets, or just cats or dogs. Once you've selected your desired filter, simply click 'Show Results' and you'll see all of the pet-friendly listings available within your area.
You can also view a listing's pet policy under the 'Property Rules' section of the listing, which displays more specific information about what type, and how many pets you're allowed to bring along.
---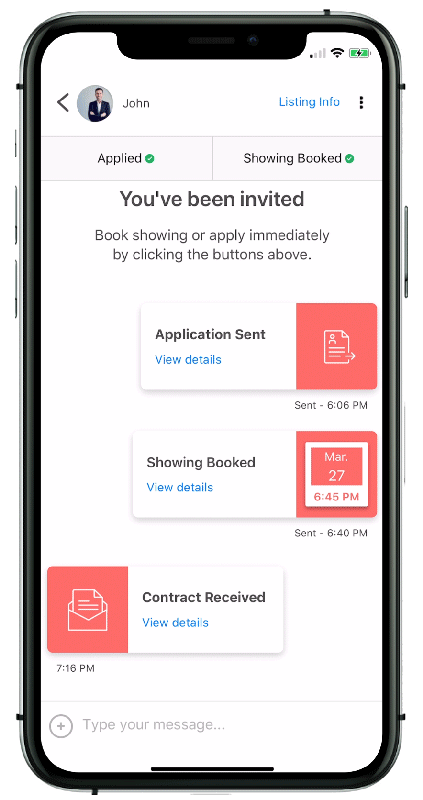 Rethink The Way You Rent
Not on liv.rent yet? Experience the ease of digital applications & contracts, verified tenants & landlords, virtual tours and more – all on one platform. Sign up for free or download the app.
Subscribe to receive the latest tenant & landlord tips and get notified about changes in the Canadian rental market.
>> Stay up-to-date on the average rent in Vancouver, Toronto and Montreal: Rent Reports.