The Lower Mainland is blessed with spectacular city options that range from the hustle and bustle of downtown Vancouver, to the quieter more bucolic suburbs of the North Shore. Together with Vantastic VA, a one-stop relocation service helping people relocate to Vancouver from all over the world, we've compiled some key insights and observations to help you decide which city in the Greater Vancouver Area is right for you. We've also scored each city on walkability, accessibility to transit, family friendliness nightlife and parks & rec.
Vancouver
Liv Vancouver Rating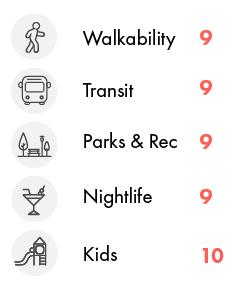 Vancouver is one of the most beautiful cities in the world. With spectacular mountains to the North, numerous city parks and beaches, an extensive bicycle network, world class restaurants and amenities, and excellent transit options, living in the city is definitely recommended if you have the budget. It is comprised of many great neighbourhoods, it is hard to pick a favourite. All of them have their charms including parks, transit access, restaurants etc.
For a quick low down of all Vancouver's amazing areas, check out our post Swipe Right for this 'Hood (Vancouver Edition).
Richmond
Liv Richmond Rating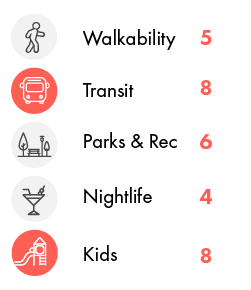 Vancouver's closest suburb to the south, Richmond is a multi-cultural mecca offering residents an impressive taste of Asia and is home to Vancouver International Airport (YVR) as well as the International Buddhist Temple. Richmond is only 45 mins from the US border and the Canada Line offers easy, reliable transit service downtown. It boasts one of North America's most vibrant, Chinese communities which may appeal to many newcomers. In addition, Richmond has some of the best Asian food options in the world and a lively Night Market that runs throughout the summer on weekends.
Burnaby
Liv Burnaby Rating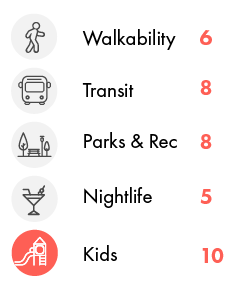 Burnaby is the suburb located immediately to the east of Vancouver. Just 15 minutes away from downtown Vancouver and well serviced by transit, Burnaby offers residents world-class shopping at North America's largest mall, Metropolis at Metrotown, a wide selection of international cuisine, numerous parks, lakes and trails as well as a calendar of multicultural arts events at the Michael J. Fox Theatre. In addition, Burnaby is home to BCIT and Simon Fraser University (SFU). Burnaby's neighbourhoods are ethnically and culturally diverse and boast a variety of more affordable housing options from apartment towers to single family homes and generally, a lower cost of living.
Tricities
Liv TriCities Rating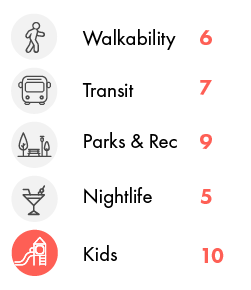 Comprised of three cities, Port Coquitlam, Coquitlam and Port Moody, this area is located East of Burnaby and has a lower cost of living compared to Vancouver and nearer suburbs (Burnaby and Richmond). However, it is still is very accessible with reliable service downtown using the Skytrain, Express Bus or commuter train (West Coast Express). Find a mix of quiet, leafy suburbs perfect for families as well as more densified communities centred around transit options. These communities are close to beautiful outdoor recreation options – lakes, Golden Ears Provincial Park, and other hiking trails.
Surrey
Liv Surrey Rating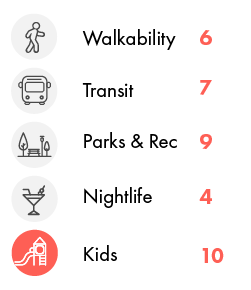 The second largest city in BC, Surrey is a diverse community well-serviced by transit and boasts a number of vibrant business centres, shopping malls, recreational areas and green spaces. It is also home to a large South Asian community and so some of the best Indian restaurants any where! Simon Fraser University as well as Kwantlen Polytechnic have campuses in Surrey as well.
North Shore
Liv North Shore Rating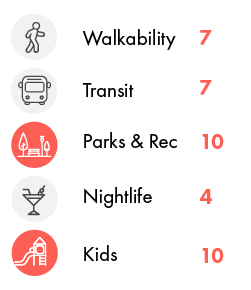 The North Shore is comprised of North and West Vancouver and is home to three ski hills and some of the most spectacular (and extreme) mountain biking and hiking trails in the world making it a great choice for outdoor enthusiasts. The North Shore offers residents every type of housing option, excellent schools, shopping and quick access to Whistler and the Trans Canada Highway. The Seabus, Translink and West Vancouver Buses provide reliable transit downtown.
Curious to know more about relocating Vancouver? Check out some of our other articles in collaboration with Vantastic:
Inside Scoop: 16 Things You Need to Know About Living in Vancouver
Inside Scoop: Setting Up Your New Life in Vancouver