Renters across Canada are facing increasingly high rental prices, particularly in major urban centres like Vancouver, Montreal, and of course – Toronto. Although not as pricey as Metro Vancouver, the Greater Toronto Area's rent has climbed significantly in recent years, most notably within the city of Toronto itself. With all that being said, there are still lots of areas of the city with more reasonable rent prices, for those who know where to look. To start your search off on the right foot, liv.rent has compiled a list of the eight cheapest neighbourhoods to rent in the city of Toronto, as well as giving a bit of information about each to help you decide where your next rental home will be.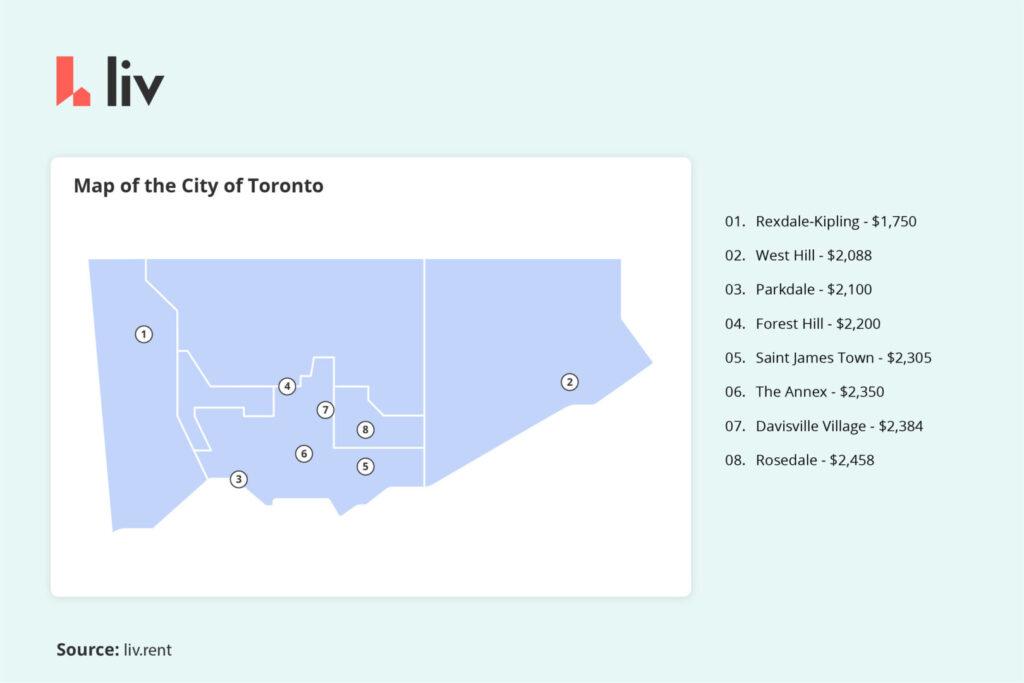 1. Rexdale-Kipling
Average rent in Rexdale-Kipling
As of May 2023, the cheapest neighbourhood to rent a one-bedroom unit in the city of Toronto is Rexdale-Kipling. According to Zumper's latest data, it's significantly less expensive to rent here than almost anywhere else in the city, at an average of $1,750 for a one-bedroom unit.
Neighbourhood breakdown: Rexdale-Kipling
About: A serene, primarily suburban area in Northwest Toronto, Rexdale-Kipling is one of the city's best-kept secrets owing to its mix of urban and green spaces and of course, its surprisingly inexpensive average rent prices. With plenty of stately mid-century homes and consistent interest from renters and homeowners of all ages, this neighbourhood is equally well-suited to families and single professionals thanks to its walkability and ease of access from the rest of the city.
Proximity to Downtown Toronto: Tucked away in Toronto's Northwest Corner, Rexdale-Kipling is a little further from Downtown Toronto: by car, it's only about a 30-40 minute drive, but transit takes 60-70 minutes depending on the route taken.
Rental types: The majority of the houses in Rexdale-Kipling are single-family homes built in the 1950s, when the area saw significant interest post-World War II, though the area has grown considerably since then and now has plenty of apartment buildings and a diverse, multicultural populace.
2. West Hill
Average rent in West Hill
West Hill has much cheaper rent prices than one would expect given its broad appeal and charming location. According to the latest data from Zumper, it costs an average of $2,088 per month to rent a one-bedroom unit in the neighbourhood.
Neighbourhood breakdown: West Hill
About: Located in the southeast portion of Toronto, West Hill has existed as a neighbourhood since the late 1800s, but has only really started to see development since the middle of the 20th century. Known as a family-friendly neighbourhood with lots of green spaces and amenities, the area is defined by its proximity to both Morningside and Colonel Danforth Parks, and it is also bordered by the University of Toronto's Scarborough Campus as well as the C.N. Railway
Proximity to Downtown Toronto: West Hill is a bit further from Toronto's downtown car, but still close enough for regular commutes. By car, it's about a 40-60 minute drive depending on traffic, while by public transit, it's about an hour.
Rental types: One big draw of West Hill is its larger-than-usual lots and houses. For families looking for space, this area is particularly appealing. There are also a number of newer townhomes and bungalows from various eras of the neighbourhood's development.
3. Parkdale
Average rent in Parkdale
Parkdale's average rental prices are deceptively low considering how much the neighbourhood has to offer. According to Zumper, average rent in the neighbourhood is just $2,200 for a one-bedroom unit as of May 2023.
Neighbourhood breakdown: Parkdale
About: Parkdale is a fascinating neighbourhood southwest of Toronto's downtown. The area feels like a village within the city, with a diverse immigrant population and a vibrant commercial district along Queen Street West. Foodies will find Parkdale particularly attractive – the area's Tibetan and Polish populations mean plenty of delicious restaurants, while newer waves of residents in the area have brought trendy shops and bars to Parkdale. The neighbourhood is bordered by Lake Ontario to the south which affords access to the many paths and parks along the city's waterfront. In terms of geographic area, Dufferin Street marks Parkdale's eastern boundary, Roncesvalles Avenue marks its west end, and the CP Rail line is to the north.
Proximity to Downtown Toronto: Parkdale is a little further west of Toronto's downtown, but residents can still reach the centre of the city in about 20 minutes by car, or 30-35 minutes by transit.
Rental types: Parkdale has an eclectic mix of rental types, ranging from majestic Victorian mansions dating back to the area's early days, to newer developments geared towards enticing younger renters and newcomers to the area.
4. Forest Hill
Average rent in Forest Hill
Despite being one of Toronto's wealthiest neighbourhoods, Forest Hill also offers some of the city's cheapest average rent. Zumper had the area's rent at just $2,200 as of May 2023 which puts it well below the city's average. On liv.rent, we're seeing units in the area go for similar prices at the time of writing.
Neighbourhood breakdown: Forest Hill
About: Located north of Downtown in the Midtown area, Forest Hill North enjoys a reputation as one of the city's premier addresses and is home to entrepreneurs, celebrities, and the city's elite. With this in mind, we were surprised to see that the area's rent is well below the city's average given its stature within the city. There are plenty of top-notch schools, luxury shopping, and scenic trails. Transit options are also plentiful in the affluent neighbourhood, and driving is convenient as well. In spite of all this, there are plenty of reasonable rental units to be had in Forest Hill North as newer condos and apartment buildings crop up to accommodate renters.
Proximity to Downtown Toronto: Forest Hill feels like a world in itself, but it's also quite close to Toronto's downtown. Driving, it's only about 20 minutes to city centre, or 25-30 minutes by transit.
Rental types: While Forest Hill is known for its opulent mansions housing Toronto's elite, it's rare to see these places for rent. Instead, renters will be glad to discover the neighbourhood's many newer condos and apartment buildings.
5. Saint James Town
Average rent in Saint James Town
Saint James Town is just to the east of Toronto's downtown but offers much better value than many of the neighbourhoods surrounding it. Within this area, renters can find a one-bedroom apartment for an average of $2,305 as of May 2023, according to Zumper.
Neighbourhood breakdown: Saint James Town
About: Saint James Town is one of the oldest areas of the city with settlements dating back all the way to the 1840s. More recently, the area has become home to younger renters and families alike who are drawn to its walkability, eclectic mix of shops, and close proximity to Downtown Toronto. Nearby Cabbagetown was known to be a prominent neighbourhood of the counter-culture movement in the 1960s and 70s, and this legacy is apparent in the many unique shopping destinations within the neighbourhood.
Proximity to Downtown Toronto: Saint James Town's central location is another huge selling point for renters – it's only about a 15-minute trip by bus and train to Downtown, or a 10-minute car ride.
6. The Annex
Average rent in The Annex
Though it's towards the more expensive end of this list, The Annex has some of the cheapest rent in the city, with Zumper stating an average of $2,375 per month for a one-bedroom unit as of May 2023
Neighbourhood breakdown: The Annex
About: Stretching from Dupont Street in the north to Bloor Street West in the south, and Bathurst Street in the west to Avenue Road in the west, The Annex is a lively hub for students and professionals of all backgrounds – and a wonderful area for any renter to call home. Anyone looking for a truly urban student experience would do well to start their search in this neighbourhood, as the Annex is home to some of Toronto's best-known entertainment and dining destinations.
Proximity to Downtown Toronto: By car, The Annex is only a 10-15 minute drive to Downtown Toronto, while a quick trip on the 1 subway line gets you there in about 15 minutes.
Rental types: Catering to both staff and students of the area's nearby universities, The Annex has a good mix of rental housing for any budget. There are lots of older single-family residences, but some have also been converted to small, multi-residential buildings to meet growing needs.
7. Davisville Village
Average rent in Davisville Village
Davisville Village's rental rates are just below the average for the city of Toronto, according to Zumper's most recent information. As of May 2023, the average price for a one-bedroom city in this well-connected neighbourhood is $2,384 per month.
Neighbourhood breakdown: Davisville Village
About: In the heart of Toronto's Midtown lies Davisville Village – an up-and-coming community that's quickly emerging as one of the best neighbourhoods for families in Toronto. Stretching from Mount Pleasant Cemetary down to Eglinton Avenue East, all the way to Yonge Street on the east and Bayview Avenue to the west, this conveniently located section of the city is close to the action, with an easy trip downtown for commuters or those looking for a family-friendly neighbourhood with a bit more of an urban feel.
Proximity to Downtown Toronto: Davisville Village is well-connected to Toronto's downtown, with about a 20-minute trip by car, and about a 25-35 minute trip by transit with bus routes along Mount Pleasant Boulevard and nearby Eglinton Station providing a direct route to the centre of the city.
Rental types: While there are a good amount of detached homes in Davisville Village, there are also high-rise communities for single occupants as well as younger families.
8. Rosedale
Average rent in Rosedale
Average rent in Rosedale is fairly inexpensive given the diverse appeal of the neighbourhood. According to Zumper, a one-bedroom unit in Rosedale rents for an average of $2,458 as of May 2023.
Neighbourhood breakdown: Rosedale
About: Covered in ravines and green spaces, Rosedale feels a world away from the hustle and bustle of Downtown Toronto, though it's deceptively close to the heart of the busy city. The area also enjoys a proud reputation as one of Toronto's premier neighbourhoods, with many of the city's wealthiest and most influential calling the neighbourhood home. Add to this the fact that Rosedale has previously been voted Toronto's best neighbourhood to live in, and it's a miracle it made it onto this list at all.
Proximity to Downtown Toronto: One of the biggest draws of Rosedale is its easy access to the city's centre. By car, it's only about 10-15 minutes to the heart of Downtown, and a short trip on public transit will get you there in about 25 minutes.
Rental types: Though it's best known for its historic mansions, recent years have seen a lot more variety in terms of development in the Rosedale neighbourhood, with an assortment of condominiums and low-rise apartment buildings added to the area.
Average rent in the City of Toronto
As you can probably see, average rent prices vary greatly across the City of Toronto. Typically, the closer you get to Downtown, the more prices go up, but this also isn't a hard and fast rule. There are bargains to be found in every part of the city, and prices can vary a lot even within neighbourhoods.
To give you a better sense of rent in the city and how it compares to the rest of the GTA, here's a quick breakdown of average rent for one-bedroom, unfurnished rentals across the Greater Toronto Area, as of May 2023. For more insights into rental rates in the GTA and across Ontario, be sure to check out and download our monthly rent reports.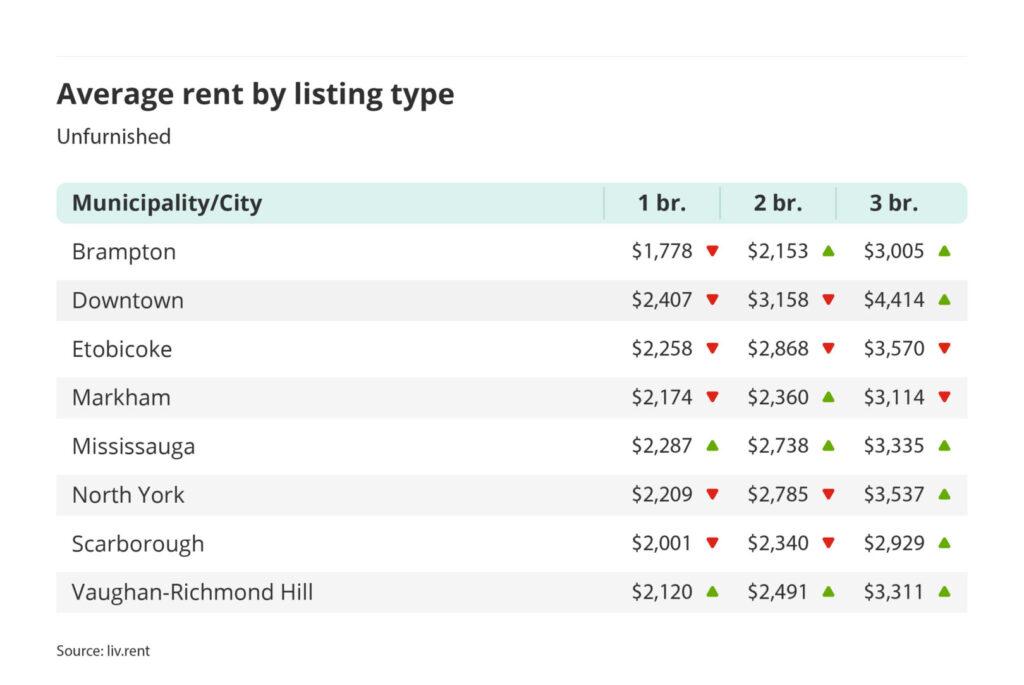 Where is the cheapest rent in the City of Toronto?
It's hard to tell exactly where the cheapest rent in Toronto can be found, as many neighbourhoods are small and therefore hard to get an accurate sample size from. This list should serve as a good starting point for those seeking relatively cheap rent in Toronto, however.
How to find cheap rent in Toronto
Toronto may be widely recognized as one of the most expensive cities in Canada to rent in, but there is still some great value to be found for those willing to do their homework. Toronto renters should make liv.rent their starting point for any home search. The all-in-one platform allows you to easily search for verified rental properties throughout the city and the GTA as a whole, and connect with trusted landlords to help avoid the usual uncertainty and risk of the rental process.
If you're looking to automate your rental search and save time finding your perfect home, try using liv.rent's listing alerts. These handy notifications help you take back your time by saving your criteria and alerting you whenever a new listing is posted. Filters include number of bedrooms, furnished vs. unfurnished, pet policy, and of course – budget. Here's a quick video on how to set up listing alerts for yourself.
For more information on where to start your search and the best rental platforms available in Toronto, be sure to check out our post here.
---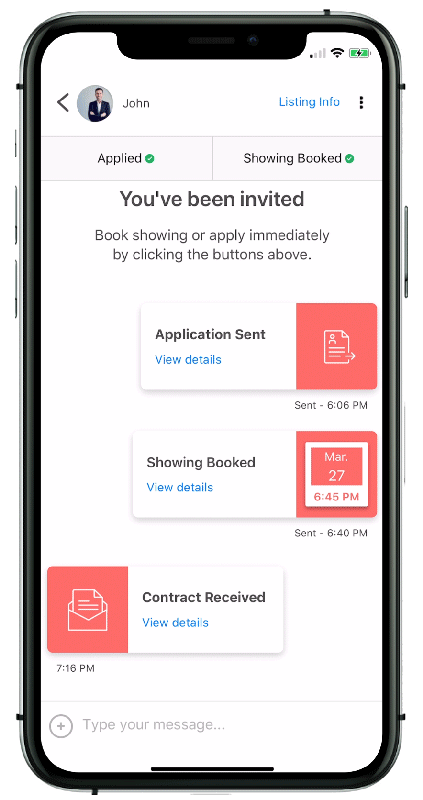 Rethink The Way You Rent
Not on liv.rent yet? Experience the ease of digital applications & contracts, verified tenants & landlords, virtual tours and more – all on one platform. Sign up for free or download the app.
Subscribe to receive the latest tenant & landlord tips and get notified about changes in the Canadian rental market.
>> Stay up-to-date on the average rent in Vancouver, Toronto and Montreal: Rent Reports.