Toronto is more known for its towering skyscrapers and status as Canada's financial de facto financial capital, but don't less this fool you – the city has plenty of neighbourhoods that are excellent places for families, many of which are just outside the downtown core. In fact, Toronto has elementary and secondary schools practically everywhere across the city's massive geographic area, not to mention some of the country's most prestigious universities. Not only this, but the pockets of green space scattered across the urban landscape and proximity to family-friendly businesses make it the ideal place for young children and of course, pets. Here, liv.rent has chosen eight of the best neighbourhoods for families in the City of Toronto, breaking each down by key features, average rent, and more.
Table of Contents
liv.rent – Renters Can Now Create Alerts
Don't see what you're looking for? Set up an alert and get notified about listings that meet your criteria (location, price, housing type, bedrooms, pet policy, and more).
Note: If you're not a liv.rent user, sign up first. Then apply your filters and click the "Create Alert" button on the upper right hand corner to set up your alert.
Toronto's most family-friendly neighbourhoods
Toronto is a huge city both geographically and in terms of its population, and renters will find a wide variety of housing options and neighbourhoods as they browse listings in the city.
While it would stand to reason that many of the most family-friendly neighbourhoods would be on the city's outer limits away from the bustling downtown core, this isn't actually the case. Toronto is unique in that it has a variety of different smaller communities within its city limits, each with its own distinct feel and unique assortment of shops and amenities.
Toronto is an excellent place for renters looking for a safe, close-knit community without giving up the convenience of the big city. We've selected eight of the most family-friendly neighbourhoods here, but there are plenty more within the city and even in the nearby communities that make up the GTA. To start your search for family-friendly housing off on the right foot, read on to discover the best neighbourhoods for families in the City of Toronto.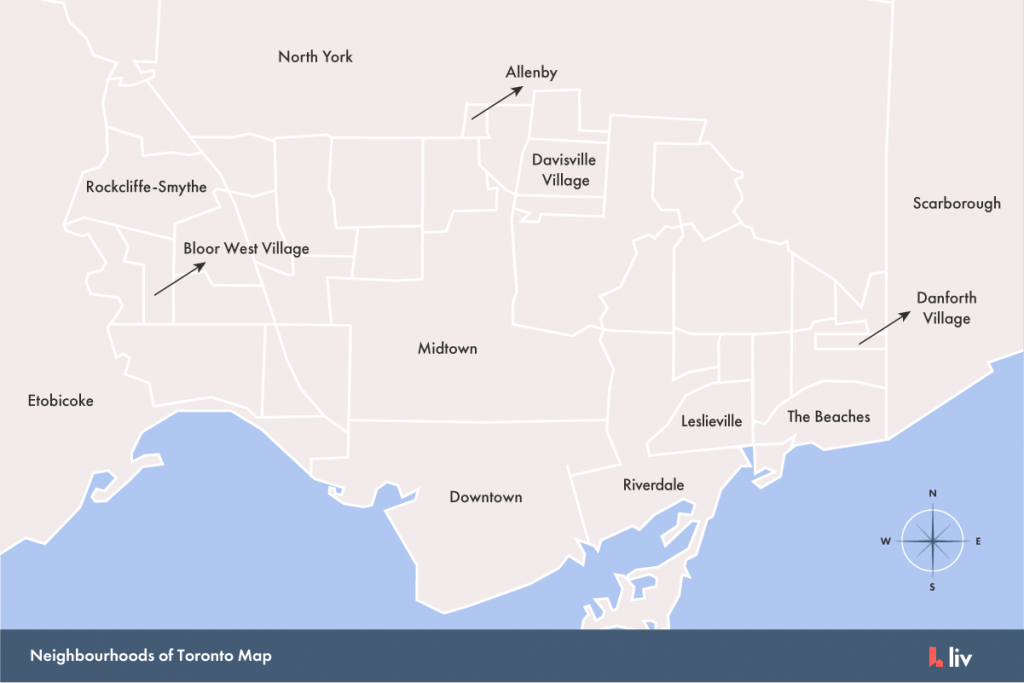 1. Riverdale
A sprawling neighbourhood on the east side of Toronto's Midtown, Riverdale is bordered by the Don River to the west, Danforth Avenue to the north, Leslieville to the east, and Lakeshore Boulevard on its south end. It's most commonly known by Toronto residents as the home of its namesake Riverdale Park – a sprawling green space that's split into an East and West side, each with plenty of room for all sorts of sports and activities, as well as quieter areas to relax and have a picnic. Beyond this, Riverdale has a strong community feel in spite of its urban setting, with quiet streets, older houses and plenty of shopping and dining destinations within its boundaries.
Average rent in Riverdale
Average rent in Riverdale is pretty much in line with the City of Toronto's averages, at about $2,200 for a one-bedroom, unfurnished unit as of May 2022. Since the area has so many larger homes, rates for two- and three-bedroom units is a bit more affordable, at $2,525 and $3,400 respectively according to the latest numbers from Zumper.
Schools & amenities in Riverdale
Riverdale is renowned for its excellent school district, with multiple elementary schools and high schools, such as Withrow Avenue Junior Public School, Montcrest School, and Riverdale Collegiate Institute all nearby. In terms of amenities, Riverdale is the complete package with a variety of shopping, and recreational areas including two baseball diamonds, an outdoor ice-skating rink, a children's play area, and more all at Riverdale Park.
Transportation in Riverdale
Riverdale is deceptively close to Downtown although its quiet streets and community feel can make it feel a world away. Whether by car or public transit, it's about a 15-20 minute trip to the downtown core. If you are relying on transit, the Pape and Chester stations are both nearby with lines headed to the centre of the city.
2. Bloor West Village
Bloor West Village rightfully prides itself in being "a small village in a big city", and is home to families of all ages, pet-lovers, and those seeking a bit of an escape from the hustle and bustle of city life. This lively neighbourhood is the epitome of family-friendly, with idyllic streets packed full of quaint cafes and restaurants, numerous parks and schools nearby, and some excellent daycare facilities to cater to the area's many families. One of the most immediately recognizable features of Bloor West Village is the many fruit stands lining the neighbourhood's streets – piled high with fresh produce spilling onto the sidewalk in an idyllic scene straight out of a small town, except in the heart of the city.
Average rent in Bloor West Village
Average rental rates in the nearby Swansea neighbourhood were $2,000 for an unfurnished, one-bedroom unit as of these latest April 2022 numbers. For two-bedroom, unfurnished units, the neighbourhood averaged $3,300 per month, and for three-bedroom units, the average was $3,900.
Schools & amenities in Bloor West Village
It should come as no surprise that one of Toronto's most family-friendly neighbourhoods also has a high concentration of schools, playgrounds, parks, and more. There are a total of nine public schools within the area for children of all ages, including King George Junior Public School, Rockcliffe Middle School, and Humberside Collegiate Institute. As far as parks go, nearby High Park is the focal point of this neighbourhood, the city's largest public park with an expansive network of trails, off-leash dog areas, sports facilities, lakefront picnic areas, and so much more.
Transportation in Bloor West Village
Rounding out Bloor West Village's wide-ranging appeal is its easy access to the rest of the city, whether by car or transit. The Bloor subway line runs through the neighbourhood, with both Runnymede and Jane stations close by to get you downtown in about 25 minutes. By car, it's also about a 20-30 minute drive to the heart of the city depending on traffic conditions.
3. Allenby
Allenby is a small but tight-knit residential neighbourhood on the west end of Toronto's Midtown. Its boundaries are typically defined by Latimer Avenue to the west, Briar Hill Avenue to the north, Avenue Road on the east end, And Eglinton Avenue to the south. The neighbourhood as it exists today is centered around Allenby Public School, as well as the shopping district found on Eglinton Avenue West with its many local shops, cafes, and dining destinations.
Average rent in Allenby
As the Allenby neighbourhood is relatively small, it's hard to get an accurate idea of specific rental averages within the area. Rent in Allenby is likely similar to averages in Downtown Toronto as a whole – which stand at $2,040 per month for an unfurnished, one-bedroom unit as of our May 2022 Rent Report. The area does have a large number of older two- and three-bedroom units available as well.
Schools & amenities in Allenby
Allenby Public School is the reason many families choose to move to Allenby, with a popular French Immersion program that enjoys a great reputation across the city. The nearby North Toronto Memorial Community Recreation Centre on Eglinton Avenue West is a great place for children and parents alike to gather and get active, and the Allenby neighbourhood is also well within walking distance of many smaller boutiques, shops, cafes, and more.
Transportation in Allenby
Allenby is easily accessible from Downtown Toronto, at about a 20-minute drive or 35-40 minutes by transit. Buses run along Avenue Road and Eglinton Avenue to take you to nearby Eglinton Station which can easily get you downtown via the Yonge-University-Spadina subway line.
4. The Beaches
The Beaches, also known as just "The Beach" by residents, is most commonly seen as a tourist destination owing to its four namesake beaches along Lake Ontario, but this neighbourhood on Toronto's east side is an excellent place to raise a family for a number of key reasons. The area is bounded by Queen Street East, between Coxwell Avenue and Victoria Park Avenue, and Lake Ontario to the south. There are parks and trails galore in addition to the obvious beaches, most notably Woodbine Beach which is the most family-friendly among them. The area has a rich, vibrant community with plenty of events taking place year-round, such as the Winter Stations outdoor art exhibit and a jazz festival that takes place in July each year.
Average rent in The Beaches
Average rent in The Beaches is right in line with Toronto's city-wide averages, if not a little below. The latest data from Zumper shows that rent for an unfurnished, one-bedroom unit currently sits at $1,775 per month, which is in line with what we've seen here on liv.rent. Prices are likewise pretty standard for two- and three-bedroom units, at $2,500 and $3,700 respectively for unfurnished units.
Schools & amenities in The Beaches
The Beaches has as many as thirteen public schools within the neighbourhood to cater to the many families that call the area home. Among them are Williamson Road Junior Public School, Balmy Beach Community School, and the Riverdale Collegiate Institute close by as well. To boot, there are eleven parks and recreation facilities in close proximity, mostly scattered along the lakeshore.
Transportation in The Beaches
Located south of East York on Toronto's eastern end, The Beaches isn't too far from the middle of the city. Residents can reach Downtown Toronto in approximately 20 minutes by car, or 45-55 minutes by train/bus.
5. Leslieville
Leslieville is located just to the south of Riverdale on the east end of Downtown Toronto, and is another popular neighbourhood for families thanks to plentiful green space and a great school system. It's a bit trendier than many of the neighbourhoods on this list which makes it extremely appealing for young families in particular. The area also happens to be one of the city's premier foodie destinations, with plenty of bars and restaurants for those looking to get away from the kids for an evening. Hip, boutique stores are also a defining feature of this eclectic neighbourhood, with lots of vintage and thrift stores along Queen Street East.
Average rent in Leslieville
Leslieville's average rent is just above that in the rest of Toronto, at $2,088 per month for an unfurnished one-bedroom unit. Two- and three-bedroom units are highly in-demand within the area thanks to how family-friendly Leslieville is, but can still be had for an average of $2,800 and $3,400 per month, respectively.
Schools & amenities in Leslieville
According to this report, there are a whopping eighteen schools all within range of Leslieville. Kew Beach Junior Public School serves children in pre-K to grade 6, Queen Alexandra Middle School is there for grades 6-8, and Monarch Park Collegiate Institute is also close by for high school – among other options. Nearby Greenwood Park has a playground, a pool, three baseball diamonds, and even an ice rink, while Jonathan Ashbridge Park on the south end of Queen Street has tennis courts, another playground, and a wading pool. There's also the S.H. Armstrong Community Recreation Centre close by, as well as a public library with plenty of programs for young ones.
Transportation in Leslieville
Leslieville isn't too far from Downtown Toronto, approximately a 15-minute drive or a 35-45 minute trip via the 501 or 506 bus routes.
6. Davisville Village
In the heart of Toronto's Midtown lies Davisville Village – an up-and-coming community that's quickly emerging as one of the best neighbourhoods for families in Toronto. Stretching from Mount Pleasant Cemetary down to Eglinton Avenue East, all the way to Yonge Street on the east and Bayview Avenue to the west, this conveniently located section of the city is close to the action, with an easy trip downtown for commuters or those looking for a family-friendly neighbourhood with a bit more of an urban feel. While there are a good amount of detached homes in Davisville Village, there are also high-rise communities for single occupants as well as younger families.
Average rent in Davisville Village
Despite its rapid growth both in reputation and development, Davisville Village remains pretty well in line with Toronto's average rent prices, especially for multi-bedroom units. In terms of one-bedroom, unfurnished units, prices are slightly higher than average at $2,125 per month, but two-bedroom units are currently going for an average of just $2,538 and three-bedroom units for $3,450.
Schools & amenities in Davisville Village
Davisville Village has a ton of schools to choose from for every age group, with Maurice Cody Junior Public School and Davisville Junior Public School for students in pre-K to grade 6, Hodgson Senior Public School for grades 7-8, and the North Toronto Collegiate Institute for high school aged students. June Rowlands Park is close by with both baseball diamonds and tennis courts, as well as a popular farmers' market in the summer.
Transportation in Davisville Village
Davisville Village is well-connected to Toronto's downtown, with about a 20-minute trip by car, and about a 25-35 minute trip by transit with bus routes along Mount Pleasant Boulevard and nearby Eglinton Station providing a direct route to the centre of the city.
7. Danforth Village
Danforth Village is a diverse community that's home to everyone from students to young professionals, but plenty of families have found a home within the neighbourhood due to its vibrant feel and proximity to some of Toronto's best schools, parks, and shopping. The latter is a defining quality of the neighbourhood – Danforth Avenue is one of the city's best-known shopping districts, but it's equally known for its status as Toronto's Greektown, and renters will find all sorts of delicious restaurants, cafes and grocers across the neighbourhood. For families in particular, Danforth Village has a ton to offer. Its tree-lined streets and picturesque houses make for the ideal place for younger children to grow up, and parents will love the convenience that comes with the area's east end location.
Average rent in Danforth Village
Recent numbers suggest that the average rent in Danforth Village is well-below Toronto's average, at just $1,690 for an unfurnished, one-bedroom unit. Even for two- and three-bedroom units which are particularly popular within the area, rent is relatively cheap: two-bedroom units go for an average of $2,350, and three-bedroom units are just $2,850 as of May 2022.
Schools & amenities in Danforth Village
While it may be known for its superb shopping, Danforth Village is also home to many schools, parks, and other amenities that make it ideal for families. For schools, Chester Elementary School, Westwood Middle School, and East York Collegiate Institute are all nearby, with eleven total public schools within range. Monarch Park is the highlight of the neighbourhood's amenity spaces, with a recreational facility that has an ice rink, a wading pool, and a swimming pool. Also nearby are various sports fields, gyms, and a public library within walking distance of Danforth Village.
Transportation in Danforth Village
As it's on the city's eastern edges, Danforth Village is a little further from Downtown Toronto: by car, it's only about a 15-20 minute drive, but transit takes 30-40 minutes depending on the route taken.
8. Rockcliffe-Smythe
Rockcliffe-Smythe is yet another up-and-coming neighbourhood on Toronto's west side that's seen considerable attention in recent years as an affordable, exciting new community for all sorts of renters. Primarily residential but with easy access to some of the city's best amenities, Rockcliffe-Smythe is a nature lover's dream with parks everywhere you turn and easy access to both the 401 to take you out of town, as well as an excellent transit network within reach. There are a few micro-neighbourhoods within the area like Syme and Harwood which are particularly family-friendly, but practically everywhere in the area affords the same great access to schools, parks, and practically everything else families could ask for.
Average rent in Rockcliffe-Smythe
Rockcliffe-Smythe is located in the York area of Toronto, where the average rent was $1,917 for an unfurnished, one-bedroom unit as of May 2022. Prices don't budge much for more bedrooms in the area, either – a two-bedroom unit can be had for just $2,051 on average, and three-bedroom units typically cost $3,378. Note that this is for the area as a whole, and Rockcliffe Smythe's prices may be slightly higher due to the unique qualities of the neighbourhood.
Schools & amenities in Rockcliffe-Smythe
Rockcliffe-Smythe has a ton of schools within its borders for students of all ages. Most notably, Cordella and King George Junior Public High Schools for pre-K to grade 6, Harwood Public School, Rockcliffe Middle School, and George Harvey Collegiate Institute. There's certainly no shortage of family-friendly parks either – Smythe Park, Dalrymple Park, and Cayuga Park are all within walking distance of the neighbourhood.
Transportation in Rockcliffe-Smythe
The amount of green space and nearby trails can make Rockcliffe-Smythe feel a world away from the city, but it's only about a 25-35 minute drive to Downtown Toronto, or about 35-45 minutes by public transit. Runnymede Station is probably your closest transit option for getting downtown quickly.
How to find family-friendly rentals on liv.rent
As you can see, the City of Toronto has a vast range of family-friendly housing options across the city, in practically every corner – whether in the heart of Downtown or closer to the outer limits. Still, finding family-friendly housing isn't always easy, which is why liv.rent has added features to make your rental search a breeze. Here are a few tips to automate your search and save time:
Set up listing alerts – Finding your perfect rental home doesn't have to be a full-time job, especially if you're busy raising a family. Take back your time with liv.rent's Listing Alerts by simply setting an alert (or multiple alerts) with the features you're looking for in a home. Whenever a listing is posted that matches your criteria, you'll receive a notification in your inbox. To learn more about setting up Listing Alerts, watch the quick how-to video below.
Browse listings using Map View – If there's a certain neighbourhood or neighbourhoods you're looking to rent in, try using liv.rent's handy Map View to easily hone in on certain areas. You'll be able to see exactly where each listing is located as well as major roads and green spaces nearby.
Look out for verified landlords and listings – Take the guesswork out of your rental search with liv.rent's extensive, multi-step verification processes for both landlords and properties. Rental scams are unfortunately all-too-common and it's important to be able to rent with peace of mind to protect yourself and your family. Look out for the badges below to confirm that we've verified the property and profile you're applying to.
| | |
| --- | --- |
| | This icon means users are ID verified. Users with this icon next to their name indicate that their profile name has been matched to a piece of government-issued ID that they submitted. |
| | This icon means rental listings are listing verified. Listings with this icon next to the address indicate that the rental property has been verified by mail or by matching the landlord's name to official documents, such as land title documents or property tax forms. |
---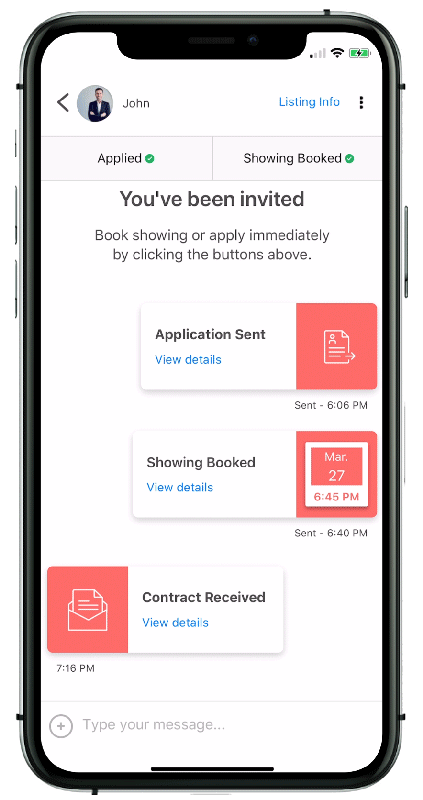 Rethink The Way You Rent
Not on liv.rent yet? Experience the ease of digital applications & contracts, verified tenants & landlords, virtual tours and more – all on one platform. Sign up for free or download the app.
Subscribe to receive the latest tenant & landlord tips and get notified about changes in the Canadian rental market.
>> Stay up-to-date on the average rent in Vancouver, Toronto and Montreal: Rent Reports.