If you've been using liv.rent to find and apply for rentals, you've probably already encountered the Trust Score. This all-important score helps landlords see all of your relevant information, so you can stand out on your applications and secure your perfect rental home. So, what do you do if your Trust Score seems a bit low? First – don't panic! This guide will go over what exactly goes into calculating your Trust Score and what you can do to improve it, so you can boost your score and stop missing out on the premium places.
Unlock The Trust Score Tool
Save time and remove the manual labour of tenant screening with the Trust Score from liv.rent. This comprehensive tool helps you evaluate a renter's reliability & credibility with flexible pricing options for every landlord. Click here to view an example of the Trust Score.
What is your Trust Score?
Firstly, what is a Trust Score? It is an intelligent rating system built into the liv.rent platform designed to help landlords determine the reliability and credibility of tenants. Using a complex algorithm that leverages the power of social media and credit ratings from Equifax, the Trust Score provides landlords with a convenient, all-in-one metric of your suitability as a tenant.

How to improve your Trust Score
Now that we've gone over how to read and understand your Trust Score, you're probably wondering what you can do to give your score a boost. There are four components that comprise a renter's trust score, each showing a different aspect of your rental profile that landlords will be curious to know. Do note that these sections aren't weighted equally: your Credit is worth 80 points, while Trustworthiness makes up the remaining 20.
Thankfully, there are some quick and easy ways to raise your Trust Score — though improving your credit score may take a little longer. Still, it's important to understand how the Trust Score functions so you can start making steps towards earning a higher score.
Let's take a closer look at the four components that factor into your score and what you can do to improve for each section:
Component 1: Credit Summary
The best way to improve your Trust Score is by first improving your credit score. Since the credit score portion counts for 55 points out of your possible 100, this is a huge factor in raising your score and renters should definitely make an effort to This is much easier said than done and typically happens more slowly than we'd like, but it's certainly doable with a little dedication. Here are a few of our best tips for improving your credit score in a pinch:
Get different types of credit. This might be a second credit card, for example, as credit bureaus love looking at different sources of credit when determining credit scores.
Get a mobile phone under your name – Yes, it might be time to cut the ties that bind you to your parent's share everything account. And, again, make the payments on time.
Don't miss bill payments – Setting up automatic payments is one way to ensure you don't miss payments or pay late. Keep in mind that older credit problems count for less so poor past credit performance won't hinder your score forever.
Component 2: Risk Assessment
New to the Trust Score is a detailed risk assessment that shows landlords any potential risks that stand out on your application. This section is scored out of 20 and is broken down into 4 categories, each worth 5 points:
Court Record Verification — This simply shows whether or not there are any records of infractions you have committed that are available on public records.
Potential Risks — This will display whether or not you're suspected of any fraudulent activity
Bankruptcies — This section simply shows whether or not you have any record of prior bankruptcies
Collections Record — This displays any debts you have had that were sent to collections, generally from the last 6-7 years.
This section is difficult to improve, but the best way to maintain a high Trustworthiness score is to avoid all of the above infractions and maintain good financial standing.
Component 3: Trustworthiness
Unique to liv.rent, the Trustworthiness component is our way of helping to build a trusted community of landlords and tenants here on the platform. Counting for 20 of your possible 100 points, completing your Trustworthiness portion is as easy as verifying your profile, income, and social media profiles within the liv.rent platform. This makes it a great way to give your score a quick boost while also helping landlords confirm your identity.
Upload government-issued picture ID. Within your profile, be sure to take a photo of a piece of government-issued photo ID (e.g. passport, driver's license). Not only does this appear in your Trust Score and earn you points, it's essential for showing landlords that you're a verified renter.
Update your LinkedIn profile – Provide accurate employment details that support the information you gave in your profile. The Trust Score algorithm corroborates your information with what is lsted on your LinkedIn profile and will show that your Social Verification is complete. This is an easy way to score a few extra points while confirming to landlords that you are who you say you are.
Upload additional financial documents to the app to supplement the Trust Score. For example, bank statements, employee contracts, etc. This information will not be stored but will help improve your score. If you are not comfortable doing this, just tell the landlord that you can show them these documents as evidence.
Component 4: Income-to-Rent Ratio
Your rent-to-income ratio counts for 5 points out of 100 and is an important part of your Trust Score that shows landlords that you're able to consistently pay rent on time. While there's no way to improve this section besides ensuring that you're applying for rentals well within your budget, it's still essential to complete it so that your Trust Score gives an accurate representation of your rental situation.
The recommended income-to-rent ratio is 1:3, which means you'll need to earn more than 3X your monthly rent in order to achieve a Pass on this component.
Is your personal information secure on liv.rent?
The Trust Score requires renters to provide a lot of information about their rental, financial, and personal history — but rest assured, your information is secure on the liv.rent platform.
First, liv.rent never stores the information needed to calculate your Trust Score. We use this data only for the express purpose of generating your score, and any data used is secured by encyrption within our services. Once your credit score has been used, the report is deleted from our servers to ensure that your privacy is protected.
For more information about our Privacy Policy, consult the document here.
Does the Trust Score impact the tenant's credit score?
The Trust Score gathers information from renters' Equifax® credit reports and will appear as an inquiry on their credit file. This may impact their overall credit score, however the impact will not be significant as the Trust Score is not a credit application and will not appear as a 'hard' credit inquiry.
---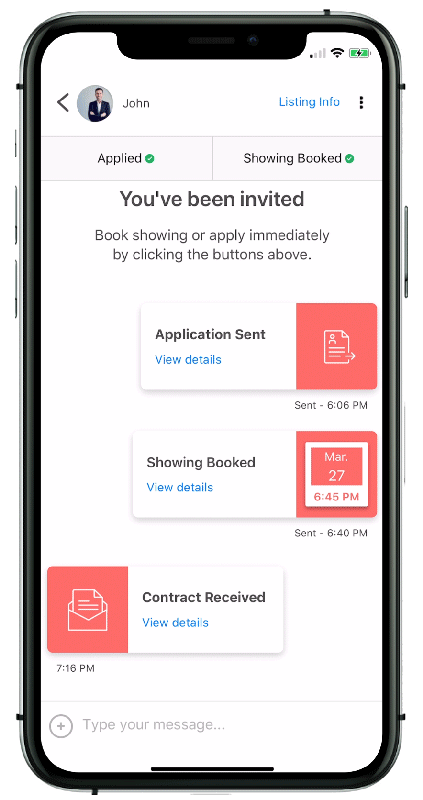 Rethink The Way You Rent
Not on liv.rent yet? Experience the ease of digital applications & contracts, verified tenants & landlords, virtual tours and more – all on one platform. Sign up for free or download the app.
Subscribe to receive the latest tenant & landlord tips and get notified about changes in the Canadian rental market.
>> Stay up-to-date on the average rent in Vancouver, Toronto and Montreal: Rent Reports.