More so now than ever before, property managers in Canada rely on property management software to assist with just about every part of their business. As technology continues to improve, so do the number of functions property managers can perform digitally, and the possibilities for automation have become near endless. No longer do property managers need to spend countless hours manually screening tenants, cross-posting listings, and other administrative and organizational tasks – property management software has enabled them to focus on what really matters: acquiring more leads and scaling their businesses.
With this has come an increased number of options to choose from. Regardless of whether you're a new property management company or an experienced business looking to migrate your company's operations to a new platform, picking the best property management software for your business' needs is paramount. Here, we'll be covering the top property management software in Canada based on pricing and twelve key criteria – as well as going into detail about what makes liv.rent so effective and easy to use.
Table of Contents
Post unlimited listings for free
Do you need to advertise multiple rental listings? Look no further. Post as many listings as you want on liv.rent – all for free.
How do I manage properties digitally?
With so many digital platforms rising to fill the needs of today's property managers, how is one to choose? It's increasingly difficult to find a one-size-fits-all platform, as every company's needs are different. Analyzing each software's pricing structure, availability and features is a job in and of itself – one that busy property managers don't always have time for.
That's why we've taken it upon ourselves to do the research for you. The following ranking will break down some of the most popular, and best property management software options available for Canadian property managers to give you a better idea of which ones your company should explore further. To read about specific platforms, use the table of contents above to navigate this post.
1. liv.rent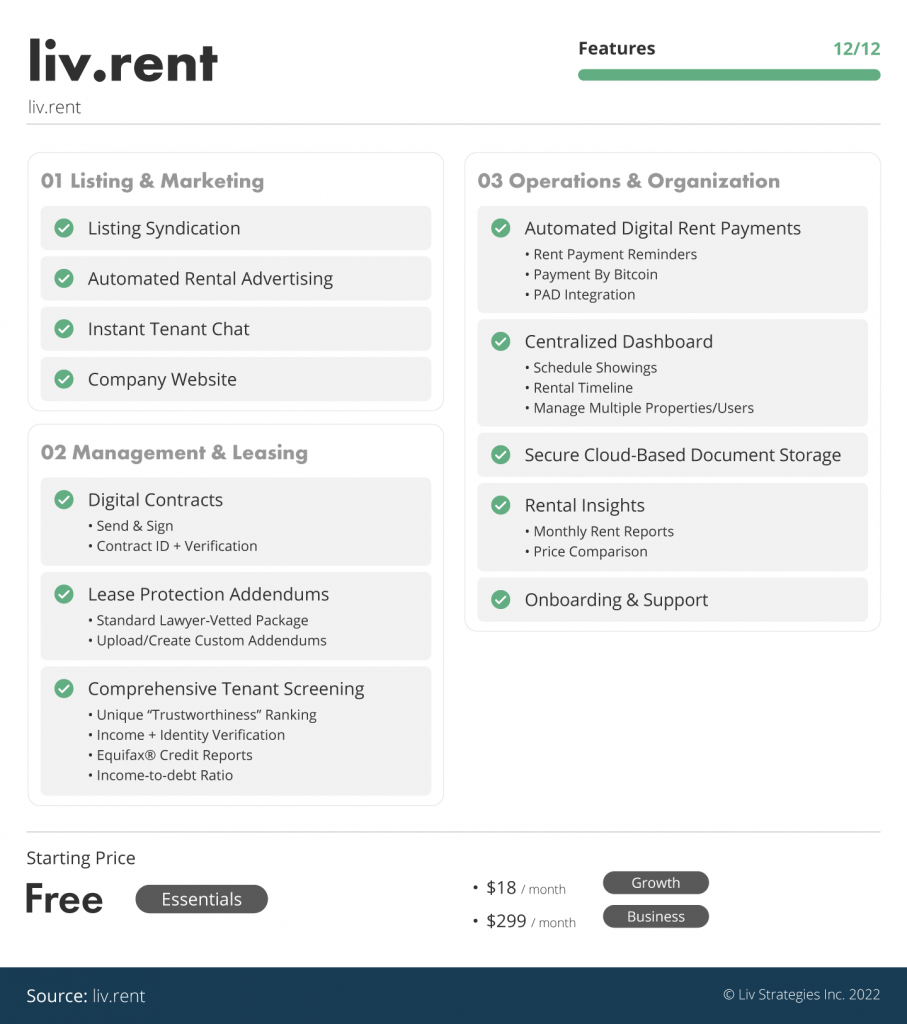 In addition to being an all-in-one rental platform, liv.rent has evolved to become a complete property management solution with all the features today's property managers expect – with affordable plans designed for every stage of your business' development.
With a complete 12/12 features, liv.rent has solidified itself as the top option for property managers looking to automate their workflow from tenant screening to signing, collecting rent payments, and more. Not only this, the platform prides itself on creating a trusted community of renters through multi-step verification processes, so property managers can easily recognize and communicate with trusted renters.
liv.rent's wide range of time-saving features include a comprehensive marketing suite including a customized company landing page, a centralized dashboard for easily managing rent payments, documents, and more, and the new & improved Trust Score – an all-encompassing tenant screening tool designed to give landlords and property managers a complete sense of applicants' rental and financial history. Not only this, but the platform makes a strong case as one of the safest platforms on this list thanks to secure, cloud-based document storage powered by military-grade encryption for added peace of mind.
Post unlimited listings for free
Do you need to advertise multiple rental listings? Look no further. Post as many listings as you want on liv.rent – all for free.
2. Buildium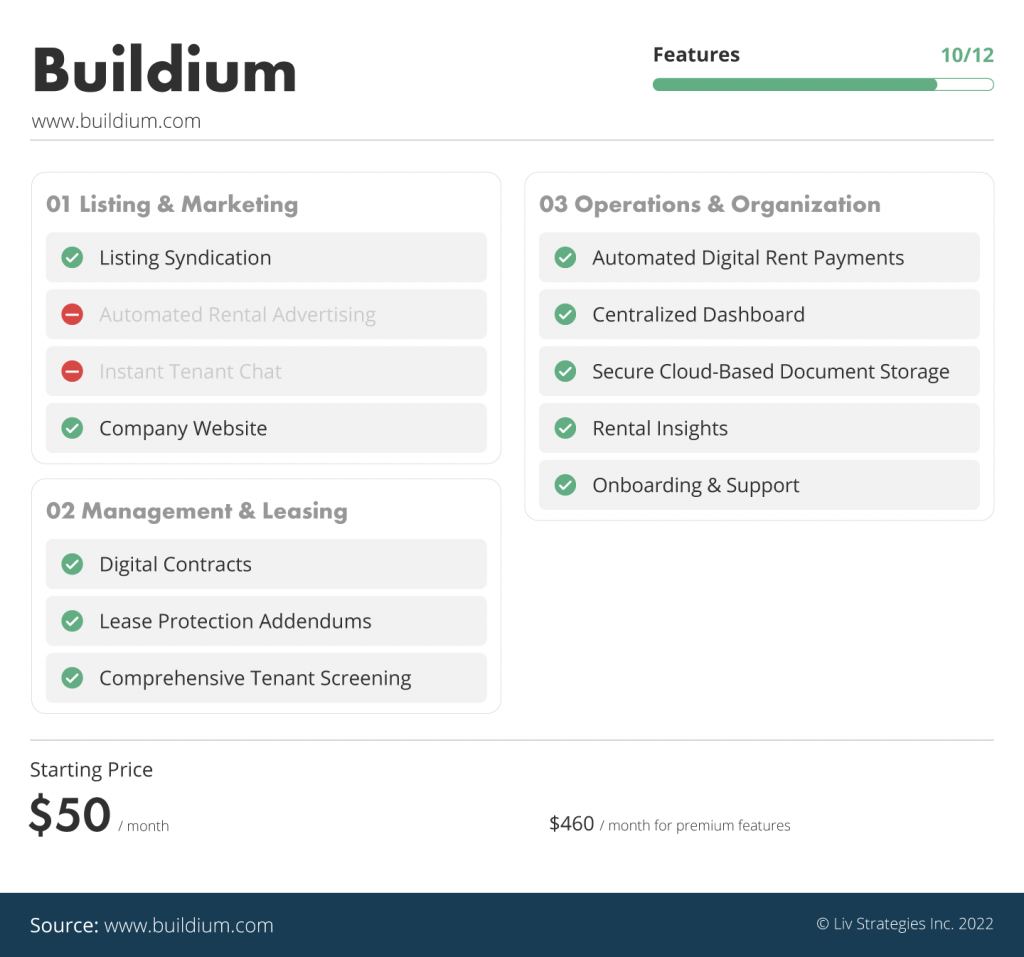 Buildium comes close to having a complete range of features, but falls short by lacking Instant Tenant Chat and Automated Rental Advertising. With that being said, this popular property management software offers plenty of great tools for beginning property managers and experienced businesses alike. Some companies may find the platform's pricing a bit restrictive though – plans start at $50 per month with only partially unlocked features, and scale exponentially depending on the number of listings your business manages. In order to unlock the full range of features shown above, you'll likely be paying upwards of $460/month.
3. Yardi Breeze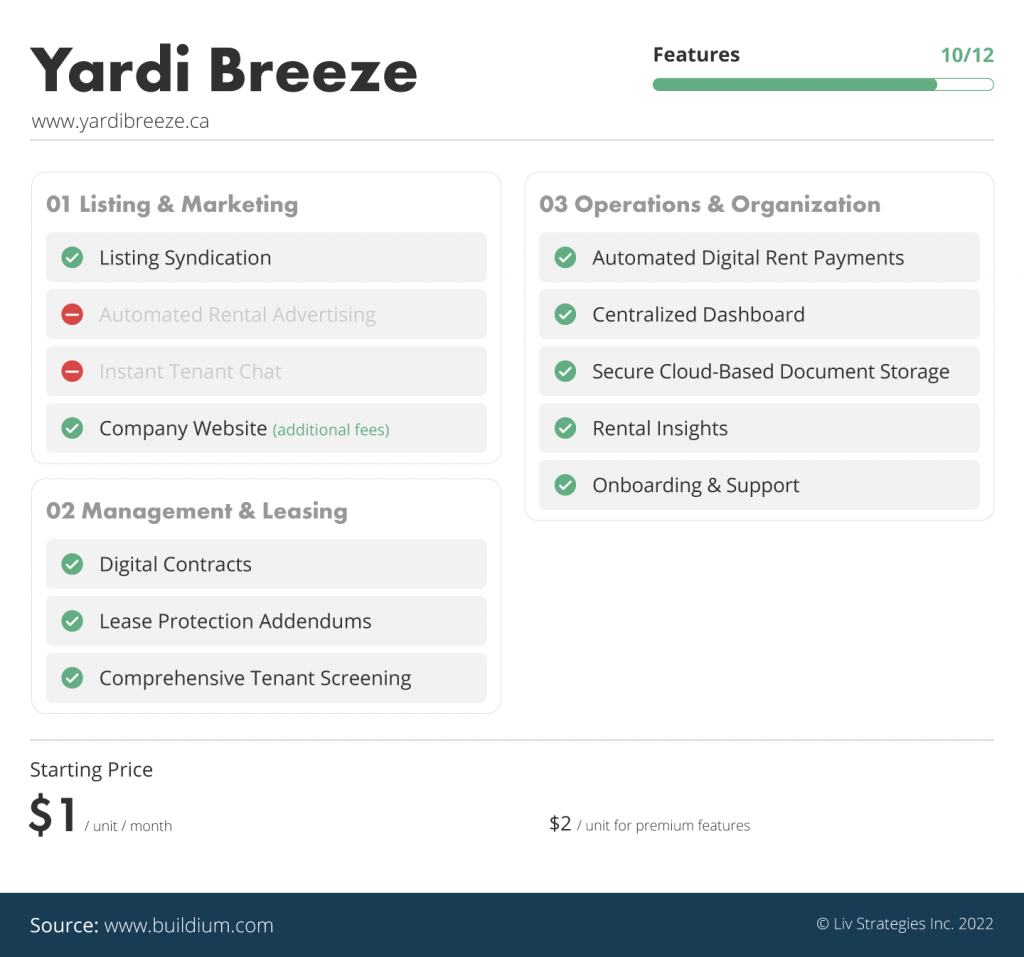 Yardi is a popular property management software company that offers two distinct versions for property managers: Yardi Breeze, a streamlined version designed for landlords & property managers with small to medium portfolios, and Yardi Voyager which is designed for larger companies. We're looking at the former here, which is a streamlined version with an appealingly simple layout and an impressive number of features. In fact, Yardi Breeze only lacks instant chat, with tenant communication only available via SMS or email. Still, this platform has a lot to offer and the per-unit pricing structure may appeal to some property managers.
4. Total Management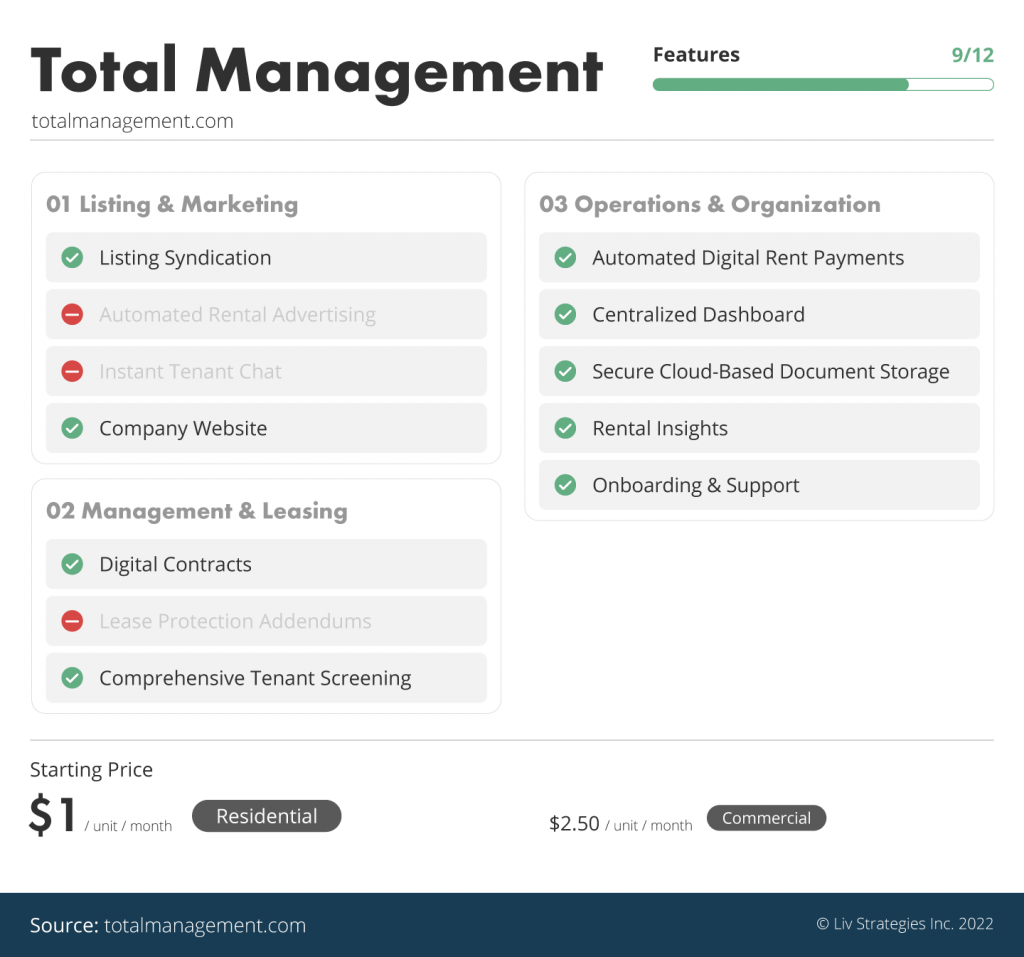 Total Management is a web-based property management platform that bills itself as "the easiest property management software on the market". The software has 9 out of the 12 features we're looking at here, and notably also lacks Instant Tenant Chat as well as pre-loaded lease addendums.
5. AppFolio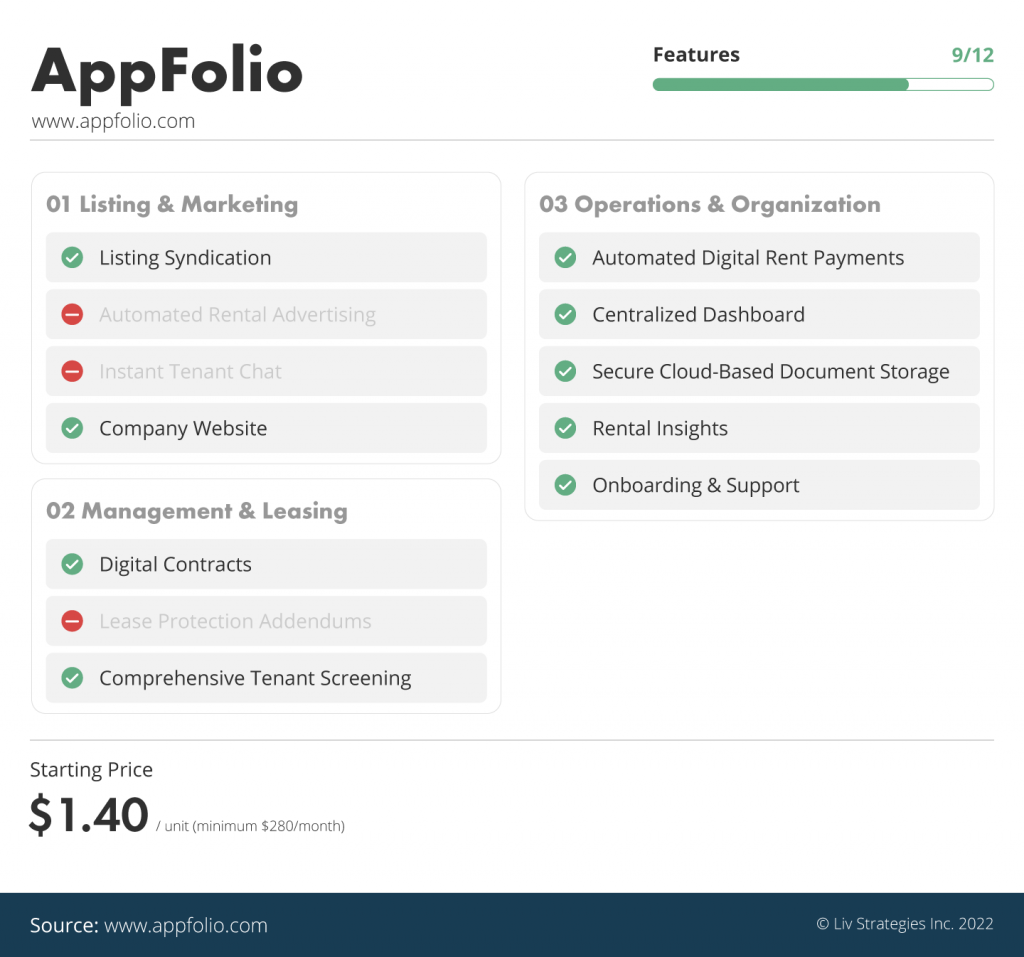 AppFolio is another popular option that also has 9 of the 12 features we're ranking for here. Again, the platform is missing an easy, instant way to communicate with tenants, as well as lacking lease addendums and automated rental advertising. However, AppFolio does feature an intuitive, easy-to-use layout and contains some of the most important features property managers look for.
6. Doorloop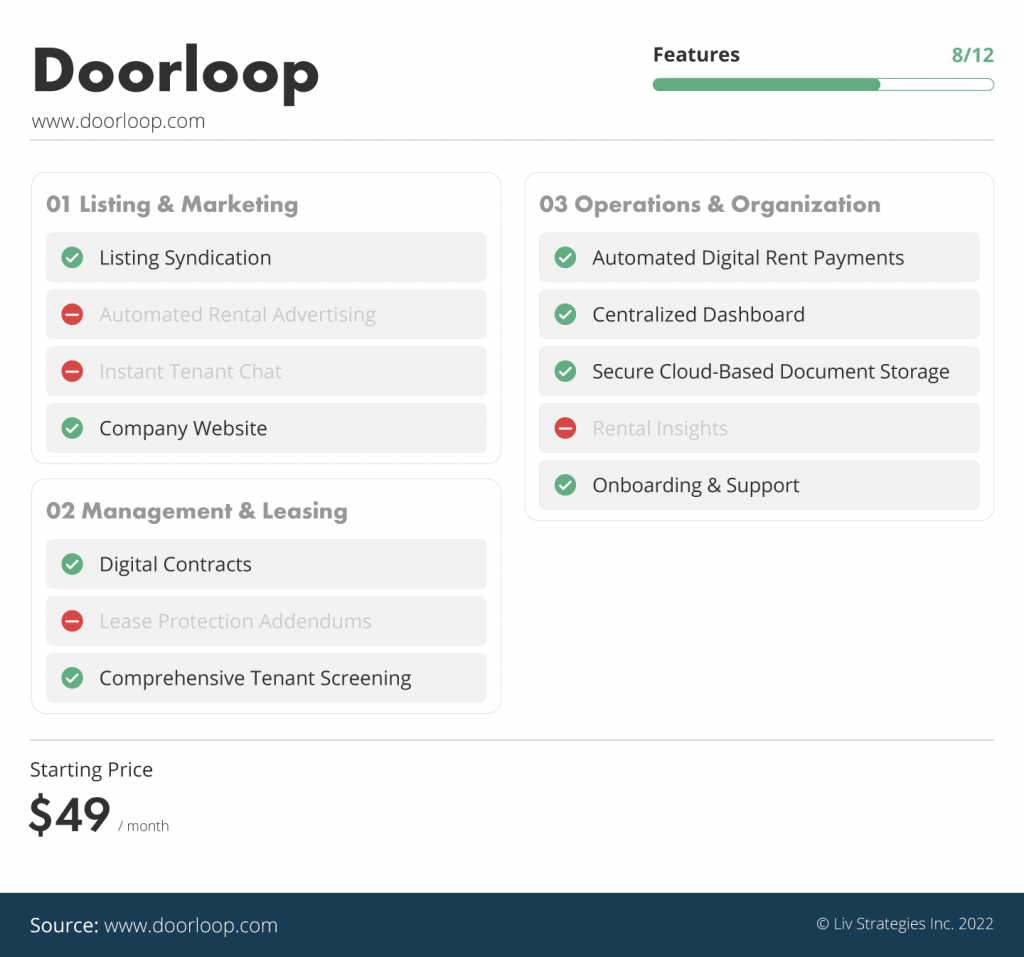 Doorloop has a solid 8 out of 12 features and is a popular choice among landlords and property managers thanks to its easy setup and all-in-one approach. The platform also lets users manage different types of property like commercial and student housing without requiring additional fees, which makes it attractive for companies with varied portfolios. Despite this, the platform still lacks features like instant chat, lease addendums, automated advertising, and rental pricing insights within listings.
7. Re-leased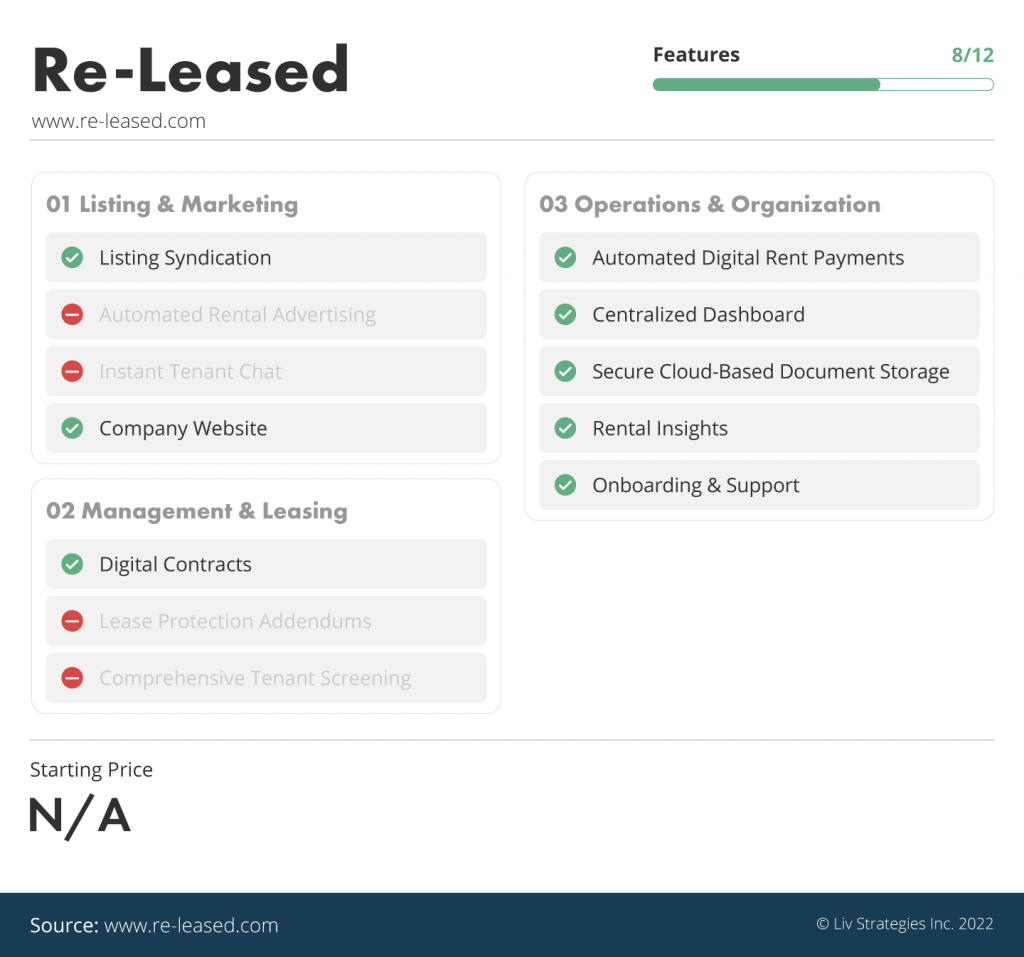 Primarily focused on managing commercial properties, Re-Leased is a cloud-based software solution that features a centralized dashboard that allows for a number of complex functions within one platform. With 8 out of 12 features, Re-Leased is a good option for property managers whose portfolios are heavy on commercial properties, but doesn't quite hold up to some options that are more focused on managing residential properties, since the platform doesn't advertise tenant screening, instant chat, automated advertising, or lease addendums.
8. Building Stack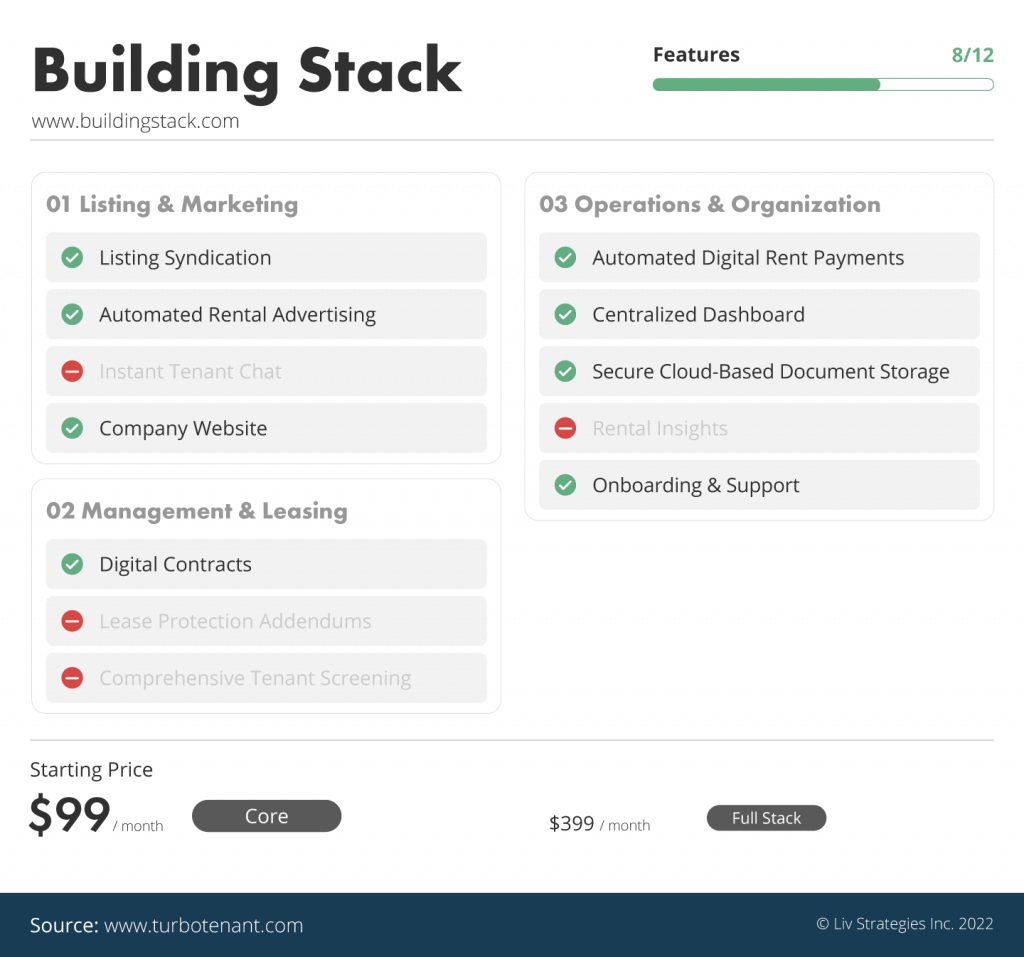 Building Stack is specifically designed for Canadian property managers and has a variety of pricing options with varying access to the platform's many features, including a free tier that only facilitates digital rent payments. The customizability may appeal to some property managers, as you can opt to only use Building Stack's marketing or communication features without paying for more, or opt for the 'Full Stack' package. Building stack offers a solid 8/12 features, although it is more expensive per month than other options on this list.
9. Property Vista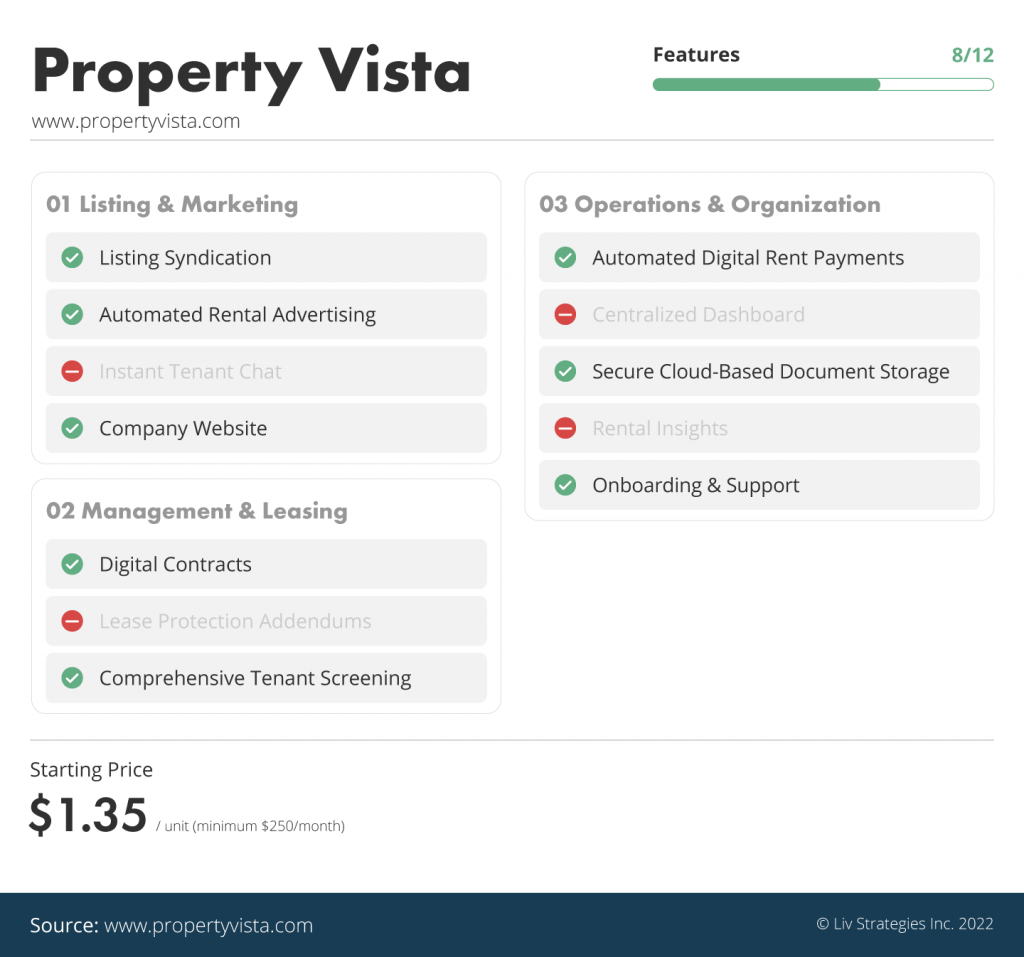 Designed specifically for Canadian property managers, Property Vista has a wide range of tools geared towards managing residential properties. One of the more tenant-friendly options on our list, Property Vista has a convenient tenant portal with communication through email, SMS or bulletins, but doesn't have a built-in instant chat. The platform also falls short on marketing without the option to automate your advertising, and also lacks specific insights, addendums, and a centralized dashboard.
10. TurboTenant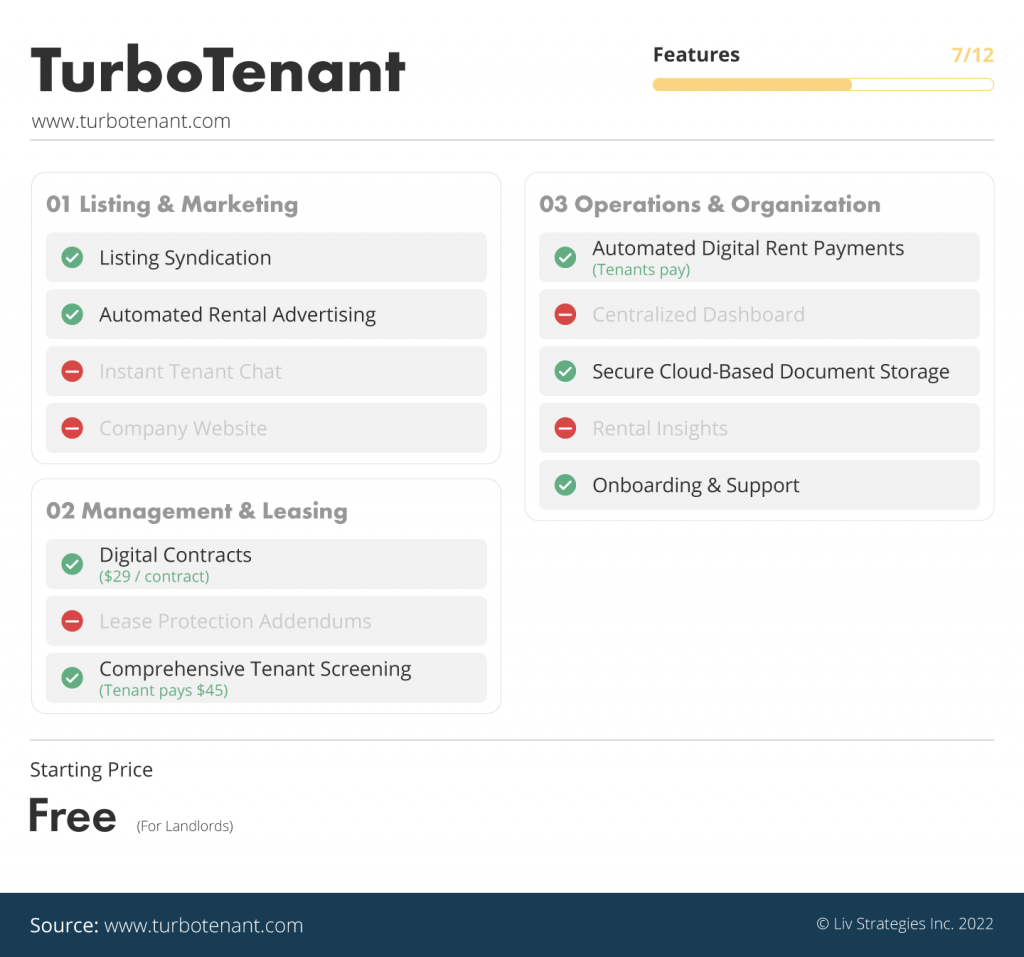 Technically designed for landlords rather than property managers, TurboTenant is a rental property management solution with a good amount of features to conduct basic marketing, management and organizational functions. While the platform is free for landlords, this is only because tenants bear most of the financial weight of the application process – including for screening, paying rent, and optional insurance. Landlords can opt to pay for additional services like lease agreements, e-signing and additional forms.
11. SingleKey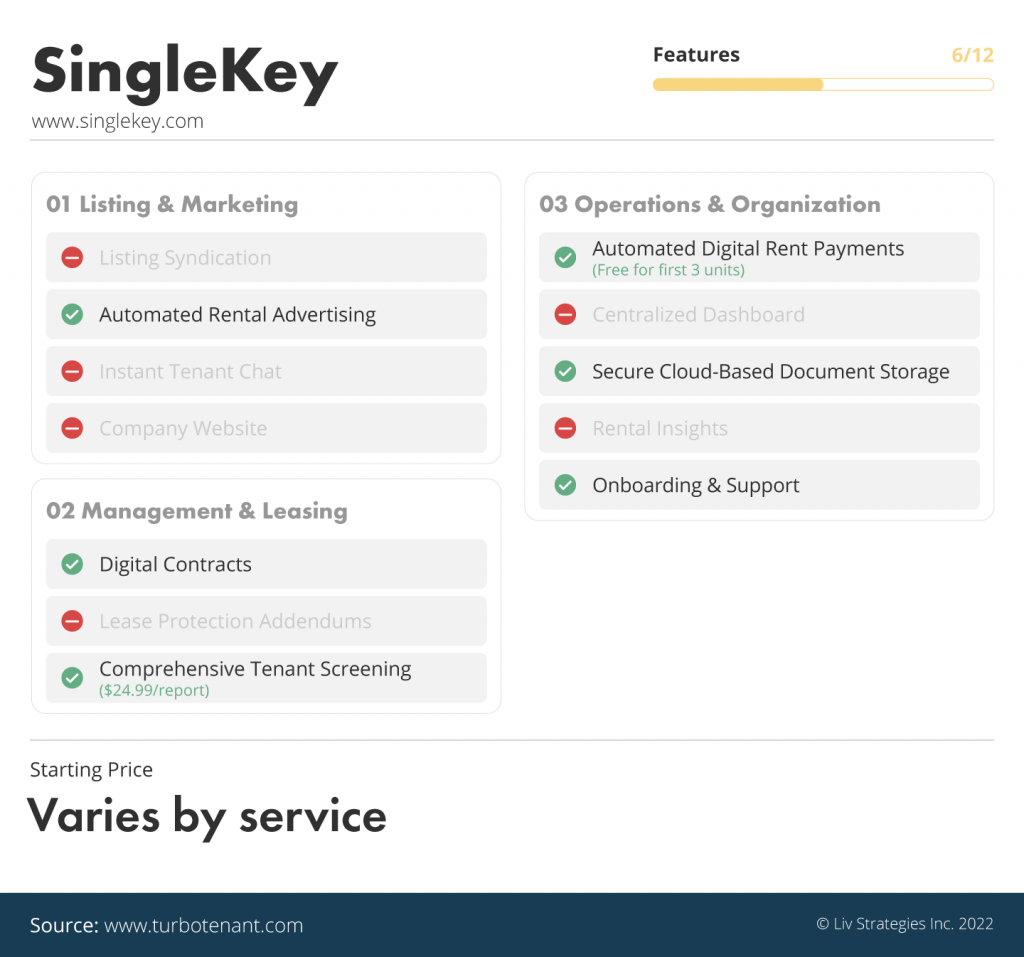 SingleKey bills itself as purely a tenant screening and credit check solution, so it doesn't provide the same scope of functions as other platforms on this list. With that being said, what SingleKey does do, it does quite well. Its screening reports are similarly comprehensive to liv.rent's Trust Score, but with a pay per use rate rather than being included in a monthly plan. Additionally, SingleKey facilitates digital rent payments for landlords and property managers for additional functionality.
12. Rentify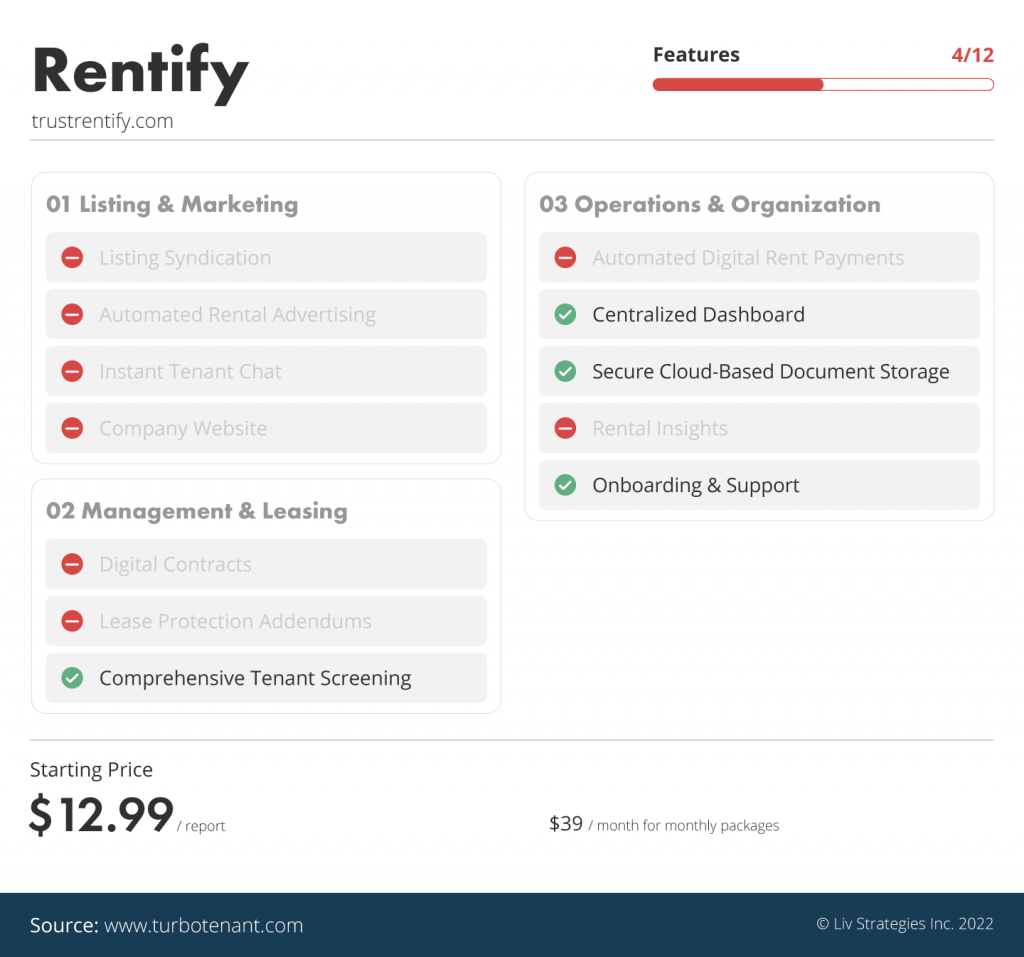 Rentify, similar to SingleKey, offers one service: tenant screening. There are a variety of customizable pricing options from single reports to yearly plans for enterprise, and the reports Rentify provides give insight into applicants' complete financial information rather than just providing credit checks.
What is the best property management software in Canada?
It's hard to determine a clear-cut winner for the best property management software in Canada, since this largely depends on your business' individual needs, what you're looking for in software, and what your budget is. With that being said, it's easy to see why so many property managers have turned to liv.rent for its easy-to-use platform, mobile app, affordable & flexible pricing plans and the sheer number of functions property managers can perform.
Although other options like Buildium, Total Management and AppFolio come close in terms of the number of features offered, liv.rent differentiates itself with its trusted community of renters, landlords and property managers, combined with its unique Trust Score tool, allows for a safe, convenient rental process that eliminates much of the guesswork property management companies usually face.
How liv.rent helps property managers
By combining a complete range of marketing and management features, liv.rent helps property managers save time and grow their business by digitalizing and automating their workflow from start to finish. This all-in-one platform features intelligent solutions for every step of the way, like the Trust Score – a comprehensive tenant screening metric that provides complete information, including Equifax® credit reports and income & identity verification for faster, more effective screening.
For those looking to grow their business or scale their company's portfolio, liv.rent also gives property managers access to a full suite of marketing features like customized company websites, multi-platform listing syndication, and insights into your listing's price and performance. All this, in addition to all the features you'd expect from a property management tool, like automated rent collection, secure cloud-based document storage, digital contracts & addendums, and so much more.
If you're ready to automate your rental process and make the switch to an easier, all-in-one property management software solution – explore liv.rent's affordable pricing plans for landlords and property managers here.
FAQ: The best property management software in Canada
What is the best property management software to choose?
As you can see from our list of Canada's top property management software here, liv.rent stands tall as the country's best platform for property managers. With a full 12/12 features, including built-in tenant screening and marketing solutions, this all-in-one platform really does do it all.
For more on liv.rent's complete features and pricing, you can see all of our available plans for landlords and property managers here.
Should I use property management software?
If you're a property manager in Canada today, using property management software like the ones on this list is practically essential for ensuring you're up to date on the myriad things property management requires.
Even if you're an individual property manager or landlord, many of the features available in today's property management software can help simplify your day-to-day operations and make your job easier.
What do property management softwares do?
Property management software can help property managers with any number of functions, from keeping track of rent payments, screening tenants, communicating with tenants and clients, organizing and assigning tasks, and preparing leases and other forms.
With technology as sophisticated as it is today, the capabilities of property management software are constantly growing – making them an integral part of a successful business. Some platforms, like liv.rent, even allow you to list and market your units, and so much more.
How do I manage multiple rental properties?
Managing multiple rental properties requires careful organization and of course, the right tools at your disposal. If you're an individual landlord with other commitments, you'll likely need the help of an all-in-one rental management platform like liv.rent that allows landlords and property managers to do everything in one convenient place, with time-saving and productivity solutions for every step of the process.
---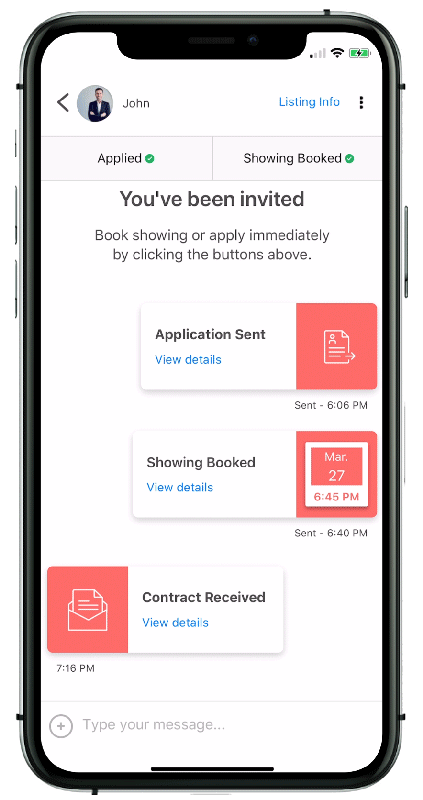 Rethink The Way You Rent
Not on liv.rent yet? Experience the ease of digital applications & contracts, verified tenants & landlords, virtual tours and more – all on one platform. Sign up for free or download the app.
Subscribe to receive the latest tenant & landlord tips and get notified about changes in the Canadian rental market.
>> Stay up-to-date on the average rent in Vancouver, Toronto and Montreal: Rent Reports.