For landlords, protecting your property investment is paramount. The wrong tenants can cause all sorts of trouble if you're not careful – from complaints from concerned neighbours to costly damages, and even an arduous eviction process. To counteract this, it's typical for landlords in Canada to perform a tenant credit check as part of their tenant screening process. In this guide from liv.rent, we'll be breaking down why, how, and where you should get a credit check on prospective tenants – including a ranking of the best & most comprehensive tenant screening tools in Canada.
Why it's important to get a tenant's credit report
Doing your due diligence when it comes to selecting tenants is an integral part of the rental process. After all, you're essentially inviting strangers to live on your property – which doesn't come without risk.
In order to evaluate both the financial suitability and trustworthiness of applicants, credit checks have become an indispensable tool for landlords and property managers to screen tenants. A tenant credit check can provide you with valuable information on an applicant's credit history, borrowing patterns, and overall reliability. By reviewing this information, you can make an informed decision on whether to accept or reject a rental application.
The main purpose here is to protect your investment and minimize the risk that comes with renting. By choosing to rent to applicants with a strong credit score and a good history of making payments on time, you're cutting down on your chances of late or missed rent payments, or worse.
Download The Ultimate Tenant Screening Guide
In order to pick the right tenant, you need to ask the right questions. Download the ultimate tenant screening guide, which contains 56 questions you can ask potential tenants at every stage from initial contact and application to showing and signing.
How to get a tenant's credit check in Canada
Credit information in Canada typically comes from one of the country's two major credit bureaus: Equifax® or TransUnion®. There are a few ways landlords can obtain this information:
Directly from a credit bureau — With applicants' consent, landlords can grab a credit report from either of Canada's two major credit bureaus
Through a tenant screening service — Tools like liv.rent's Trust Score allow you to quickly & easily access applicants' credit history, often including additional information as well – like income & employment verification documents, court records, and a detailed risk assessment in the case of the Trust Score.
Asking the tenant to provide a credit report — It's also common for landlords to ask tenants to purchase a credit report themselves and provide a copy with their application.
Using a property management company — Some busy landlords opt to use a property management company for handling their rental properties. These professionals will also take care of tenant screening for you using one of the above methods.
What information does a tenant credit check include?
A tenant credit check in Canada is primarily used to evaluate a tenant's financial suitability based on their spending habits and debt levels. This takes the form of a credit report that summarizes their credit history, including:
Credit score
Any outstanding debts, loans or bankruptcies
Payment history on loans, credit cards, and other financial obligations
A tenant credit check can also include additional information, such as:
Employment history and income details
Court records or other details
Risk assessment
How much does a tenant credit check cost in Canada?
The cost of a tenant credit check in Canada varies greatly depending on the method used to obtain it. Getting this information can be free to landlords if they request that tenants pay for and provide their own credit report, however there are plenty of different ways to get this information on your own at varying price points.
Typically, a tenant credit check will cost $10-30 per report from either Equifax® or TransUnion®, with prices varying greatly depending on the level of detail and the specific package purchased.
If you're using a third-party tenant screening service, prices similarly range from $10 per report, to monthly and yearly payment plans that offer a number of included reports for a given period. The section below will provide a more detailed overview of the different credit check options available to Canadian landlords, including pricing for each.
The best credit check tools for Canadian landlords
1. liv.rent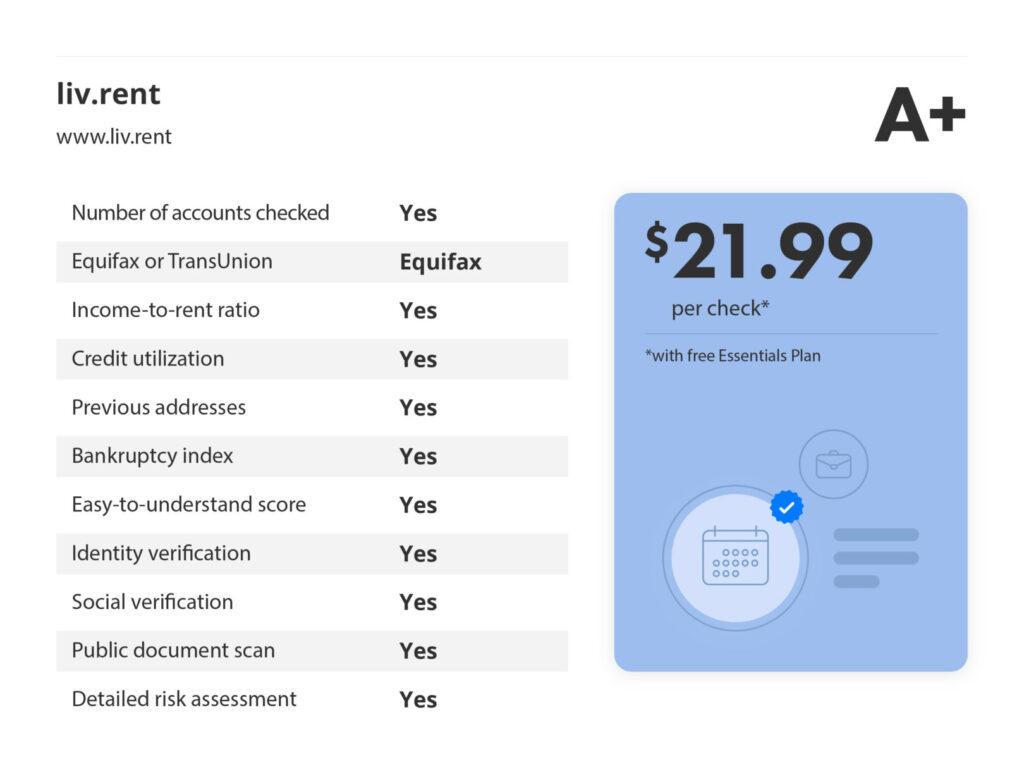 The Trust Score from liv.rent goes beyond credit checks to give a complete understanding of applicants' suitability. As you can see from the chart above, liv.rent provides landlords & property managers with information that isn't found on a traditional tenant credit check, all condensed into an easy-to-read score for filtering out unqualified applicants at a glance.
Individual landlords can choose between a variety of flexible pricing options. With a free Essentials Plan, you can add on a Trust Score report for just $21.99, or you can opt to enroll in liv.rent's Growth Plan to receive 2 included Trust Score reports per month.
This feature also provides greater security for renters, as their Equifax info and uploaded ID are only stored until their Trust Score has been generated, at which point this data is securely deleted by the server.
2. SingleKey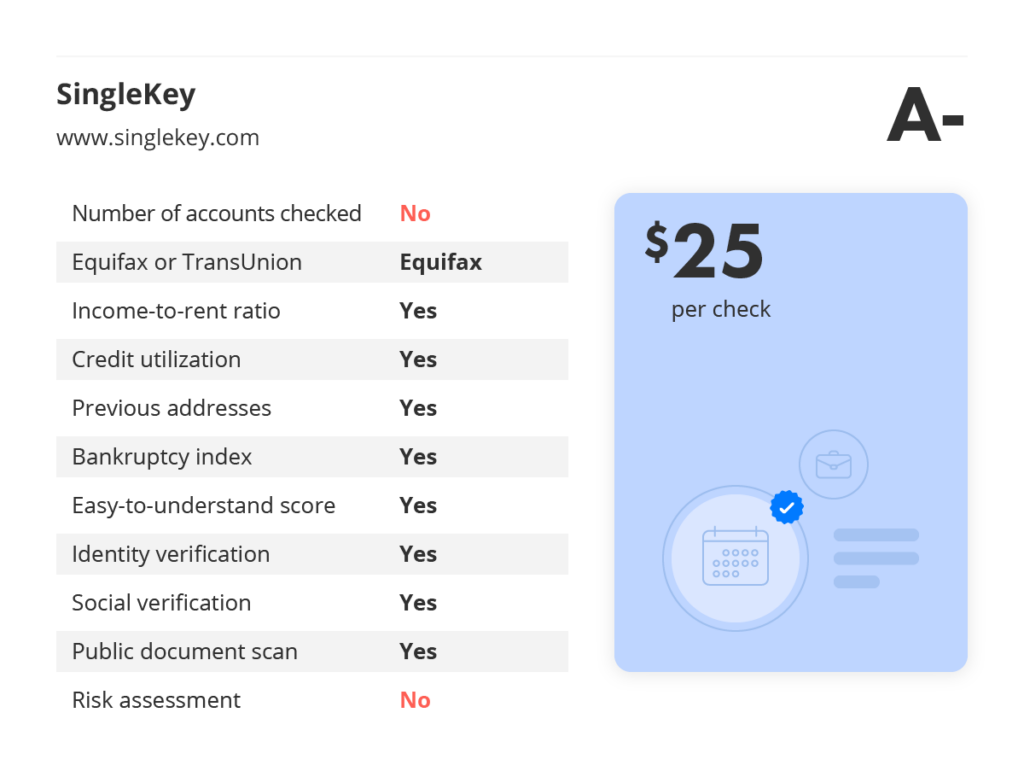 SingleKey offers a simple platform that provides detailed reports using information from Equifax® credit checks. Where SingleKey sets itself apart is in its speed. The site advertises a less than five-minute processing time for a tenant credit check, which allows landlords to get the answers they're looking for faster than getting it directly from a credit bureau.
However, this speed can't compete with the instant response given by liv.rent through the Trust Score feature, which allows landlords to instantly view necessary renter information the moment they apply to a listing.
In terms of information, SingleKey offers a similarly comprehensive overview to other top options, combining an overall Tenant Score with a broken-down series of metrics that display the most pertinent information for landlords. The platform also gives users the ability to pay as you go, at a cost of $25 per report.
3. Naborly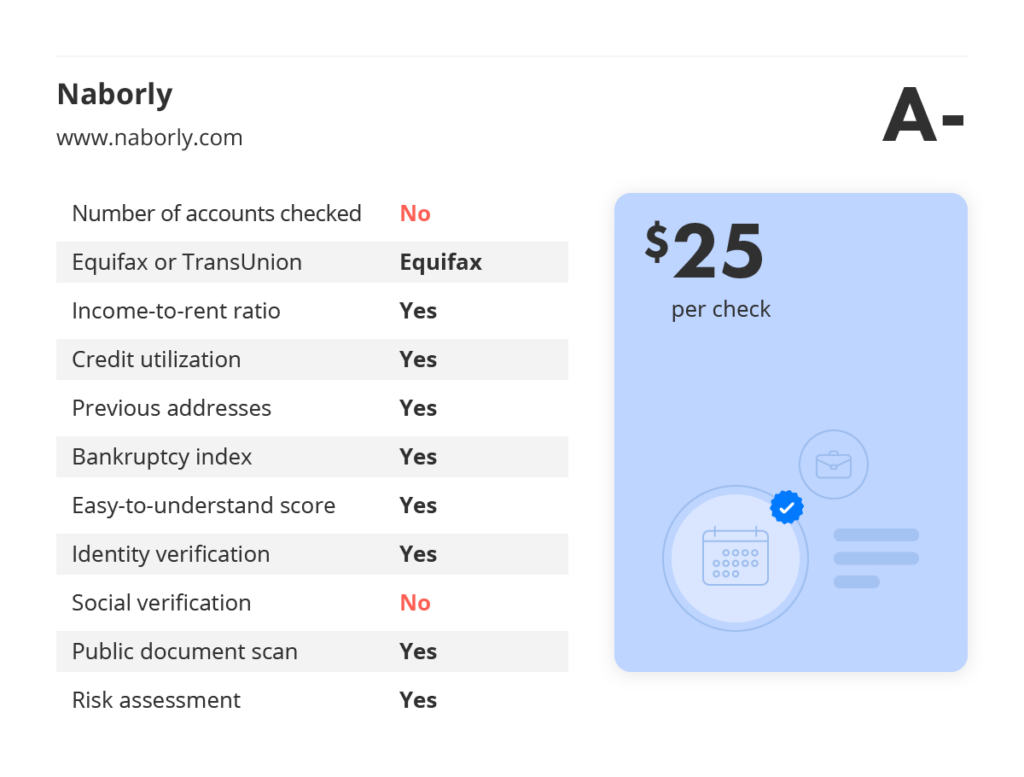 Naborly is another popular option for screening tenants, also relying on Equifax® for the bulk of its information. Similar to liv.rent, Naborly provides landlords with a single score that factors in data like employment history, court records, and credit information to paint a picture of the applicant as an individual and as a tenant. Naborly also makes it easy to get approval for these checks with a built-in application process
Some landlords may also prefer the flexibility Naborly offers, as there is a flat rate of $25/check with no additional membership or subscription fees. It's worth noting though that Naborly is intended to be used solely for tenant screening, and doesn't offer the additional functionality provided by all-in-one rental platforms like liv.rent.
4. FrontLobby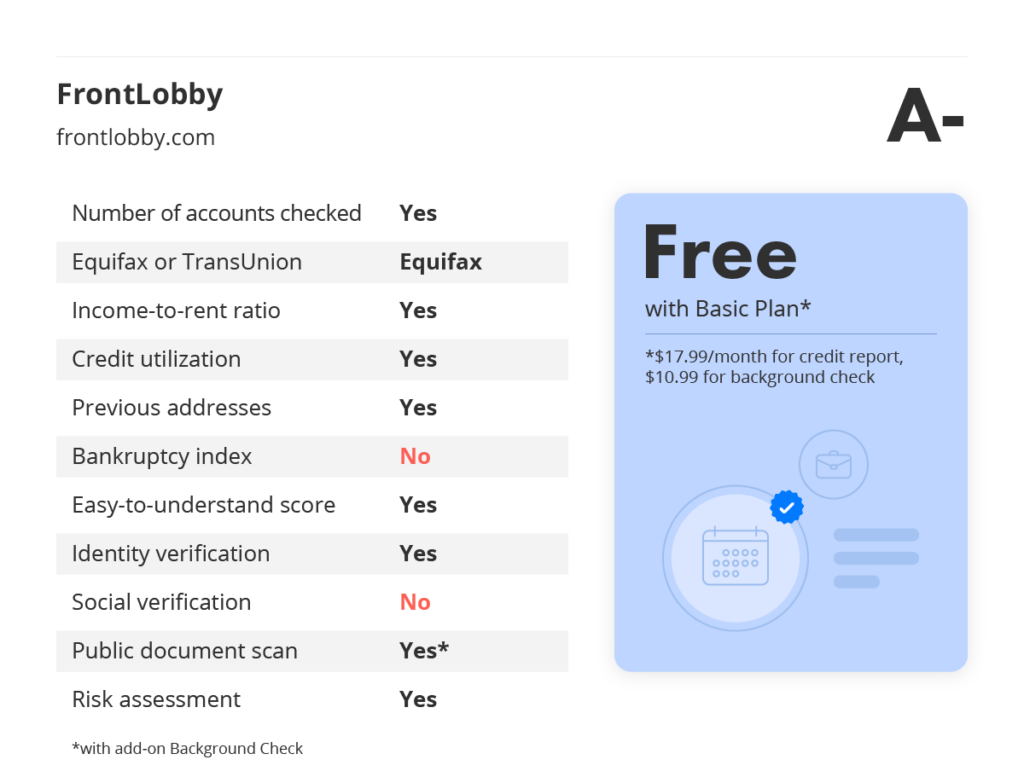 FrontLobby is unique in that it allows landlords to report tenants' rent payments to Equifax®, helping to establish renters' reliability while giving fellow rental managers an additional metric to look at. Additionally, landlords can purchase add-on credit and background checks, at varying prices based on the plan chosen.
For the most part, these checks are standard credit reports, although the rent reporting feature and additional functionality FrontLobby offers make it an intriguing choice for some landlords. With that being said, these features are only available through the platform's paid plans, which still require landlords to pay add-on fees for credit and background checks.
5. TransUnion SmartMove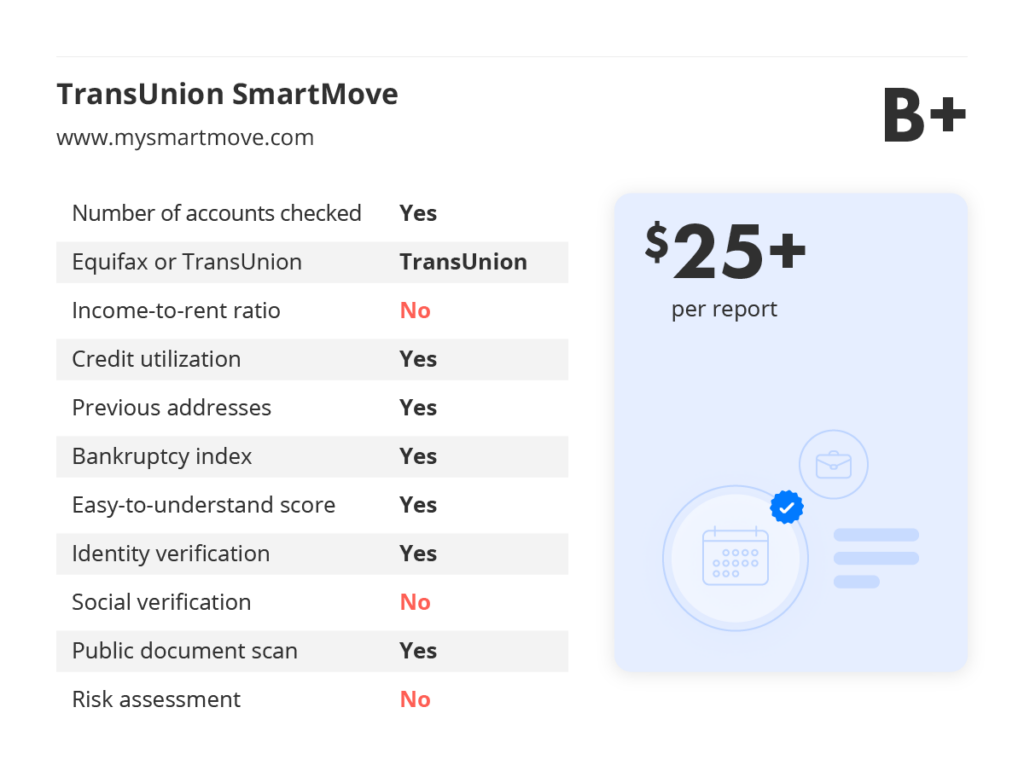 TransUnion®'s SmartMove service is another popular option for Canadian landlords that distinguishes itself on its speed and ease of use. After registering, landlords can directly send a request for a credit check to tenants. Once they've completed their application, you can see the applicant's information in minutes – including their credit check, criminal & eviction history, and income insights.
All this information is contained within their ResidentScore™ feature which will also help with quick decision-making. The $25 per report price point is standard compared to other options listed here, however it's worth noting that this is for their SmartCheck Basic Report, which only includes applicants' credit-based ResidentScore™ and a criminal background report. For a full credit report, landlords will need to pay $39.99 for SmartCheck Plus.
6. Equifax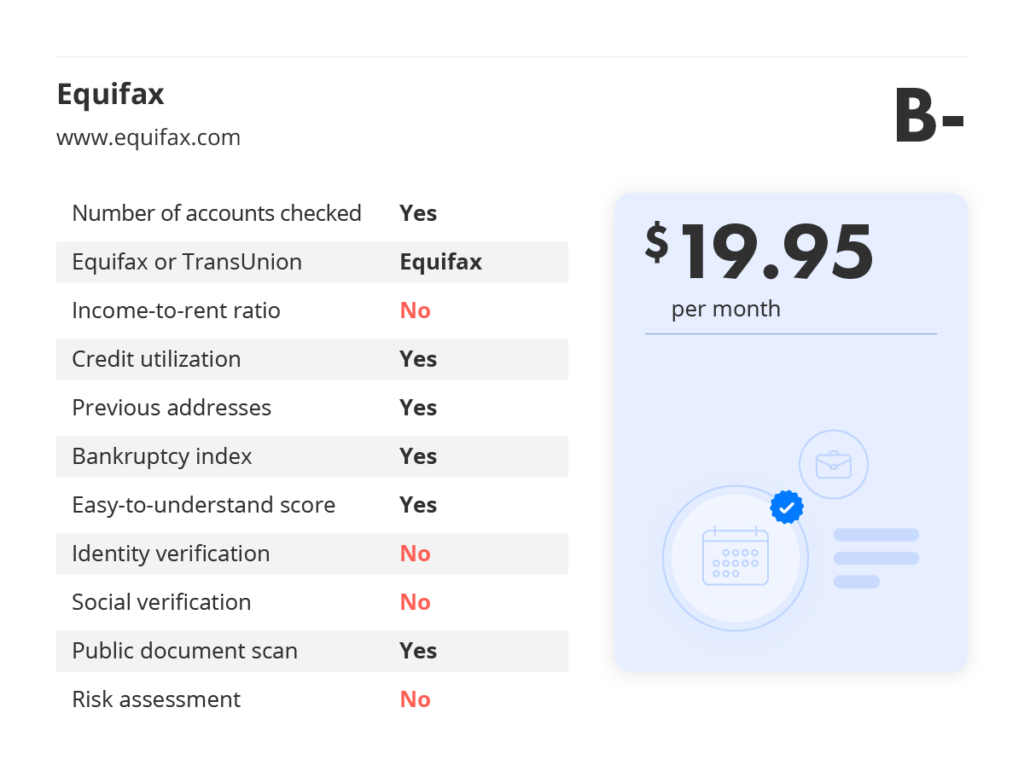 Equifax® remains one of the most popular tenant credit check platforms in Canada since many landlords prefer to get reports from the bureau itself. This is a standard credit report and doesn't contain much of the information found within some of the other options here that are designed specifically for landlords.
Still, Equifax® offers great flexibility in terms of pricing, as landlords can also opt to have tenants pull their own credit report, which can be free using a trial for the service. For the most complete information, Equifax® recommends using their Complete™ Premier plan, which costs $19.95/month.
What makes the Trust Score from liv.rent unique
The Trust Score enables Canadian landlords to find the right renters quickly and easily, going beyond a credit check to provide a complete picture of applicants' suitability.
We've recently upgraded the Trust Score to include additional information, giving landlords & property managers even more tools to make important tenant screening decisions. Alongside these changes, we've implemented new, flexible pricing options to suit a variety of rental management needs – including the option to purchase add-on reports for just $12.99 each.
With any renters that apply to their listings, landlords will be able to see:
The number of accounts checked to qualify their payment record
Collections record
Bankruptcy index
Income-to-rent ratio
Credit utilization
Income & Employment verification documents
A detailed risk assessment
& much more
This score is immediately available to unlock & view for any applicants who have already completed their profile and been given a Trust Score, allowing you to evaluate renters faster.
Click here to learn more about how the Trust Score can help you find qualified renters and manage risk in your rental property.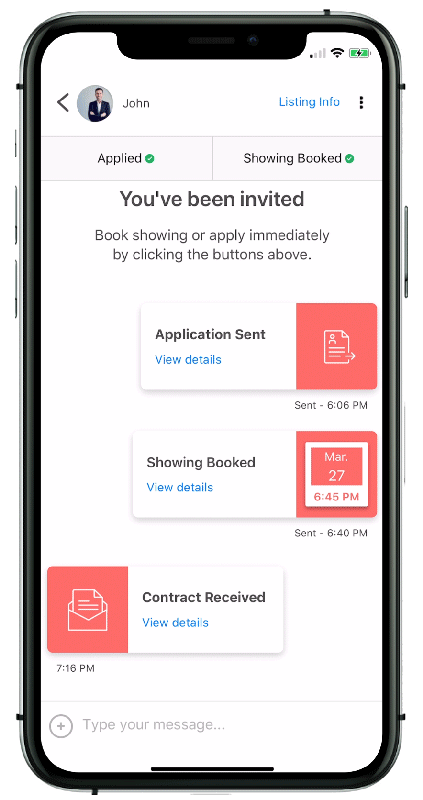 Rethink The Way You Rent
Not on liv.rent yet? Experience the ease of digital applications & contracts, verified tenants & landlords, virtual tours and more – all on one platform. Sign up for free or download the app.
Subscribe to receive the latest tenant & landlord tips and get notified about changes in the Canadian rental market.
>> Stay up-to-date on the average rent in Vancouver, Toronto and Montreal: Rent Reports.