For busy landlords, enlisting the help of a well-reputed property management company can be a huge boon to your rental business and save tons of time spent on day-to-day upkeep. With that being said, though, technology has reached a point where many of the typical rental management duties can be automated using the many rental platforms and apps for landlords available on the market today. The question then becomes: do you really need to hire a property management company? Or is it possible to manage multiple rental properties and run a successful operation on your own? In this post, we'll be breaking down exactly how property managers can help, their role in the digital age, and how liv.rent's automation and rental management tools make the platform a perfect all-in-one solution for busy landlords.
Table of Contents
Do you need to hire a property management company?
Choosing whether or not to hire a property management company is one of the most important decisions landlords will make, and should not be taken lightly. While some property owners might prefer a more hands-off approach to their rental operations, others might want more control over their property.
There's the financial aspect to consider as well. While property managers do offer an invaluable service and provide peace of mind for your rental property, this all comes at a cost – typically anywhere from 6-12% of your rental value. This means that if you plan on charging $2,000 per month for your unit, you can expect to pay $120-$240 to a property manager, should you go that route. While you can try to offset this by raising the cost of rent accordingly, it's worth noting that hiring a property manager will potentially put a dent in your profits.
Throughout the remainder of this article, we'll break down exactly what property managers offer, the benefits and disadvantages of enlisting their services, and what you can expect if you do choose to hire a property management company.
Benefits of hiring a property manager
What exactly do property management companies offer you as a landlord, and what are the benefits of letting the professionals handle your rental property versus doing it yourself? The right property manager can eliminate much of the risk that comes with renting, and ensure everything operates smoothly and profitably.
Let's look now at how landlords can benefit from hiring a property manager:
Higher-quality tenants — Tenant screening takes a good amount of time and effort. As a busy landlord who very likely has other commitments, it can be difficult to build an effective and efficient tenant screening process. Property managers have the time and resources to ensure that vacancies are filled promptly with qualified tenants, saving you the stress of troublesome renters.
Fewer vacancies — Property managers are dedicated to filling vacancies in a timely fashion, all but ensuring that your rental property remains occupied and you avoid lengthy and costly vacancies. A large part of this is their advertising strategies and reach, which can be emulated with an all-in-one rental platform like liv.rent.
No missed rent payments — In addition to ensuring every tenant has a history of paying rent as expected, property managers are equipped with the knowledge and tools to ensure you're always receiving rent payments in full and on time. Landlords may find it difficult or awkward to enquire about late or missed payments, whereas property managers are keenly aware of the legal process and their avenues for claiming unpaid rent.
Less upkeep — Property managers tend to come with a network of contractors and repair people for handling any issues that arise within your rental property. As a landlord, you may want to attempt these repairs on your own, or at least arrange for and supervise repairs – all of which takes plenty of time out of your schedule.
Less legal issues/disputes — Especially if you're new to being a landlord, residential tenancy law can be quite confusing, with plenty of complex rules and requirements that vary greatly by province. Property management companies have vast expertise in these areas, and can help you avoid legal issues altogether by following proper practices, and can help you remedy any disputes should they arise.
Disadvantages of hiring a property manager
As you can see, there are plenty of reasons why you might want to hire a property management company. These professionals can help you avoid many of the issues landlords usually have with their rental properties, and can save you time, money, and most importantly – stress. Despite all this, there are plenty of reasons why you might not want to hire a property manager too.
Let's look now at some factors that might influence your decision to manage your rental property on your own:
Less control — While some landlords may prefer to sit back and let a property manager take care of the decision-making, others might want a little more control over how their rental business is handled. When you hire a property management company, you're essentially trusting them to handle things in the same way you would, which isn't always the case. Larger companies in particular also typically manage hundreds of properties within their portfolio, so your unit may not get the attention you'd be able to give it on your own.
Cost — The obvious downside to enlisting the help of a property management company is the cost. With payment typically determined on a percentage basis, you can expect to give up a hefty portion of your monthly rental income, which can cut into the profitability of your unit. Combine this with the fact that many digital rental platforms allow you to perform many of the same functions effortlessly, and it's no wonder many landlords opt to manage their own rental properties. Property management companies may also charge fees for things like opening a new account, signing a new tenant, or they may even charge you the same monthly fee while your unit is empty.
Uncertainty — If you do hire a property manager, it's important to do your due diligence to find a good fit. Remember that you're trusting this person and their company to handle an entire business, and their performance can make or break your rental property's profitability. If you don't find someone you trust completely, it's often a better idea to take matters into your own hands.
What to expect from a property manager
Property management companies typically specialize in either residential or commercial properties, and have extensive knowledge in their specific area of expertise. Residential managers, which we're focusing on here, will fulfill practically all of the duties landlords usually perform – from finding tenants and navigating the lease process, to arranging maintenance & repairs and collecting rent.
Here's a quick list of the essential functions property management companies handle:
Managing day-to-day operations

Communicating with tenants, handling requests and issues on your behalf
Supervising repairs & maintenance
Putting together budgets and managing expenses
Ensuring compliance with the lease agreement

Tenant management

Advertising listings and filling vacancies
Tenant screening
Arranging and hosting viewings
Managing leases and lease addendums
Determining rent based on market trends
Collecting deposits and regular rent payments
Representing you in tenant disputes/eviction cases

Maintenance & repair

Performing regular inspections of the property
Ensuring common areas are well maintained, facilities are up to standard
Carry out seasonal maintenance (clearing snow, salting sidewalks)
Handling tenant requests, contacting & arranging repair people
How much does it cost to hire a property manager?
Property management companies range in price depending on their size and level of experience, but generally charge a monthly fee that's calculated as a percentage of your property's rent. The exact percentage can vary from city to city, with more competitive rental markets like Vancouver and Toronto typically commanding higher monthly fees. In general, you can expect to pay anywhere from 6-12% of your monthly rental income to a property manager as a base fee for their services, plus additional fees as determined by the company. Less commonly, property management companies simply charge a flat rate based on the type of property – for example, $150/month for a one-bedroom apartment, or $300 for a three-bedroom home.
In addition to this percentage or flat rate monthly charge, property management companies in Canada also typically charge a one-time setup fee for each new property, which usually includes an inspection of the property, familiarizing themselves with the property and its tenants, and contacting renters to inform them that they'll be managing the property going forward. Not every company charges this fee but if they do, it's typically anywhere from $200-500
You can also expect a one-time fee for finding and facilitating a new tenant, which includes advertising & screening costs, lease preparation, move-in inspection, and any other duties associated with filling a vacancy. This fee is usually half a month's rent or a full month's rent depending on where you're located and which company you're dealing with.
Most property management companies will also include a maintenance surcharge, whether they perform the repairs themselves or arrange and oversee them using their network of professionals. This is typically a 10% fee on any expenses or labour costs incurred. Other fees you may see include eviction fees if the property manager has to evict a tenant, vacancy fees if the unit is empty, and early termination fees should you break the contract with the property management company before its termination.
When to hire a property manager
If you're currently renting out a property and are finding yourself overwhelmed with the amount of work required from you, or if you live far away from your rental property and need someone to maintain it for you, it could be time to look into hiring a property manager. These professionals can instantly alleviate the stress from your rental arrangement by taking over the vast majority of the functions you need to perform as a landlord. As you can see above though, property management doesn't come cheap. If you're OK with parting with a large portion of your monthly rent earnings, in addition to the many fees we covered in the previous section, property managers offer a great service to those who would rather take a hands-off approach to renting.
Ultimately, the decision is yours to make. If you simply can't manage all that comes with being a landlord, there's never a bad time to seek help. If you do come to the decision that you'd like to manage your own properties, though, we cover some alternatives to hiring a property management company below.
How to hire a property management company
Generally, the best way to hire a property manager is by going through a property management company, since you can be sure you're working with licensed, insured professionals. Taking the time to find the perfect fit is vital here, since your property manager will effectively represent you and your personal brand in all dealings with tenants, maintenance and service people, and other professionals.
Most major cities will have plenty of property management companies for you to choose from, so it's important to weigh your options before choosing. Keep an eye out for those with specialized experience matching your own needs, as well as those who come recommended by friends or peers. As with most things in life, communication is key here as well. Since your property manager will be responsible for relaying key information about your building and its tenants to you, you'll want to work with someone you can have a clear and open conversation with. Before you settle on a property manager, be sure to check their references, reviews, and certifications to ensure you've found a good fit.
Alternatives to hiring a property management company
Before you sign a contract to pay a large portion of your monthly rent towards property management services, make sure you consider all your options. The rapid evolution of technology has made it easier than ever for landlords to automate nearly every facet of their rental operations, saving tons of time and money in the process. There are a number of DIY property management platforms available to Canadian landlords, and some even allow you to do everything in one place. Take liv.rent for example. This Vancouver-based, all-in-one rental platform gives landlords the same convenience as hiring a property manager, at just a small fraction of the cost.
Here's a quick overview of all the features liv.rent offers: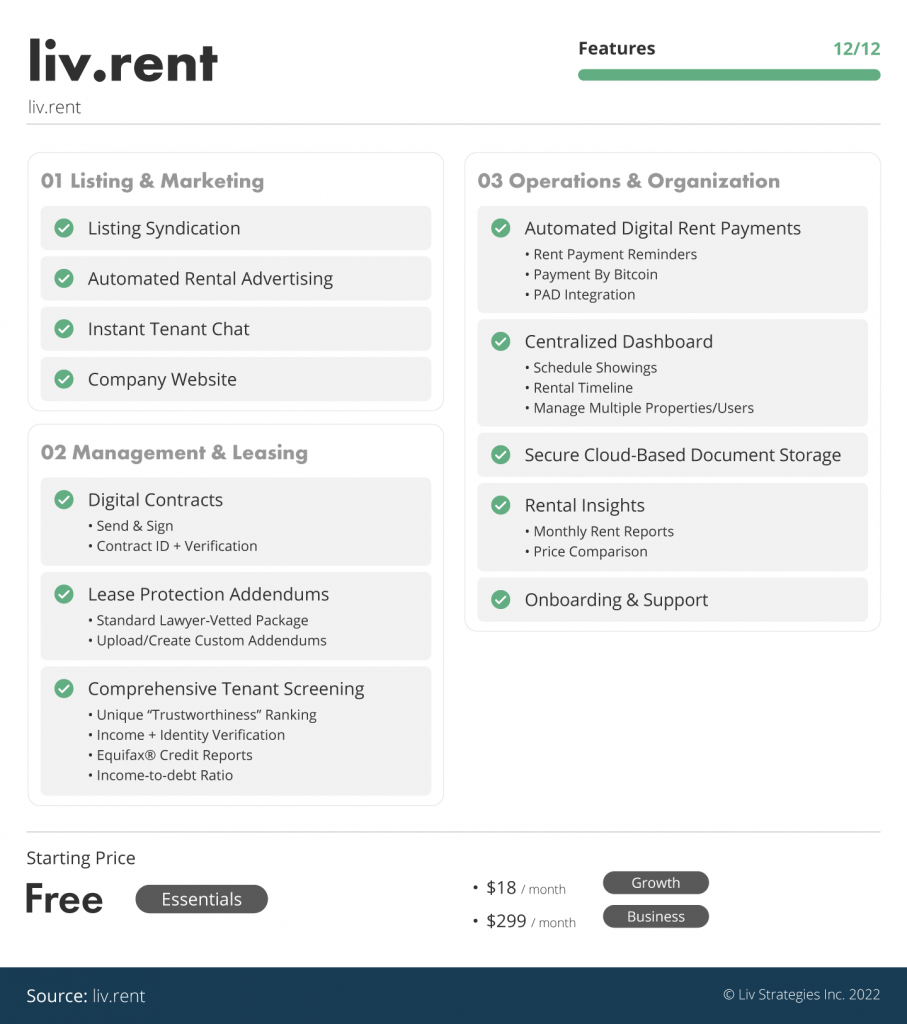 With this one platform, you can post and advertise your listings, screen tenants with the Trust Score – including Equifax® credit reports, create and sign digital contracts & lease addendums, collect rent payments, and so much more. If you're worried about the amount of work you'd take on as a landlord, or you fear that property management expenses will cut into your profit margins, liv.rent is an excellent, affordable alternative designed to make renting property easy and efficient.
FAQ: Hiring a property management company
What should I consider when hiring a property manager?
Deciding who to hire as your property manager is no easy decision. Take the time to interview prospective management companies and get a sense of what they specialize in and the breadth of services they offer. If possible, talk to those within your network and see if they're able to provide any recommendations or point you in the right direction.
What should I expect from a property management company?
Why should I use a property management company?
In most cases, landlords turn to property management companies when they either aren't able to handle the workload required of them, or live too far away and need a representative closer to their rental unit. Of course, there are many other reasons why someone might choose to seek property management help, but their role can be boiled down to helping busy landlords keep on top of their rental operations.
What are the disadvantages of hiring a property manager?
Fairly high costs, uncertainty, and lack of control are all reasons why some landlords opt to not use property managers. We break this down in much more detail here.
What are the advantages of hiring a property manager?
Hiring a property manager gives you peace of mind and frees up plenty of your time by having someone to find the right tenants, ensure rent is collected and maintenance is handled promptly, and represent you in any legal disputes.
We cover more reasons why you may want to hire a property manager here.
How much do property managers charge?
Property management companies typically charge a percentage of your monthly rent earnings as a fee, in addition to other occasional or one-time fees that may present themselves.
We break down all the costs you might see when using a property manager here.
---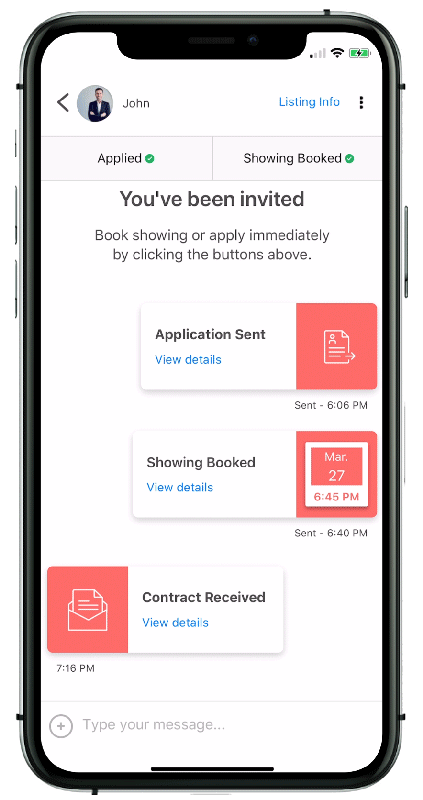 Rethink The Way You Rent
Not on liv.rent yet? Experience the ease of digital applications & contracts, verified tenants & landlords, virtual tours and more – all on one platform. Sign up for free or download the app.
Subscribe to receive the latest tenant & landlord tips and get notified about changes in the Canadian rental market.
>> Stay up-to-date on the average rent in Vancouver, Toronto and Montreal: Rent Reports.