Since 2018, liv.rent has made it our mission to change the way both landlords and tenants approach renting in Canada. As our safe and trusted rental community continues to grow, we're constantly listening to feedback from our users on how we can improve the platform, new features we can add, and ways we can make liv.rent more accessible for you. With this in mind, we're excited to announce some big changes to our landlord pricing plans. This post will provide a complete walkthrough of all the changes we've made and the new features we're adding.
We've updated our pricing plans again as of June 2023 to better meet the evolving needs of landlords & property managers. Please click here for the most up-to-date pricing information.
Table of Contents
What's changing about liv.rent's landlord pricing plans?
We're lowering the prices of our landlord & property manager plans across the board, as well as giving each plan a clearer identity with new features tailored to every stage of your rental business' development, with convenient pay-per-use options for beginning landlords. Here's a quick breakdown of the new plans and what each includes: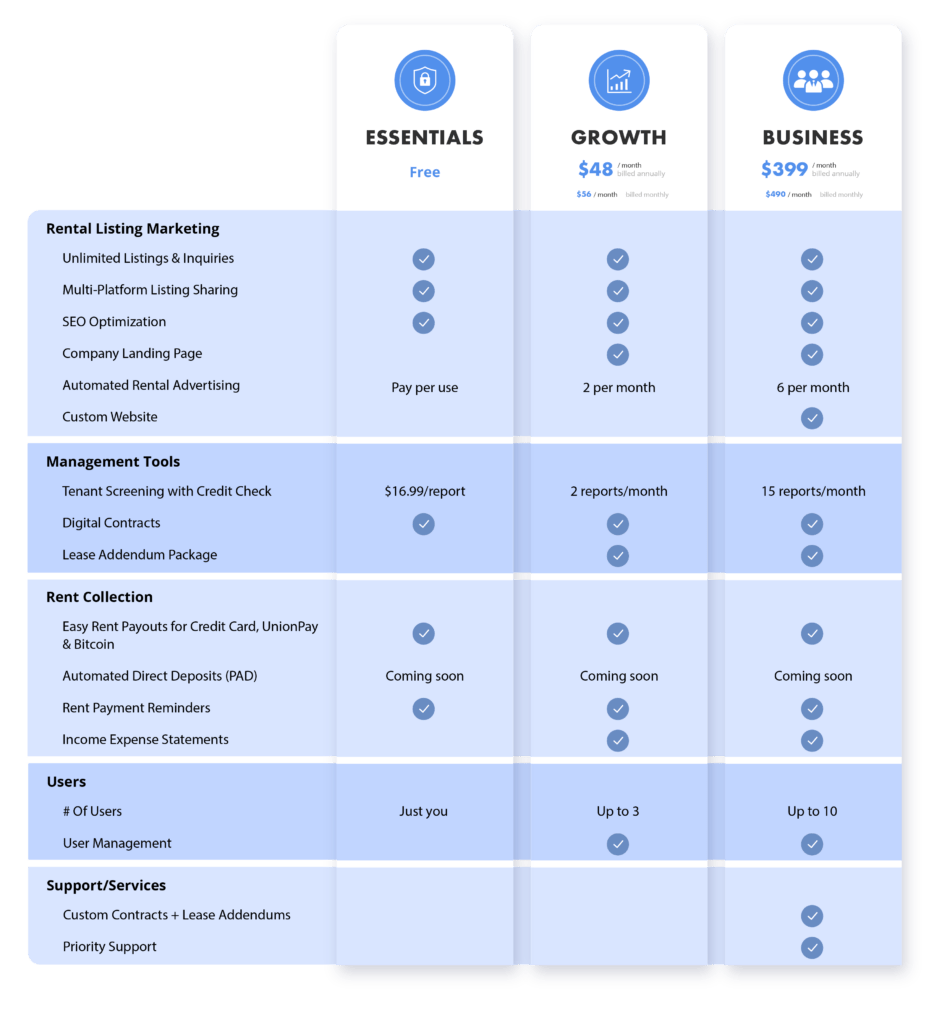 Note: Automated Direct Deposits are coming soon
Let's also quickly look at how these plans have evolved from our previous plan structure, and who each plan was designed for.
Essentials Plan – Free
Formerly the Personal plan, our free Essentials plan is an excellent starting point for novice landlords to discover how liv.rent's rental management and automation features can help them save time and create a more effective, efficient rental process. Landlords on our Essentials plan get a sneak peek of our premium features, with access to basic versions of some of our most exciting rental tools. With this free plan, you'll get:
Unlimited listings & tenant inquiries
Option to purchase Trust Score reports for $16.99 each
Basic digital contracts
Support for one user
Growth Plan – $48/Month
Our Family plan has become the Growth plan, with a more accessible price point at $48 per month, billed monthly – reduced from $79. Specifically designed for growing landlords and property managers looking to scale their portfolios and take their rental business to the next level. The Growth plan is effectively an all-in-one property management software package, with all the tools you'll need to digitize and streamline your rental process from start to finish. This plan includes:
Unlimited lease addendums
Advanced tenant screening with 2 included credit checks per month
Standard digital contracts
Automated rent collection & organization
Shared management tools for up to 3 users
…plus everything in our Essentials plan.
Business Plan – $399/Month
Our new and improved Business plan is tailored to seasoned landlords, investors and brokerages who aim to optimize their marketing and rental management operations. This updated plan has a more accessible price at just $399 per month, billed monthly, down from $439, in addition to an increased range of top-level features, such as:
Unlimited automated rent collection
Advanced tenant screening with 15 included credit checks per month
Extensive marketing suite and optimization solutions
Custom contracts and addendums
Team management for up to 10 users
…plus everything in our Growth plan.
Why are we changing our pricing plans?
Our aim with these revamped plans was to provide our community of landlords and property managers with more accessible plans better tailored to their needs. With lower prices for our updated Growth and Business plans, it's never been more affordable to access comparable all-in-one property management software which typically costs nearly ten times the price. We also felt strongly about maintaining a free Essentials plan so that starting landlords or those curious to explore our premium features could access basic management features with ease.
When do these changes go into effect?
Our new pricing plans are already in effect for landlords and property managers looking to upgrade now. Our previous plans will be officially phased out on April 15, 2022, following a 30-day grace period that begins March 15. During this time, users on our legacy plans will still be able to access all of the features included in their plan without interruption. After April 15, users who haven't upgraded their plans will automatically be downgraded to our free Essentials plan.
How should I proceed?
In order to prevent users on your account from temporarily losing access, we recommend upgrading to a plan that fits your needs before April 15. If you forget to upgrade or choose not to take action, your account will automatically be downgraded to our free Essentials plan – but don't worry, you can upgrade your account again at any time.
Here's a quick breakdown of the plan we recommend based on the number of users and listings on your account:
1 User, 1 Listing: Essentials / Growth
1 User, 2-3 Listings: Growth
1-3 Users, 1-4 Listings: Growth
3 Users, 4-10 Listings: Growth / Business
4-15 Users, 5+ Listings: Business
Frequently asked questions: New landlord pricing plans
How can I change my billing information?
You can always update your Billing and Plan details by navigating to your Profile >> Account Settings >> Billing and Plans. If you need additional assistance, our Support Team is more than happy to help via support@liv.rent or through our live chat.
What is the difference between the addendums I can access under the Growth Plan versus the custom contracts available on the Business Plan?
Our Growth Plan includes access to our package of lawyer-vetted lease protection addendums, including forms for smoking rules, pet policy, subletting, Form K (strata), and more. The Business Plan gives you this same package, as well as the ability to upload and customize your/your company's own addendums and contracts.
Can I cancel my monthly plan at any time?
Yes! You can downgrade your account's plan whenever you choose. Be aware though that if the number of users on your account exceeds the number of allowed users on the plan you're downgrading to, some users won't be able to access liv.rent features.
What happens if I cancel my annual subscription before it expires?
Users on an annual subscription can cancel their plan at any time and be refunded for the remainder of their plan. To do so, you can contact our Support Team at support@liv.rent, or through our live chat.
Where can I see examples of a custom website, available on the Business Plan?
What happens with my contracts if I downgrade my plan?
Any active contracts on your account will remain active & accessible until their termination date, regardless of whether you downgrade your plan. The same applies to any addendums you've signed while on our Growth our Business plans – the terms agreed to remain binding until their specified termination date.
What are the fees associated with Credit Card, UnionPay and Bitcoin payments?
If you're accepting credit card payments with Stripe, then the service fee that Stripe charges for each transaction will be passed on to your tenant. However, landlords may encounter additional charges from Stripe, so always check your Stripe account to see what fees have been applied.
For tenants paying with UnionPay or bitcoin, as a landlord, you will have to pay a flat service fee of $3 CAD per transaction. These fees will be labelled as "Payout fee" in your payout details page. The payout fee is collected to cover the costs of facilitating the transaction and any additional administrative costs.
How do I connect my Stripe account to be able to take Credit Card payments?
To connect your Stripe account to liv.rent, simply follow these quick steps:
Navigate to your Account Settings from your dashboard
Click on Payment Settings
Under "Stripe Account" click Connect
Input the email address used for your Stripe Account and follow the prompts
---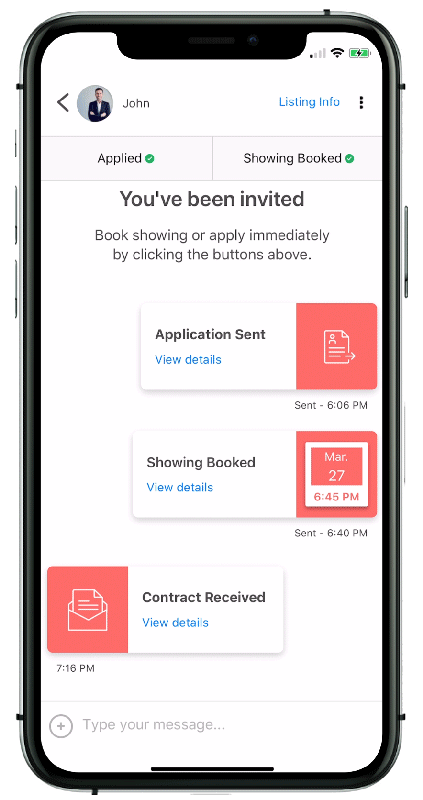 Rethink The Way You Rent
Not on liv.rent yet? Experience the ease of digital applications & contracts, verified tenants & landlords, virtual tours and more – all on one platform. Sign up for free or download the app.
Subscribe to receive the latest tenant & landlord tips and get notified about changes in the Canadian rental market.
>> Stay up-to-date on the average rent in Vancouver, Toronto and Montreal: Rent Reports.