Airbnb continues to grow in a popularity as a platform for facilitating short-term and vacation rentals. Serving as an alternative to hotels and traditional B&Bs, short-term rentals have proven an effective way for landlords to earn passive income on their rental property without the commitment of a long-term lease agreement. For the vast majority of real estate investors, maximizing profit while minimizing risks and overhead expenses is crucial. Which strategy then yields a higher ROI: Airbnb vs. longer-term renting? In this post, liv.rent will answer this important question to help you decide which strategy best suits your rental business.
Get your listing rented for less this Black Friday
Unlock premium marketing & tenant screening features or upgrade your landlord plan with our lowest prices of the year – available for a limited time.
What is the difference between Airbnb vs. renting?
Renting your unit as an Airbnb vs. a traditional rental has a few key differences. While both obviously involve temporarily allowing renters to occupy the unit in exchange for recurrent or one-time payments, they're differentiated by the length and terms of the rental agreement, revenue potential, associated costs, regulations governing them, and tax practices. Let's take a look at each of the above to provide a better idea of what each strategy entails.
Is your rental priced competitively?
Find out with a free rent estimate. Our team of rental experts will calculate your unit's true value based on your listing details & current market trends.
Length of the rental agreement
This is the main differentiating factor between Airbnb vs. traditional renting. Airbnb functions as a short-term vacation rental platform, whereas normal renting typically sees contracts ranging from one month to a year. In most Canadian provinces, the norm is a one-year lease – meaning more stability, less vacancies, and lower turnover compared to Airbnb.
Revenue and earnings
Payment frequency, method, and amount all differ between Airbnb vs. traditional renting as well. Since Airbnb is used for short-term vacation rentals, payment functions similarly to a hotel. Stays are generally paid for on a nightly basis, commanding a higher daily rate due to a number of factors.
By contrast, traditional rentals take place over a set duration, with payments collected once during each given period – typically once per month. In general, this will typically result in a lower rent price per night compared to Airbnb, but this doesn't take into account the assurance of having a steady tenancy
Estimated costs
Where traditional renting begins to look much more appealing is in the associated costs compared to renting via Airbnb. In addition to a standard service fee charged by the Airbnb platform, typically 3% of the booking subtotal, hosts are also responsible for cleaning between each guest, which adds up quickly as well.
Add on the regular costs associated with maintaining a rental property, and the costs of renting an Airbnb can quickly overwhelm the potential profits.
By contrast, traditional renting involves comparatively fewer costs for upkeep. For one, tenants are primarily responsible for the upkeep of the unit – cleaning, replacing small items like lightbulbs, and generally furnishing the unit unless otherwise specified.
Rules & regulations
Many landlords may not even be able to rent out their unit as a vacation rental, since some buildings and stratas – and even municipalities, in some cases – prohibit short-term rentals entirely. In both Vancouver and Toronto, for example, short-term rental hosts are required to obtain a license to operate, further complicating matters for landlords.
Traditional renting, while still heavily regulated in terms of living standards and tenancy laws, is permitted in the vast majority of situations.
Tax implications
Taxation for Airbnb hosts is a complicated subject, as rentals lasting less than 30 days may be subject to GST/HST in Canada. Much like with renting, Airbnb hosts will need to carefully keep track of both their current and capital expenses to report on their yearly tax return.
For both vacation rentals and traditional rentals, landlords will need to differentiate between Rental Income and Business Income, and report their earnings accordingly.
Pros and cons: renting out your unit as an Airbnb
As with any facet of renting, there are notable benefits and downsides to vacation rentals. Let's explore the pros and cons of renting out your unit as an Airbnb in more depth now.
Pros of vacation rentals:
Higher earning potential — Looking just at gross income, Airbnb tends to yield higher returns since the nightly rate is nearly always much higher than it would be for a traditional rental property. As we'll see though, there are a few caveats in this regard and net income may not always be higher with Airbnbs.
Flexibility — For landlords who are wary of a long-term rental commitment, Airbnb offers a few benefits. Since rental terms typically last from a night or two to a few weeks in duration, it's easy to adjust the nightly cost to align with seasonal trends and busier periods. This can also be a positive when dealing with problematic tenants, as any potential issues will likely be resolved once the short-term rental is over.
No lease agreement — For landlords who may want to use their property for their own purposes, being locked into a fixed-term lease could be a problem. Once a lease is signed, it can only be ended for a few important reasons, such as substantial renovations or for the landlord's use. Ending a lease also requires plenty of advance notice, whereas Airbnb requires less commitment.
Built-in insurance — Vacation rental platforms like Airbnb usually have a "host guarantee", meaning that landlords are financially safeguarded from expenses associated with damage caused to their unit.
Cons of vacation rentals:
More upkeep required — Vacation rentals require constant upkeep, with cleaning between every new tenant. Hosts are typically also responsible for restocking essential items such as soap and toiletries, similar to a hotel. For homeowners looking for a passive source of income, this may quickly prove to be too much work.
Higher expenses — If you don't want to clean the unit yourself between each tenant, paying for cleaning can quickly add up to a significant expense, taking away from your income. Combine this with the built-in service fee on many vacation rental platforms, and it's easy for your profit margins to slip.
Must rent furnished — Vacation rentals don't give landlords the option of choosing whether to rent their unit furnished or unfurnished. While this might not be a huge issue for some, the extra liability and effort involved may turn some away. The most successful Airbnbs also provide bonus amenities, like pools & hot tubs for example, which require upkeep of their own.
Less stability — Though nightly income tends to be higher with vacation rentals, it's also very likely that your unit will be unoccupied some nights – particularly during down seasons. Bear in mind that on days where your unit is empty, you won't be making any income.
Pros and cons: renting out your unit as a long-term rental
The positives and negatives of operating a long-term rental property are much better understood by most would-be landlords. Let's look now at the pros and cons of traditional renting.
Pros of long-term rentals:
Consistent income — As opposed to the uncertainties of short-term rentals, longer-term contracts provide certainty in the form of consistent rental income. This becomes particularly important in times when interest rates are high and investors' margins are too slim to withstand the risks of lengthy vacancies.
Less upkeep — Once your unit has been filled, there are comparatively less duties landlords will need to perform on a day-to-day basis than with a short-term rental. Though you'll need to make sure you've done your due diligence in screening tenants thoroughly, your renters will be primarily responsible for maintaining the unit throughout the tenancy.
Lower turnover — The assurance of an ongoing tenancy is of benefit to many landlords, as filling vacancies repeatedly can be both costly and time-consuming.
Cons of long-term rentals:
Less earnings potential — Looking purely at the average nightly rate, traditional rentals typically bring in less rental income than vacation rentals. However, this is only the case of you're able to have your unit rented for practically every day of the month, which isn't always a reality for landlords using Airbnb.
Less flexible — While many landlords prefer the certainty of a long-term lease, others may not like being locked into a lengthy contract.
Airbnb vs. renting: which is more profitable?
Ultimately, the question on most real estate investors' minds is which strategy, Airbnb vs. renting, yields a higher ROI?
Unfortunately, there's no clear-cut answer for this. Instead, it's better to look at this topic on a case-to-case basis. While Airbnb can offer higher earning potential to homeowners whose rental properties are located somewhere with consistent, year-round interest, this often isn't the case. Add in the many fees and expenses associated with vacation rentals, not to mention the added work, and it becomes clear that making passive income from a vacation rental isn't as easy as many would believe.
Many of the most time-consuming tasks landlords face – like marketing, cleaning, and repairs – need to be repeated far more frequently with short-term rentals, since the turnover rate is much higher. This workload may not suit every landlord, and it's worth keeping in mind that competition among Airbnb hosts is much higher as well, especially in areas with a large tourist presence.
If you're looking to keep your passive income stream as passive as possible while earning steady rental revenue, renting on a longer-term basis is likely the better option for you. While on the surface, earnings from vacation rentals can be higher, this doesn't factor in the 3% fee, constant risk of vacancies, slow periods, and so on.
It's also worth mentioning the myriad digital rental platforms that have evolved to further simplify landlords' rental operations, making them both easier and more profitable. Consider liv.rent for example. This all-in-one landlord productivity tool has intelligent solutions for everything from listing & advertising to digital contracts and rent payments – helping busy landlords rent their properties faster while saving time on key functions.
How to choose between Airbnb vs. renting
For investment-minded landlords, there are a few key concerns to take into account when deciding how best to rent out your property:
Market rates — What are average rent prices like in your area? How does this compare for short-term and long-term rentals? While some areas may be exceedingly popular with vacationers, they may not garner as much interest from year-round renters – and vice versa.
Location — Does the area in which your rental property is located have adequate demand for short-term rentals? Is this demand seasonal? If there isn't consistent demand, it may be easier and more profitable to rent your property on a longer-term basis.
Condition of rental property — It's much harder to make your property stand out as a vacation rental than as a long-term home for renters. If your unit is older or lacks the wow factor many seek from Airbnbs, renting it as a home rather than a temporary destination is likely a better idea if you don't want to pay for costly renovations.
Local legislation — Before all else, make sure that vacation rentals are permitted in your area/building. It's not uncommon for stratas and apartment buildings to disallow short-term rentals, so double-check that you aren't breaking any rules by doing so. If you're in Vancouver or Toronto, or another city that requires it, you'll also need to ensure that you're licensed to rent your unit on a short-term basis.
Workload — How much time are you able to spend on your rental property? While long-term rentals involve more time spent screening tenants and arranging lease agreements and rent payments, the constant upkeep and marketing required by short-term rentals take a lot of time out of landlords' already busy schedules.
Bottom line — If all goes perfectly, Airbnbs can certainly yield a considerably higher ROI than long-term rentals. With that being said, this is far from the norm as it would involve having your unit rented practically every day of the year. The stability and consistent rental revenue from long-term rentals, while generally lower, provides peace of mind for investors worried about breaking even.
Should I turn my rental property into an Airbnb?
If you're considering switching from traditional renting to Airbnb, it's worth considering the factors above before taking any action. Many landlords simply see the higher earnings potential and think that converting their property to a vacation rental is the obvious solution, but this isn't always the case.
As we've noted, this decision should primarily depend on how much time you have to dedicate to maintenance, upkeep, and marketing, as well as on the property itself. If you think your property would be able to command consistent, year-round interest and you don't mind spending a bit more time on your property investment, short-term rentals may be the right choice.
For landlords who want their renting to be as automated and efficient as possible, liv.rent offers an excellent, entirely digital alternative that still allows you to maximize your profits. Many of the most time-consuming tasks for landlords are simplified with this all-in-one app, with the ability to carry out the entire rental process in one easy-to-use platform. Best of all, liv.rent is free to start – with a Growth Plan designed for landlords who want to take advantage of more advanced marketing and tenant screening features.
FAQ: Airbnb vs. renting
Can an investment property be used as an Airbnb?
This depends on your local legislation, as well as your building/strata's rules. Before renting out your unit on a short-term basis, always consult with local rental and business laws and ensure you've attained the required licenses, if applicable.
Can running an Airbnb be profitable?
Operating a vacation rental property can certainly be profitable for landlords who are willing to put in the time and effort. Running a successful Airbnb takes skilled marketing and a good deal of upkeep though, so landlords should evaluate their own priorities before committing to this type of rental.
Is Airbnb a good investment?
Under the right circumstances and with enough work, Airbnb can be a great investment for landlords who want to maximize their ROI.
Have a look through the previous sections first though, as there's more than meets the eye when it comes to vacation rentals.
How much do Airbnb hosts make per month on average?
It's hard to gather an accurate average for rental revenue on vacation properties since every unit is different. It's best to have a look at Airbnbs in your area to see how much hosts are charging, as well as explore average monthly rent prices to compare.
Is renting out an Airbnb worth it?
Again, this question really depends on what you hope to gain from your investment property and how much time you're willing to spend to make your unit profitable. For many landlords, renting is a hands-off second income stream, so the prospect of constant turnover and the risk that comes with frequent vacancies isn't worth it.
What is the downside of Airbnb?
Airbnb can be a great option for the right landlord, but it isn't without its downsides. For one, the risk and amount of effort required to maintain a successful short-term rental operation are beyond what many landlords are willing to accept.
You can see our complete list of pros & cons for vacation rentals here.
Are you protected when renting on Airbnb?
One of the biggest fears associated with Airbnb is the potential for damage by short-term tenants. Thankfully, Airbnb does provide free insurance against damage through their AirCover program, up to $3 million USD.
---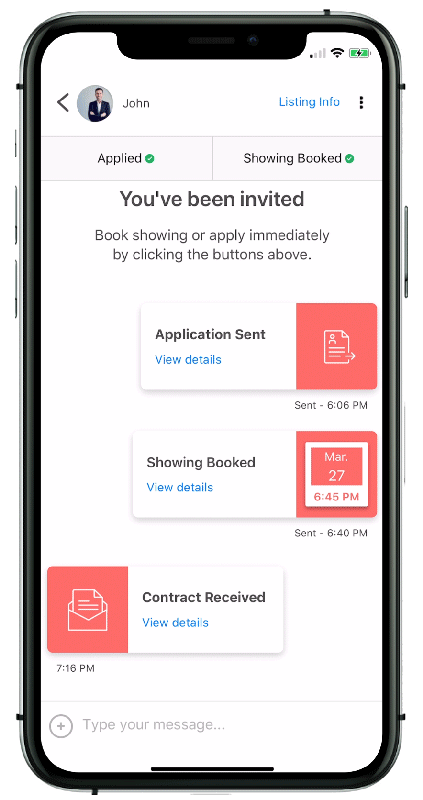 Rethink The Way You Rent
Not on liv.rent yet? Experience the ease of digital applications & contracts, verified tenants & landlords, virtual tours and more – all on one platform. Sign up for free or download the app.
Subscribe to receive the latest tenant & landlord tips and get notified about changes in the Canadian rental market.
>> Stay up-to-date on the average rent in Vancouver, Toronto and Montreal: Rent Reports.