In these unprecedented and uncertain times, managing any and all of your responsibilities can seem daunting. However, knowing that your friends, neighbours and fellow global citizens are sharing this experience, will hopefully add a level of comfort and encouragement.
For landlords, what are your responsibilities to your tenants and your rental property during the Coronavirus (COVID-19) crisis? For tenants, how should you respond?
For information on how to navigate the COVID-19 outbreak, jump to the following sections:
(UPDATED: July 17, 2020)
Here are some quick answers to the top questions people have been asking:
Temporary Rent Supplement – BC TRS: Extended until the end of August, 2020.
Rent Payments: No rent increase is permitted to take effect until December 2020. Notice to increase rent may be presented, however if the tenant pays the increase amount before December 2020, the tenant is eligible for refund of the increase amount. Tenants are required to resume rent payments in full on September 1st, 2020. 
Rent Repayment: Landlords and tenants are required to enter into a rent repayment plan for any outstanding rent from March 18th – September 1st. These payments must be agreed upon by all parties, paid monthly, and completed by July 2021.
Eviction Prohibition: Landlords may not issue Notice to End Tenancy for Non-Payment of Rent if the tenant resumes rent payments in full on September 1st, unless the tenant had outstanding rent payments prior to March 18th, 2020. Late payments during the emergency period are not considered "cause" for eviction, and landlords cannot charge fees for any missed rent during the state of emergency. A tenant cannot be issued a Notice to End Tenancy for unpaid rent during the emergency unless they have defaulted on their repayment plan.
As a landlord, what are my responsibilities during the coronavirus (COVID-19) pandemic?
Make sure you keep open communication with your tenants and strata council. Ensure you comply with the occupancy limits. Increase sanitation. Provide video tours of available properties and use online, digital contract signing and payments. If a tenant tests positive for the coronavirus, keep the information confidential and allow the regional health authority to inform your neighbours.
As a renter, what actions can I take during the coronavirus (COVID-19) pandemic?
If you are struggling to make rent payments, review the relief initiatives outlined by the federal and provincial governments for any that applies to your situation (e.g. Emergency Care Benefit for workers who don't qualify for paid sick leave or EI, Emergency Support Benefit for those who are unemployed and don't qualify for EI). Make sure you end your tenancy properly and understand the rules around rent deposits.

If you successfully petition your landlord to restructure or reduce rent payments, make sure you put your new agreement down in writing, along with the new terms, proposed time frame, and signatures of all parties involved. Please use scanners, e-signatures etc. to minimize contact (See Go Digital section below).
Do tenants have to pay rent during coronavirus?
Yes, they need to continue paying rent during coronavirus. However, in the event mandated restrictions have resulted in job loss or diminished hours/pay, tenants might be eligible for $500/month rent relief through BC's provincial government. The money will be distributed directly to landlords through BC Housing once an applicant is deemed eligible based on federal EI records.
What financial supports are available to landlords?
What financial supports are available to renters?
The federal and provincial governments have introduced sweeping supports to Canadians whose employment has been impacted by mandated restrictions. They are outlined in the Government of Canada's COVID-19 Economic Response Plan and in the BC COVID-19 Action Plan including a one-time $1000 payment for those who have lost income or become unemployed in BC, the federal Emergency Response Benefit (CERB) of up to $2,000, $500/month rent relief to eligible applicants, expedited access to E.I., a freeze on annual rent increases, income tax deferrals, and student loan deferrals. In addition, a new Emergency Support Benefit to provide up to $5 billion in support to workers who are not eligible for EI and who are facing unemployment.

Announced on April 21, 2020, students, too, will be eligible for $1,250 a month from May through August under CERB and can increase that to $1,750 if the student is taking care of someone or has a disability. The benefit is also available to students who have jobs but are making less than $1,000 a month.
What digital tools can I use to practice social distancing?
Video conferencing tools such as Zoom, Whereby, and Teams are good alternatives. For team and tasks management, Slack and Asana are recommended. For managing rentals, liv.rent permits digital contract signing and online payments. For groceries, you can shop online with Spud or Instacart. For restaurants, order through UberEats or Doordash.
FREE Rent Repayment Template: Download Here
Landlord Update
Quick Overview: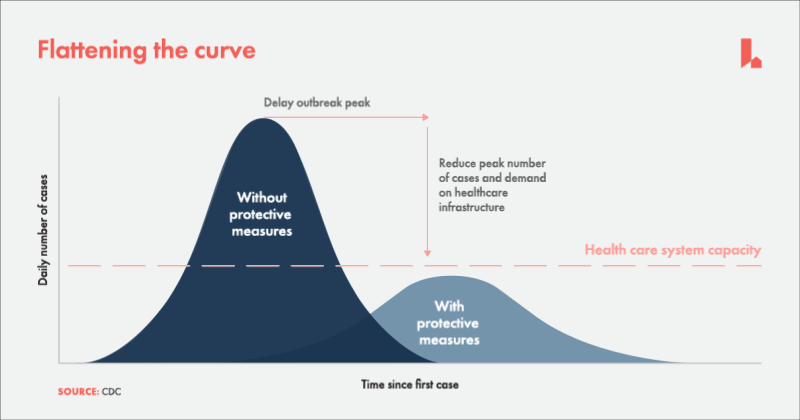 How should I manage my rentals during the pandemic?

Communication is key. Keeping open communication with your tenant and strata council during these uncertain times is crucial, as well as documenting all such communications. For tenants who may be struggling, share information regarding the latest federal and provincial assistance and relief programs available to them and all Canadians.
If you are restructuring or decreasing rent payments for any tenant, it is crucial to get your new agreement in writing, stipulating the proposed time frame, with signatures from all parties on the document.
In addition, if you rely on your tenant to help make mortgage payments, the federal government is permitting mortgage payment deferrals. If you wish to apply for a deferral, follow the steps outlined by the CMHC here.

Ensure compliance with occupancy limits. The maximum number of permanent residents in a rental unit should be set out in your Tenancy Agreement.
NOTE: According to the RTA of BC, landlords cannot limit the number of visitors a tenant hosts under reasonable circumstances in the rental unit. During this time, you can only rely on the common sense and decency of your tenants to exercise social distancing and avoid inviting guests over.

End tenancy properly. Many people are leaving Canada to go home and be with their families during this time, which may require them to end tenancies early. If both parties mutually agree to end the tenancy early, be sure to go through the appropriate process and documentation. For more information, refer to our Landlord Guide to Ending Tenancies.

Respect privacy if tenant tests positive for COVID-19. This information is confidential and personal and should not be shared with other tenants. The regional health authority, however, may reach out to neighbours if it is revealed there has been contact. They will also reach out to building management to deal with staff concerns over the infection.
What financial supports are available for landlords?
Mortgage deferrals – Canada's big six banks will allow mortgage payment deferrals for up to six months. If you find yourself in this situation, follow the guidelines outlined by the CMHC to successfully defer your payments. (Source: globalnews.com, financialpost.com)
Tax Extensions – The federal government has extended the tax filing deadline to June 1 from March 31st and deferred tax payments until after Aug. 31 for tax payments due between now and before September.
Small Business – A Temporary Wage Subsidy is available for employers, like landlords, enabling them to reduce the amount of payroll deductions required to be remitted to the Canada Revenue Agency (CRA) and an up to 75% wage subsidy, retroactive to March 15, 2020. This will help businesses keep and return workers to the payroll. Learn more about this subsidy here.
For information on how the BC government is supporting landlords and renters here.
What best practices should I follow?

Practice Social Distancing. Some ways to help #FlattenTheCurve:
Post signage encouraging tenants to take the stairs for exercise and to avoid confined elevator space.
Close shared amenity spaces like gyms, pool, saunas, party rooms etc.

Promote going digital. Offer video tours of available properties for prospective tenants and encourage online, digital contract signing and payments. (For additional ways to go digital in work and in life, see the Go Digital section below.)
What are other tips I should keep in mind?

Keep your property clean. As part of the Residential Tenancy Act (RTA), landlords and property managers are responsible for maintaining a safe rental unit and residential property. In these circumstances, safety should most definitely apply to cleanliness throughout all common areas of a residential property. Install hand sanitizer dispensers near 'high-touch' areas like doors and elevators and restrict the use of common areas to protect against the transmission of COVID-19. Do your part!

Practice compassion. While everyone's situations and circumstances are different, we are all in this together. This is not the best time to consider eviction – in fact, BC Housing has called for a moratorium on evictions of tenants in subsidized and affordable housing. Work with your tenant to come up with a solution to any rent payment challenges and keep your ears open for government relief offered to tenants.
Download and share our Landlord/Tenant Resource Infographics:
Renter Tips Update
Quick Overview
What should I do with my lease agreement during the pandemic?
You do not need to do anything with your lease agreement UNLESS you need to end your tenancy to return home OR revise it to reflect newly negotiated terms.

End tenancy properly. Many of you may need to end your tenancy earlier than planned to return to other parts of the world. Communicate this to your landlord as soon as you know your plans to vacate the property.

Understand the rules around rent deposits. You may lose your deposit if you are breaking a lease but we recommend discussing this with your landlord who will hopefully return it on compassionate grounds given the situation.

Revise lease agreement. If your employment has been impacted by the COVID-19 epidemic, you can:
ask your landlord to temporarily reduce your rent. In this case, make sure you revise your original lease agreement to reflect new terms; or
You can apply for temporary rent supplement from BC Housing. If you are deemed eligible, you can receive up to $500/month toward your rent, paid directly to your landlord.
What financial supports are available for renters?
Rent relief
B.C. is offering up to $500/month to eligible renters for the next 4 months if their jobs have been lost or significantly curtailed due to the nationwide restrictions imposed to curb COVID-19 . The funds will be paid directly to landlords on behalf of renters and applicants will be vetted for need through the federal employment insurance program.
BC Government has suspended ALL evictions (except in very limited circumstances, namely, properties involved in crime).
Rent increases have been frozen as of April 1
Emergency Response Benefit
The Emergency Response Benefit (CERB) is a taxable benefit providing up to $2,000 a month for up to four months for workers who lose their income as a result of the COVID-19 pandemic. All Canadians who have become unemployed due to COVID-19, whether they are EI-eligible or not, will be able to receive the CERB to ensure they have timely access to the income support they need. (NOTE: The CERB is a simpler and more accessible combination of the previously announced Emergency Care Benefit and Emergency Support Benefit)
Employment Insurance (EI)
The one-week waiting period for employment insurance has been waived.
The Emergency Response Benefit is also available to anyone who has lost their job due to the COVID-19 pandemic.
Climate Action Tax Credit
A one-time enhancement to the climate action tax credit will be paid in July 2020 for moderate to low-income families.
Tax Credit and Income Tax relief
Extension of the tax filing deadline to June 1 from March 31st.
Deferred tax payments until after Aug. 31 for tax payments that are due between now and before September.
A temporary boost to Canada Child Benefit payments, delivering about $2 billion in extra support to families with children.
The Federal Government has announced a Temporary Wage Subsidy for Employers. This three-month measure enables eligible employers to reduce the amount of payroll deductions required to be remitted to the Canada Revenue Agency (CRA).
Student Loan Deferral
B.C. student loan payments will be frozen for six months, starting March 30, 2020.
Federal student loan payments are being frozen as well.
Rental Assistance Program (BC Housing)
This program provides eligible low-income working families with cash assistance to help with their monthly rent payments. During this pandemic, the following temporary changes have been made to the program:
Clients with reduced employment income on or after March 1, 2020 may request a short-term adjustment to their monthly benefit. The adjusted benefit amount is effective the month the decrease occurs. BC Housing must be notified within 4 months for clients to receive this benefit.
New RAP applicants with reduced income may have their eligibility and benefit calculation temporarily based on new, reduced income. In addition, the Emergency Care Benefit from the federal government will be considered a qualifying, employment replacement income.
The 12 month BC Residency requirement will also be waived for any applicants that meet all other eligibility criteria.
Other assistance
British Columbians needing more time to pay their bills can also apply to existing payment deferral programs at ICBC and BC Hydro.

ICBC is offering customers on a monthly Autoplan payment plan some relief. They can defer their payment for up to 90 days with no penalty.
BC Hydro has announced that, through their customer service hotline, customers can arrange for deferment of payments or set up a payment schedule, as well as apply for the BC Hydro's Customer Crisis Fund.
April 2, 2020 – BC's provincial government is temporarily adding $300 to the monthly amount people on income and disability assistance receive to help them during the COVID-19 crisis. The supplement will also go to low-income seniors who receive the B.C. Senior's Supplement and people who receive income or disability assistance and live in a special care facility.
What best practices should I follow?

Practice Social Distancing. Help #flattenthecurve by following the instructions set forth by your government and health professionals re. social distancing, self-quarantining and proper hygiene, washing your hands and sanitizing surfaces frequently and keeping away from non-household members.

Rely on digital communications. Avoid in-person interactions with your landlord by making digital rent payments and communicating via text or email, and be sure to keep records of these interactions.
If necessary, request a rent reduction or deferral using digital means and if your landlord agrees to rent relief, ensure the terms, duration and amount of the rent relief is documented and signed by both parties. Read our post: How to Pay Rent to your Landlord (for additional ways to go digital in work and in life, Go Digital section below).

Ensure privacy if you test positive for COVID-19. This information is confidential and personal and should not be shared with other tenants or your landlord unless you choose to do so. The regional health authority, however, may reach out to your neighbours if it is revealed there has been contact. They will also reach out to building management to deal with staff concerns over infections.
Tools To Go Digital
As more companies transition to remote work, the need for online tools is at an all-time high. Here are some tools our team uses.
For business:
Video conferencing tools:
Zoom – Zoom offers a free version of their collaboration software to users and has lifted the 40-minute time cap in areas hit hardest by the pandemic.
Whereby – A free, basic version is available to all users.
Teams – Microsoft is offering free versions of their premium collaboration software to all companies.
Team and task management:
Slack – Consolidates all work communication on one platform including messaging, video, voice conferencing, and more.
Asana– Offering free trials of their premium software so you can move beyond to-do lists to project planning and management.
Managing your rentals:
liv.rent – our all-in-one platform facilitates digital contract signing, online rent request/payment, and extensive tenant screening tools to help you continue your business as the current situation evolves and adhere to social distancing mandates. From now until June 1, 2020, we will be granting free plan upgrades and removing the limit of Liv Score™ tenant screenings for each of our landlord & property manager plans:

Single – free upgrade to Family plan & unlimited tenant screenings
Family – free upgrade to Business plan & tenant screenings
Business – unlimited users & tenant screenings
If you and your team are interested in this upgrade, please contact our team directly via email or our Liv Bot.
For Personal:
Groceries:
Spud – Online grocery shopping with free home delivery of fresh across Metro Vancouver.
Instacart – Instacart allows you to shop from various independent grocers and drugstores online or through an app.
Local grocery store websites and apps
Restaurants
UberEats – Food delivery app currently waiving all delivery fees for local restaurants.
Doordash – Food delivery app currently waiving fees they charge restaurants.
Order directly from local restaurants and help them through this challenging time. Continuing to order from local businesses keeps them afloat and, in turn, helps them help their employees stay afloat.
Support local:
Buy gift cards for future use from local small businesses
Shop for groceries in smaller local stores to avoid big box crowds.
---
liv.rent Support
At liv.rent, we are committed to continuing the same quality and amount of customer support we have always provided. Our team of dedicated liv agents will be online and available during our core business hours between 9am PST to 7pm PST, Monday to Friday through the following channels:
Jobs in Vancouver
As more businesses and services are temporarily shuttering their doors, some are still looking for workers. We've assembled a list of such employers, and some tools to help you get your job search started.