How To End Or Extend A Tenancy Agreement
As a landlord, many months may go by without any contact with your tenant and usually this is a good thing. However, once or twice a year, depending on the tenancy agreement or when the lease contract is nearing its end, you will need to reach out to your tenant to renegotiate the lease. In less common instances, you may want to end a tenancy early for various reasons. In such cases, there are strict provincial guidelines for doing so.
In this post, we shed some light on:
How to end a tenancy agreement
How to end a tenancy agreement early
How to extend a tenancy agreement
How many days notice to end tenancy
And remember, any past, current, and upcoming contracts signed on the
liv.rent platform
can be pulled up, shared, and exported in just a few clicks. You have access to all of the necessary details in the palm of your hands, wherever you go.

How To End A Tenancy Agreement
If your tenant signed a fixed term lease, pay special attention to what the agreement says happens at the end of the term. There are 3 possibilities:
The tenant must vacate at the end of the fixed term. This usually happens only when you, the landlord or your family member, decides to move in or if clearly specified in contract.
You cannot force a tenant to sign another fixed term so if the tenant stays and no new lease is signed, the tenancy will convert automatically to a month-to-month lease. If your tenant wants to move out, they must provide you with at least one month's notice.
If the tenancy agreement does not say what will happen at the end of a fixed term , according to section 44(3) of the RTA, when a tenancy agreement is silent on the matter, it will automatically continue on a month-to-month basis, unless you and your tenant mutually agree to renew on a fixed term basis (like #2).
Thus, the only way a tenant will leave at the end of a fixed term is:
You've indicated the requirement in the lease.
The tenant has initiated the departure by providing one month's notice that they are vacating your property.
(For type of notice required, see section below for Notice Required for Ending Tenancy).

How To End A Tenancy Agreement Early
A landlord can only end a tenancy agreement early provided:
they or a relative is moving in;
it is on a month-to-month basis;
the place is going up for sale; or
a major renovation or repair is required.
They cannot end a fixed term lease early for renovation or repair. In such a case, the eviction notice must be given 2 or 4 months prior to the lease completing but the lease must be allowed to complete. A landlord can end a month-to-month arrangement for the above listed reasons, at any time, by issuing a 2 or 4 month eviction notice.
A tenant can end a tenancy by providing one month's notice on a month-to-month lease. If they are breaking a fixed term lease, however, they may have to pay the landlord for costs of re-renting the unit – like advertising or lost rent. As a landlord, however, you are obligated to make every effort to limit these costs by trying to rent the unit as soon as possible.
In some cases, a "liquidated damages" term is included in the original lease contract. If this is the case, the tenant will have to pay to end the tenancy early.
On the other hand, if the relationship is good and the reason for vacating is reasonable, the landlord and tenant may agree to end the lease amicably with no payment for damages (for additional information regarding an early tenant-initiated end to a tenancy, refer to these BC government policy guidelines).
Landlords & Property Managers
Advertise your rental for free on liv.rent – an all-in-one rental platform.
Maximize Exposure: Multiplatform syndication to Craigslist, Kijiji, Zumper, Facebook Rental Groups & more.
Generate Quality Leads: Chat instantly with ID verified renters & search from a list of suggested tenants.
Screen Tenants Smarter: Easily assess a renter's reliability & trustworthiness with Liv Score – the new intelligent rating system.



How To Extend A Tenancy Agreement
You, the landlord, should extend terms of a subsequent lease (new lease contract) to your tenant at least 60 days before existing one expires especially if you are raising the rent by the allowable amount. If you do not issue a new lease, the existing one will automatically roll over to a month-to-month lease. If you do issue a lease, the tenant has no obligation to sign another one and the arrangement will simply continue as a month-to-month lease.

How Many Days Notice To End Tenancy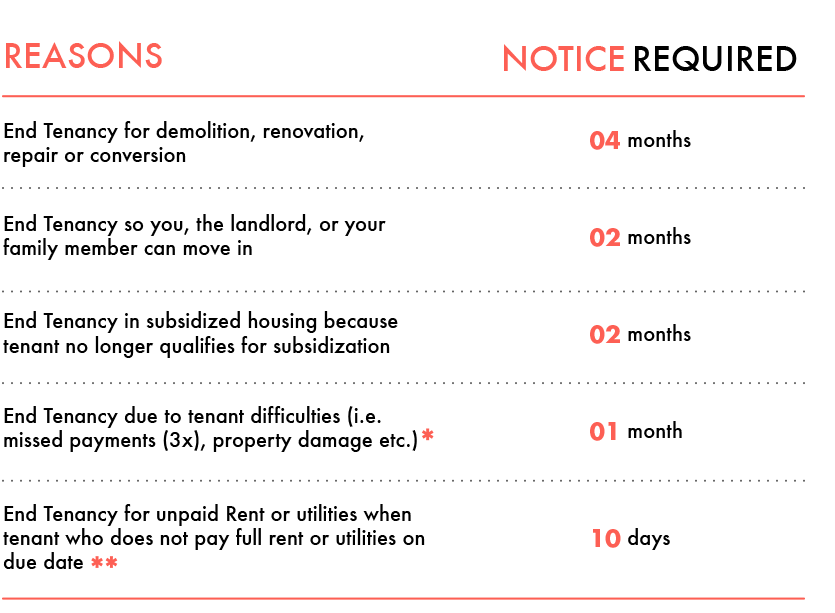 *For a complete list of reasons for 1 month notice, click here
**If the tenant pays all the rent and utilities owing within five days of receiving the notice, the notice is cancelled and the tenancy continues.
—–
Check out some of our other landlord-related posts:
---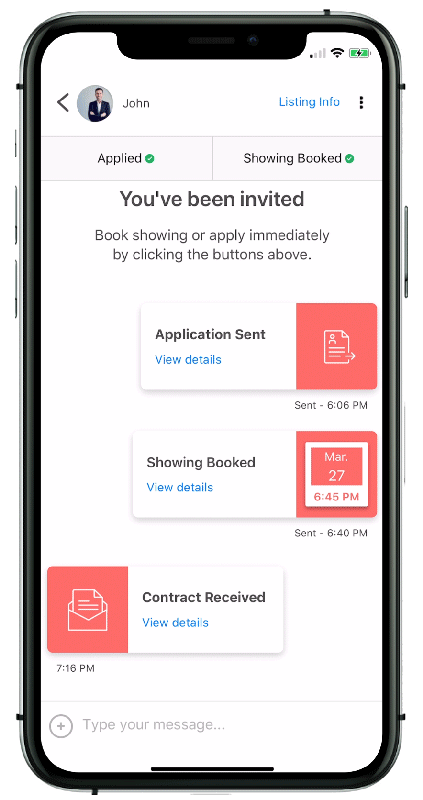 Rethink The Way You Rent
Not on liv.rent yet? Experience the ease of digital applications & contracts, verified tenants & landlords, virtual tours and more – all on one platform. Sign up for free or download the app.
Subscribe to receive the latest tenant & landlord tips and get notified about changes in the Canadian rental market.
>> Stay up-to-date on the average rent in Vancouver, Toronto and Montreal: Rent Reports