liv.rent
Property Manager Spotlight – Soul Homes
User Spotlight Series
Our Spotlight Series highlights the experiences of Metro Vancouver property managers and tenants. Each post explores their property management approach and challenges and, more specifically, how they are using and benefitting from the liv.rent platform.
Soul Homes


Soul Homes is a Vancouver-based full service property management company active in the Lower Mainland.
Soul Homes founders, the Toosi brothers, learned the value of good tenants and property management the hard way, by losing money on rent and damages on one of their own properties.  This led them to leverage their many years of business and customer service experience to launch Soul Homes dedicated to serving and protecting the landlords of Vancouver.
They've recently started using liv.rent to help manage their properties and are excited by the simplicity and functionality available in the app and in the web version.
Tell us about your property management experience.

We are professionally licensed property managers in business since 2014 committed to saving our clients' valuable time, and granting them a peace of mind.
How many properties do you have or manage?
We have managed over 400 residential properties in Vancouver and the North Shore since our inception.
Do you manage properties alone or have a team?
Our entire team are property managers and we work as a team.
What are your biggest headaches in being a landlord?
For us the first challenge is always finding the right tenant – one that will treat the property with respect. Preparing the unit for a new tenant is also a sizeable task as we pay close attention to ensure it is meticulously cleaned and everything is in top working order.
We also take Move in/Move out inspections very seriously to protect landlords and tenants both.
How do you choose good tenants? What specific sections in the application do you look at to screen potential tenants?
First and foremost, we look for an income that can support the rent. Then we look at trustworthiness which we determine based on the applicants work history, landlord references etc. This helps us with the selection process.
A completed liv.rent tenant profile provides landlords with all the information needed to determine tenant suitability as an applicant. It is an intelligent rating system that uses a powerful algorithm to corroborate applicant information with LinkedIn and financial records to establish a tenant's reliability and credibility providing landlords a secure and accurate measure of applicant integrity simplifying their selection process.  For further details, see our post "Trust Score Explained".
How has liv.rent addressed some of your pain points/made your life easier? What are your favourite features?
Liv.rent is everything we could have asked for. We particularly like how nicely it integrates with other platforms; we can share our listings easily to  Kijiji, Craigslist, Facebook etc.  This ability to cross promote is a great marketing tool for us.  You've really thought of everything we need to do our jobs well!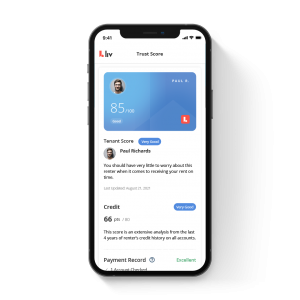 Do you ever reach out to your "Suggested Tenants" through the app encouraging them to apply?
Yes we have reached out to "suggested tenants" to encourage them to apply to certain listings of ours.
(Check out our post: What are Suggested Tenants?)
Do you prioritize applicants who have 100% complete profiles?
Yes, of course. We believe a complete profile is indicative of a conscientious tenant.
What are some of your favourite listings on Liv.rent?
We have quite a few! Check these out.
Enjoy the best of downtown living in this 1 bed, 1 bath contemporary home, centrally located Downtown and walking distance to Yaletown, Crosstown, BC Place and Rogers Arena. Floor to ceiling windows and a charming balcony provide spectacular views of Burrard inlet and the North Shore Mountains (feature image at top of post is from this listing).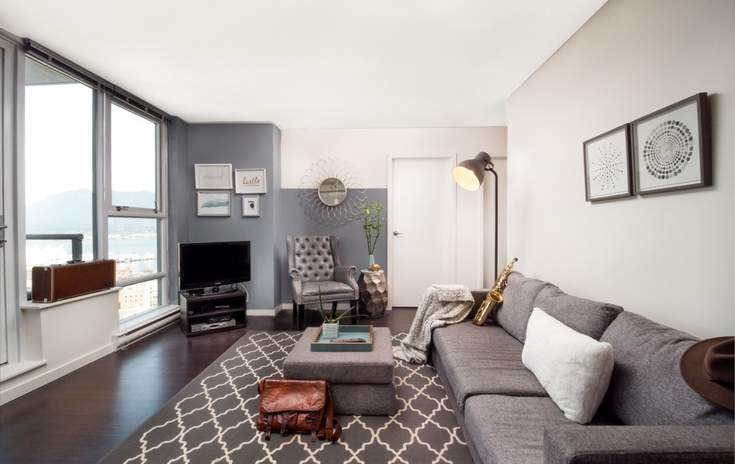 This bright, centrally located 2 bed, 2 bath downtown home is walking distance to everything including Rogers Arena, Yaletown, Robson Street, Costco etc. Features include hardwood floors, modern, integrated appliances, balcony, thoughtful layout and breathtaking views.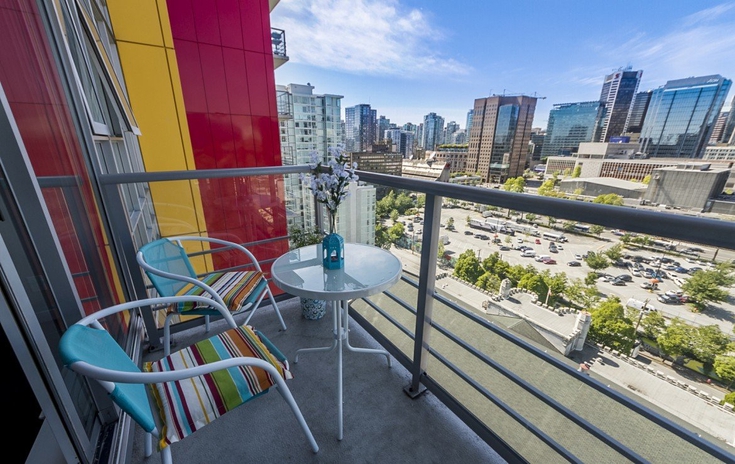 Sign up for liv.rent and inquire with Soul Homes today by clicking through any of the links above!
Check out our post on New Landlord Web Features and learn how easy it is to manage your properties, applications and agreements on line, or in the liv.rent app!
Show your clients our new map search feature explained in our latest post, Introducing Search by Map. 
Haven't tried liv.rent yet? Try your hand managing properties using liv.rent, click here to sign up now!
Download the liv.rent app – available in the

 App Store and the 

 Google Play Store.