Moving from one city to another is always a daunting task, especially when you factor in the need to find rental housing either before arriving or shortly thereafter. This is especially true when moving to Calgary from Toronto, as though these two Canadian cities share some similarities, there are plenty of important differences that renters should be aware of before making the move. In this blog post, we'll be discussing the major differences between Calgary and Toronto such as average rent prices, cost of living, and pros and cons of moving from Toronto to Calgary. We'll also be sharing some of the best neighbourhoods for renters in Calgary, plus tips on how liv.rent features & resources can help ensure an easy, efficient relocation process for renters.
liv.rent – Canada's trusted house & apartment rental website
Search apartments, condos, and homes for rent.
Verified Landlords: Rent from a trusted landlord. Look for the "ID Verified" tag to identify which landlords have been pre-screened.
Quality Rentals: Browse listings that have been checked by our team. Verified by official documents or by mail.
One-Click Applications: Fill out your Renter Resume once and apply to multiple listings in just a few clicks.
Calgary vs. Toronto: Major differences
Renters in particular have plenty of different factors to take into account when considering moving from Toronto to Calgary. As Canada's most populous urban centre, Toronto offers a completely different way of life compared to the more spacious and laid-back Calgary, from the apartment hunting process to potential employment opportunities and much more.
Here are some of the key differences between these two cities that renters should take into account if they're thinking about moving from Toronto to Calgary:
Population: Toronto has a population of over 2.7 million people, while Calgary has a population of just over 1.3 million. This means that Toronto has more options when it comes to things like restaurants, nightlife, and entertainment. Calgary, on the other hand, has a more laid-back atmosphere and is known for its spectacular setting and mix of outdoor and urban amenities.
Traffic & Transportation: Traffic: Toronto is infamous for its heavy traffic and congestion, while Calgary generally has a much better traffic flow. On the other hand, densely-populated Toronto has a much more extensive public transit system, including a subway system, streetcars, and plenty of different bus routes. The Toronto Transit Commission (TTC) operates the public transit system in Toronto and serves the Greater Toronto Area (GTA) with over 149 bus routes, 11 streetcar routes, and four subway lines.
Climate: Toronto has a milder climate with hot summers and cold winters, while Calgary is known for its harsh winters and frequent chinooks (warm, dry winds). This can be a major factor for renters, as heating costs can be higher in Calgary during the winter months.
Job Market: Toronto has a larger job market and more diverse industries, while Calgary is primarily known for its oil and gas industry – though there are lots of other opportunities available in the city as well. Renters should consider the job opportunities and industries available in each city when deciding where to live.
Lifestyle: While Toronto does have access to some outdoor activities, such as hiking and cycling, it's primarily popular because of its busy, urban setting. Calgary, while not a small city by any means, is better known for its proximity to the Rocky Mountains and world-class skiing. Renters who prioritize outdoor activities may prefer Calgary for its access to these types of activities.
Cost of living comparison: Calgary vs. Toronto
Financial concerns are one major reason why many renters choose to relocate – especially from Toronto to Calgary. While it's no secret that rent prices are far cheaper in Calgary on average, how do costs for other essential goods & services compare? When looking at the difference in prices, it's also important to remember that Ontario has a 13% HST sales tax, while Alberta only has a 5% GST.
Here's a graphic that breaks down some of the most important items renters will need to consider before their move.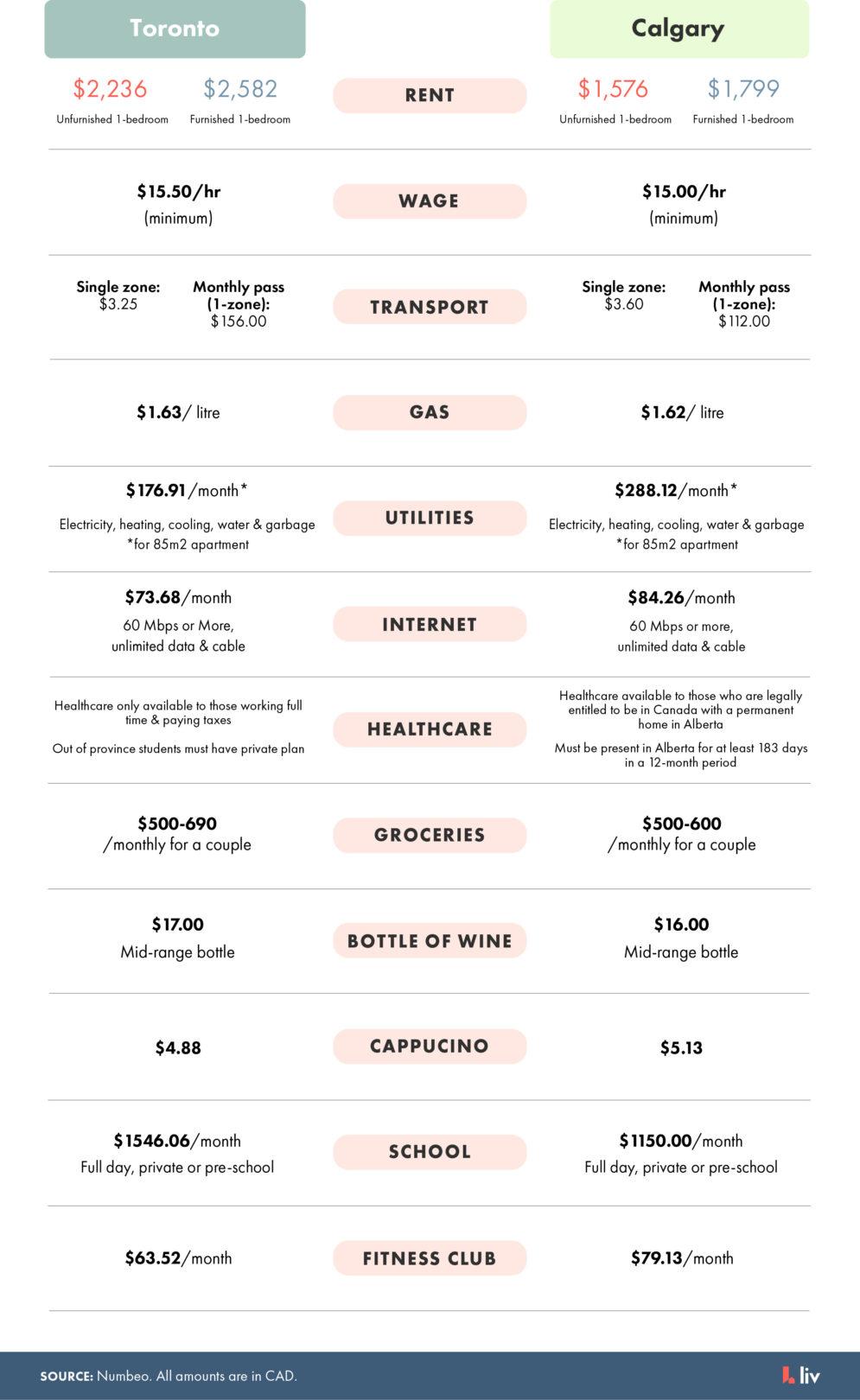 Average rent in Calgary vs. Toronto
Of course, every renter making the move from Toronto to Calgary will at some point need to think about average rent prices in these two major cities. It's no secret that Toronto is one of the country's most expensive cities to rent in as a result of the considerable demand for housing in the city, but is Calgary really that much cheaper?
Let's quickly look at average rent prices in these two cities to give you a better idea of what you can expect to pay in each.
Average rent in Calgary
Not surprisingly, Calgary has far more affordable rent than the Greater Toronto Area on average – although it is worth noting that prices have been trending upwards throughout 2023 due to increased demand from renters. Still, a furnished, one-bedroom unit rents for an average of $1,799 per month, while unfurnished, one-bedroom units rent for $1,576 on average, according to our April 2023 Calgary & Edmonton Rent Report.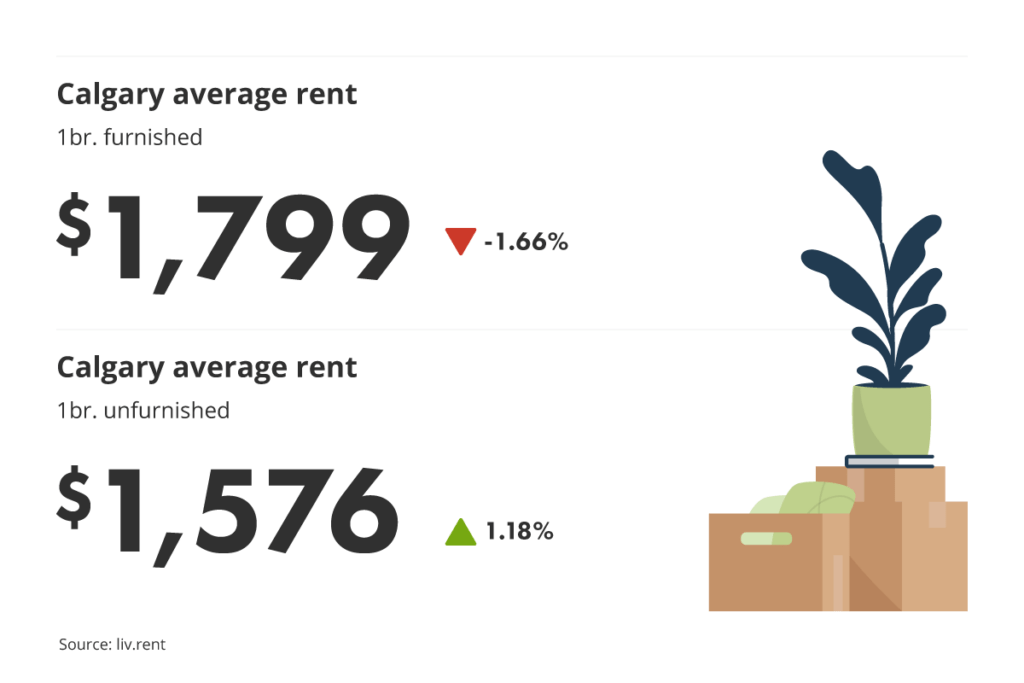 Average rent in Toronto
As one would expect, The Greater Toronto Area's rental rates are significantly higher across the board, regardless of property type. As of our April 2023 Toronto Rent Report, the average monthly rent price for a furnished, one-bedroom unit is $2,582, while unfurnished units rent for $2,236 on average.
For reference, this is a whopping $783 difference in average price for a furnished unit, and a $660 difference for unfurnished units.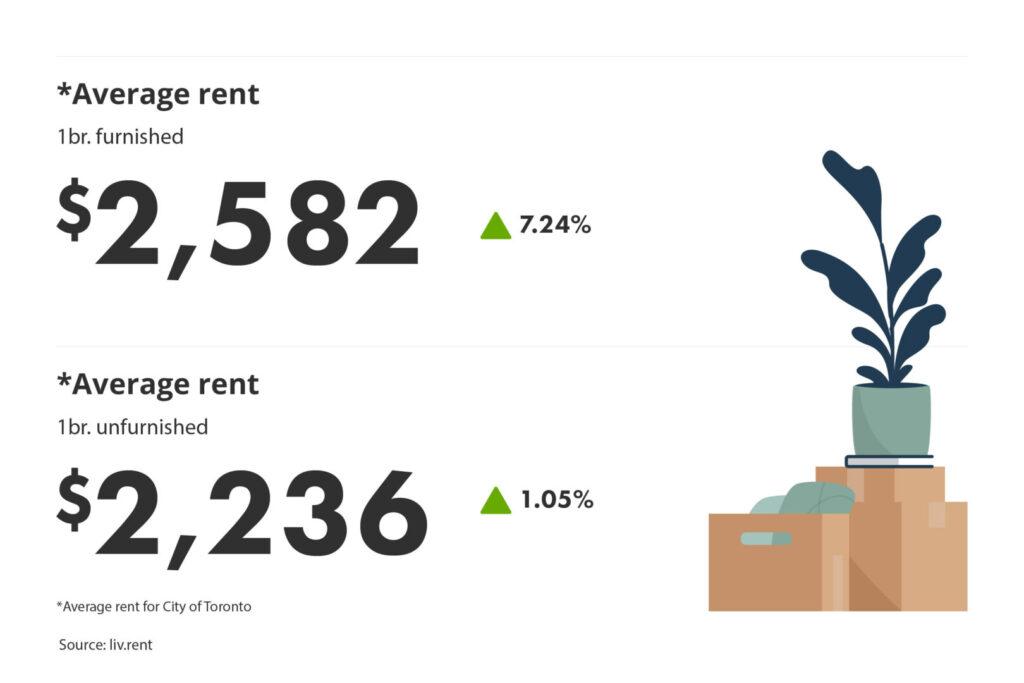 Pros and cons of renting in Calgary vs. Toronto
As with any major decision, it's important for renters to weigh the pros and cons of moving to Calgary from Toronto. Since these two cities are so vastly different, certain types of renters will likely be attracted to each depending on what they're looking for in a place to live.
To help ensure you're making the right decision by moving to Calgary from Toronto, here are some pros and cons
Pros of moving to Calgary from Toronto
Cost of living – While, as you as can see above, many goods & services have similar costs in either of these two Canadian cities, Calgary's significantly cheaper rental & housing markets mean it's quite a bit cheaper to live there than in Toronto. In fact, one article suggests that it is as much as 18% cheaper to live in Calgary, all things considered.
Outdoor activities – While Toronto does have plenty of outdoor spaces of its own nearby, Calgary's breathtaking setting amid the Rocky Mountains and the many trails found within and just outside the city make it the better choice for those seeking a quieter way of life
Job Opportunities – Although it may not be a prominent financial capital like Toronto, Calgary has a great reputation for its strong job market in industries such as oil and gas, engineering, and technology. If you're looking for a change in career and your fields of interest align with the job market, Calgary offers a ton of opportunities.
Strong sense of community – Calgary, and Alberta in general, are known for their friendly, welcoming culture and small-town charm despite being a prominent urban centre. Renters looking to connect with their communities will find a perfect home in this inviting city.
Less traffic – Commuters will be glad to hear that Calgary typically has far less congestion than Toronto, making your trips to and from work much more efficient.
Cons of moving to Calgary from Toronto
Climate – It's no secret that Calgary winters can get a bit cold, and sometimes seem to last forever. For renters who aren't accustomed to cold weather, this is certainly something worth considering.
Vacancy rates – Depending on the time of year, Calgary can actually have lower vacancy rates than Toronto, or at least a comparable. As of 2022, the city's vacancy rate fell to just 2.7%, which, combined with a relatively lower rental housing supply, means renters may encounter difficulty during their home search.
Getting around – Calgary is far less densely-populated than Toronto, and doesn't quite have the same level of transportation infrastructure compared to the bustling Ontario city. If you'll be relying solely on public transit to get around, Toronto's extensive network could be a deciding factor in whether or not you move.
Cultural diversity – Calgary is a diverse, multicultural city in its own right, but Toronto is a global destination for people of all backgrounds and has plenty of culturally distinct neighbourhoods to make anyone feel right at home.
The best neighbourhoods to rent in Calgary
As with any large urban centre, Calgary is a city of many neighbourhoods, each offering a completely different experience with distinct amenities, vibes, and of course – rent prices.
For renters, especially those without their own method of transportation, being close to the city's Downtown core is ideal, as this is where the majority of Calgary's businesses, schools, and restaurants & shops are located. For some ideas of where to begin your search, try looking at the bustling Beltline neighbourhood – a trendy area that's particularly popular among young renters and professionals. Though slightly more expensive than the city's average rates, this neighbourhood is also one of the city's culinary & entertainment capitals, on top of being one of its most centrally located districts.
If you prefer a quieter way of life a bit further from the action, areas like Skyview Ranch and The Properties are both close to nature, with lots of amenities close by for renters and families of all ages, plus access to convenient bus routes to take you across town in a hurry.
For our complete list of the best neighbourhoods for Calgary renters, you can check out this post from liv.rent.
The best movers from Toronto to Calgary
If you're getting serious about moving to Calgary from Ontario, a good moving company can make your trip that much more efficient. Once you've looked at rental listings and picked out the perfect place to live, all that's left is to pack your bags and go! Thankfully, there are a number of options in Canada capable of handling cross-country moves.
Here is a list of top-rated moving companies that can help make your relocation process smooth & efficient:
---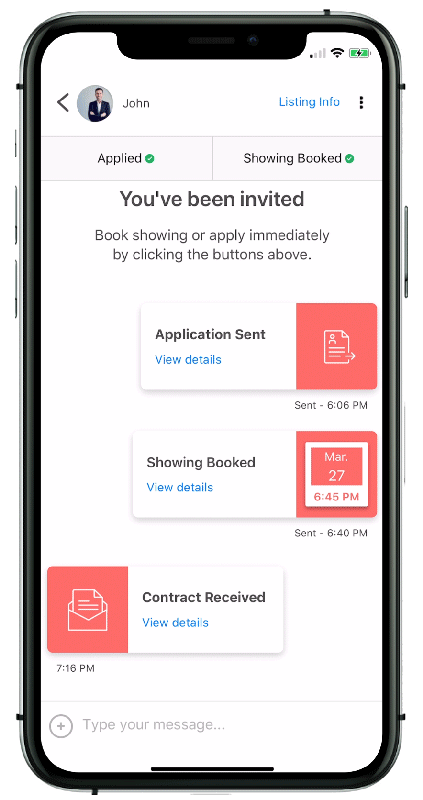 Rethink The Way You Rent
Not on liv.rent yet? Experience the ease of digital applications & contracts, verified tenants & landlords, virtual tours and more – all on one platform. Sign up for free or download the app.
Subscribe to receive the latest tenant & landlord tips and get notified about changes in the Canadian rental market.
>> Stay up-to-date on the average rent in Vancouver, Toronto and Montreal: Rent Reports.