Vancouver was recently ranked the 4th most pet-friendly city in Canada according to Canadian Dogs, but where exactly are the most pet-friendly neighbourhoods in the city? There are a few things that renters should consider when choosing a neighbourhood in order to keep their pets healthy and happy. Living in areas where there are lots of green spaces and trails is optimal and the less car traffic, the better. For this post, liv.rent has compiled our list of the top pet-friendly neighbourhoods in Metro Vancouver and ranked them based on the number of pet-friendly parks, restaurants, and shops nearby.
Table of Contents
liv.rent – Renters Can Now Create Alerts
Don't see what you're looking for? Set up an alert and get notified about listings that meet your criteria (location, price, housing type, bedrooms, pet policy, and more).
Note: If you're not a liv.rent user, sign up first. Then apply your filters and click the "Create Alert" button on the upper right hand corner to set up your alert.
Metro Vancouver's Most Pet-Friendly Neighbourhoods
1. Kitsilano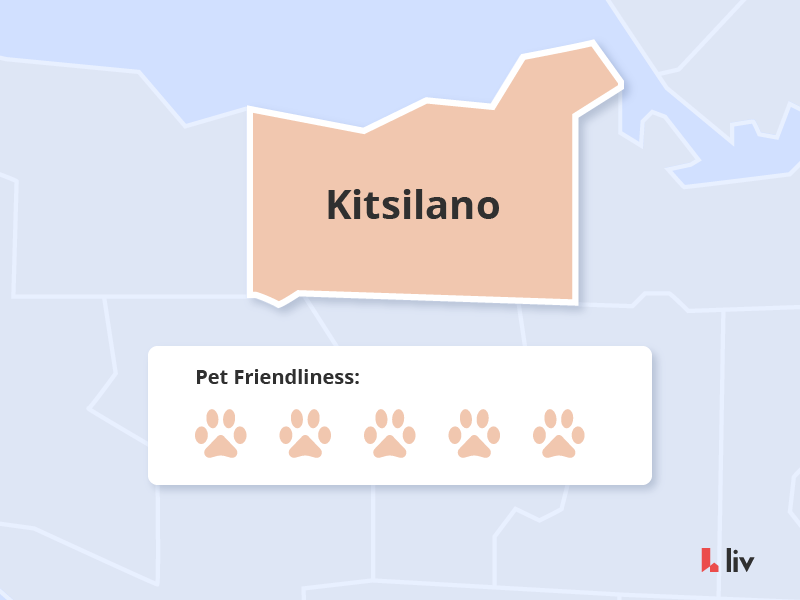 About the neighbourhood:
Pet lovers in Vancouver will no doubt already be familiar with Kitsilano. The beachfront neighbourhood's many trails, off-leash areas and of course, beautiful sandy beaches draw in dog-lovers from across the Lower Mainland. Nearly everybody's favourite dog park in the neighbourhood is Hadden Beach. Tucked away between Kits Beach proper and the Planetarium, this off-leash beach is hopping with energetic pups. The area faces due West and also affords people and pets some of the best sunsets the city has to offer. In addition, many of the shops and services along West 4th Avenue allow dogs onto their premises so long as they are on a leash. The area also has plenty of pet supply stores like Noah's Pet Ark, as well as Kitsilano Animal Clinic nearby.
Pet-friendly rentals:
Pet-owners in Kitsilano should look out for houses and townhomes in the neighbourhood, as these are plentiful within the area and have the best chance of being pet-friendly. There are lots of smaller apartment buildings in the neighbourhood that allow pets too, like Westwood Villa and this building that's conveniently located at 8th and Maple, just minutes from Kits' best beaches.
Average rent:
Here are the latest rental averages for unfurnished units in Kitsilano, taken from our February 2022 Vancouver Rent Report:
One-Bedroom: $2,230
Two-Bedroom: $2,740
Three-Bedroom: $4,442
Transportation:
Kitsilano is easily accessible by both car and transit, with the Burrard Street Bridge providing convenient access to Downtown Vancouver. By car, Kitsilano residents can be downtown in about 10 minutes, and multiple buses like the 4, the 44, and the 7 can take you to Downtown Vancouver in just around 20 minutes.
2. Point Grey/UBC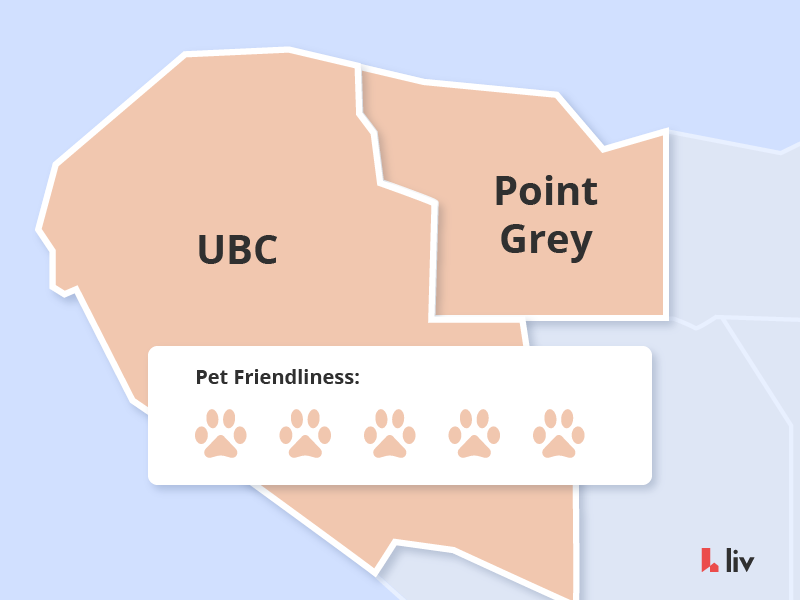 About the neighbourhood:
Home to the University of British Columbia, Point Grey is also an incredibly desirable neighbourhood for pet owners thanks to the abundance of trails, beaches, and dog-friendly cafés and restaurants along its quaint streets. Pacific Spirit Park draws visitors from around the Lower Mainland, particularly on weekends. Located on the University Endowment Lands, this excellent trail system has both on-leash and leash-optional areas, and sees over 360,000 dogs visiting each year. Jericho Beach and Spanish Banks are other popular destinations for dog owners, with the latter even having an off-leash area.
West 10th Avenue is Point Grey's primary shopping and dining district and has multiple pet stores for residents to stock up at, like Pet Food 'N' More, as well as lots of quaint coffee shops, stores and restaurants – many of which will let you bring your dog in (on a leash, of course).
Pet-friendly rentals:
Point Grey is best known as a student neighbourhood thanks to its proximity to UBC, but that certainly doesn't mean there's a lack of pet-friendly rentals available. Renters may have to search for townhomes or houses, but there are plenty of options right around campus. Student housing typically doesn't allow pets, but there are some buildings around campus that do.
Average rent:
Here are the latest rental averages for unfurnished units in Point Grey/UBC, taken from our February 2022 Vancouver Rent Report:
One-Bedroom: $1,933
Two-Bedroom: $3,096
Three-Bedroom: $5,054
Transportation
Just west of Kitsilano, Point Grey isn't much further from Downtown Vancouver, with an equal number of bus routes linking the neighbourhood to the rest of the city. Depending on where in the area you are, it's about a 15-20 minute drive to Downtown, or a 30-40 minute bus ride depending on the route you take.
3. Mount Pleasant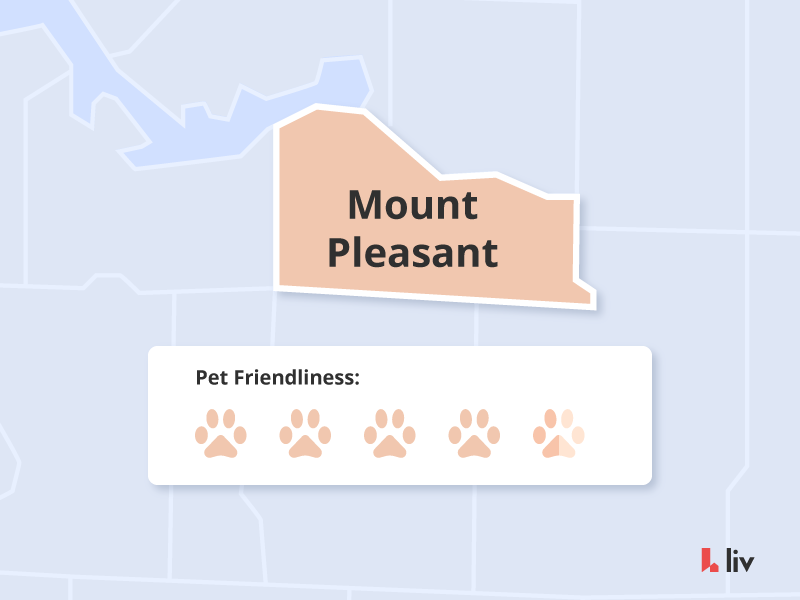 About the neighbourhood:
Mount Pleasant is an exceedingly popular area for renters thanks to the number of trendy small businesses and restaurants that line its streets, and it's an equally wonderful home for your furry friends. Queen Elizabeth Park is the perfect place for a picnic with your pup, with its own off-leash area for your furry friends. Mount Pleasant as a whole is ideal for walking dogs thanks to relatively quiet streets with abundant greenery, and lots of smaller parks always within reach.
Within a fifteen-minute walk, you and your four-legged companion can hit Jonathan Rogers Park, Guelph Park and Robson Park, before stopping for a coffee at one of the neighbourhood's many pet-friendly cafés, of course. The area caters to its many pet owners with a distinguished selection of trendy pet supply stores all around the neighbourhood, like Good Boy Collective, Tisol, and Discover Dogs.
Pet-friendly rentals:
Mount Pleasant is primarily a residential neighbourhood and there's no shortage of pet-friendly rentals within the area. There are lots of older homes for rent in Mount Pleasant, as well as newer developments – many of which even allow pets. The Glen Oaks Apartments are pet-friendly and conveniently located at the heart of Mount Pleasant, and it's common to find smaller apartment buildings like this one at East 7th Ave. and Brunswick St.
Average rent:
Here are the latest rental averages for unfurnished units in Mount Pleasant, taken from our February 2022 Vancouver Rent Report:
One-Bedroom: $2,114
Two-Bedroom: $2,684
Three-Bedroom: $4,660
Transportation:
Mount Pleasant is a commuter's dream, just a 10-minute drive from Downtown thanks to the Georgia Viaduct. Plenty of buses service the neighbourhood as well, as well as a SkyTrain station at Main St. and Terminal Ave. Transit downtown takes approximately 20 minutes.
4. The West End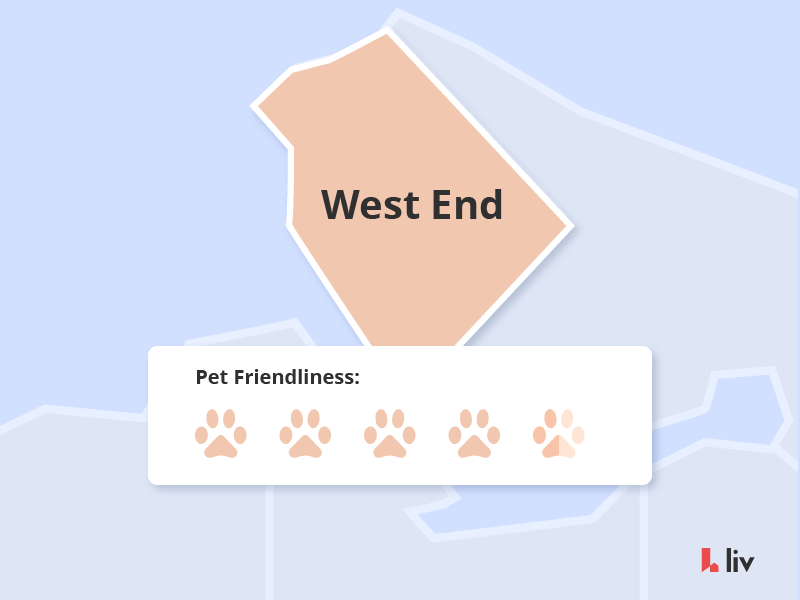 About the neighbourhood:
Located on the fringes of Downtown, the West End neighbourhood offers dog owners easy access to Vancouver's most famous park. Stanley Park boasts an extensive trail network perfect for dog walking in addition to the world-famous seawall accessible from Coal Harbour to the North and the West End to the south. Also, be sure to check out the little-known off-leash park connecting Coal Harbour with Stanley Park called Devonian Harbour Park. Located just off to the northwest of the West Georgia and Denman intersection, this large green space is perfect for a game of fetch. In addition, most of the shops and services allow dogs onto their premises so long as they are on a leash. For a full list of the city's off-leash areas, check here.
Pet-friendly rentals:
The West End has long been a bastion for pet-lovers in Vancouver and many of the neighbourhood's rentals allow four-legged companions, including the many high-rise apartment buildings found on the West End's scenic streets. Suffolk House has plenty of pet-free listings available at the time of writing, as does the nearby Normandie building and The Residences on Georgia.
Average rent:
Here are the latest rental averages for unfurnished units in Downtown Vancouver, taken from our February 2022 Vancouver Rent Report:
One-Bedroom: $2,217
Two-Bedroom: $3,185
Three-Bedroom: $4,190
Transportation:
West End residents are right at the centre of the action, as the neighbourhood is directly connected to Vancouver's Downtown. As you'd expect, transit options are plentiful from the West End and you can be in City Centre in 5-10 minutes depending on where you are. Of course, walking is also a convenient option if you'd like to take your pet along.
5. North Vancouver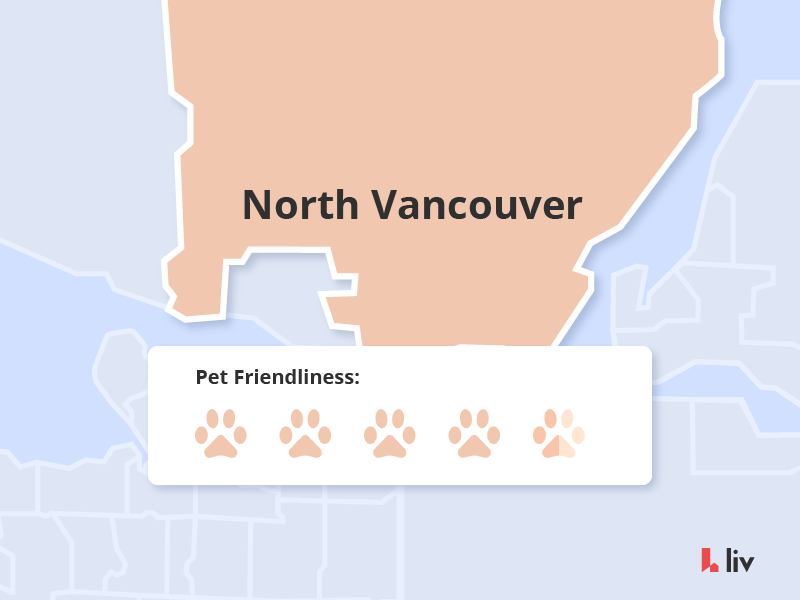 About the city:
Though it's not a neighbourhood, North Vancouver still makes this list because the whole city is extremely pet-friendly. In addition to the many trails, parks, nearby mountains, lakes & beaches, many of the local craft breweries and restaurants welcome dogs with open arms, so long as they're on a leash. Black Kettle Brewing and Tap & Barrel Shipyards both have outdoor seating where your pooch is welcome to tag along, and Lonsdale Quay itself makes for a great place to stroll around.
Speaking of strolling, the North Shore is known for its world-class hikes, like the aptly named Dog Mountain, the Baden Powell Trail, And St. Mark's Summit for particularly adventurous pups. For a swim, head over to Waterfront Park, which is a popular place because of its off-leash dog area.
Pet-friendly rentals:
Because there are so many pet owners on the North Shore, many apartment buildings have pretty relaxed pet policies to cater to their demographic. As well, North Vancouver has lots of residential areas outside of its Downtown core where renters can find detached homes and townhouses that allow pets.
Average rent:
Here are the latest rental averages for unfurnished units in North Vancouver, taken from our February 2022 Vancouver Rent Report:
One-Bedroom: $2,032
Two-Bedroom: $2,721
Three-Bedroom: $4,093
Transportation:
North Vancouver is just a hop, skip and a jump (or a SeaBus, in this case), away from Downtown Vancouver – in spite of its lush greenery and often remote feel. From Lonsdale Quay, the SeaBus is only a short 12-minute journey if you time it right, or you can drive over the Lion's Gate Bridge in 10-20 minutes depending on traffic.
6. Fairview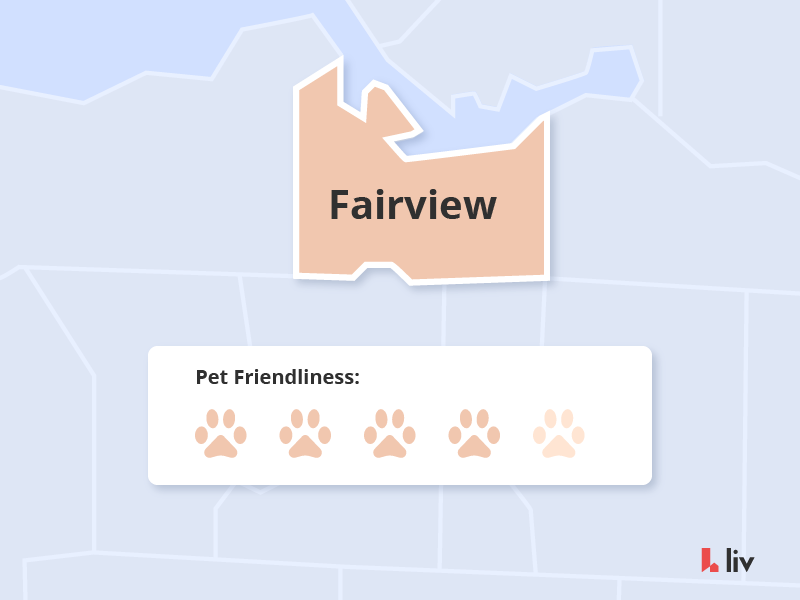 About the neighbourhood:
The scenic Fairview neighbourhood is home to one of Vancouver's most famous locales: Granville Island. Not only this, but the area is a pet lover's paradise. Bordering on False Creek and also incorporating the trendy South Granville shopping district, there's lots to love about Fairview for those with furry friends. Right by False Creek is Charleson Park, which has an off-leash dog area including a pond on the east side where dogs are free to play in the summer months. There are plenty of nearby pet stores, as well as both the Cambie Village Animal Hospital and West King Edward Animal Clinic nearby for convenient veterinary care.
Pet-friendly rentals
Fairview's reasonable rental prices and wide variety of housing options for pet owners make it a great place for you and your four-legged pals to call home. The area has many slightly older, smaller apartment buildings with relaxed pet policies, found on either side of South Granville. Closer to False Creek, there are plenty of newer developments – many of which allow pets.
Average rent:
Here are the latest rental averages for unfurnished units in Fairview, taken from our February 2022 Vancouver Rent Report:
One-Bedroom: $2,161
Two-Bedroom: $3,135
Three-Bedroom: $4,015
Transportation:
One of Fairview's biggest draws is its central location and proximity to both the Broadway-City Hall Canada Line station, and both the Granville Street and Burrard Street bridges. Fairview residents can be downtown in around 5 minutes if there's no traffic, or 15-20 by bus.
7. Port Moody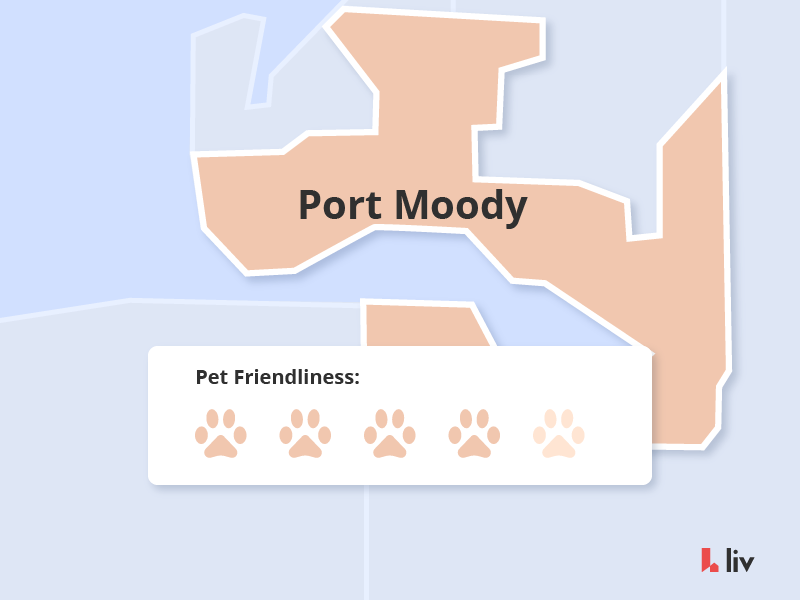 About the city:
Also a city rather than a neighbourhood, Port Moody is known for two things among Metro Vancouver residents: its amazing craft beer scene, and its pet population. Port Moody has everything pet owners could ever want, including lots of waterfront access, off-leash facilities, and its own animal hospital for close-by veterinary care. Among the city's beest destinations for dog-owners are Buntzen Lake, Chines Park, Westhill Park and Rocky Point Park – all of which have their own off-leash areas. For grooming and pet supplies, Port Moody residents have plenty of options like Uptown Dawg, Bone & Biscuit, and Tommy's Pet Shop.
Pet-friendly rentals:
Port Moody has seen lots of new development in recent years as Vancouver residents increasingly flock to areas outside of the big city. Many of these newer buildings are pet-friendly to cater to Port Moody's vast population of pet owners, and those with furry friends won't have to look far to find rentals that can house them and their pets.
Average rent:
We haven't yet collected enough rental data for Port Moody to give accurate averages, but here are the latest numbers for unfurnished units in nearby Coquitlam, taken from our February 2022 Vancouver Rent Report:
One-Bedroom: $1,750
Two-Bedroom: $2,351
Three-Bedroom: $2,849
Transportation:
Part of the Tri-Cities on the Northeast end of Metro Vancouver, Port Moody is easily accessible from Downtown Vancouver on the Millenium Line. By transit, it's about a 40-45 minute journey to Downtown Vancouver, and by car it's only about 25 minutes.
8. Arbutus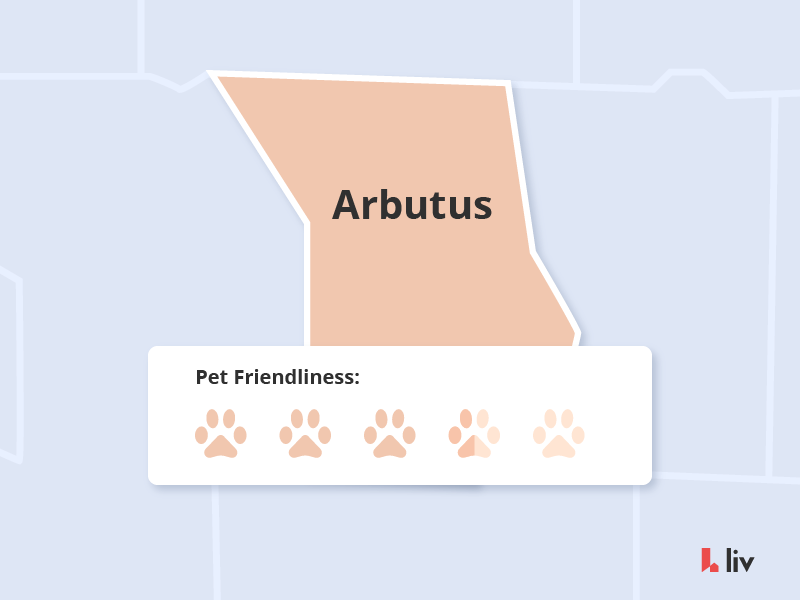 About the neighbourhood:
Vancouver's Arbutus, or Arbutus Ridge neighbourhood is defined by the expansive Arbutus Greenway which spans 9km and is a great place for residents to go for a cycle, or a leisurely stroll with their pets. The neighbourhoods lush, tree-lined streets are home to beautiful houses, as well as some newer developments and Vancouver specials. Practically the entire neighbourhood is easily walkable thanks to its relatively quiet streets and tight-knit community feel, in addition to the nearby pet stores and trails that await within the neighbourhood and just beyond.
Pet-friendly rentals:
Arbutus often attracts students thanks to its proximity to the University of British Columbia, and the area is getting more and more attention as a rental destination. Renters with pets should be able to find lodging pretty easily, thanks to some newer buildings within the neighbourhood. Arbutus' many larger homes often have their basement suites rented out, so pet owners should be on the lookout for those types of units with lax pet policies.
Average rent:
Here are the latest rental averages for unfurnished units in Arbutus, taken from our February 2022 Vancouver Rent Report:
One-Bedroom: $2,158
Two-Bedroom: $2,863
Three-Bedroom: $4,068
Transportation:
Arbutus is deceptively close to Downtown Vancouver, despite its cozy, tight-knit feel and abundant greenery. Residents can be downtown in as little as 8 minutes if they're driving, or about 20-25 by bus.
How to find pet-friendly listings on liv.rent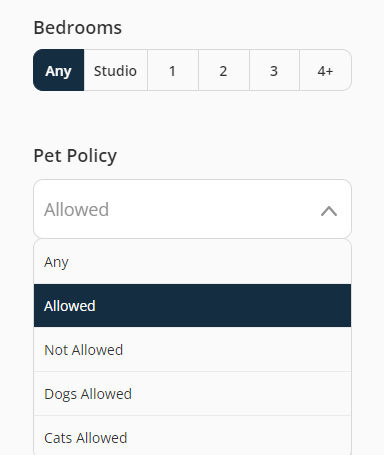 So, now that we've covered where in Metro Vancouver pet owners should be looking for rentals, let's go over how exactly you can find the perfect home for you and your pet. Here on liv.rent, we've seen that 37% of our listings are pet-friendly, compared to 29% on other rental websites.
It's easy for renters to search for pet-friendly listings with our customizable filters. When you're searching for rentals using List View, simply navigate to the 'Filters' icon in the top left corner of your screen. From there, you can choose from a number of different options to see units that allow any kind of pets, or just cats or dogs. Once you've selected your desired filter, simply click 'Show Results' and you'll see all of the pet-friendly listings available within your area.
You can also view a listing's pet policy under the 'Property Rules' section of the listing, which displays more specific information about what type, and how many pets you're allowed to bring along.
---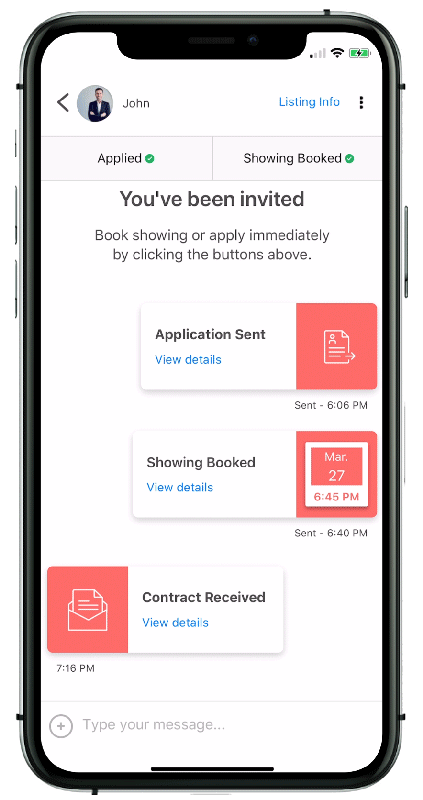 Rethink The Way You Rent
Not on liv.rent yet? Experience the ease of digital applications & contracts, verified tenants & landlords, virtual tours and more – all on one platform. Sign up for free or download the app.
Subscribe to receive the latest tenant & landlord tips and get notified about changes in the Canadian rental market.
>> Stay up-to-date on the average rent in Vancouver, Toronto and Montreal: Rent Reports