Vancouver is one of those cities that truly has something for everyone. Between the city's mild temperatures, breathtaking natural setting, and urban convenience, it's no wonder the city has such an active rental market. These factors are also what makes the city such a great place for families. Combined with excellent schools across the city and quiet, tree-lined streets just outside of a busy downtown core, Vancouver is truly the perfect place for those with children or pets. If this all sounds like a good fit to you and you're wondering where to begin your search – you're in the right place! We're covering some of the very best neighbourhoods for families in the city of Vancouver, looking at what they offer in terms of schools, transportation, and average rent.
Table of Contents
Don't miss your perfect home with customizable alerts
Can't find what you're looking for? Set up a listing alert and get notified about listings that meet your criteria (location, price, housing type, bedrooms, pet policy, and more).
Note: If you're not a liv.rent user, sign up first. Then apply your filters and click the "Create Alert" button on the upper right hand corner to set up your alert.
Vancouver's most family-friendly neighbourhoods
Vancouver may not have quite as many neighbourhoods as Toronto, but there are tons of unique areas across the city, each with its own distinct features and feel.
Vancouver is unique because of its small-town feel, despite being one of the most populous cities on the West Coast. It's often easy to forget that you're in the city at all, as no matter where you are in Vancouver you'll never be far from nature.
Vancouver is a fantastic place for renters looking for a safe, close-knit community without giving up the convenience of the big city. We've selected eight of the most family-friendly neighbourhoods here, but there are many great areas within the city and across Metro Vancouver. To start your search for family-friendly housing off on the right foot, read on to discover the best neighbourhoods for families in Vancouver.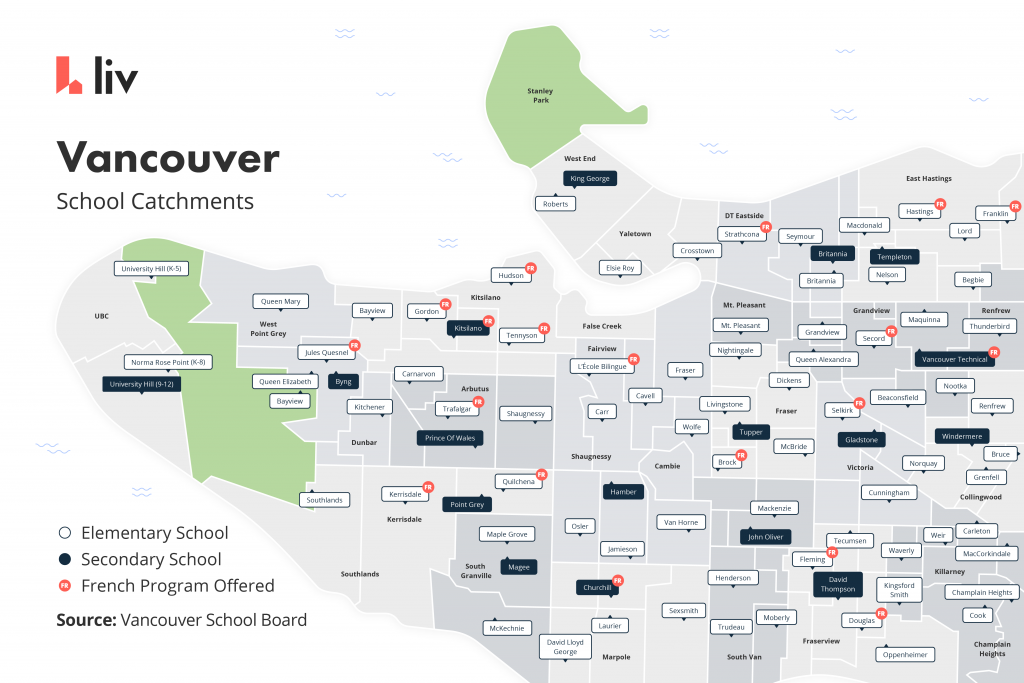 1. Dunbar-Southlands
Densely wooded and sparsely populated compared to other sectors of the city, the Dunbar-Southlands neighbourhood is a lush oasis on the far west side of Vancouver that's an excellent choice for families seeking a quiet address amongst some of the city's best parks and trails. Close to UBC's Vancouver campus, the area is also a popular choice for students, with many opting to rent basement suites or multi-bedroom houses in a diverse neighbourhood. Homes in the area are typically larger, single-family units spread across the area's scenic tree-lined streets, though there are some apartments to be found nearby as well. Dunbar Village is the epicentre of the Dunbar neighbourhood with plenty of local shops, grocery stores, and dining options between King Edward Avenue and 41st Avenue. Southlands has a unique small town in the big city feel, with a tight-knit community of residents, many of who have called the area home for years or generations, even.
Average rent in Dunbar-Southlands
Average rent in Dunbar-Southlands is surprisingly well below the city-wide average for Vancouver, at $2,025 for a one-bedroom, unfurnished unit as of May 2022. The area has a lot of older, larger homes for rent as well, with two-bedroom units renting for an average of $2,800 per month, and three-bedroom units renting for an average of $3,900 according to the latest data from Zumper
Schools & amenities in Dunbar-Southlands
Southlands Elementary School serves the Southlands community, but there are plenty of other options nearby as well. The prestigious St. George's School is located within the neighbourhood, as are Lord Kitchener and Bayview Elementary Schools. As for amenities, Pacific Spirit Park is within walking distance of much of the neighbourhood, with a large expanse of biking and walking trails that will take you all the way to the University Endowment Lands, or Jericho Beach. There are more parks practically everywhere one looks, and the Dunbar Community Centre offers a variety of programming for area residents.
Transportation in Dunbar-Southlands
The Dunbar-Southlands neighbourhood is surprisingly close to Downtown Vancouver despite its tranquil setting. By car, it's only about a 15-20 minute trip to the downtown core. If you are relying on transit, the 7 bus is your best bet, with about a 30-35 minute trip to the centre of the city.
2. West Point Grey
Just north of Dunbar-Southlands on Vancouver's far west end is the laid-back, beachfront community of West Point Grey. Home to many of Vancouver's elite, the neighbourhood has some of the most distinguished addresses in the city which makes perfect sense considering its breathtaking setting and views of the North Shore mountains. For families, West Point Grey gives residents and their young ones easy access to parks and both the Jericho and Spanish Banks beaches and expansive trails along the city's seawall. The safe, quiet streets are perfect for strolling along with children and pets, and the area itself has a quaint, homey feel despite its status as one of Vancouver's premier neighbourhoods.
Average rent in West Point Grey
With all this on offer, it's no wonder West Point Grey commands such high prices both in real estate and rentals. As of our latest May 2022 Vancouver Rent Report, average rent for an unfurnished, one-bedroom unit in the neighbourhood was $2,250 – which was just below the city-wide average. For two- and three-bedroom units, prices were similarly high at $3,571 for a two-bedroom unit, and a whopping $5,306 for three-bedroom units.
Schools & amenities in West Point Grey
West Point Grey is popular amongst families for its prestigious schools like the exclusive West Point Grey Academy which serves children in Kindergarten all the way through to grade 12, but there are plenty of public schools close by too. West Point Grey certainly isn't lacking in the amenity department, either. Its natural beauty aside, the neighbourhood has two major shopping areas along 10th Avenue and 4th Avenue with plenty of boutique shops, great restaurants and more. In the summer, and really whenever there's a brief spell of sunshine, Jericho Beach and Spanish Banks Beach become essential destinations for locals with gorgeous sandy beaches and plenty of trails for walking, cycling, or running, with their own parks nearby as well.
Transportation in West Point Grey
West Point Grey isn't far from Vancouver's downtown, only about a 15-20 minute trip by car, or 35-40 minutes by transit taking the 14, 4, or 7 buses depending where in the neighbourhood you find yourself.
3. Mount Pleasant
A quintessentially 'Vancouver' neighbourhood, Mount Pleasant combines a trendy urban setting with plentiful green space and some of the city's best breweries and restaurants – plus, it's great for those with kids and pets. Despite all the stores and bars that line Main Street all the way from 2nd Avenue up to 16th, there are just as many quiet, residential pockets scattered throughout this historic neighbourhood where young families have made a home for themselves. A central location, a great school system, and friendly neighbours are just some of the draws of this excellent family-friendly neighbourhood.
Average rent in Mount Pleasant
Mount Pleasant is exceedingly popular with renters of all ages, and its average rental rates reflect this with prices just below Vancouver's average. For one-bedroom, unfurnished units, you can expect to pay an average of $2,203 per month, while two-bedroom units typically go for $3,489 and three-bedroom ones $5,426.
Schools & amenities in Mount Pleasant
Mount Pleasant has its own eponymous elementary school in Mount Pleasant Elementary, centrally located in the heart of the neighbourhood. For high school students, Sir Charles Tupper Secondary School is located in nearby Riley Park which is only about a 5-10 minute drive. This neighbourhood really shines in its parks and outdoor activities – Jonathan Rogers Park, Mt. Pleasant Park, Guelph Park, and Robson Park are just some of your options, and the seawall is just minutes away in Olympic Village for family strolls.
Transportation in Mount Pleasant
One of Mount Pleasant's greatest strengths is its central location. Residents can be downtown in about 10 minutes in good traffic, and multiple bus routes take you there in 15-25.
4. Riley Park-Little Mountain
Just up from Mount Pleasant to the south, Riley Park-Little Mountain shares a lot of similarities with its neighbouring community but is perhaps even more amenable for families thanks to its suburban feel and eclectic mix of shops for all ages. Typically, this neighbourhood is defined as running from 16th Avenue to 41st Avenue, between Cambie Street to the west and Fraser Street to the east. This area includes the sprawling Queen Elizabeth Park which has picnic sites, a variety of areas for sports, and Hillcrest Aquatic Centre close by as well. In spite of its prime location, this neighbourhood is quiet as can be with lots to do and plenty of options for schools.
Browse listings in Riley Park-Little Mountain
Average rent in Riley Park-Little Mountain
Riley Park-Little Mountain's rental rates are just above Vancouver's city-wide average for an unfurnished, one-bedroom unit at $2,360 as of the latest data from Zumper. Two-bedroom units average $3,150 per month, and three-bedroom units go for an average of $4,700.
Schools & amenities in Riley Park-Little Mountain
David Livingstone Elementary School is right in the centre of the neighbourhood, as is Sir Charles Tupper Secondary School for high school aged students. Queen Elizabeth Park is an excellent place for families year-round with plenty of space to play or relax, plus areas for disc golf, tennis, and lots more. The Vancouver Canadians also play regularly at nearby Nat Bailey Stadium, which is the perfect place to take in a matinee during the summer months.
Transportation in Riley Park-Little Mountain
As with Mount Pleasant, Riley Park-Little Mountain is a straight shot to the heart of the city, about 15 minutes by car or 20-25 by bus and SkyTrain.
5. Kensington-Cedar Cottage
Directly east of Riley Park-Little Mountain, Kensington-Cedar Cottage is one of the most diverse areas of the city and one of the best neighbourhoods for families in Vancouver. Typically, the area's boundaries are defined by Broadway to the north, East 41st Avenue to the south, Fraser Street to the west, and Nanaimo Street to the east. This includes much of Kingsway which is the central artery of this community heading east, and offers some of the city's best dining from cuisines that span the globe. Off the main roads, you can find tons of quiet residential areas that are home to families of all ages and plenty of parks, schools, and more.
Average rent in Kensington-Cedar Cottage
Average rent in Kensington-Cedar Cottage is a bit below average for Vancouver, at $1,950 for an unfurnished, one-bedroom unit as of May 2022. Good news for families: Prices don't increase much for more living space. Two-bedroom units cost an average of just $2,300 per month, and three-bedroom units average $3,600.
Schools & amenities in Kensington-Cedar Cottage
There's no shortage of great schools in this Kensington-Cedar Cottage, which makes it one of the best neighbourhoods for families in Vancouver. Cedar Cottage Elementary School is the main school in the area for younger children, and Gladstone Secondary School is also in the area as well for high school students, among other options. The stretch of Kingsway between Fraser Street and Nanaimo Street has practically everything families could ask for, from family-friendly restaurants, markets, unique shops, and more. Trout Lake is within the vast neighbourhood as well, one of the city's most popular parks with an area where kids can fish, a community centre, trails, and an off-leash dog area as well.
Transportation in Kensington-Cedar Cottage
Kensington-Cedar Cottage is at the centre of East Vancouver, but it's also got great access to the city's downtown. By car, you can get downtown in about 15-20 minutes, and by bus and SkyTrain it's about 25-35 minutes via the 19 or 22 buses, or along the Expo Line from Nanaimo Station.
6. West End
Vancouver's West End could easily find a place on practically any list of the city's best neighbourhoods because of its wide-ranging appeal and central location. The neighbourhood has an inimitable charm that feels like a beachside village, but with an urban sensibility from its downtown setting. This neighbourhood is bordered by the waters of English Bay on its south, Georgia Street to the north, Stanley Park to the west, and Burrard Street to the east. The people living in the West End are extremely diverse. There's a broad mix of young professionals, international students, and families who all equally appreciate the walkability and proximity to work, parks, transit and all other amenities. For families in particular,
Average rent in West End
With all this convenience and natural beauty understandably comes higher rent prices. Average rent in the West End is on the upper end of Vancouver's prices with one-bedroom, unfurnished units typically going for an average of $2,289 per month as of May 2022. Two-bedroom units average $3,198, and three-bedroom units $4,210.
Schools & amenities in West End
Lord Roberts Elementary and the Lord Roberts Annex are located in the heart of the West End community. Both typically feed into the nearby King George Secondary, located right by the West End Community Centre. For higher education, UBC's downtown campus is at Robson Square. SFU's downtown campus is in Harbour Centre near Gastown and BCIT offers a full range of programs at its downtown campus at 555 Seymour Street.
Transportation in West End
From most areas of the West End, Downtown Vancouver is easily accessible by walking, but there are lots of great transit options too. The neighbourhood has an ideal location on the Northwestern edge of the downtown peninsula, and is well serviced by transit with buses running regularly along Robson, Davie, Denman and Georgia. Vancouver City Centre SkyTrain Station is easily accessible, with any of the West End's bus lines (the 5, 19 or 240, for example) taking you there in about 10-15 minutes.
7. Shaughnessy
Shaughnessy is another of Vancouver's most well-known and prestigious neighbourhoods, filled with gorgeous heritage houses, tree-lined streets and green space everywhere. Its large geographic area spans from East Boulevard to the west all the way to Oak Street to the east, and 41st Avenue to the south and 16th Avenue to the north. Almost the entirety of this expansive neighbourhood is residential, with many large residences and quiet streets. This all makes it a dream for families of all ages, which shows in the area's demographic.
Average rent in Shaughnessy
Rent prices in Shaughnessy aren't as high as one would expect given the neighbourhood's exclusive reputation. For an unfurnished, one-bedroom unit, the average is $2,091 per our latest report, two-bedrooms will cost an average of $3,056 per month, while three-bedroom units rent for just $5,000 per month.
Schools & amenities in Shaughnessy
Shaughnessy has some of the city's most renowned schools, both public and private. Little Flower Academy, York House, and Vancouver College are all schools of choice for the city's elite, but there are excellent public schools as well like Quilchena Elementary and Shaughnessy Elementary for younger children, and Point Grey Secondary for high school. There are parks galore in the distinguished neighbourhood, like Shaughnessy Park, Angus Park, Devonshire Park, and Kerrisdale Park, to name a few. The famous Van Dusen Botanical Garden is also close by, which is a stunning place to bring the family in the summer or for their Celebration of Lights during the holidays.
Transportation in Shaughnessy
Shaughnessy isn't far from Downtown Vancouver, either. By car, it's only about 10-20 minutes depending on traffic, and the 10, 16, 17, and 25 buses can connect you to the city's downtown in 20-30 minutes.
8. Renfrew-Collingwood
Much like Shaughnessy but much further east, Renfrew-Collingwood is a geographically large neighbourhood in Vancouver with an outsized population of families and a largely residential community. The area makes up the far east end of the city, bordering Burnaby along Boundary Road between Broadway to the north and Kingsway to the south, all the way to Nanaimo to the west. With the convenience of Kingsway and proximity to the best of Burnaby as well, there's a wide range of family-friendly activities, shopping, dining and more within reach. Nature too is just outside your door at Renfrew Ravine Park and the Still Creek watershed, and there are plenty of parks in the neighbourhood as well.
Average rent in Renfrew-Collingwood
Our monthly Rent Reports look at Renfrew and Collingwood individually as prices vary quite a bit. One-bedroom units in Renfrew rent for an average of just $1,640, two-bedroom units for $2,371, and three-bedroom units for an average of $3,950. Collingwood is a bit more expensive, at $1,919 for one-bedroom units, $2,573 for two-bedrooms, and $3,581 for three-bedroom units.
Schools & amenities in Renfrew-Collingwood
Renfrew-Collingwood has a few options for elementary and secondary schools, with more easily accessible just outside its boundaries. Collingwood Neighbourhood School provides service for children in kindergarten to grade 4, Renfrew Elementary from K-7, and Windermere Secondary School has support for high school aged children. Kingsway is the primary destination for all things convenience in the area, but there's lots to do throughout Renfrew-Collingwood too. Renfrew Community Park, Beaconsfield Park, and Renfrew Ravine Park each offer quiet outdoor spaces to bring little ones, and the latter even has trails for getting in touch with nature.
Tranportation in Renfrew-Collingwood
Considering it's on the city's far east end, Renfrew-Collingwood is a quick journey to Vancouver's downtown thanks to great public transit. Taking the Expo Line from 29th Avenue Station, it's only about 15-20 minutes to the heart of the city. Driving doesn't take much longer, at about 20-25 minutes.
How to find family-friendly rentals on liv.rent
As you can see, Vancouver has plenty of family-friendly housing options across the city. Thanks to its relatively small population compared to other Canadian cities, there are many neighbourhoods in practically every corner of the city that offer both convenience, quiet, and access to all types of nature within minutes. Still, finding family-friendly housing isn't always easy, which is why liv.rent has added features to make your rental search a breeze. Here are a few tips to automate your search and save time:
Set up listing alerts – Finding your perfect rental home doesn't have to be a full-time job, especially if you're busy raising a family. Take back your time with liv.rent's Listing Alerts by simply setting an alert (or multiple alerts) with the features you're looking for in a home. Whenever a listing is posted that matches your criteria, you'll receive a notification in your inbox. To learn more about setting up Listing Alerts, watch the quick how-to video below.
Browse listings using Map View – If there's a certain neighbourhood or neighbourhoods you're looking to rent in, try using liv.rent's handy Map View to easily hone in on certain areas. You'll be able to see exactly where each listing is located as well as major roads and green spaces nearby.
Look out for verified landlords and listings – Take the guesswork out of your rental search with liv.rent's extensive, multi-step verification processes for both landlords and properties. Rental scams are unfortunately all-too-common and it's important to be able to rent with peace of mind to protect yourself and your family. Look out for the badges below to confirm that we've verified the property and profile you're applying to.
| | |
| --- | --- |
| | This icon means users are ID verified. Users with this icon next to their name indicate that their profile name has been matched to a piece of government-issued ID that they submitted. |
| | This icon means rental listings are listing verified. Listings with this icon next to the address indicate that the rental property has been verified by mail or by matching the landlord's name to official documents, such as land title documents or property tax forms. |
---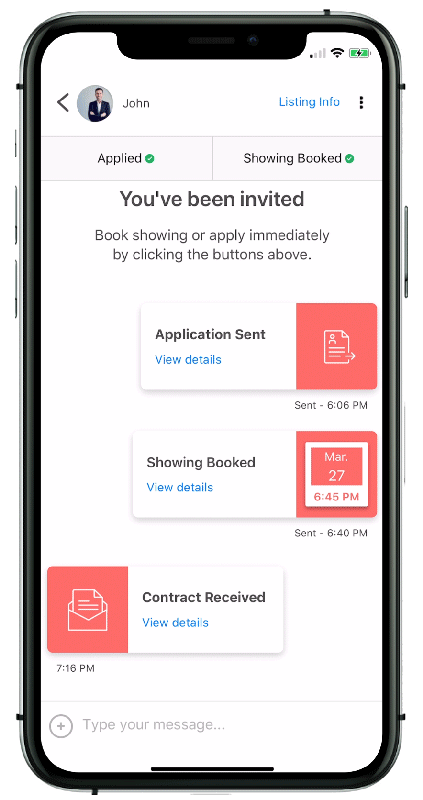 Rethink The Way You Rent
Not on liv.rent yet? Experience the ease of digital applications & contracts, verified tenants & landlords, virtual tours and more – all on one platform. Sign up for free or download the app.
Subscribe to receive the latest tenant & landlord tips and get notified about changes in the Canadian rental market.
>> Stay up-to-date on the average rent in Vancouver, Toronto and Montreal: Rent Reports.