4 Ways to Pay Rent
Gone are the days when your hand would cramp writing a year's worth of rent cheques to present to your landlord. At last, we have a variety of rent payment options available to tenants.
Every tenancy agreement should specify the acceptable forms of rent payment. The e-transfer option has grown in popularity thanks to the ease of use and lack of paper required. Currently, there are 4 ways to pay your landlord in BC:
E-transfer – A log of all e-transfers will be electronically stored for your records and your landlords.
Cash – When paying by cash, the landlord MUST provide a rent receipt proving the rent was paid. Both landlords and tenants should keep copies of these receipts for their records.
Cheque – Typically, your banking records and bookkeeping will offer sufficient record of rent payments paid by cheque.*
Credit Card & UnionPay – When using the liv.rent app, you can pay by UnionPay, American Express, MasterCard or Visa (via Stripe payment gateway).
Bitcoin – Renters on liv.rent can pay for rent with bitcoin. The bitcoin payment process is very similar to how you pay rent with credit cards or UnionPay on liv.rent.
Sign up here to receive the latest release news on this new payment option.
*As a reminder, post-dated cheques can ONLY be requested as long as it's a term included in the agreement and can only be for the duration of the lease term (i.e. one year's worth of cheques). If a tenancy ends earlier, all uncashed cheques must be returned to the tenant.
How to Pay using liv.rent
Landlords and tenants love that they can currently make rent payments in liv.rent, using a credit card (Visa, Mastercard, American Express) as well as UnionPay. These paperless ways to pay rent help both landlords and tenants:
manage cash flow
avoid missed payments
and for tenants, provides an opportunity to collect credit card points and, in turn, enjoy certain privileges and offers associated with the credit card.
Here is how to pay by Credit Card in the liv.rent app:
1. Landlord must first send Payment Request to tenant via liv.rent chat in order to facilitate rent payment in the app.
2.Tenant will see a payment request, stating the amount due, due date and a Payment Method drop-down box.
3. From the Payment Method drop-down list, select the preferred method of payment. Select continue.
4. Input card details and billing address. Select continue.
Enter Card Details

Confirm Information
5. A summary of Payment Details including newly entered credit card information will display. This will include a processing fee. The tenant can click on the ⓘ Info icon to open a pop-up window displaying processing fee details. Close the window.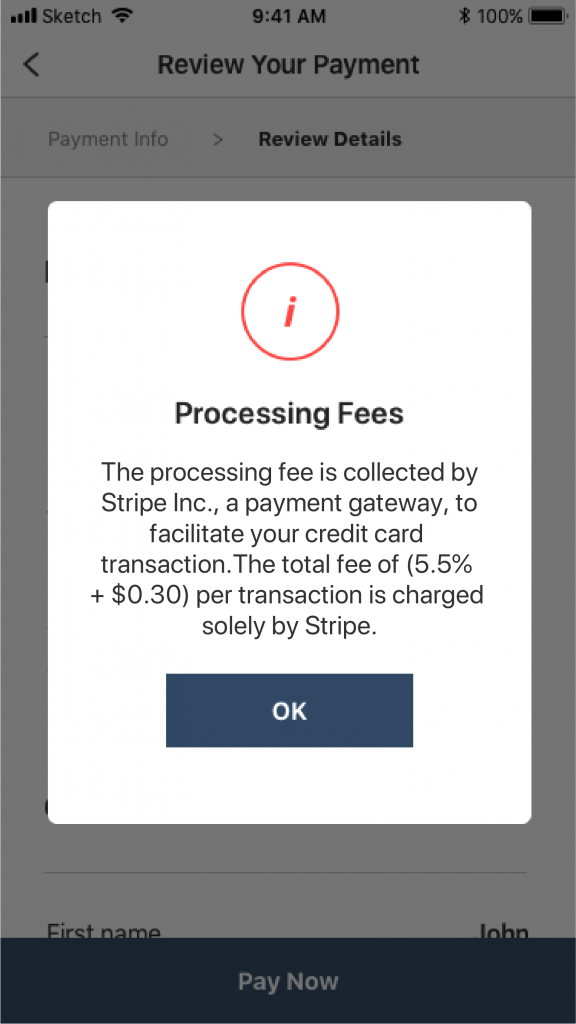 6. If everything is correct, the tenant must agree to Terms & Conditions (checkbox) and click Pay Now to complete payment.
7. A payment completed window will display. An option to export the payment confirmation will allow tenants to save a copy or email a rent receipt to themselves. Click Done to close.
8. Payment Sent will appear in the original chat conversation initiated by the landlord's payment request.
9. To view payment summary, select View details under Payment Sent conversation bubble.
Stay in the loop by signing up for the latest news regarding our up-coming UnionPay option here.
When does paying rent by credit card make sense?
In order for paying your rent with a credit card to make sense, these three things must apply:
You want to earn additional points or miles to qualify for credit card rewards.
You can pay off your credit card in full every month. If this isn't the case, you will end up paying service fees, and interest on your credit card – in essence, increasing your rent payment.
You have no consumer debt. You don't owe money to anyone – not on your car, your sofa or an outstanding student loan – zero debt.
For additional information on Paying Rent in BC, please refer to the BC Government's "Paying Rent" page.
---
Was this helpful? Check out some of our latest posts:
Rent Reports: Vancouver, Toronto and Montreal
Introducing Search by Map
What Information is a Landlord allowed to ask for?
---
Rethink The Way You Rent
Not on liv.rent yet? Experience the ease of digital applications and contracts, verified tenants and more – all on one platform. Sign up now or download the app to get the full digital rental experience.
Subscribe
to receive these monthly updates on the rental market.