Both landlords and renters in Ontario should familiarize themselves with the province's many different tenancy forms, particularly some of the more common ones you're likely to encounter. Ontario's Landlord and Tenant Board is your go-to resource for all things rental-related, and the province has created standardized documents laying out guidelines for pretty much any situation you can imagine. While this is extremely helpful for landlords and tenants, it can also get confusing at times. In this post, liv.rent will be going over Ontario's most common tenancy forms, and how and when you'll be using them.
Table of Contents
Join Our Newsletter
For more info on rental laws and policies (e.g. eviction, lease agreements, repairs & maintenance), subscribe to get the latest news.
What are tenancy forms?
Tenancy forms refer to all official documentation exchanged during a tenancy arrangement between a landlord or property manager and their tenants. This can be anything from the lease agreement itself to various notices for ending/renewing tenancies, or even inspection reports. Ontario has a particularly robust system of tenancy forms, which are conveniently broken down into Forms for Landlords and Forms for Tenants, though it's a good idea for both parties to familiarize themselves with every type of form.
What are the different tenancy forms in Ontario?
Let's look now at the various types of tenancy forms Ontario landlords and tenants are likely to encounter. For your convenience, we'll be breaking this information down into categories corresponding to different stages of your tenancy – you can use the Table of Contents above to navigate these different sections.
1. Residential Tenancy Agreement
Ontario's Residential Tenancy Agreement is the one document that every landlord and renter should be familiar with, as it governs nearly every aspect of a tenancy. This mandatory document is signed by every landlord and tenant at the beginning of their rental term, and outlines the duration of the tenancy, the rental rate and payment terms, whether or not a rent deposit is required, and any restrictions and rules governing the tenancy (e.g. smoking, subletting, insurance). As in B.C., landlords must provide tenants with a copy of their lease agreement within 21 days of signing.
Landlords can also include lease addendums alongside their standard Residential Tenancy Agreement to stipulate further conditions related to the tenancy. For example, a landlord may want to add additional conditions regarding something like subletting, to make clear exactly what's expected of tenants. These documents should be presented at the same time as the Residential Tenancy Agreement, and are considered legally binding once signed.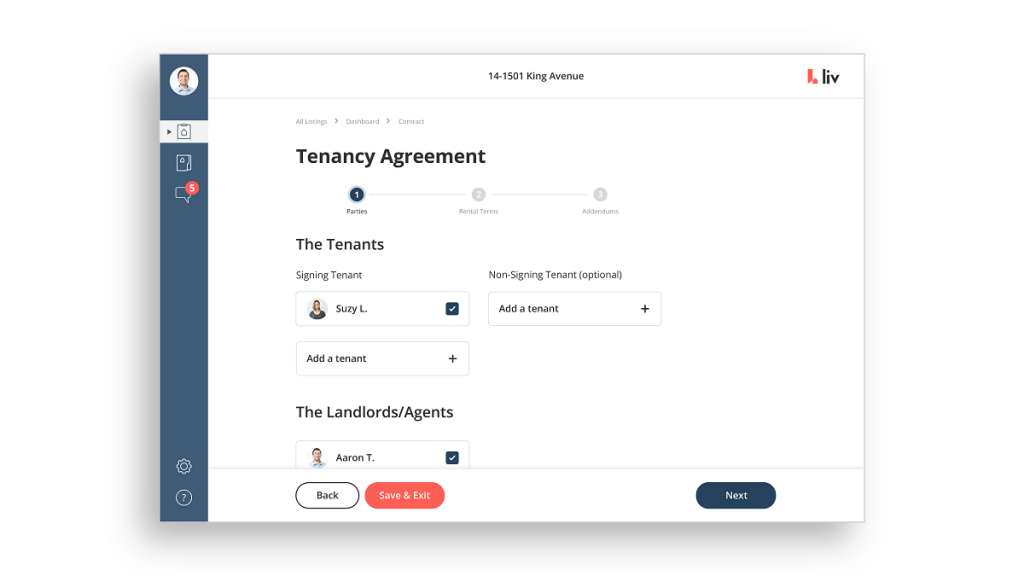 Creating and signing both Ontario Standard Leases and customizable, industry-vetted lease addendums is easy on liv.rent. Within their listing dashboard, landlords can send & sign pre-loaded contracts, then store signed copies within secure, cloud-based storage. Click here to learn more about creating digital contracts on the liv.rent platform.
2. Ending your tenancy agreement
A number of situations can arise during the course of a tenancy that causes it to end before the rental term has run its course. Thankfully, Ontario has clear guidelines for how much notice is required for each situation, who is to submit the notice, and which specific form is required to do so.
Landlords
Tenants
N11: Agreement to End the Tenancy – This catch-all form is used when landlord and tenant mutually agree to end the tenancy. As such, there are no specific deadlines, and the date set is agreed upon by the two parties and considered legally binding once signed.
N9: Tenant's Notice to End the Tenancy (60 days notice) – Tenants can choose to end the tenancy themselves, so long as they serve their landlord an N9 with at least 60 days notice, and the termination date falls on the last day of a fixed term.
*14 days if this is the second notice within 6 months
**7 days if the tenant is renting on a weekly/daily basis
3. Dispute Resolution
Dispute resolution in Ontario is handled by the Landlord and Tenant Board and is divided into separate applications for landlords and renters. The list below comprises some of the most common dispute resolution applications for each party.
Landlords
L1 – Application to Evict a Tenant for Non-payment of Rent and to Collect Rent the Tenant Owes – After filing an N4, a landlord may choose to apply to evict the tenant and have the LTB enforce payment of the amount owing. In this case, they'd file an L1 application. If the landlord chooses to not evict the tenant but still needs help enforcing rent collection, they can choose to file an L9 – Application to Collect Rent the Tenant Owes.
L2 – Application to End a Tenancy and Evict a Tenant – For nearly any other reason to evict a tenant other than non-payment of rent, landlords should submit an L2 to the LTB.
L3 – Application to End a Tenancy and Evict the Tenant – Tenant Gave Notice or Agreed to End the Tenancy – Though not required, landlords can also choose to apply for an eviction notice if either the tenant gave notice to end the tenancy, or a mutual agreement was reached.
Tenants
T1 – Tenant Application for a Rebate of Money the Landlord Owes – If a landlord refuses to return money to their tenant for whatever reason (e.g. withholding security deposit, not returning rent in full upon early termination due to demolition/occupation), the tenant may file a T1 application to have the LTB enforce their proper repayment.
T2 – Application About Tenant Rights – If a tenant believes their landlord or property manager violated their Tenant Rights by entering the unit without notice, changing the locks, harassing them, or otherwise interfering with their reasonable enjoyment of the unit, they may file a T2 application with the LTB to remedy the situation.
T6 – Tenant Application About Maintenance – Tenants may apply to the LTB if their landlord has not adequately maintained or repaired their unit or the rental property in general.
4. Condition Inspection Report
Although not required by law as in B.C., Ontario landlords and tenants should still collectively complete a Condition Inspection Report in order to establish a baseline for normal wear and tear for the unit, and prevent confusion over damage later on. Any major or minor issues with the unit should be noted in detail in this report, and it's also a good idea for both parties to document the damage with photos in case evidence is required later on. A thorough condition inspection also gives the tenant a chance to request that the landlord repair anything that may not be functioning as it should.
5. Notice of Rent Increase
Every 12 months landlords may issue an N1 – Notice of Rent Increase to an existing tenant. The amount specified must fall within the allowable rent increase guideline for that calendar year (see chart below). In addition to this, the landlord must also:
Provide at least 90 days' written notice.
Only raise the rent 12 months after the date existing rent was established with tenants or after the last legal rent increase.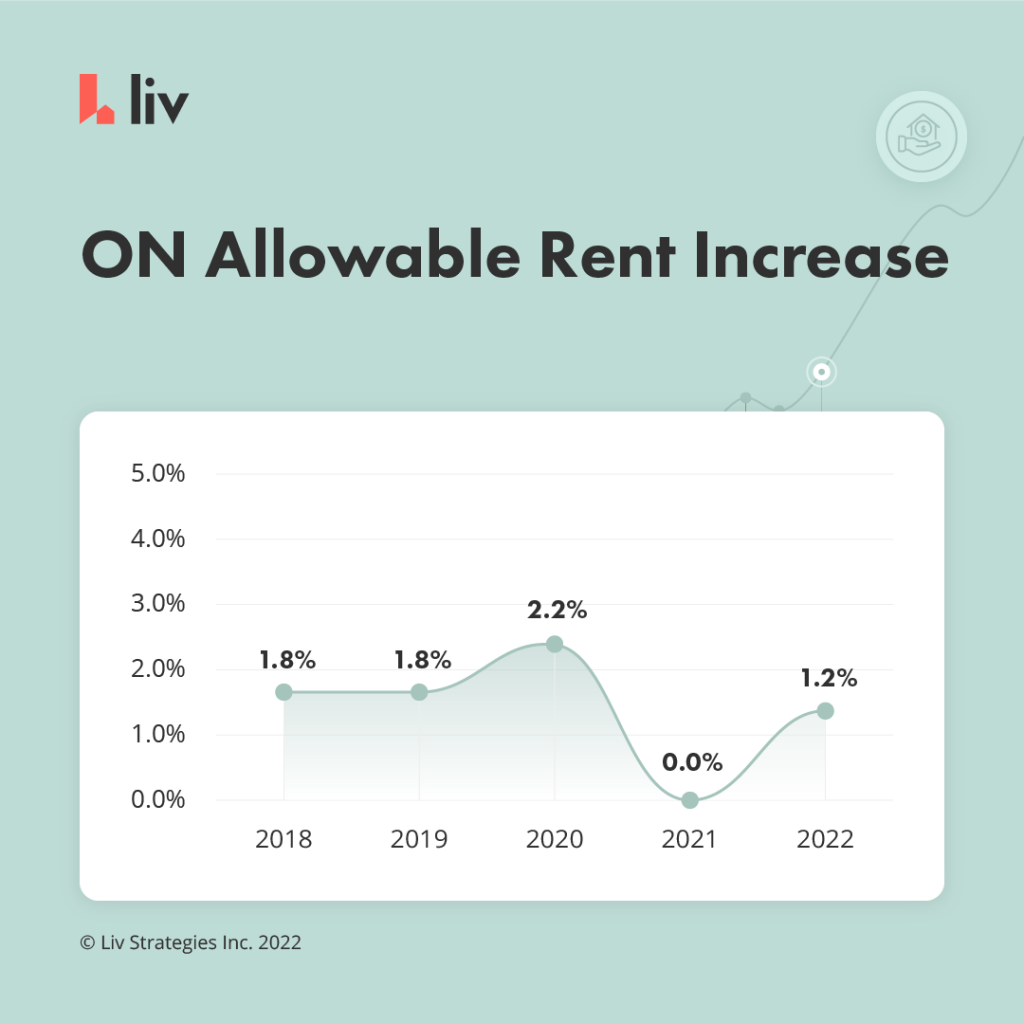 Managing tenancy forms digitally
Why should you go digital?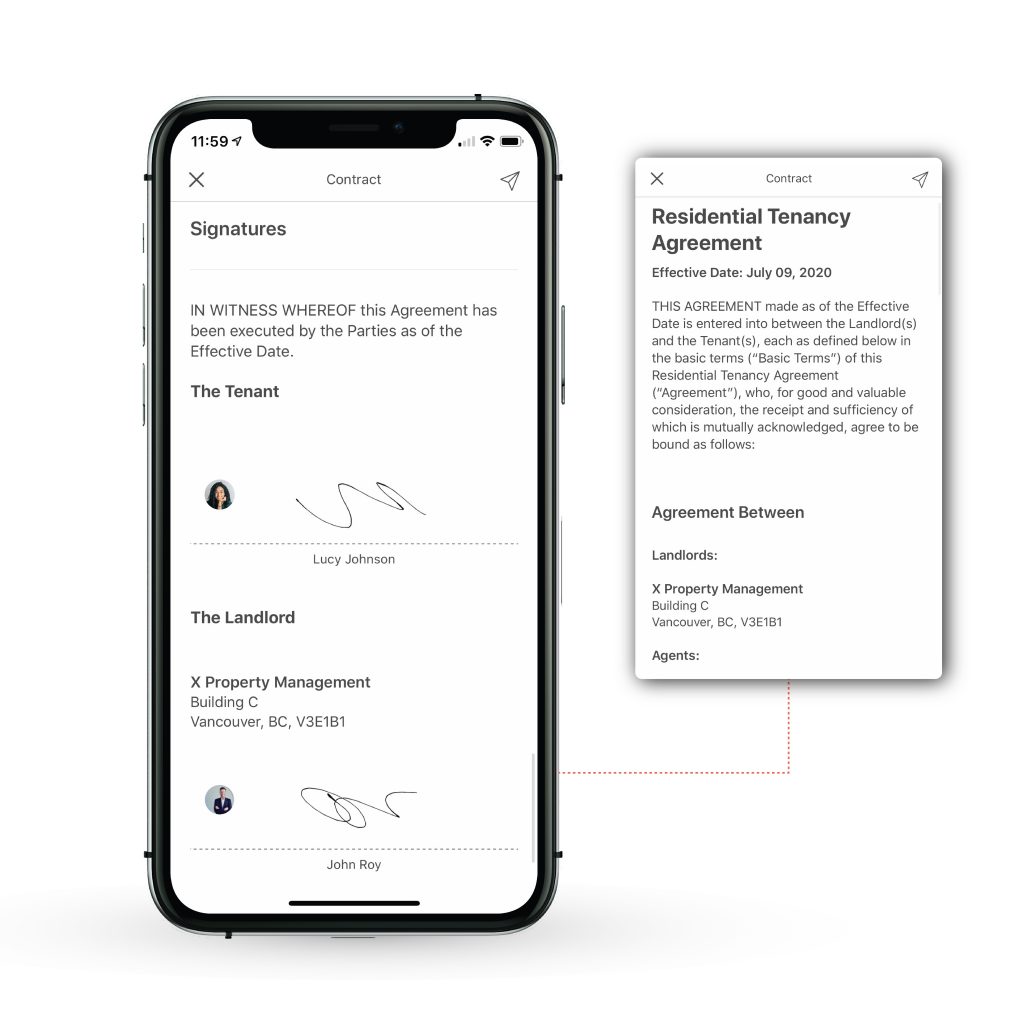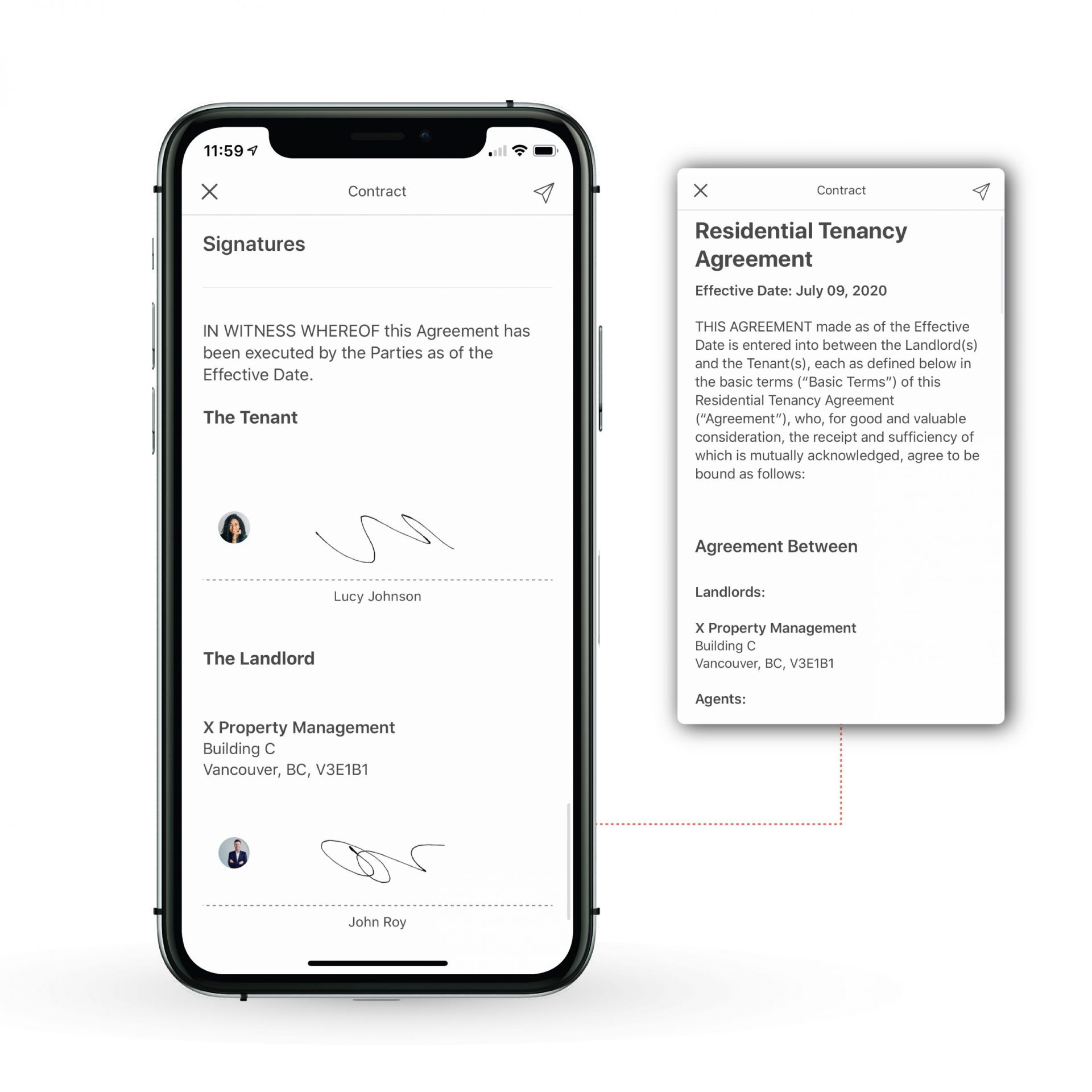 As you can see, Ontario landlords and tenants have plenty of important documents to keep track of. Having these forms up-to-date, accurate, safely stored and readily available is key to protecting yourself and your tenant.
With liv.rent, you'll have instant access to standard Ontario tenancy agreements as well as our unique lease addendum packages with industry-vetted addendums covering everything from smoking rules to subletting policy. Renters and landlords can send & sign these digital contracts within liv.rent's instant chat, and copies are safely stored in our secure, cloud-based storage.
How to go digital on liv.rent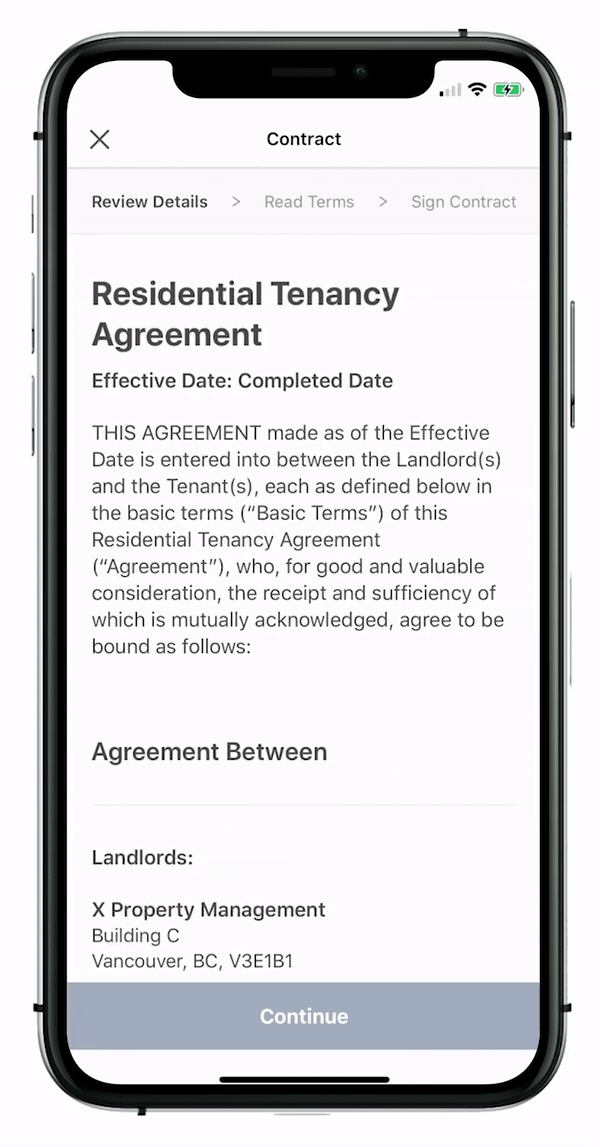 Digital contracts are available to all liv.rent users. To access auto-filled tenancy forms and custom lease addendums, verify your account and listing today. Past, current, and upcoming tenancy agreements (contracts) signed on the liv.rent platform can easily be referenced, shared, and exported in just a few clicks. This means access to all of the necessary information that is part of your rental agreement is in the palm of your hands, wherever you go.
---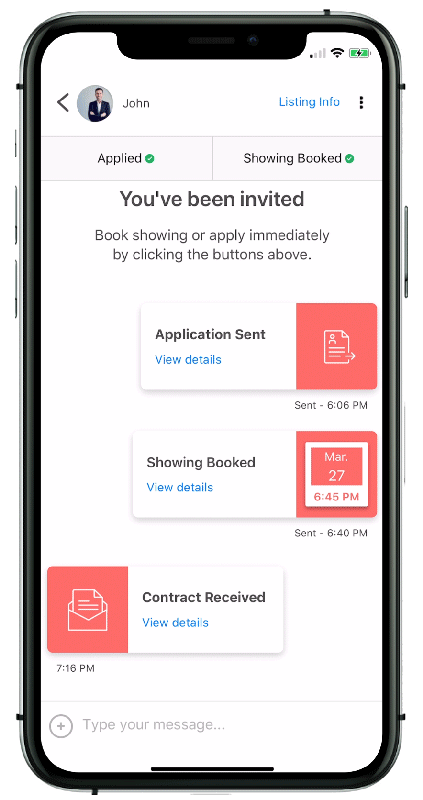 Rethink The Way You Rent
Not on liv.rent yet? Experience the ease of digital applications & contracts, verified tenants & landlords, virtual tours and more – all on one platform. Sign up for free or download the app.
Subscribe to receive the latest tenant & landlord tips and get notified about changes in the Canadian rental market.
>> Stay up-to-date on the average rent in Vancouver, Toronto and Montreal: Rent Reports.