Canada's housing market has been notoriously turbulent in recent times, but there are still plenty of opportunities for savvy investors to make a profit. Particularly in major urban centres like Toronto, demand for rental housing is higher than ever as students and renters in general return from abroad. This makes for a great opportunity to enter or re-enter the real estate market, whether you're looking to purchase your first property or your fifth. In this post, liv.rent takes a look at the best neighbourhoods to invest in real estate throughout the Greater Toronto Area, looking at some of the key characteristics of each area in order to help you decide. We'll also be providing tips on how to choose where to buy, how to maximize your profits, and how you can ensure you stay safe and protect your investment while renting.
We'll also be hearing from Toronto-based real estate expert Elena Saradidis from Brad J. Lamb Realty Inc., getting her thoughts on some of the most desirable neighbourhoods for real estate investors, investment strategies for the current market, and more.
Table of Contents
Is your rental priced competitively?
Find out with a free rent estimate. Our team of rental experts will calculate your unit's true value based on your listing details & current market trends.
Is a rental property right for you?
When considering whether or not to purchase an investment property, one of the first things you'll need to decide is whether you'll be living in the property yourself, or renting it out. For most investors, buying an investment property means renting it out in order to maximize your profits while keeping the unit occupied.
This comes with its own challenges though, since managing a rental property requires both time and knowledge of the rental process. For those looking for a passive income stream, be aware that being a landlord requires more work than many think. Finding the right tenants, performing property inspections and maintenance, collecting rent, and more can all take tons of time out of your already busy schedule.
However, there are plenty of ways to automate and streamline these tasks. Rental management duties like tenant screening, contract signing, and rent payments can all be made easy and efficient using digital rental platforms like liv.rent. This all-in-one rental software was specifically designed for busy landlords in Canada, with features like built-in tenant screening through the Trust Score, digital contracts and addendums, and automated rent payments. If you'd like to learn more about how liv.rent can help maximize your rental profits, you can take a look at the platform's features here.
Average rent in the Greater Toronto Area
Each month, liv.rent analyzes rental data and trends from across the GTA to provide monthly rent reports for both landlords and renters. Below, you'll find average rent prices for unfurnished units across the different municipalities in the Greater Toronto Area as of June 2022 to give you a sense of how these numbers vary. For a more in-depth look into the region's rental averages, including a closer look at Toronto's different neighbourhoods as well as cities outside of the GTA, you can find our latest rent report here.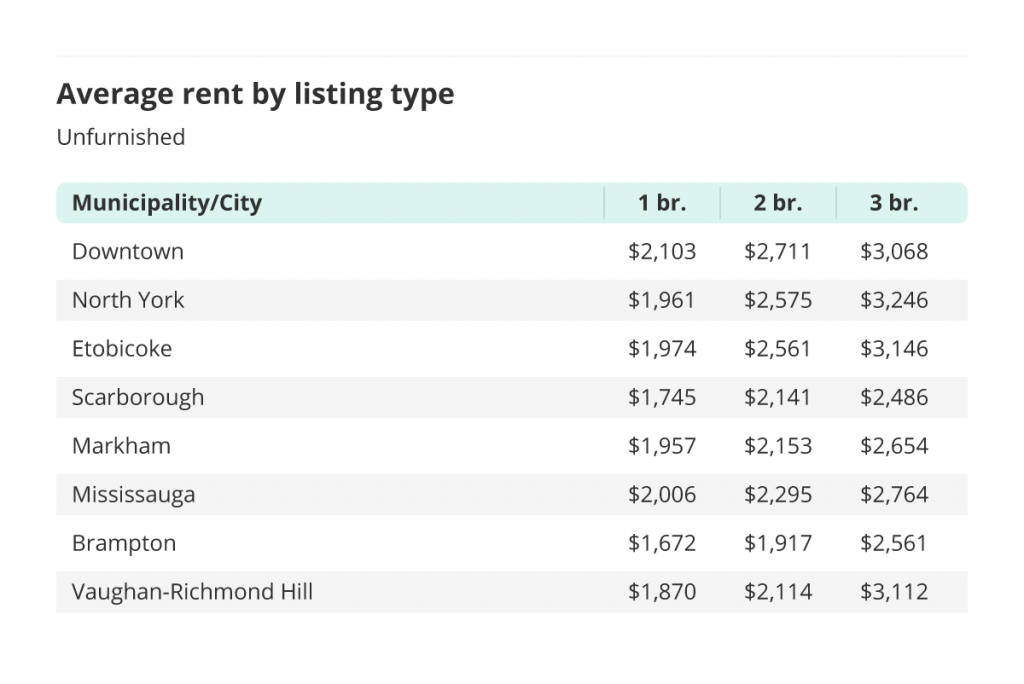 How to choose where to invest in real estate
Investing in real estate is a huge financial commitment, and it's always recommended that investors do their due diligence before settling on a neighbourhood to purchase property in. Forecasting which areas will hold their value over the long-term, and predicting up-and-coming neighbourhoods is no easy task, but looking to the future is always a good idea for real estate investors.
In breaking down the various areas of Toronto that offer the best value for landlords looking to invest in real estate, we've attempted to pinpoint neighbourhoods projected to increase in value while also attracting plenty of rental attention in the present. For each neighbourhood we'll look at in this article, we'll cover the following factors:
Renter demographics
Job opportunities
Crime rate
Nearby schools & amenities
Public transit options
Ultimately, the best neighbourhoods to invest in real estate balance all of these factors – though it's up to individual investors what they'll prioritize when deciding where to buy. We strongly recommend working with a licensed real estate agent who can help you narrow down where to look.
"We're currently at a crucial point in time for Canada's real estate market. Things are shifting in significant ways, and right now is a great time to be an investor in particular. Interest rates are up and property values are falling, yet renters are still competing for properties. It's important to consider all the various financial aspects of buying, though, which the right realtor can certainly help you with." –Elena Saradidis
Best neighbourhoods to invest in real estate in Toronto
Little Italy
Neighbourhood overview
Leading off our list is Little Italy, one of Toronto's most happening neighbourhoods located just west of the city's downtown core. The area has long been a favourite among investors for its broad appeal, combining quiet, residential streets with a vibrant buzz that's difficult to replicate. Trattorias, cafes, and trendy stores line the stretch of Little Italy along College Street, a popular hub for residents and visitors alike. Despite near-constant demand, there is still plenty of profit to be made for investment landlords in the area — especially as rising interest rates drive home prices lower across the city. Little Italy is fairly evenly split with 54% of residents renting and 46% who own their unit, which makes it a good choice both for both short- and long-term investments.
"Little Italy is one of my absolute favourite neighbourhoods", says Elena. "It has an amazing location that's well within walking distance of the University of Toronto, excellent transit options on both ends of College Street, and a really special energy that you won't find in other pockets of the city. The nightlife makes it popular among young professionals, but there isn't a party vibe — it's still a primarily residential area that's well-suited to families."
Real estate in Little Italy primarily consists of row houses and Victorian-era attached homes in the classic Toronto style. Its rich Italian heritage is apparent in the many delicious restaurants and bars nearby, such as the always popular Café Diplomatico and the renowned Bar Raval. Combine this with an excellent school system and low crime rates and there's really not much more investors could ask for from this neighbourhood.
Here's a quick overview of Little Italy: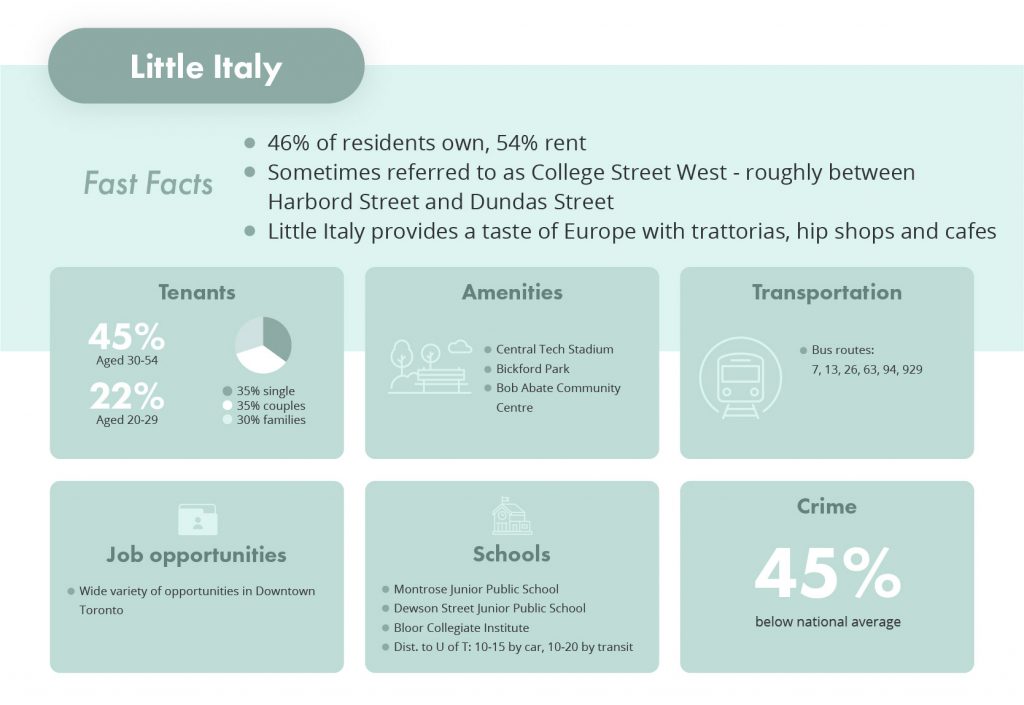 Source: nexthome.ca
Average home prices in Little Italy
Below are the average house prices in Little Italy as of June 2022. These numbers are from Zolo.ca with data drawn from MLS listings in the area.
| | | | |
| --- | --- | --- | --- |
| | 1 Bed | 2 Bed | 3 Bed |
| Condo | $825,000 | $1,400,000 | $3,500,000 |
| Townhome | $1,200,000 | $2,100,000 | $2,100,000 |
| Detached | N/A | N/A | $2,000,000 |
Source: Zolo
Corktown
Neighbourhood overview
One of Toronto's oldest residential neighbourhoods, Corktown is a popular rental destination for the city's young professionals thanks to its close proximity to Downtown and eclectic mix of shops, dining options, and community-centred amenities. Originally a home for workers at the many breweries and brickyards nearby, Corktown is a small but mighty district on Toronto's east side that has seen an influx of young renters in recent times due to its relatively affordable rent prices just outside of the city's centre. As you can see, the vast majority of Corktown's residents rent their home, as much as 83% compared to just 17% who own.
Corktown is surrounded by some of Toronto's most in-demand amenities and areas, like the Distillery District to the south, and the quaint St. Lawrence Market to the west. Planned infrastructure projects like continued condo development activity and the extension of the Ontario Line will continue to bring more interest to the Corktown neighbourhood, making this already family-friendly neighbourhood even more appealing to renters of all ages.
Here's a quick overview of Corktown: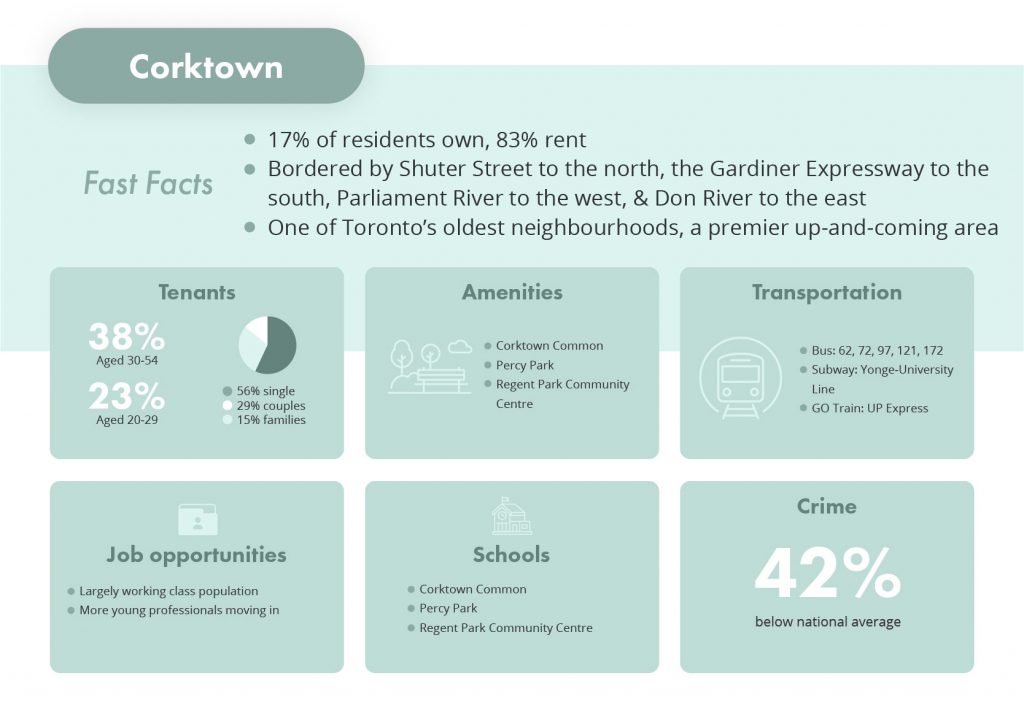 Source: nexthome.ca
Average home prices in Corktown
Below are the average house prices in Corktown as of June 2022. These numbers are from Zolo.ca with data drawn from MLS listings in the area.
| | | | |
| --- | --- | --- | --- |
| | 1 Bed | 2 Bed | 3 Bed |
| Condo | $566,000 | $745,000 | N/A |
| Townhome | N/A | $1,100,000 | $1,800,000 |
| Detached | N/A | N/A | $2,200,000 |
Source: Zolo.ca
Leslieville
Neighbourhood overview
Once considered an up-and-coming neighbourhood on Toronto's east side, Leslieville has blossomed into a hip, family-friendly area with its own distinct feel and plenty to do for residents of all ages. Exceedingly popular amongst working professionals with families, the area boasts an excellent school system and an assortment of amenities, not to mention convenient access to Toronto's downtown via Pape Station. The area is best known among Toronto residents for its stellar brunch restaurants and numerous dining options, in addition to trendy boutiques and thrift stores lining the area's bustling streets.
"Leslieville is a popular choice for families in particular. It's nice and quiet but still close to everything, and it's certainly never boring with plenty to do year-round. For investors, the high percentage of owners is a good sign for long-term investments, but units still rent quickly as well since Leslieville has so much to offer." –Elena Saradidis
The majority of residents in Leslieville do own their home, but there's plenty of year-round rental activity in the neighbourhood as well with 41% of Leslievile residents renting. Combined with low crime rates, family-friendly amenities and plenty of job opportunities nearby, Leslieville is an investor's dream that will continue to hold value well into the future.
Here's a quick overview of Leslieville: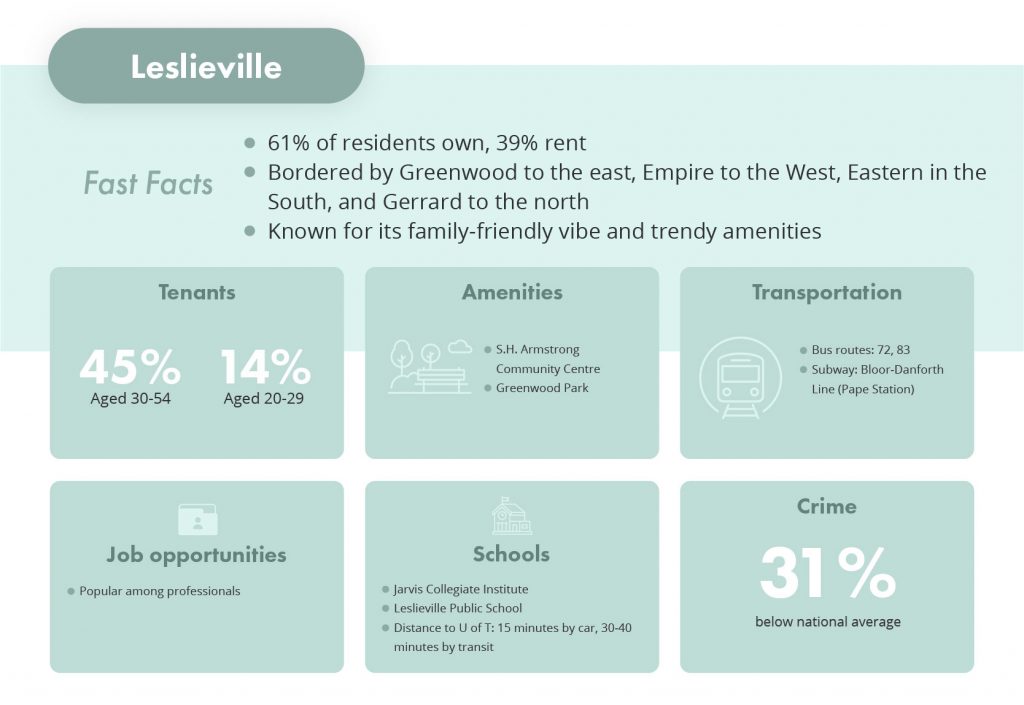 Source: nexthome.ca
Average home prices in Leslieville
Below are the average house prices in Leslieville as of June 2022. These numbers are from Zolo.ca with data drawn from MLS listings in the area.
| | | | |
| --- | --- | --- | --- |
| | 1 Bed | 2 Bed | 3 Bed |
| Condo | $708,000 | $971,000 | $1,100,000 |
| Townhome | $1,200,000 | $1,100,000 | $1,300,000 |
| Detached | N/A | $999,000 | $1,700,000 |
Source: Zolo.ca
The Annex
Neighbourhood overview
The Annex is one of Toronto's most renowned neighbourhoods, and for good reason. The area's stately architecture is known around the world, and the neighbourhood also shares a boundary with the University of Toronto's St. George Campus, which makes it a popular place of residents for students, professors, and other campus employees. Rich in history, The Annex is home to a variety of iconic Ontario landmarks like Lee's Palace, a popular concert venue, the Royal Ontario Museum, and Hot Docs Ted Rogers Cinema.
Despite all this, the area still has a lot to offer investors, with home values projected to rise further and rental rates continuing to rise across Downtown Toronto. Just 26% of residents in The Annex own their home, while 74% rent ⁠— suggesting that there's high demand for rental properties in the area which means landlords will have no problem keeping their unit rented.
Here's a quick overview of The Annex: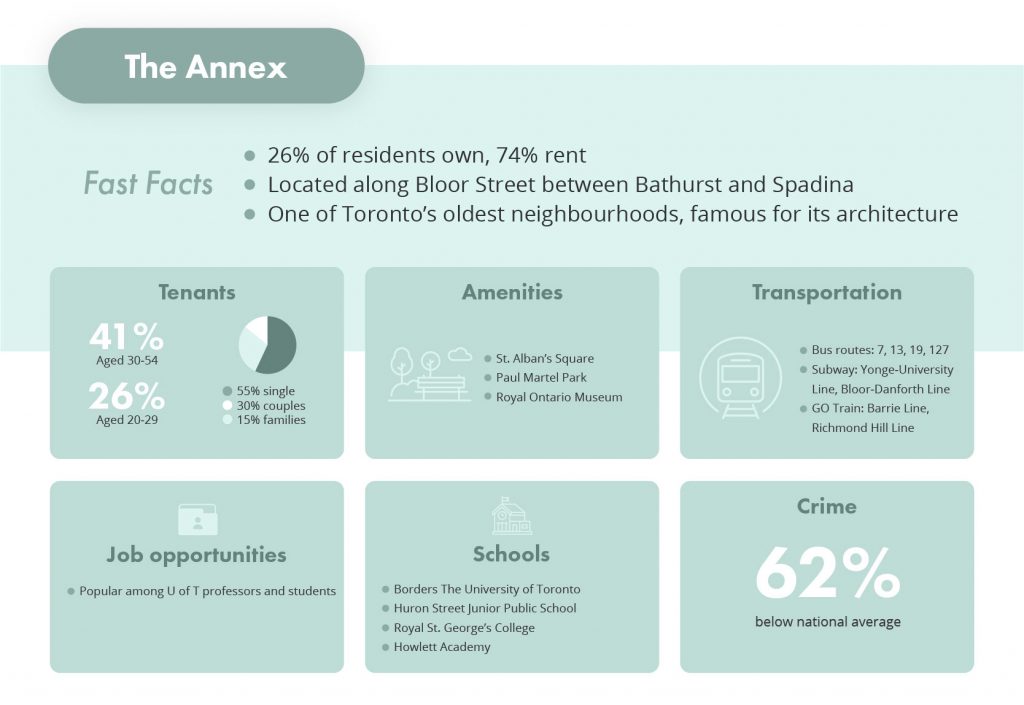 Source: nexthome.ca
Average home prices in The Annex
Below are the average house prices in The Annex as of June 2022. These numbers are from Zolo.ca with data drawn from MLS listings in the area.
| | | | |
| --- | --- | --- | --- |
| | 1 Bed | 2 Bed | 3 Bed |
| Condo | $813,000 | $1,800,000 | $1,400,000 |
| Townhome | N/A | $1,300,000 | $2,900,000 |
| Detached | N/A | N/A | $3,300,000 |
Cabbagetown-South St. James Town
Neighbourhood overview
Rich in both history and opportunity, Cabbagetown-South St. James Town is one under-the-radar pick for investors of all stripes. Located on the northeast end of Toronto's downtown, Cabbagetown-South St. James Town is receiving renewed attention from real estate buyers across the city thanks to a bevy of new development, planned extensions to the Ontario Line, and so much more. The eclectic area is easily walkable from downtown, with major businesses like PwC, Coca-Cola, and others nearby in Toronto's East End.
"Toronto's East End is an area I'm always showing off to my clients. All it takes is a quick stroll around the neighbourhood to see why it's so popular. There's a growing sense that this is one of the premier places to be in the city, with a noticeable buzz throughout its streets and over sixty new constructions coming to the area. The Ontario Line expansion will only make this more popular in the long-term, so now's a great time see for yourself what this neighbourhood has to offer." –Elena Saradidis
Here's a quick overview of Cabbagetown-South St. James Town: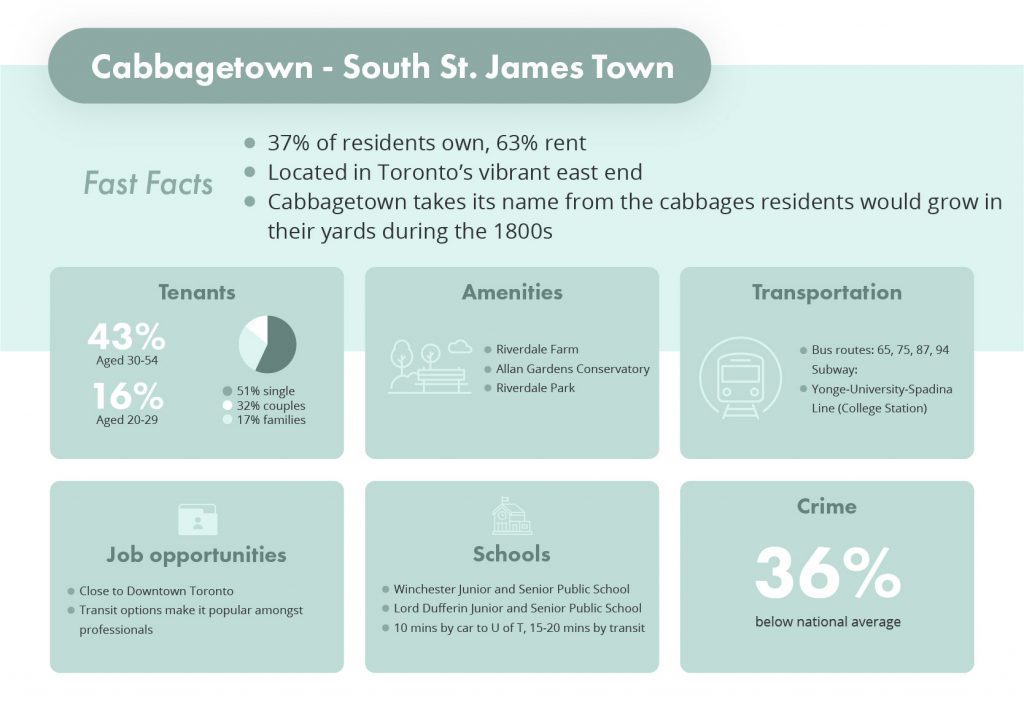 Source: nexthome.ca
Average home prices in Cabbagetown-South St. James Town
Below are the average house prices in Cabbagetown-South St. James Town as of June 2022.
| | | | |
| --- | --- | --- | --- |
| | 1 Bed | 2 Bed | 3 Bed |
| Condo | $566,000 | $745,000 | N/A |
| Townhome | $830,000 | $1,100,000 | $1,900,000 |
| Detached | N/A | N/A | $2,200,000 |
Source: Zolo.ca
How to calculate profitability on your rental property
One of the key things investors need to look at before investing in a rental property is the capitalization rate, or cap rate, of their potential investment. To put it simply, capitalization rate denotes the expected rate of return on an investment property. In other words, your property's capitalization rate measures the ratio between your annual rental income and the property's current market value.
We won't get into the precise formula here since there's a good deal that goes into calculating this number, but there are plenty of calculators online to help you get a sense of how much you can make from your rental property, such as this one from calculator.net.
Interest rates & what they mean for investors
Rising interest rates have sent many Canadian investors into a frenzy, but what do they actually mean for real estate investors? For those who already own a home, this rise could be cause for concern as mortgage rates rise accordingly. According to a recent CBC article, as many as 1 in 4 Canadians will be forced to sell their home if rates continue to rise, a grim statistic that has caused panic across the country. Particularly for those with a fixed-rate mortgage, be prepared to see your monthly mortgage payments rise in the coming months.
However, a likely side effect of these rising rates is a significantly larger inventory of rentals and decreased demand, which likewise means lower sale prices — which could be good news for investors. It's also probable that rent prices continue to rise alongside mortgage rates as homeowners recoup their more costly payments, which signals that Canadian investors still have plenty of opportunities to turn a profit by renting out their units. If you're planning on investing in real estate in the coming months, it's a good idea to educate yourself on what these higher interest rates mean for you as an investor, and prepare accordingly for stress tests and other realities brought on by higher interest rates.
Tips for renting out your property
Should you choose to rent out your property, it's a good idea to get familiar with the rental process in Canada and Ontario specifically, including the terms of Ontario's standard lease. There's more to being a successful landlord than this though, particularly if you're trying to maximize the potential profit you can earn from your unit.
The most successful landlords are experts at both marketing and tenant screening — the two most important factors in ensuring your unit remains occupied with quality tenants. Many investors, especially those with larger portfolios, tend to use property managers to operate their rental units, but managing your own property can be easier than you'd think.
Here are a few tips for maximizing your property's capitalization rate while saving time and minimizing effort:
Share your listings to multiple platforms — In order to reach as many renters as possible, it's important for landlords to share their listings far and wide. Popular listing sites like Craigslist, Kijiji, and Facebook Marketplace help you expand our audience and rent out your listing faster.
Have a rental 'hub' — Once you have plenty of interested leads, it's a good idea to choose one rental platform to handle all of your communications, leases, and rent payments. One option is liv.rent, a Canadian all-in-one rental platform that allows landlords to conduct the entire rental process in one place.
Use technology to your advantage — The rental industry has evolved rapidly in recent years, with advances like 3D Video Tours and Bitcoin rent payments changing the way landlords do business. To stay ahead of the curve and accommodate more renters, choose a digital rental platform that supports these cutting-edge technoologies.
How liv.rent helps investment landlords
Investors looking to become successful landlords can greatly benefit from liv.rent's suite of rental management and marketing features. This all-in-one Canadian rental platform gives you access to a complete range of property management features, such as the Trust Score, our proprietary tenant screening tool powered by Equifax® credit reports, in addition to essential tools like standard digital contacts and automated rent payments by credit card, Bitcoin, and UnionPay.
For growth-minded landlords looking to expand their portfolio and grow their reputation as an investor, we also offer a premium Growth Plan for just $18/month, with additional features like lawyer-vetted lease addendums, 15 included credit checks per month, and organization and management tools for up to 3 users.
To learn more about how liv.rent can help you grow your portfolio and maximize your investment property's profits, take a look at our pricing plans here.
---
About Elena Saradidis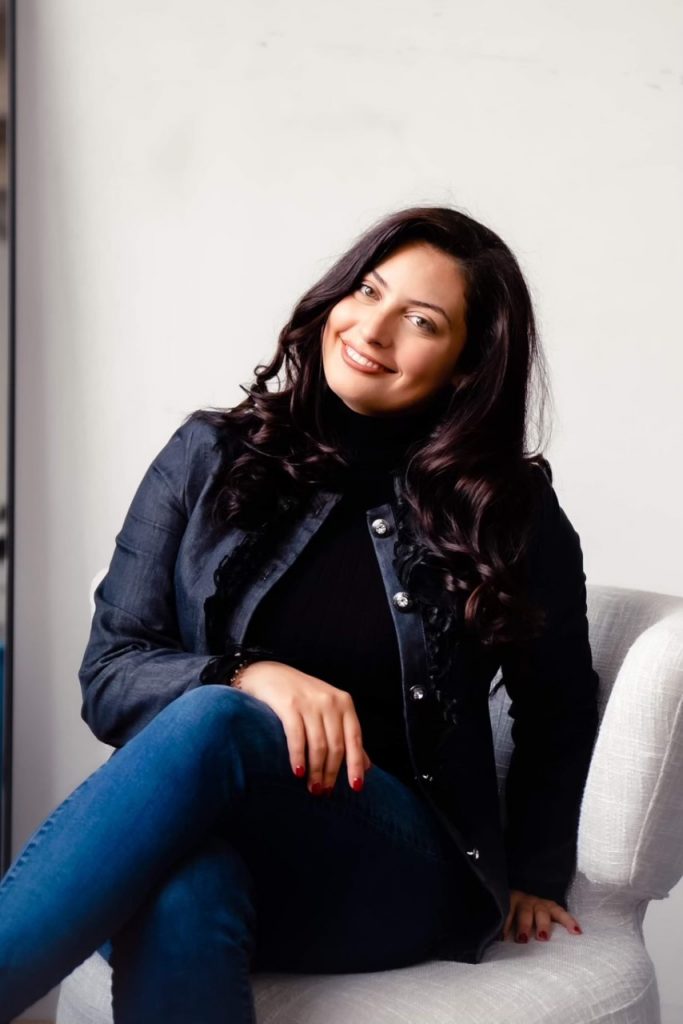 Elena Saradidis was Brad J. Lamb Realty's #1 realtor for 2021, going from getting her license to recording over $40 million in sales in just 3 short years — all before she was 25 years old. In addition to helping hundreds of clients in her hometown of Toronto, Ontario, Elena is an active investor herself with a portfolio worth just shy of $10 million. Part of what makes her so successful as a realtor is that she truly practices what she preaches and uses her own real estate portfolio to showcase what her clients can accomplish.
Coming from a background in technology and public relations, Elena has built a strong presence based primarily on positive referrals and online marketing. Her emphasis on the post-sale is equally impressive, making sure that the excitement of a new purchase isn't overshadowed by all the stress that typically accompanies it. This focus on customer satisfaction has had undeniable compounding results, with repeat clients making up over 40% of her annual bookings.
For more information or to get in touch with Elena, you can find her website here.
---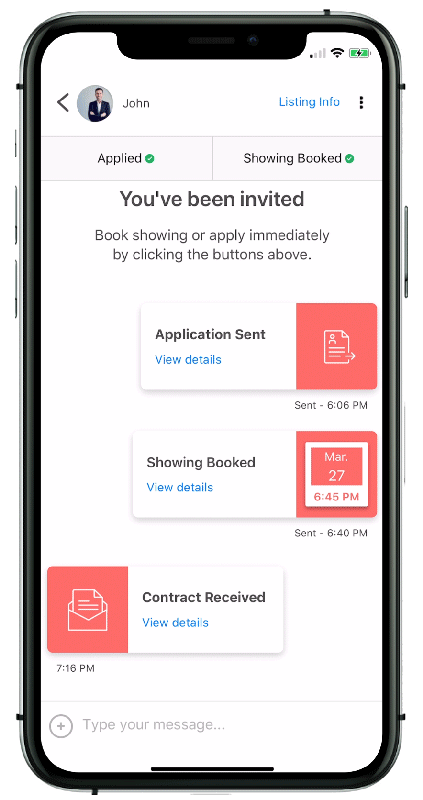 Rethink The Way You Rent
Not on liv.rent yet? Experience the ease of digital applications & contracts, verified tenants & landlords, virtual tours and more – all on one platform. Sign up for free or download the app.
Subscribe to receive the latest tenant & landlord tips and get notified about changes in the Canadian rental market.
>> Stay up-to-date on the average rent in Vancouver, Toronto and Montreal: Rent Reports.