A vacant rental property is every landlord and property manager's worst nightmare. When your unit is empty, you're not generating any revenue on it and yet you'll still have to cover expenses – not to mention all the potential risks that come with an empty home. Of course, avoiding vacancies entirely is your best course of action, but this isn't always possible. Today, liv.rent will be walking you through five reasons why your rental property might be vacant, and what you can do to start getting more tenant inquiries and filling those vacancies faster.
Table of Contents
Do you want to get your listing rented out faster?
From posting and advertising to screening and signing a contract, find out how you can get your listing rented out faster – in as little as 7 days.
Why reducing vacancies is important
It goes without saying that a landlord's first priority should be keeping their rental unit occupied as often as possible. An empty property not only means losing out on revenue, but opens up the unfortunate possibility of further expenses from unnoticed damage, theft, as well as additional taxes on empty homes in B.C. and Vancouver specifically. With tenants occupying a unit, you have someone you can hopefully count on to notice any potential risks like a water leak or fire before the damage gets out of control. While the odds of these events happening are slim even in vacant properties, it's nice to have the peace of mind that comes with having renters you trust.
It isn't always that easy, though. From posting your listing, to responding to inquiries, to screening and selecting tenants – finding high-quality renters is a lengthy and involved process. Combine this with a landlord's already busy schedule and it's not hard to see why so many rental properties sit empty from month to month. Luckily, there are rental platforms like liv.rent that allow landlords to market their listings and find quality tenants faster – all in one place.
Reasons your rental property is vacant
It's not hard to see why a vacant rental property is such an important concern for landlords and property managers, but recognizing the exact reason why your unit is empty and remedying the situation is much harder. Whether your vacant unit is the result of inefficient marketing or high turnover due to poor tenant screening, there are countless reasons why renters might not be interested in your unit or leave unexpectedly.
Here, we'll be breaking down some of the most common reasons why your rental property might be vacant and how liv.rent can help you solve each potential problem.
Problem #1 – Rent is too high
Perhaps the most obvious, yet most common reason for rental vacancies is that the unit is priced too high. It's all too easy to overestimate the rental value of your unit, which practically ensures that otherwise interested renters pass over your listing in favour of something more within their budget.
liv.rent solution:
It's important to be aware of how your unit's rental price compares to similar properties in your area in order to stay competitive. Although you may have a certain number in mind, overvaluing your property can end up costing you more than simply lowering the monthly rent, even by $50 or $100.
Say you're determined to get $2,000 a month for your unit, but renters don't seem interested. Lowering the rent to $1,900 a month could help you fill the vacancy right away, and you'll only be losing out on $1,200 per year of potential rental income, compared to $2,000 for every month your unit sits unoccupied.
Is your rental priced competitively?
Find out with a free rent estimate. Our team of rental experts will calculate your unit's true value based on your listing details & current market trends.
To help landlords and property managers analyze and compare their rental prices against similar properties, each listing has its own unique dashboard containing valuable insights to help you refine your price and stay competitive. At a glance, view the average rent in your area, as well as how your listing compares. You'll also find the number of views and applications your listing has received, another good indicator of how your listing is performing.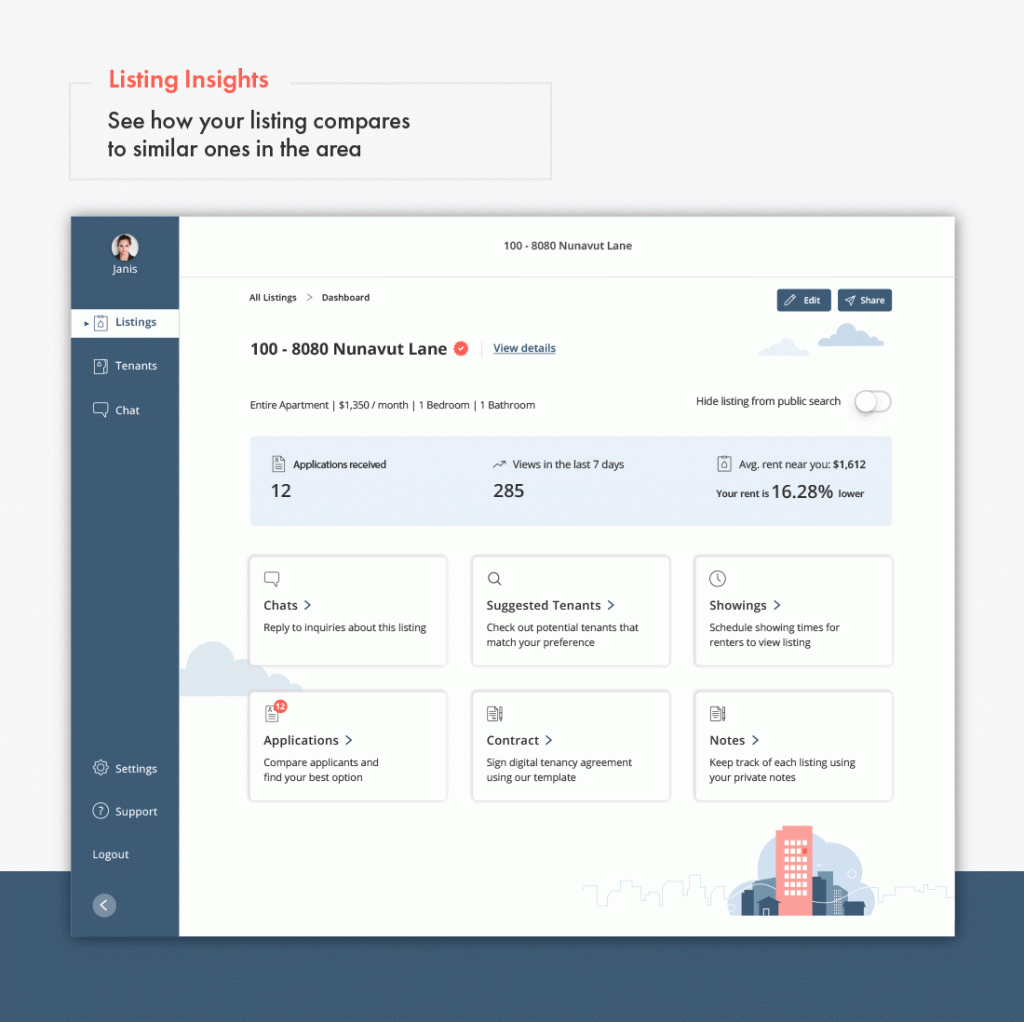 Problem #2 – Not reaching enough renters
Sometimes, even though you're doing everything else right, your listing still isn't getting the attention it deserves. Whether you're using a rental platform that doesn't have enough high-intent renters, or you're not taking advantage of all of the sharing options at your disposal, the problem may just be that you haven't found the right audience yet.
liv.rent solution:
The bigger your audience, the better your chances of getting your unit rented faster. Not only does liv.rent give landlords access to a larger pool of verified, high–intent renters, but the platform also allows for easy sharing to Craigslist, Kijiji, Facebook Marketplace, and more in just a few clicks.
From within your listing dashboard, simply click "Share" to export your listing, pre-formatted for your platform of choice. You can also copy and paste a link to your liv.rent listing that you can share on your own channels, or anywhere else you see fit. For a more detailed explanation of liv.rent's listing syndication feature, check out the video below.
Problem #3 – Tenant screening that doesn't work
High turnover due to poor quality tenants is another common cause of frequent rental vacancies. Whether a tenant chooses to end their term unexpectedly or you're forced to evict them for violating the terms of the lease, having to replace renters at a moment's notice is a situation no landlord or property manager wants to find themselves in.
liv.rent solution: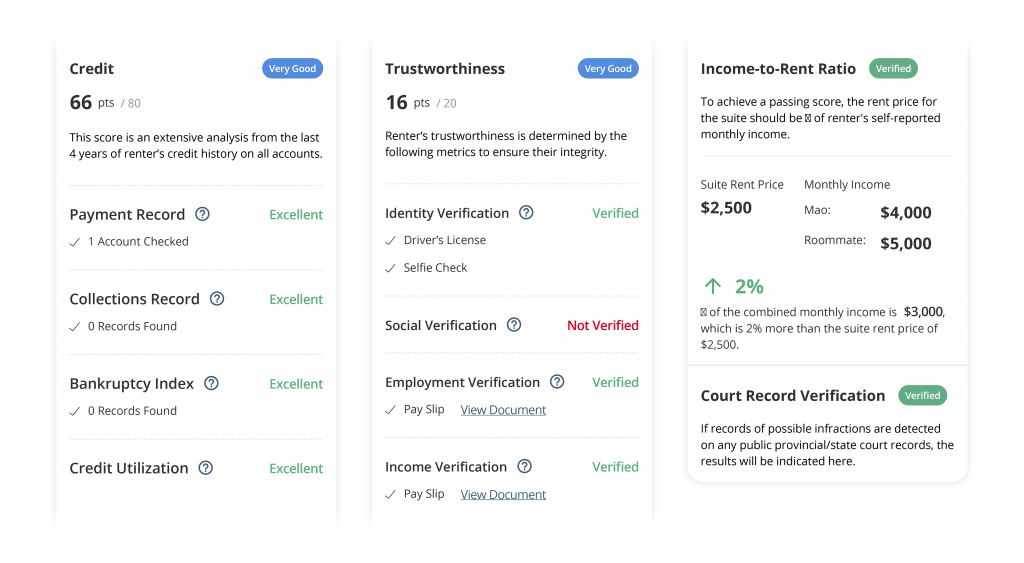 Being proactive about your tenant screening and ensuring you have a suitably robust process in place is key to avoiding troublesome tenants entirely. The Trust Score by liv.rent makes this easy, fast, and effective. This comprehensive scoring system analyzes and breaks down renters' key information including Equifax® credit checks, income & employment verification, and more to give you a complete picture of their rental and financial history. This easy-to-understand metric lets you compare applicants with ease and eliminates the guesswork so you can find high-quality renters every time.
Problem #4 – Ineffective listings & marketing
A lot of work goes into creating, posting and sharing the perfect listing, and it can be hard to take the time out of your busy schedule to worry about marketing. If you're not getting inquiries on your rental property though, it might be time to re-evaluate what information you're sharing in your listings. There are a number of details that can make your listing more attractive to renters, and including plenty of photos and videos will also help you stand out.
liv.rent solution:
Creating eye-catching listings that generate more renter leads is easy with liv.rent. Pre-filled listing templates let you create the perfect listing ad in less time, and plenty of customizable fields ensure you don't forget any key details tenants look for. Listings on liv.rent also have room for up to 20 of your most eye-catching photos, as well as Video Tours – including 3D Tours.
As an added step, be sure to verify your listings. Once you complete the verification process by either uploading property ownership documents or receiving & entering a verification code, your listing will appear with a checkmark icon next to it, indicating to renters that they can proceed with confidence.
Problem #5 – Expectations are too high
At the end of the day, there's no such thing as the perfect renter. If you're turning down applicants just because they don't align with your vision of the ideal tenant or have one missing detail on an otherwise flawless rental resume, it might be time to ease your expectations a bit.
This certainly doesn't mean settling for a renter you're unsure about. Finding a tenant with a solid rental and financial history is key, but there is such a thing as being too picky when it comes to choosing who you'll rent to. If an applicant doesn't have a perfect credit history but has glowing references from all of their past landlords and has provided proof of income, consider asking them for more information and give them a chance to explain – especially if your unit has been vacant for some time.
liv.rent solution:
Using the Trust Score by liv.rent, landlords can go beyond financial information and gain a more complete sense of an applicant's rental history, allowing you to make better-informed decisions when selecting tenants. Within the Trust Score, you can view employment and income verification documents, court records as well as a full credit check. By looking at renters' complete information, you won't miss out on what could be an excellent tenant just because they don't have a perfect credit score.
How liv.rent fills vacancies faster
With the right rental platform on your side, preventing and filling vacant units doesn't have to be hard, or even take much time. If you haven't already, consider making the switch to liv.rent if you're experiencing any of the problems described above.
Within this all-in-one rental platform, landlords can create attractive listings, share to Craigslist, Kijiji & Facebook Marketplace, screen prospective tenants with the Trust Score, and ultimately send & sign digital contracts and lease addendums. When all's said and done, the best way to prevent vacancies is to be prepared with a solid plan for finding quality, long-term tenants.
---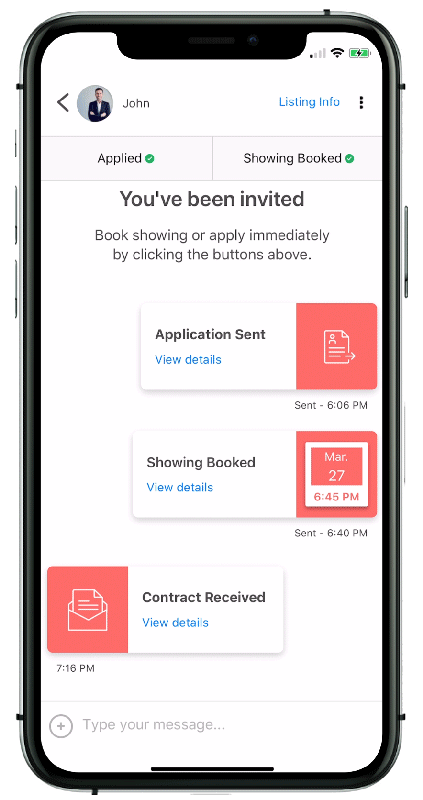 Rethink The Way You Rent
Not on liv.rent yet? Experience the ease of digital applications & contracts, verified tenants & landlords, virtual tours and more – all on one platform. Sign up for free or download the app.
Subscribe to receive the latest tenant & landlord tips and get notified about changes in the Canadian rental market.
>> Stay up-to-date on the average rent in Vancouver, Toronto and Montreal: Rent Reports.