Once you've taken the photos and written up your rental listing, everything should be good to go, right? Well, the most important part of your rental journey as a landlord is about to begin: the tenant screening process. Without a robust system in place, you could be leaving the door open to difficulties down the road. But what do you ask potential tenants to find out if they're a good fit? We're liv.rent, a solution for landlords of all sizes, and we created a quick guide full of questions to ask during tenant screening to help you save time, save energy, and find the best possible renter for your unit.
Table of Contents
Download The Ultimate Tenant Screening Guide
In order to pick the right tenant, you need to ask the right questions. Download the ultimate tenant screening guide, which contains 56 questions you can ask potential tenants at every stage from initial contact and application to showing and signing.

What do I ask a potential tenant?
Beyond knowing their basic information, there are important questions to ask during tenant screening that reveals more than what goes on their rental application.
Essentially, you want to know what they're like, what they're looking for, and why they're moving. Knowing these three pieces of information will help you determine if you're going to be a good fit together.
Pro tip: asking questions is a two-way street. You want your potential tenants to ask questions so that they feel confident that it's a good fit for them too. You want a happy tenant! Otherwise, you'll have to go through the whole process again soon.
There are three phases, or touchpoints, where you'll want to ask questions:
Initial contact when they first reach out and have not applied yet.
At a showing when you meet them for the first time and they're looking at the unit (either in-person or digitally.)
After they've applied but before they've signed the lease.

1. Questions to ask tenants before they apply
At this stage, you want to ask questions that will eliminate them from your pool of potential candidates as soon as possible if they're not a good fit.
What move-in date are you hoping for?
How many people will be living in the suite?
What do you do for work?
The price of the unit is $X, does that fit your budget?

2. What to ask tenants at a showing
At this stage, you want to be conversational but through with the questions you ask to determine if they're going to be a good fit for your unit, you want to ask some open-ended questions, get a sense of their personality, and see if they'll be easy for you to communicate with.
Why are you moving?
Why did you move out of your last place/why are you leaving?
How long have you lived at your current residence?
Why are you moving into this area/What attracts you to this neighbourhood?
How long have you been looking for a place?
Have you looked at other nearby rentals?
Do you have previous landlord references?
If I need to do a credit check, does that work for you? (get consent for a credit check if you plan to perform one)
Pro tip: If they're a student, be sure to ask how they will cover their rent — do they work part-time? do they have scholarships or bursaries? is their family providing financial assistance?
Questions to ask a tenant's references
Before you offer them a lease, you're going to want to check their previous landlord references if applicable.
First, verify the address & personal info of the renter.
How were they as a tenant?
Did they pay rent on time consistently, any issues?
Why are they moving?
Did you have any issues with them regarding noise, safety concerns, or damage to the suite?
Did any neighbouring units or buildings complain about the tenant at any point?
Will you be returning their security deposit back to them in full or did you need to use some to fix the damage?
Pro tip: In some cases, like renting to first-time renters, students, or newcomers, they may not have previous landlord references. In these cases, you can ask for supplemental employment and financial documentation. Also, you can request employment or personal references.

3. Questions to ask tenants before they sign the lease
Do you have a car/require parking?
Do you smoke?
Do you have (or plan to get) pets?
Do you have any final questions or questions about the lease?
Pro tip: If your unit is in a strata building, give them a list of the strata rules and ask if they're going to be able to follow those in addition to everything set out in the lease.
More about leases in Canada:

Professional property management tips from liv.rent
1. Use liv.rent as your rental hub and tell all your inquiries to apply through liv.rent before you schedule any viewings so that you're left with a pool of quality, high-intent renters.
2. Leverage the Trust Score in your tenant screening process — combining data from social media, reported employment and income information, and an Equifax credit report, the Trust Score is an intelligent rating system to see a renter's credibility at a glance.
3. Use a tool like the Landlord Dashboard to stay organized and keep all your rental documents in one place and easily compare applicants at the tail end of your tenant screening process.
---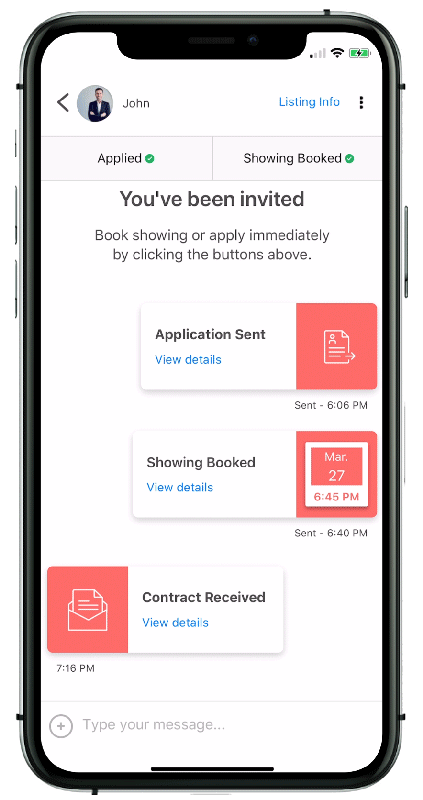 Rethink The Way You Rent
Not on liv.rent yet? Experience the ease of digital applications & contracts, verified tenants & landlords, virtual tours and more – all on one platform. Sign up for free or download the app.
Subscribe to receive the latest tenant & landlord tips and get notified about changes in the Canadian rental market.
>> Stay up-to-date on the average rent in Vancouver, Toronto and Montreal: Rent Reports.