An effective rental ad is a key part of finding quality tenants fast. The right listing will highlight key details of your unit in a way that piques renters' interest and encourages them to get in touch and apply. Many landlords underestimate the importance of creating attractive rental ads, and later wonder why they're not getting the number of leads they'd hoped for. In this step-by-step guide, we'll be walking you through the process of creating the perfect listing, using liv.rent as an example to show how the pre-filled listing template available within the platform makes posting engaging rental ads a breeze.
Post unlimited listings for free
Do you need to advertise multiple rental listings? Look no further. Post as many listings as you want on liv.rent – all for free.
How to write effective rental listing ads
Creating the perfect rental ad requires knowledge of your local housing market, your target demographic, and the unit itself. Once you have an idea of who your ideal renter is, it's easy to create a listing that appeals to their interests and needs as a tenant. Find what makes your unit unique, and market it accordingly. Of course – there are some essential details that need to be in every listing in order to give renters a sense of what you're offering and to clear up any misconceptions regarding policies, price, availability, and what the unit itself entails.
We're going to be breaking down how to create an attractive rental listing ad in 9 parts, focusing on the criteria landlords must include and how liv.rent simplifies this process and ensures consistently excellent rental ads every time. It's worth noting that though we'll be using liv.rent as an example, the information outlined here should be included regardless of where you choose to post your listing to.
If you just can't seem to find the right words to describe your rental property, or you simply don't have time to spend on writing a lengthy description, liv.rent's new Smart Description AI feature uses artificial intelligence to create a compelling description based on your listing's details. This feature is available to all landlords on the liv.rent platform, all you'll need to do is create a listing to get started.
1. Property type
Beginning with the obvious, landlords must make note of the type of property they're renting front and centre in their listing ad. Renters are generally looking for a specific type of space that meets their needs, so you can make their search easier by explaining the property type upfront. Mention whether your listing is for an apartment, house, or townhouse, as well as what part of this space you're renting out — whether that's the full apartment or a single room within a multi-bedroom unit.
On liv.rent, this is the first thing you'll see when posting a listing. Landlords can easily select their property type and the rental space available using the pre-set categories shown below.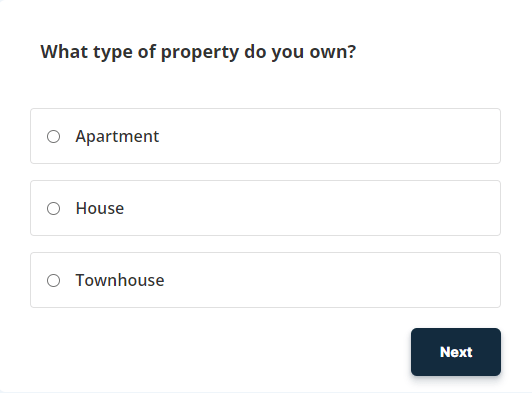 2. Location
Location, location, location. You've probably heard this many times, but lots of tenants choose to rent units based solely on where they're situated. Be sure to mention if your listing is close to any of the following:
University campuses
Transit stations
Primary/secondary schools
Restaurants/bars
Shopping
Grocery stores
Business district
Fitness facilities
…and anything else that may appeal to different types of renters. While most tenants can usually find this information by consulting a map of the area, landlords should always highlight nearby necessities right within the listing to get potential tenants' attention.
If you're using liv.rent to post your listing, you'll be able to easily select your building from the database and the platform will auto-fill your listing template with its address, postal code, and any pictures of the building that are available. Using the map view of your unit's location, renters can also see any nearby transit stations.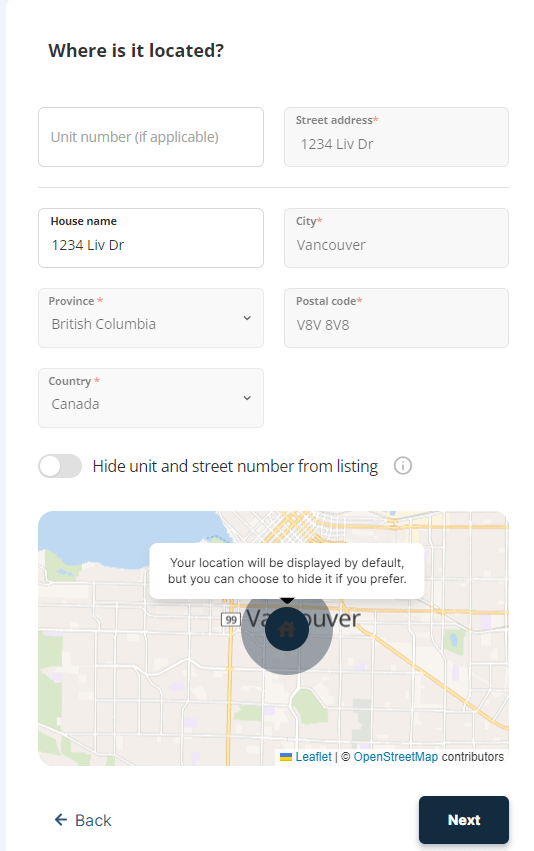 3. Unit Details
This is where you'll include specific details about the unit you're renting. Here are the key pieces of information tenants need to see on a listing:
Number of bedrooms/bathrooms
Square footage
Maximum Occupancy
Furnished/unfurnished
Pro-tip: this is also a great opportunity to include some quick pre-screening criteria to start filtering out unqualified or uninterested tenants from the outset. Make note of your pet policy and smoking rules here to save both you and the tenant from having to go over this later on in the rental process.
As you can see from the visual below, liv.rent provides fields for landlords to easily fill in their unit's key details – including pet/smoking policies.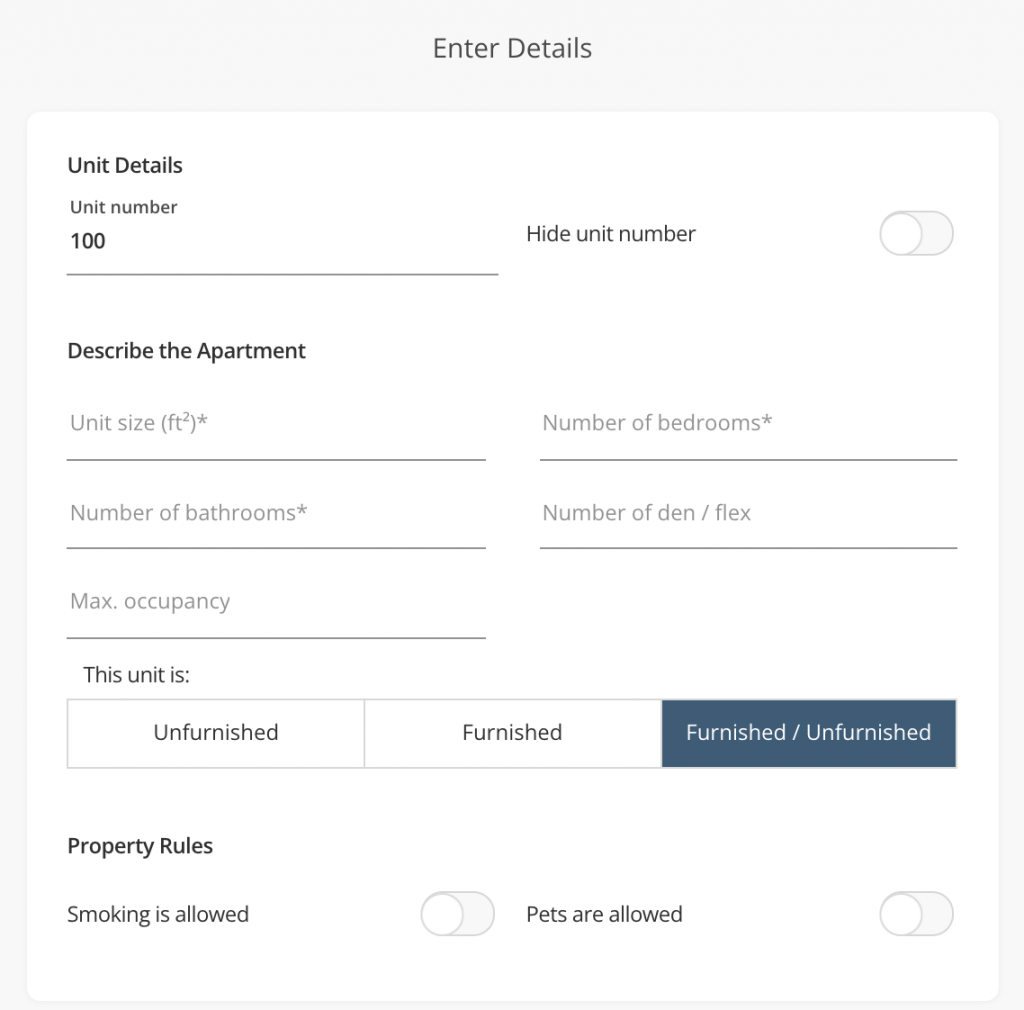 4. Lease terms
Renters also need to know upfront what is expected of them in terms of the financial and practical requirements of the lease. Your rental ad should clearly show the following information:
Rental price
Lease type (fixed term, month-to-month)
Minimum duration
Payment frequency (daily, weekly, monthly, one-time)
Availability date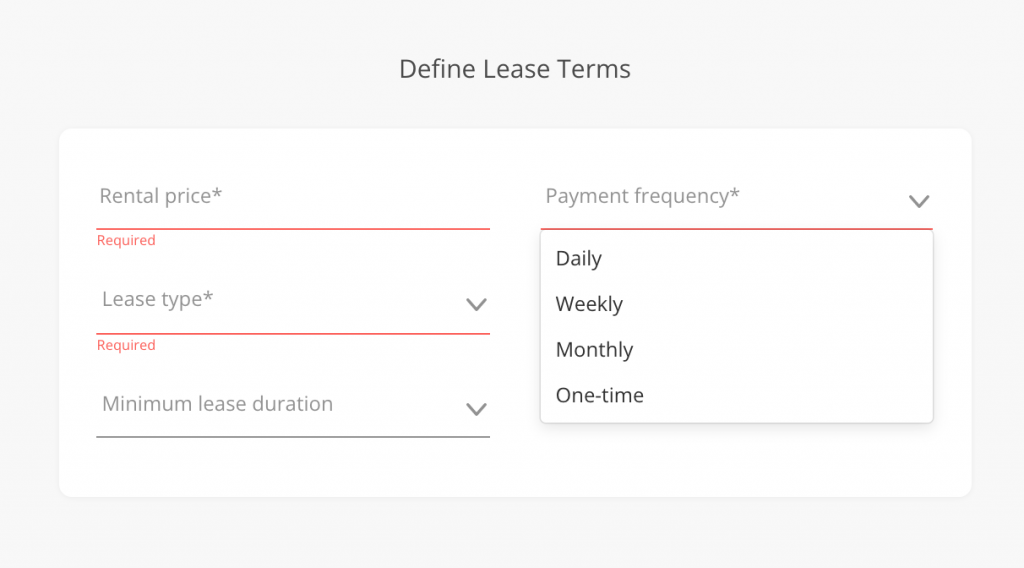 Is your rental priced competitively?
Find out with a free rent estimate. Our team of rental experts will calculate your unit's true value based on your listing details & current market trends.
5. Features
There are a variety of features that can make units more appealing to renters, and landlords would do well to highlight these within their listing. This includes everything from an in-suite washer/dryer, air conditioning, gas stoves, or even a common area or gym within an apartment building. In crowded rental markets, these additional features can help your listing stand out from the competition.
Making note of these features is easy on liv.rent, as landlords are provided with an extensive list where they can select anything included in their unit. Don't see something? You can also create a custom feature using the option provided.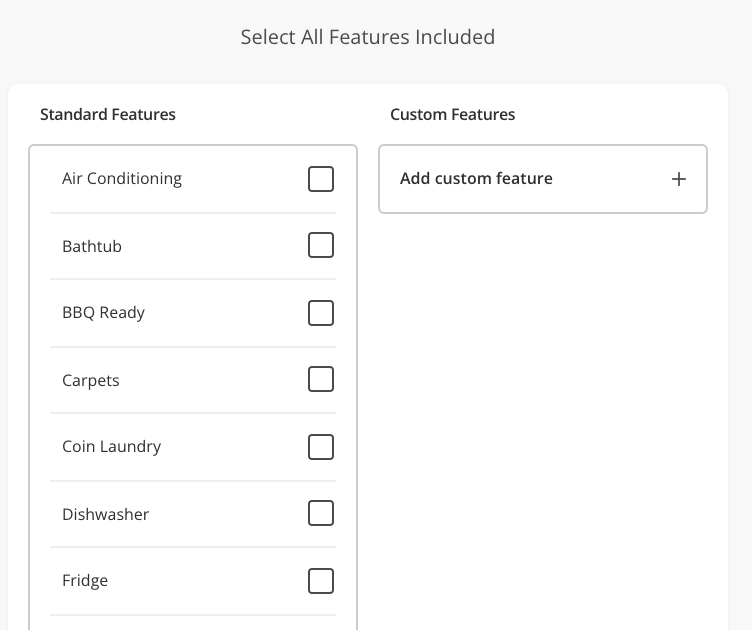 6. Utilities
Are you including any utilities in the price of the unit? Be sure to mention so within your listing and also make clear exactly which utilities tenants are responsible for to avoid confusion later on. While this isn't usually a deal-breaker for renters, it's important to give clients a better idea of whether or not your listing is within their budget by noting any additional costs.
On liv.rent, landlords can simply select the included utilities from the list of standard utilities, and can add any additional utilities using the custom utilities option.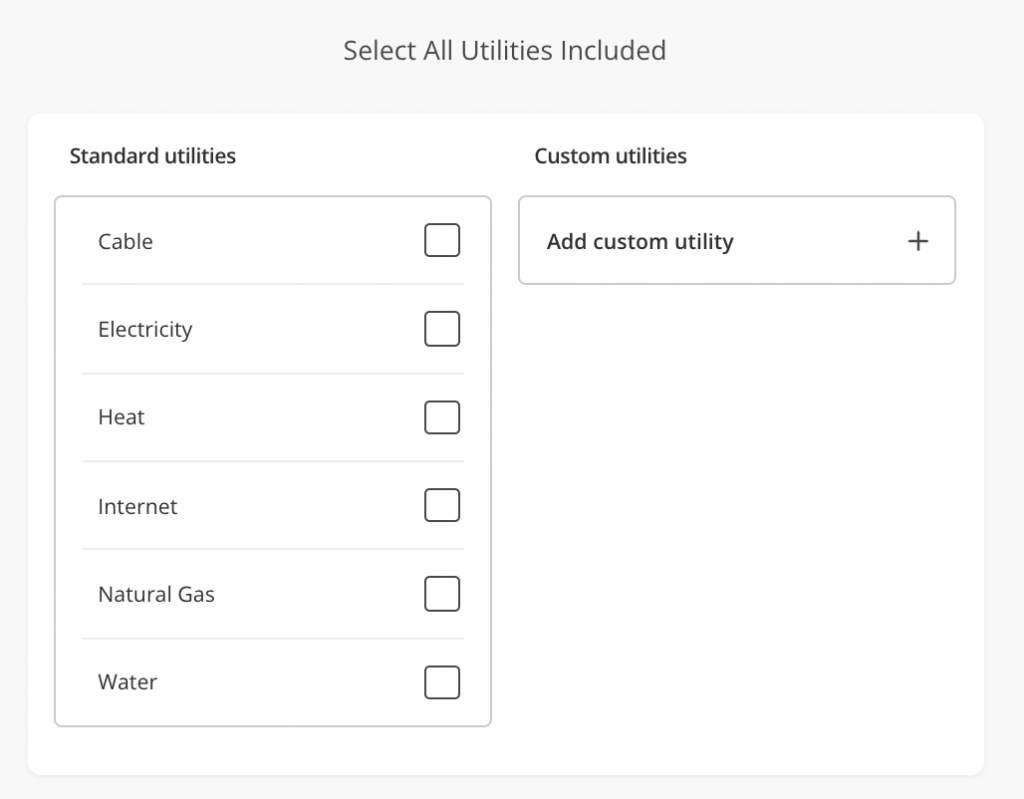 7. Parking and Storage
Parking and storage are two other concerns tenants want to be able to find out about within a rental ad. Your listing should make note of whether or not these features are available, extra costs associated with them, and a short description of the type of parking and/or storage available to tenants.
Within the liv.rent listing template, landlords are able to toggle whether or not storage and parking are available, and can describe specifics of the unit's policy and fees regarding each.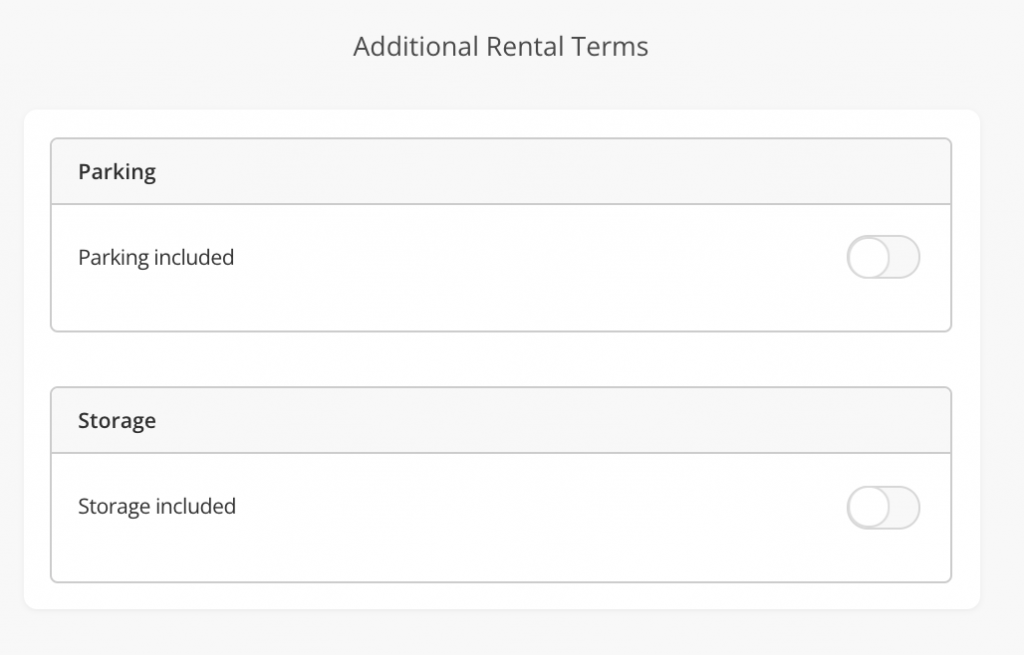 8. Photos
Every listing you post should contain quality photos of your rental unit. While a lot can be said in writing, photos are the most effective way for tenants to get a sense of the unit before they attend a showing. Before taking photos, de-clutter the space (if it's currently occupied), or if it's empty, take this opportunity to add a new coat of paint if necessary and make minor upgrades that help your property look its best. Include as many photos as possible showing key areas of the unit such as the kitchen, bedrooms, bathrooms, and shared spaces to give renters a clearer picture of the rental property.
On liv.rent, landlords can easily attach up to 20 photos of their rental property to provide tenants with a thorough visual overview of the unit.
Note: This is also where you can include a short description of your property, and highlight key details such as services and businesses close by, and anything else not mentioned directly in the liv.rent listing template.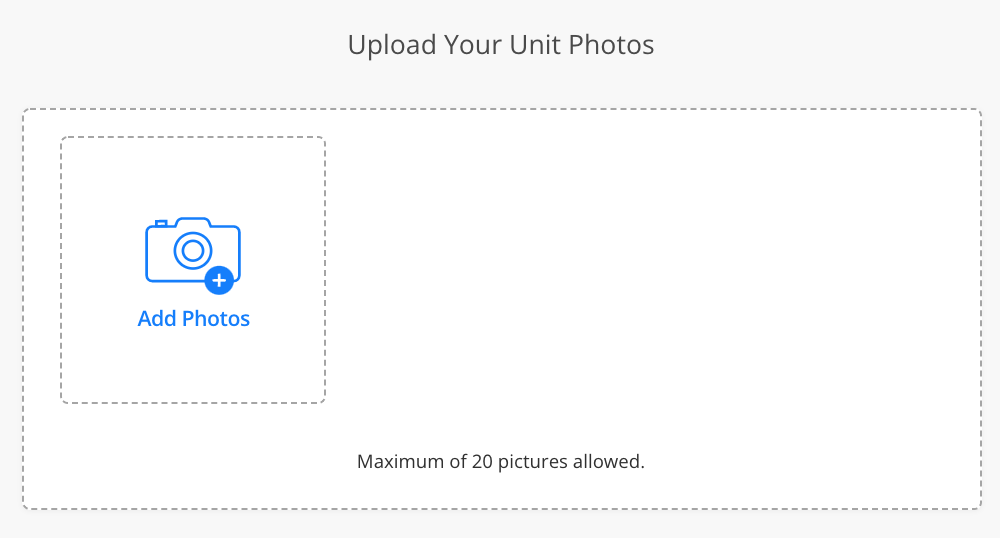 9. Videos
As listing sites continue to adapt to the modern needs of landlords and tenants, videos have become an invaluable part of a successful rental listing. While photos still suffice in giving renters a good idea of the space, videos add another level of detail that can help your listing stand out. Include a walk-through tour of the inside of a unit to give a better feel for the space, or provide a look at the exterior of the property.
Landlords have three options for including videos with their listing on liv.rent. You can choose to upload your own from your computer, link to a video hosted online, or even link to a 3D video to really give a comprehensive look into your rental unit.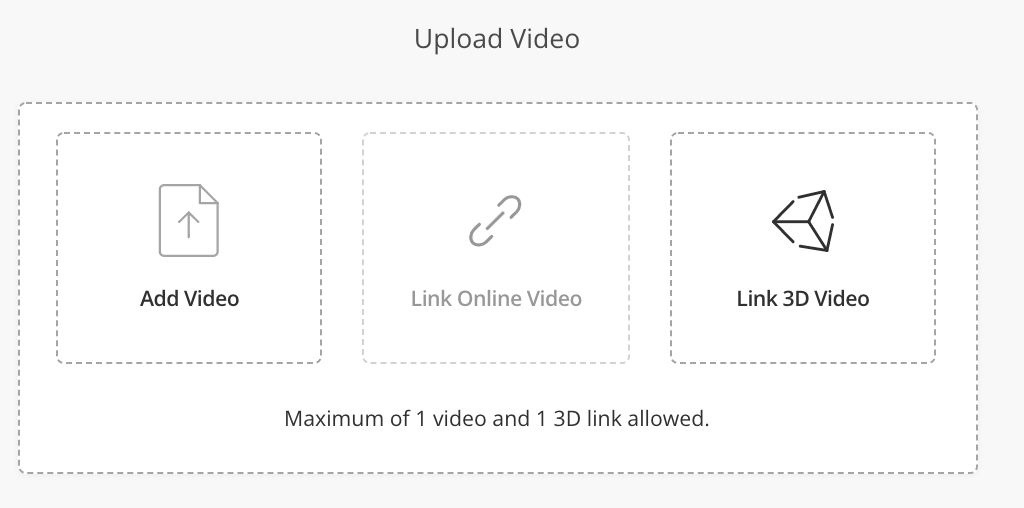 Frequently Asked Questions
What are the best rental listing sites to advertise on?
In another post, which you can read here, we compared the nine top listing sites in Canada, factoring in the areas in which they're predominately used, the features available, and the pricing structure for landlords and property managers.
Not surprisingly, liv.rent won best-in-show thanks to its ease-of-use, convenient listing sharing, built-in marketing tools, and instant tenant chat – among other vital features.
What should I NOT include in a rental ad?
While pre-screening criteria is a key component of a successful rental ad, landlords must be careful about what they ask for from renters. Each province has their own guidelines as to what landlords cannot ask for under Human Rights regulations.
Make sure to consult the following resources by province to make sure your listing's rental ad is in compliance with your local tenancy and Human Rights laws:
B.C.
Ontario
How do I make my rental ad stand out?
While the components above should help your listing to stand out in even the most crowded rental markets, there are a few extra steps landlords can take if they want to attract more quality renters.
Using the features on liv.rent, landlords can share their listings to multiple different sites, helping to capture a broader audience. As well, you can take advantage of the Featured Listings options available within the liv.rent platform to fill their rental faster.
---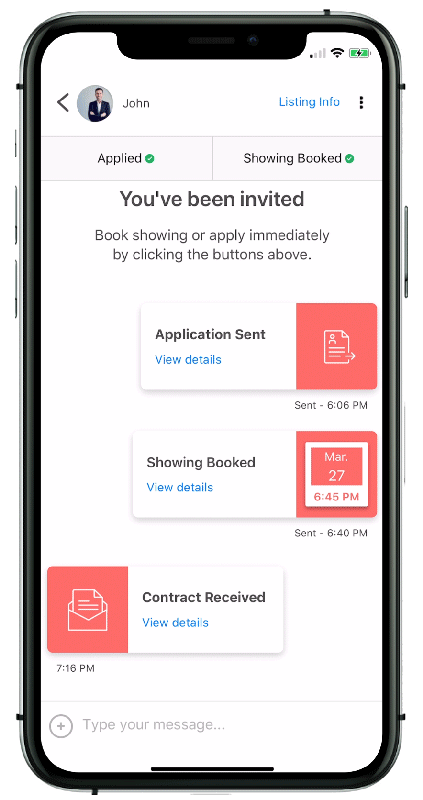 Rethink The Way You Rent
Not on liv.rent yet? Experience the ease of digital applications & contracts, verified tenants & landlords, virtual tours and more – all on one platform. Sign up for free or download the app.
Subscribe to receive the latest tenant & landlord tips and get notified about changes in the Canadian rental market.
>> Stay up-to-date on the average rent in Vancouver, Toronto and Montreal: Rent Reports.