The most effective way to generate the best return on your investment rental property is by increasing the rental value. especially in competitive rental markets like Vancouver.
Deciding where best to spend your money, however, is always a challenge. The fact is that certain renovations are more likely to reap better rewards than others. Here we've outlined 10 of the most effective ways to boost the rental value of your investment. Of course, the cost of renovations will vary greatly based on location, quality of products chosen and the cost of labour. Make sure you do your research, eliciting more than one quote on any given project.
Table of Contents
1. Paint
Average estimated cost to paint the interior of a 1 bed, 1 bath apartment: $180-$500+
Adding both exterior and interior paint removes years of wear and tear from a property making any space feel fresh and inviting. This is a comparatively small investment for a big impact.
To save extra dollars, considering purchasing your own paint and painting yourself!
Another option is to create an "accent wall" in your home by only painting select walls.
You can calculate an estimate of paint you will need using this online tool by Glidden.
2. Update bathroom and kitchen
Average cost for kitchen remodels: $75-$250 per square foot Average cost for bathroom remodels: $90-$150 per square foot
Simply painting or staining the wood of existing cabinets and drawers will easily help update the space
Replacing cabinet hardware and faucets are also an easy way to upgrade your bathroom and kitchen
If your budget allows, replacing outdated counter tops, adding a new vanity, re-tiling a shower or purchasing brand new cabinetry is a great way to boost the value of your rental
Not up for a complete remodel? No problem. Consider purchasing bathroom and kitchen accessories to add personality and accents. Some of our favourites include Oak + Fort Home, Homesense/Winners, and Ikea.
3. Replace carpets/flooring
Average cost for recarpeting: $1-$4 per square foot Average cost for hardwood flooring (including installation): $6-$15 per square foot
If carpets are stained and cleaning them is no longer effective, it may be time to tear them out and laying wood or laminate floors. In the end, they will last longer than new carpets and are easier to keep clean. Hardwood floors, specifically, make a huge difference to the value of your rental. Alternatively, there are also a lot of great vinyl tiling options that look just look wood but are more durable and require less maintenance.
If you have wood floors that are scratched and looking worse for wear, try sanding and re-staining them. This will immediately improve the appearance of your unit.
Another simple tip is to simply add a large rug on top of your hardwood floors that can be easily replaced every few years. This will instantly elevate your rental and add a touch of luxury.
4. Upgrade your appliances
Average cost for new appliances: $350-$2000 (depending on what you're upgrading)
If there is space, add an in-suite washer/dryer or upgrade existing ones to newer models. Data actually demonstrates that renters are willing to pay more for in-suite washer/dryer (See here for the data: 2018 Builder's Report).
If there is no dishwasher, add a dishwasher. This instantly adds value to your rental unit.
Consider buying a complete, new kitchen appliance package. Often it is more cost effective to buy a fridge, stove, and dishwasher as a set.
5. Update the layout
Modernize a space by opening it up. Consider removing a wall that segregates a kitchen or separates the dining from the living room. This will make the layout more functional and appealing to prospective tenants.
Play with different furniture arrangements in staged and furnished units.
Try adding décor to your listing. See our top tips for Decorating On A Budget.
6. Improve an outdoor space
The 2018 Builder's Report also determined that people will pay more for an inviting outdoor space. Some great ways to improve your outdoor space include:
Put down some outdoor tiles to instantly elevate your outdoor space. (We love the outdoor flooring tiles from Ikea)
Add greenery! Adding plants instantly livens up even the smallest balconies.
Keep in mind to choose materials that are durable as they will live outdoor.
7. Add a bedroom
If square footage allows, consider converting an existing room like a den, into a bedroom or creating a room from scratch. An extra bedroom will increase the monthly rent you can ask for significantly. Check out the latest Rental Stats to see what the difference is between 1 bedroom, 2 bedroom, and 3 bedroom listings across the Greater Vancouver Area.
Adding a pull-down bed is a great way to add an extra bedroom to a small space. Some even come with desk space and storage capabilities. Check out some great options from Costco here.
8. Upgrade fixtures
Both plumbing and lighting fixtures provide a great way for landlords to increase the value of their rental property without significant time or monetary investment.
Invest in good-quality lighting fixtures to illuminate darker spaces and add a polished look to any room.
Replace old taps and handles with higher-grade finishes such as oil-rubbed bronze or brushed nickel for a more refined look to your bathroom and kitchen.
9. Make your unit more energy-efficient
Average cost for energy-efficient devices: $50-600
Being able to mention energy-saving devices, heating, and lighting will be of to interest savvy tenants looking to save money on their monthly bills. Not only this, they can give you as the landlord a tax break every year. These upgrades don't have to be as significant as new dishwashers and refrigerators either. Here's a quick overview of some budget-friendly upgrades landlords can install to boost the long-term profitability of their rental investment:
Install a programmable thermostat if your unit doesn't already have one. This small feature allows tenants to turn the heat off when they're out and maintain it at a reasonable temperature.
Switch to energy-efficient lightbulbs throughout the space.
Caulk and seal old windows and doors to prevent heat from escaping.
10. Advertise
The simplest trick to boost the value of your property is to advertise it in a way that shows off its best features and appeals to the desires of renters. While it won't actually boost the price, knowing the rental value of your unit and advertising it in a way that justifies your price will ensure more interested tenants.
Highlight key features that renters look for, including in-suite washer/dryer, gas stoves, and any upgrades from this list.
Be sure to mention proximity to transit/amenities, such as schools, recreation centers, shopping, etc.
Tips for improving the rental value of your investment
When deciding how much to invest in improvements, consider the 3 governing principles of your investment:
Maximizing rent
Minimizing operating expenses
Increasing the resale value
With these in mind, avoid investing in a property that needs a complete overhaul. Large scale renovations are costly and keep the property from generating income for some time. It is best to buy something that only needs cosmetic improvements.
Also, consider limiting the use of luxury materials. As attractive as they may be, you may not get the return you expected. If you are charging $1000 over competitive rentals in order to pay for the new marble bathroom, attracting a tenant willing to pay this much over market value may prove challenging. Focus on attractive, DURABLE, materials that will endure and resist the wear and tear from renters.
---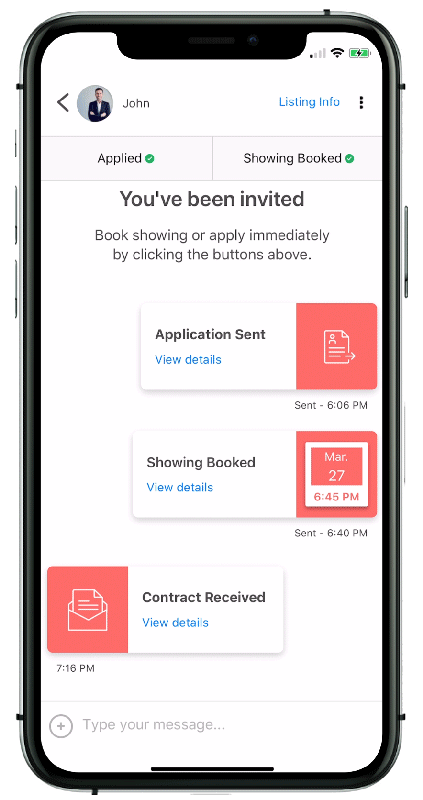 Rethink The Way You Rent
Not on liv.rent yet? Experience the ease of digital applications & contracts, verified tenants & landlords, virtual tours and more – all on one platform. Sign up for free or download the app.
Subscribe to receive the latest tenant & landlord tips and get notified about changes in the Canadian rental market.
>> Stay up-to-date on the average rent in Vancouver, Toronto and Montreal: Rent Reports.