To avoid dealing with bad tenants, the best option is to avoid the situation in the first place. Too often landlords make the mistake of accepting unsuitable tenants in a moment of desperation. Of course, losing one or two month's rent isn't ideal for cash flow, but a bad tenant can prove far more costly, creating serious headaches, causing expensive damage, or, in the worst cases, a 'professional tenant' might avoid paying up to 6 month's worth of rent.
Table of Contents
Join Our Newsletter
For more info on rental laws and policies (e.g. eviction, lease agreements, repairs & maintenance), subscribe to get the latest news.
What is a professional tenant?
Though it sounds like a potentially good renter, it is actually the polar opposite. A professional tenant is a con artist who takes advantage of loopholes in the residential tenancy act to avoid paying rent. They have in-depth knowledge of the eviction process and stave off their eviction by getting involved in legal proceedings, thus, delaying their move and maintaining an (unpaid) roof over their heads for as long as possible.
Pro-tip: At liv.rent, tenants have to undergo a verification process. This involves uploading a government-issued ID, which is then cross-referenced with their credit report and other supporting documentations to generate a Trust Score — a rating that evaluates the tenant's credibility and trustworthiness.
Common ways bad or professional tenants can hurt landlords
Professional tenants and even just plain bad ones can quickly turn a landlord's passive income stream into a waking nightmare. Even if you manage to evict unsavoury renters in a timely manner, they're likely to leave behind a wake of trouble that can cause financial and emotional damage long beyond the end of their tenancy. Let's take a quick look at some of the ways bad or professional tenants can impact landlords:
Months of unpaid rent
Damage to your property
Eviction costs (court, bailiff, etc.)
Cost of an attorney/other legal help
Countless hours spent worrying
Sound like something you want to experience for yourself? Probably not. As the old adage goes, the best defence is a good offence. If you want to avoid these issues or at least mitigate them, read on for our guide on how to recognize, counter, and if it comes down to it, evict problematic or professional tenants.
Download The Ultimate Tenant Screening Guide
In order to pick the right tenant, you need to ask the right questions. Download the ultimate tenant screening guide, which contains 56 questions you can ask potential tenants at every stage from initial contact and application to showing and signing.
How do you spot a bad or professional tenant?
To avoid ever dealing with a bad or professional tenant, make sure you've established and are closely following a robust screening process. The best way to protect yourself against problematic renters is to ask the right questions, and ask lots of them. The worst tenants can often appear as the perfect candidate, presenting themselves well and turning on the charm when they need to in hopes that the landlord will let their guard down and skip on doing their due diligence. Carry out background checks and call any references listed to get a better sense of who your future renter is.
Be warned though, many professional tenants go so far as to apply using a false identity providing someone else's name and address on the lease application (which is the minimum requirement to do a credit history check). Unfortunately, this makes it almost impossible for a landlord to take the tenant to small claims court even when an eviction is successful. With fake information, court orders and charges will never land on the real con artist. As a landlord, you are within your rights to ask for identification to verify a tenant is who they say they are, so be sure to ask for a government-issued photo ID.
How to get rid of bad or professional tenants
Evicting a tenant shouldn't be taken lightly, but sometimes the situation calls for it. If you suspect or have evidence that a professional tenant has taken up residence in your property, it's time to take action. Let's look at when and how landlords can evict tenants.
When can you evict tenants?
Professional tenants aren't the only kind of bad tenants out there. Even ordinary tenants may make a mess of the property, miss rent, throw too many parties, or constantly disturb their neighbours. Needless to say, these are all things you're looking to avoid as a landlord and you should take action if any of them arise.
Reasons to evict tenants in BC
Missed rent or utility payment (10-day notice) — Regardless of whether they are short the full amount or a single dollar, you can issue a 10-day Eviction Notice for any missed rent or utility payment. If the tenant doesn't challenge within five days of receiving notice, they will be expected to move out by the tenth day.
Disturbance, damage, illegal activity, etc. (30-day notice) — For most other reasons, including breaching a serious term of your lease and ignoring warnings, too many occupants in the unit, causing danger to yourself or other occupants, and multiple late rent payments, a 30-day notice to end tenancy is the standard. The tenant must then dispute this notice within 10 days of receiving it. A complete list of reasons for evictions can be found in Section 47 of the Residential Tenancy Act (RTA).
Landlord's use of property (2-month notice) — If your home has been sold or you or a close family member wishes to occupy the unit, you must issue a two month notice to end tenancy.
Major renovations/Demolition (4-month notice) — For any major renovations including demolishing the property, landlords must issue their tenant a four-month notice.
Reasons to evict Tenants in Ontario
Ontario has a number of additional types of notices required for terminating a tenancy. Let's take a look at some of the most important for getting rid of bad tenants:
N4 – Notice to End a Tenancy Early for Non-payment of Rent — This cannot take effect less than 14 days after the notice was issued for yearly or month-to-month leases, and tenants still have this period to pay any missing rent. After this, the landlord must apply to the Landlord and Tenant Board for an eviction notice.
N5 – Notice to End Tenancy for Interfering with Others, Damage, or Overcrowding — The tenant still has seven days to correct their behaviour, at which point the landlord can apply for an eviction notice. The termination date must be at least 20 days from when the notice was issued if this was the first such offense.
N6 – Notice to Terminate a Tenancy Early: Illegal Act or Misrepresentation of Income — If a tenant is believed to be falsifying their income for the sake of receiving subsidized housing, etc., then a landlord may file for this notice.
N7 – Notice to End your Tenancy For Causing Serious Problems in the Rental Unit or Residential Complex — This one's pretty self-explanatory. A landlord may seek an eviction notice from the board one day after the termination date specified in the written notice.
How can I evict a tenant
The eviction process can vary depending on what province you're renting in. Here, we'll break down the step-by-step actions you'll need to take in both BC and Ontario to give landlords an overview of what eviction might look like for them. Remember that regardless of the severity, landlords can't carry out evictions on their own. Don't change any locks, shut off utilities, or prevent the tenant access to the property by other means or you risk going to jail. For more even more detailed information on how to evict tenants, refer to our article here.
How to evict a tenant in BC
Serve the tenant with a copy of a Residential Tenancy Branch (RTB) Order of Possession.
Take the Order of Possession to the BC Supreme Court and obtain a Writ of Possession.
Use the Writ of Possession to hire a court-approved bailiff.
Overholding: If tenant stays past the move-out date listed on an eviction notice or Order of Possession, you will be owed additional rent money. If you hire a court-approved bailiff to remove tenant and their belongings from the rental unit, tenant can be held responsible for at least some of the associated costs.
Role of the police: The police do not have the authority to evict tenants on their own. However, a court-approved bailiff may ask them to attend an eviction to keep the peace while a tenant is being removed.
How to evict a tenant in Ontario
Give the tenant a written notice stating that you want them to move out. You must use the official notice granted by the Landlord and Tenant Board.
If the tenant doesn't fix their behaviour or move out, file an application to the Board to end the tenancy. This application must be made within 30 days of the termination date specified in the official notice.
The Board will schedule a hearing to rule on your application. Both landlord and tenant will receive a Notice of Hearing along with a copy of the application.
A Board member will decide whether or not the tenant should be evicted and both landlord and tenant will be notified of their decision in writing.
If the tenant remains on the property past the termination date, the landlord must file a copy of the Board order with the Sheriff's office to have the order enforced and the tenant removed from the property. You cannot remove the tenant or their belongings on their own.
Other ways to get rid of bad tenants
While you should always follow the procedures outlined above to evict a tenant, the most stubborn renters can sometimes warrant a more creative approach. There are plenty of ways to send bad tenants packing if they're causing trouble and refuse to play by the rules. Let's look at a few:
Plan a major renovation — If your property already needs a substantial upgrade, this is the time to do it. Though you need to give the proper notice and keep things above board, most tenants won't bother to dispute a significant renovation.
Provide evidence of illegal activity — Be sure to document any evidence you have of illegal activity on your property to ensure you have a solid case.
Exchange cash for keys — If it really comes down to it, you may need to offer your tenant cash in exchange for their signing a Mutual Agreement To End Tenancy. This method is particularly effective with professional tenants, and can still save you money as opposed to hiring lawyers and carrying on a months long dispute.
Raise the rent — Unfortunately, this won't be as effective in provinces that have a maximum allowable rent increase, but even then it can be enough to deter tenants from renewing their lease when it comes time.
---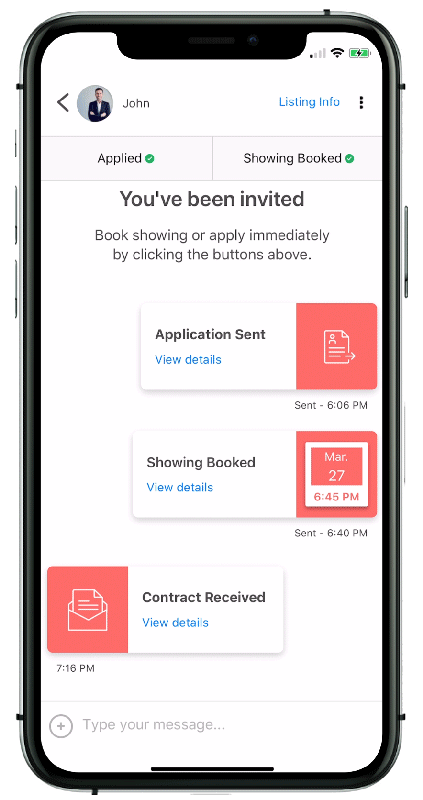 Rethink The Way You Rent
Not on liv.rent yet? Experience the ease of digital applications & contracts, verified tenants & landlords, virtual tours and more – all on one platform. Sign up for free or download the app.
Subscribe to receive the latest tenant & landlord tips and get notified about changes in the Canadian rental market.
>> Stay up-to-date on the average rent in Vancouver, Toronto and Montreal: Rent Reports.