Finding and securing a rental in Canada's biggest cities is always a challenge. And if you're planning on moving from one province to another, things can get even more confusing as the laws governing residential tenancies vary from province to province and even from year to year as civic and provincial governments change.
So how does rent work in Canada? In this post, we'll be providing a provincial comparison of British Columbia, Alberta, Ontario and Quebec in terms of the following key rental topics: Rental Deposits, Credit Score Requirements, Finding Rentals, Rental Documents, Rent Increase, Payment Rules, and Lease Renewals.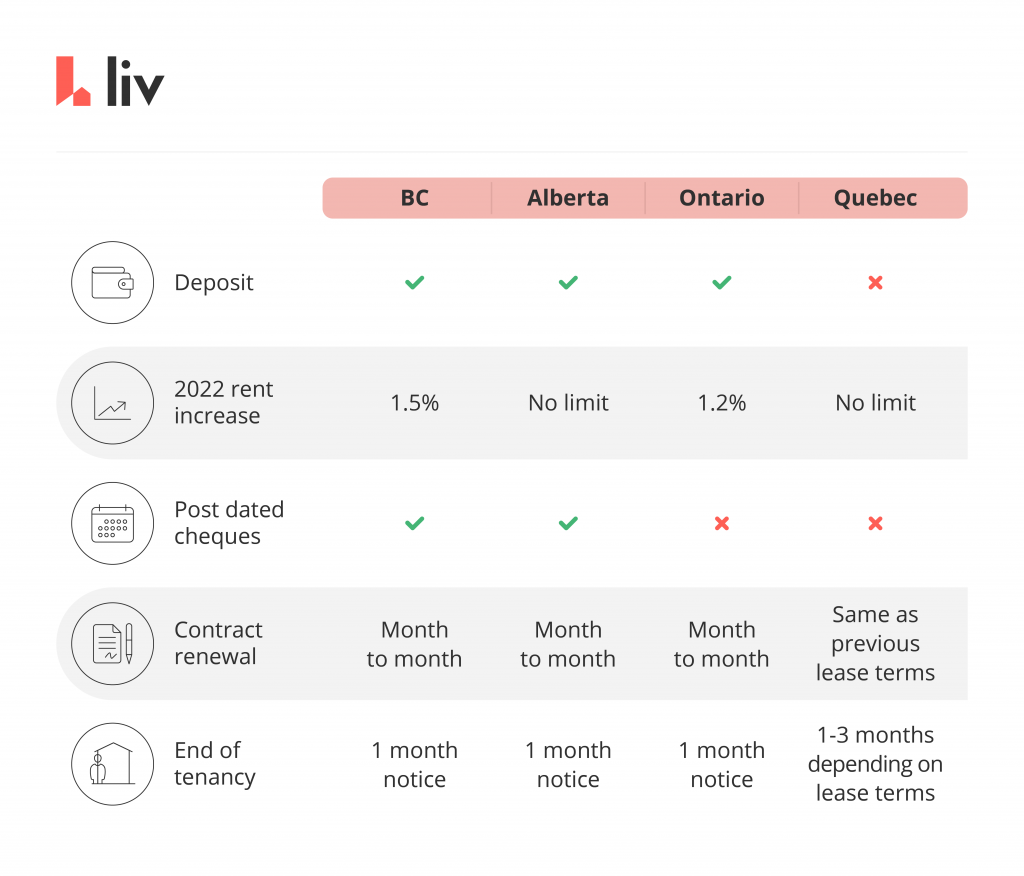 Note: Ontario's Landlord and Tenant Board has announced a maximum allowable rent increase of 2.5% for 2023. B.C. is expected to announce the province's maximum rent increase in September – this graphic will be updated to include that information then.
Table of Contents
Rent your perfect home with liv.rent
Search houses, rooms, condos and apartments for rent. Chat instantly with verified landlords. Apply to multiple listings. Save your chat history & signed documents all on one platform.
Before pursuing a rental property, it's important to familiarize yourself with the pertinent rules and conditions governing rentals. This will protect you from unscrupulous landlords who may be tempted to take advantage of a naïve or ill-informed tenant or a newcomer to Canada who might not be familiar with the country's rental practices.
Before you submit a tenancy application anywhere in Canada, be sure to arm yourself with the knowledge you need to navigate the rental process. Gaining a basic understanding of residential tenancy laws and guidelines will position you for success in your rental journey and ensure you're able to negotiate your lease terms effectively.
How do I find a place to rent in Canada?
Canada
–liv.rent (currently available in Vancouver, Toronto, and Montreal)
–PadMapper
–Rentals.ca
–Zillow
–RentSeeker

Pro-tip: You can use liv.rent to connect with verified listings and trusted landlords, taking the guess-work out of the rental search process and helping you find the perfect home faster.




What credit score do you need to rent in Canada?

Regardless of province, there is a general range of credit scores that are considered acceptable by landlords in Canada. This may vary slightly in cities with more competitive rental markets, such as Vancouver and Toronto. Generally, though, a credit score over 670 is considered a good indication of an acceptable financial history. If you're new to Canada or don't yet have a credit history, or if your credit score is less than this — don't panic.

Keep in mind that credit scores aren't the only indicator landlords use to screen tenants, and it's worthwhile explaining why you either don't have a credit score, or why it may be below this range.

Here's a quick breakdown of how credit scores are generally viewed in Canada:

Under 580 — Poor
580 to 669 — Fair
670 to 739 — Good
740 to 799 — Very Good
800+ — Excellent




What documents do I need to rent an apartment?

No matter where you choose to rent in Canada, landlords will ask you for similar information and documents. These mainly comprise evidence demonstrating that you are who you say you are, you have a good rental history, and will be able to consistently pay rent on time. All of this will usually be included in or with your rental application so the landlord can determine whether you're a good fit. The other, most important document that renters need to rent is their Lease Agreement. The specific format of this varies by province, but it's the legally-binding document that makes your tenancy official.

Here are some of the other documents Canadian renters may be asked to submit for their tenancy:

Basic information — Contact info, employment, current address, etc.
Income verification/Credit check — Bank statements, pay-stubs, or a completed credit check
References — Personal, employment, or past landlords




How do rental deposits work in Canada?

BC
– Security Deposit can be collected.
– No more than ½ month's rent.
– A landlord may also request a pet damage deposit at the start of a tenancy or during a tenancy if a tenant gets a pet with the landlord's permission. The deposit must not exceed ½ of one month's rent, regardless.
AB
– Landlord can request a security deposit.
– Amount can vary but not more than 1 month's rent.
– There are no laws defining whether or not landlords can charge special pet deposits, but the total deposit required by landlords cannot exceed one month's rent so any pet deposit should be included in the total amount, with specific conditions indicating how much will be used to cover pet damage.
ON
-Landlord can request a rent deposit.
– It can't be used as damage deposit.
– It must not exceed one month's rent.
– Landlords can not ask for a pet deposit but can accept one if offered by tenant.
QC
– Landlords are not permitted to collect a deposit of any kind (including pet deposits).




How much is the rent increase for 2022

BC
– 1.5% for 2022
– Increases are only allowed once in a 12 month period.
– 3 months notice of rent increase must be provided
AB
– There is no limit on how much a landlord can increase the rent
– Increases can only happen once a year and only after tenant has lived in a space for 12 months.
– 3 months notice of rent increase must be provided for monthly leases, 90 days for periodic leases (monthly).
– The notice of increase in rent must indicate the date on which the increase is to be effective and must be dated and signed by the landlord.
ON
– 1.2% for 2022
– Increase only allowed once in 12 month period
– Landlord must provide tenant with a 90-day written notice of rent increase.
QC
– Quebec's Rental Board provides rent increase guidelines annually.
– There is no limit on the amount the landlord can increase the rent but the tenant must agree that the increase is reasonable.
– Tenants have the right to refuse an increase and must notify the landlord within one month of receiving the lease modification notification.




How is rent paid in Canada?

BC
– Cash, cheque, money order, e-transfer.
– Landlord can request post-dated cheques for the duration of the lease term (i.e. 12 month's worth for a year lease)
AB
– Cash, cheque, money order, e-transfer
– Landlord can request post-dated cheques for the duration of the lease term (i.e. 12 month's worth for a year lease)
ON
– Cash, cheque, money order, e-transfer.
– Landlord cannot require tenant provide post- dated cheques or permit automatic debiting of the tenant's account
QC
– Cash, cheque, money order, e-transfer.
– Landlord is not permitted to collect any amount of money from a tenant that exceeds 1 month's rent.




How do lease renewals work in Canada?

BC
– If there is no discussion, the lease will automatically renew on a month to month basis even if previous lease was a one-year fixed term lease
– Landlord cannot force tenant to sign another year lease nor can they kick them out without proper notice (2 months in regular circumstance or 4 months for the purpose of renovation or major repairs).
AB
– Landlord assumes you will move out at the end of the lease so does not have to provide the tenant with any kind of written termination notice.
– Tenants should check their lease to see if they are required to provide notice if they plan to move out.
– At least one month before the lease ends, landlord should discuss whether the tenant wants to stay. If yes, a new lease needs to be signedbetween the landlord and tenant.
– The landlord does not have to agree to a new lease in which case tenant must move out by the original lease end date.
ON
– If there is no discussion, the lease will automatically renew on a month to month basis even if previous lease was a one-year fixed term lease
– Landlord cannot force tenant to sign another year lease nor can they kick them out without proper notice (2 months in regular circumstance or 4 months for the purpose of renovation or major repairs).
QC
– If tenant does not provide landlord with 1 month notice before end of lease term, the lease will be renewed automatically following the exact terms and conditions of previous lease.
– For example, with a one year lease, a tenant who fails to notify landlord will have to sign another one year lease. This differs from other provinces where tenancy arrangement continues on a month to month basis regardless of previous agreement terms.




Rental Resources

As you can see from the information here, rental rules and regulations vary significantly by province. To help renters navigate their rental process safely and easily, liv.rent offers a variety of Renter Resources that break down the rental journey from start to finish.

---




Rethink The Way You Rent

Not on liv.rent yet? Experience the ease of digital applications & contracts, verified tenants & landlords, virtual tours and more – all on one platform. Sign up for free or download the app.

Subscribe to receive the latest tenant & landlord tips and get notified about changes in the Canadian rental market.

>> Stay up-to-date on the average rent in Vancouver, Toronto and Montreal: Rent Reports