As a landlord in B.C., you have to know a number of different tenancy forms to effectively manage and operate your rental properties. Thankfully, the province has provided clear guidelines for practically every stage of the rental process, and codified these in the form of tenancy forms. In this post, we're going to look at the types of tenancy forms you'll encounter in B.C. and show you how to manage them online or in the liv.rent app.
Table of Contents
Join Our Newsletter
For more info on rental laws and policies (e.g. eviction, lease agreements, repairs & maintenance), subscribe to get the latest news.
What are tenancy forms?
Tenancy forms refer to all official documentation exchanged during a tenancy arrangement between a landlord or property manager and their tenants.
What are the different tenancy forms in BC?
1. Residential Tenancy Agreement
The Residential Tenancy Agreement is the most important document for landlords and tenants in BC. It serves as the legally binding contract between a landlord and a tenant as well as outlining the terms of the tenancy. It is a mandatory contract that is signed by both landlord and tenant and typically includes specifics like duration of the rental, rental rate, payment terms, restrictions (i.e. pets, subletting, etc.). The landlord must give the tenant a copy of the signed and dated tenancy agreement within 21 days of signing.
2. Ending your tenancy agreement
A tenancy can end for a variety of reasons. As a result, the BC government has 6 separate forms to address the different circumstances surrounding the end of a tenancy agreement when initiated by the landlord:
1. 10 Day Notice to End Tenancy for Unpaid Rent or Utilities – This can be served to tenants who do not pay the full rent or utilities when they are due.
2. One Month Notice to End Tenancy – This is applicable when the tenant has missed rent payments, caused damage to the property, disrupted the neighbourhood/other tenants, provided false information or sublet the unit unlawfully.
3. Two Month Notice to End Tenancy – This applies when the landlord or close family member intends to move into the unit or the property is sold to a new owner who will live in the unit.
4. Four Month Notice to End Tenancy – This applies to demolition, renovation, or conversion of the rental unit to another use. This lengthier notice is required to be provided when construction plans dictate.
5. Mutual Agreement to End a Tenancy – This is used when the landlord and tenant mutually agree to end a tenancy.
6. Proof of Service Notice to End Tenancy and Written Demand to Pay Utilities – This notice is served prior to the 10-day notice giving tenants an opportunity to settle their utility accounts if they have fallen into arrears. It is a written demand to pay for utilities.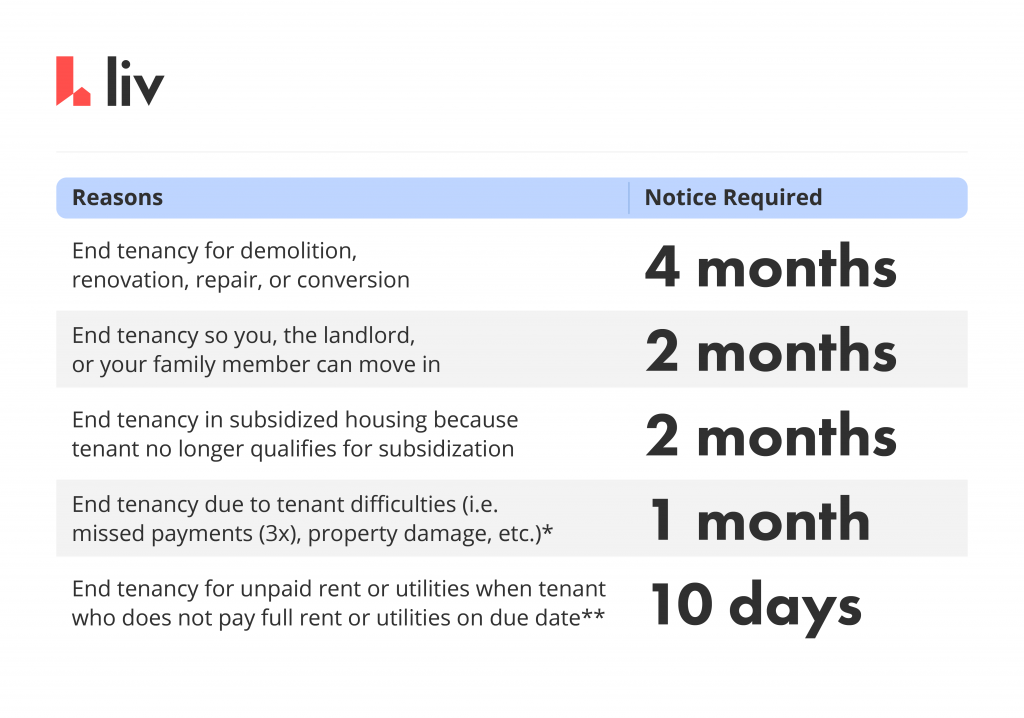 3. Dispute resolution
For landlords, there are four Dispute Resolution forms they can use:
1. Landlord Application for Dispute Resolution – Current Tenancy – used when tenants are currently living in a unit and a residential tenancy dispute must be resolved.
2. Landlord Application for Dispute Resolution_- Past Tenancy – employed when the tenants are no longer living in the unit but a dispute resolution regarding their past tenancy is required.
3. Landlord Application for Dispute Resolution – Expedited Hearing – if the landlord requires an expedited hearing for an emergency matter, this is the form that must be completed and submitted.
4. Landlord Application for Dispute Resolution – Other – for extreme circumstances when the landlord is applying for possession of a rental unit because it has become uninhabitable or for an issue not found on the Landlord's Application for Dispute Resolution. This form must be accompanied by an Application for Dispute Resolution.
4. Condition Inspection Report
When a new tenant moves into a rental property, the landlord is obligated to walk through the unit with the tenant, reviewing all the items listed on the Condition Inspection Report and making note of items that aren't functioning properly or any pre-existing damage. All issues should be recorded in the Condition Inspection Report document. This protects both the landlord and tenant from unfounded allegations of damage. Landlords should commit to addressing any issues; this will help ensure a successful landlord/tenant relationship.
5. Notice of Rent Increase
Every 12 months landlords may issue a Notice of Rent increase to an existing tenant.
They must provide three month's notice.
They may only raise the rent 12 months after the date existing rent was established with tenants or after the last legal rent increase.
However, due to COVID-19 and a subsequent rent increase freeze, you'll want to double-check with the latest provincial rules on rent increases.
There's also a maximum allowable rent increase set out by the province: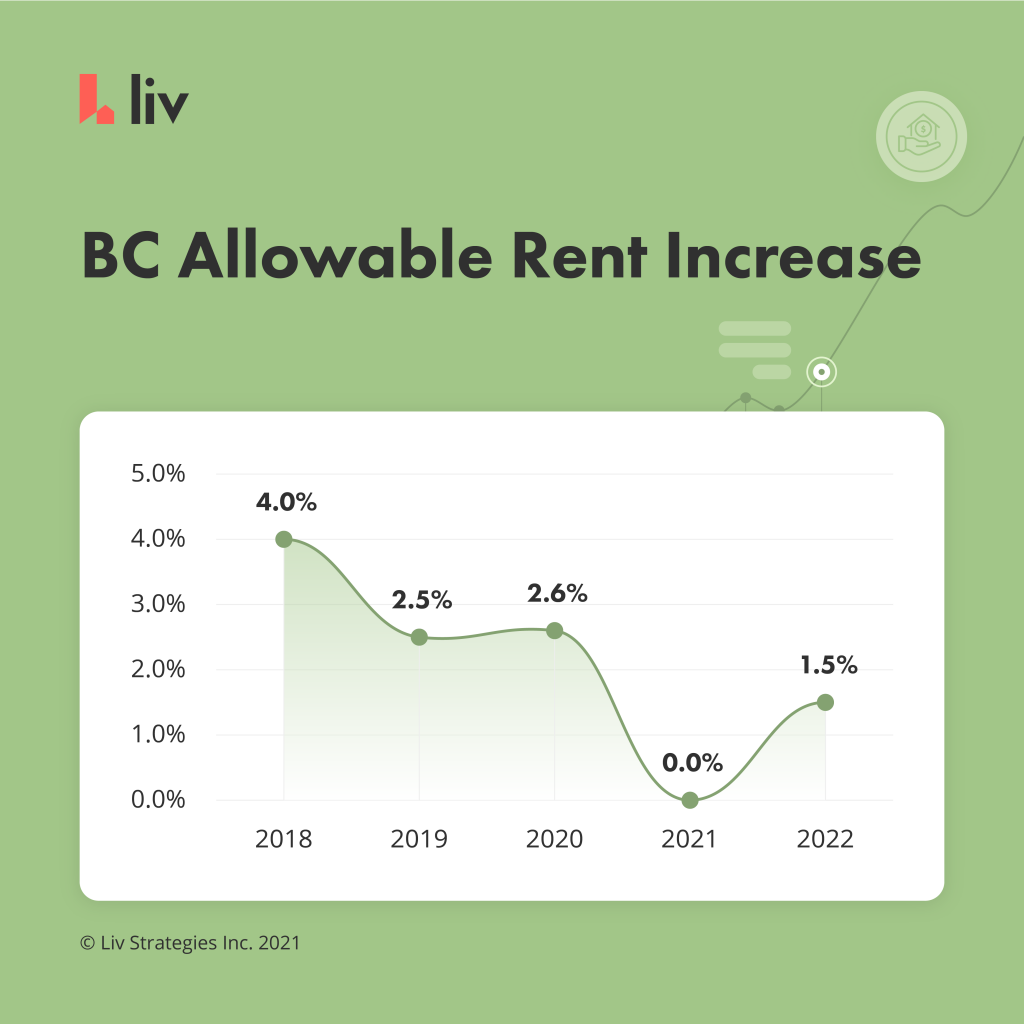 Managing tenancy forms digitally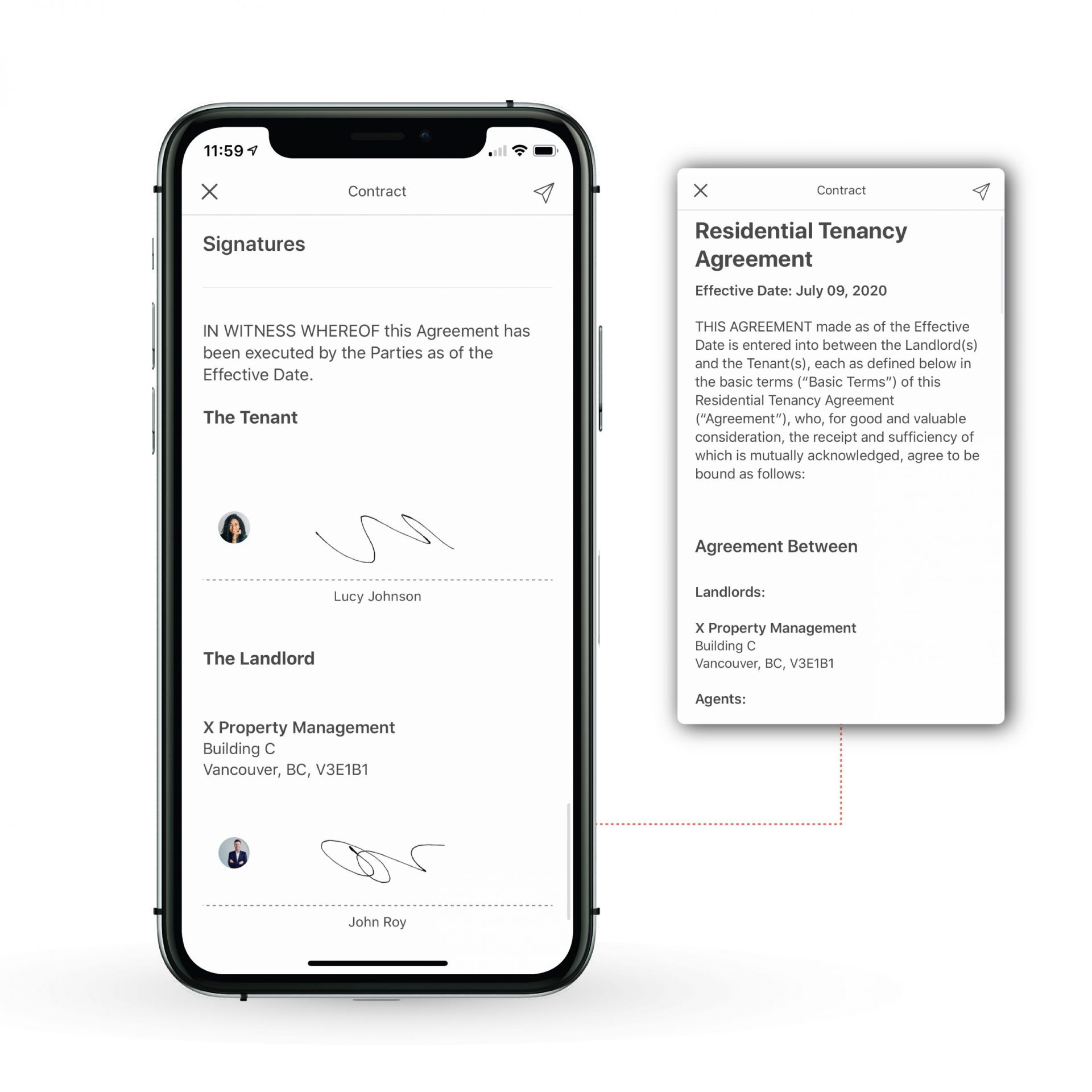 Why you should go digital?
Keeping these crucial documents up-to-date, accurate, safe and readily available is imperative to protecting yourself and your tenant. With liv.rent, you have instant access to standard BC tenancy agreements — with pre-loaded information, eliminating human error and confusion. It's easy to export and share your digital contracts, and they are all safely stored in our secure app.
How to go digital with liv.rent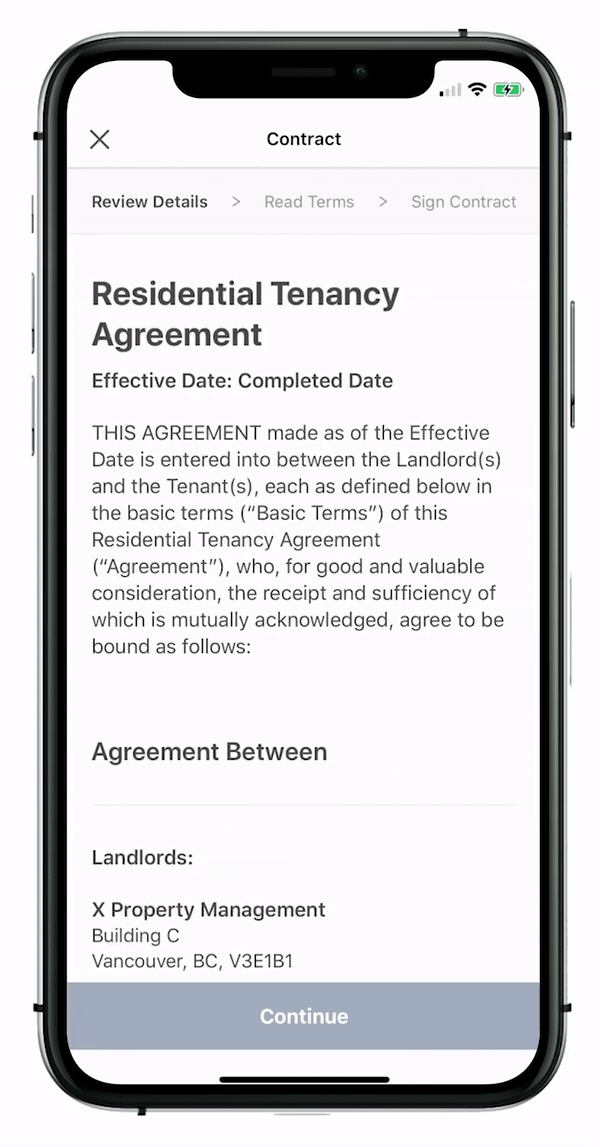 Digital forms are available to all liv.rent users. To access auto-filled tenancy forms and custom addendums, verify your account and listing today. Past, current, and upcoming tenancy agreements (contracts) signed on the liv.rent platform can easily be referenced, shared, and exported in just a few clicks. This means access to all of the necessary information that is part of your rental agreement is in the palm of your hands, wherever you go.
---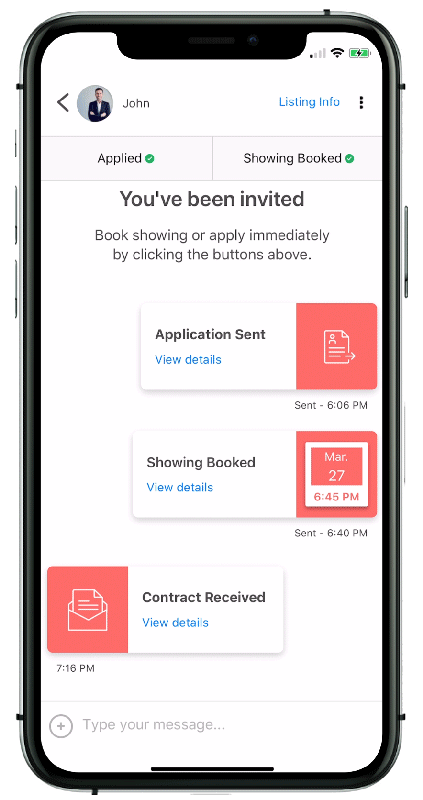 Rethink The Way You Rent
Not on liv.rent yet? Experience the ease of digital applications & contracts, verified tenants & landlords, virtual tours and more – all on one platform. Sign up for free or download the app.
Subscribe to receive the latest tenant & landlord tips and get notified about changes in the Canadian rental market.
>> Stay up-to-date on the average rent in Vancouver, Toronto and Montreal: Rent Reports