In a tight rental market, renters must be informed and astute as landlords often hold the balance of power in the negotiation process. If you haven't had much experience as a tenant, it's important to know your rights before throughout the entire rental process, from signing the lease, during the tenancy, and at the end of a tenancy.
Here's a quick list of rights you have as a tenant
Signing a Lease
Lease.

BC Laws dictate that a written tenancy agreement that is signed by both parties (whether for a fixed term or periodic) is mandatory.
Move In/Move Out Inspection Report. A signed move in/move out condition report must be signed for all residential parties. If the report is not completed in full, the landlord or tenant is at risk of not being able to keep the security deposit.
References. If you can't provide adequate references, it is reasonable for a landlord to request recent pay stubs, a letter from an employer, or bank statements demonstrating regular automated payroll deposits. If you don't have any of this information, it would be reasonable for a landlord to view – but not keep – copies of your income tax assessment (T4).
Post-Dated Cheques. Landlords are allowed to ask for post-dated cheques.
Discrimination. Tenancy cannot be refused on the basis of sex, race, sexual orientation, marital status or number of children.
Have everything in writing. Any agreements (or disagreements) you make with your landlord, document them! You want to have everything in writing so if you need to dispute a matter with the Residential Tenancy Branch, you will have a paper trail as evidence.
Terminating a Lease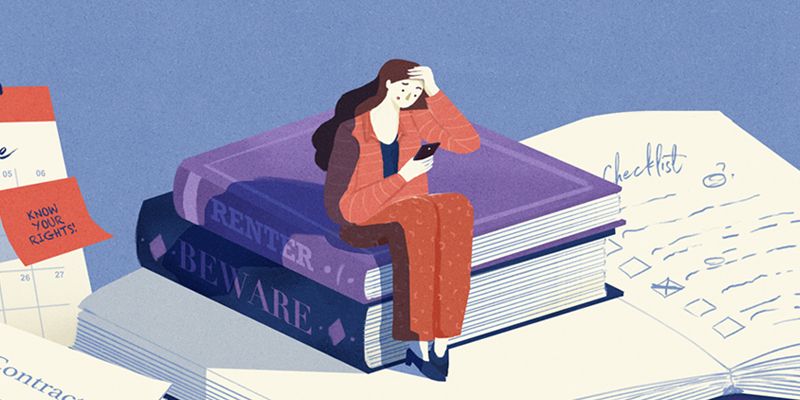 Landlord Tenancy Agreement Termination. A lease can only be broken by a landlord if you, the tenant is delinquent (missing rent payments, housing too many people, subletting on Airbnb etc.) or the landlord or landlord's relative is moving into the unit.
Damage Deposit Return. Landlord can't withhold a damage deposit for breaking a lease provided you give 30 days advance notice and make an effort to secure other similar applicants to take over the lease.
Eviction. A landlord can only evict you for very specific reasons set out in law and must give you written notice. Some of the most common reasons for eviction include:

Material Breach of the rental agreement – requires a written warning plus one month's notice.
Non-payment – requires 10 days of notice. Tenants can apply for dispute resolution within the five day period.
Cause or conduct – requires one month's notice. Tenants can apply for dispute resolution within 10 days.
Landlord's use of property – requires two months' notice with a 15 day period for tenants to file a dispute.
Tenant ceases to qualify for subsidized rental unit – requires a period of two months notice with a period of 15 days for the tenant to file a dispute.
For a complete list, click here. They cannot evict you simply because they don't like you or because they want to raise the rent. If tenants fail to dispute the notice, it is automatically assumed that the tenant has accepted the end of their tenancy.
During Your Tenancy
Entering your unit. Your landlord cannot enter your unit without written notice of entry communicated by text, email or letter. In British Columbia, a landlord is required to provide 24 hours notice, with date, time and purpose for entering.
Key Fees. Landlords are not allowed to charge fees for a key that is the tenant's only way to access the property. However, the landlord can charge for an additional or replacement key.
Changing Locks. If a tenant is able to prove that the landlord entered the property legally, the tenant can apply for a lock change. This means the landlord will be denied a key to the unit until the tenancy ends.
Rent Increase. A landlord can not impose a rent increase for at least 12 months and there must be at least 3 month's warning before the effective date of the rent increase. The increase can only be within the allowable limit set forth by BC's Residential Tenancy Branch.
Late Rent Payments. Rent is considered late if it is not paid either on or before the first day of the rental period. Administration fees (that cannot exceed $25) can be charged for a late payment, depending on what the rental agreement says.
Breaking the no pets/smoking agreement. If a landlord discovers that the tenant has violated the rental agreement terms by bringing in a pet or smoking, a written warning must be issued to the tenant. The tenant then has to comply with the rental terms or they will be evicted within a certain amount of time.
End of Your Tenancy
Damage Deposit. The landlord can withhold your damage deposit if no forwarding address is provided, so be sure to tell them your next address.
Interest On Your Damage Deposit. When you move out, you are within your rights to ask the landlord to pay interest on the damage deposit returned to you. Calculate the amount you can collect here.
Still have questions? Read more on the Tenant Resource and Advisory Centre website or the BC Tenant Rights website and familiarize yourself with the Residential Tenancy Act of British Columbia, which is subject to change over time.