Vancouver's Rental Housing Market weathered the perfect storm of pandemic induced events in 2020. Thanks to federal and provincial government supports for renters and landlords along with eviction bans, the situation wasn't as dire for Vancouverites as forecasted. This is not to say, however, that there weren't some challenges. With international students returning to their home countries, travel restrictions being imposed and immigration slowing to a trickle, demand for rental housing suddenly slowed down; hence, placing downward pressure on rental rates in most major cities across Canada including Vancouver.
Want to access the full report?
The latest report about the Vancouver Rental Market. Review key trends from 2020.
Get insights and predictions to prepare yourself for 2021.
Video Transcription
This article is a transcription of our live liv.talk webinar 2020 Vancouver Rental Market Recap + 2021 Predictions. Watch the video or download the full report for the best insights on the Vancouver rental market in 2020 and upcoming trends to look out for in 2021.
Table of Contents
2020 Vancouver Rental Market Recap: Top 8 Insights
As mentioned, rental markets in cities across Canada experienced significant challenges this year as a result of COVID-19 – Vancouver was no exception. Though rental rates were slower to drop, they did. Net immigration to the city by immigrants, international students and out-of-province workers slowed significantly, plunging 111% in the first half of 2020.
This lead to a significant reduction in demand for rentals, higher vacancy rates and subsequent downward pressure on rents. Exacerbating this situation, on the one hand, was the conversion of short term rentals to long term rentals as the travel market shrunk dramatically due to COVID-19 and new business license requirements were introduced. On the other hand, additional condos were added to the city's rental housing supply as more and more owners sought to avoid paying the Provincial "Speculation and Vacancy Tax" and the City of Vancouver's "Empty Homes Tax".
In addition to these trends, here are our top 7 take-aways from the 2020 Rental Market in Vancouver:
1. Vancouver saw the smallest % change in rental prices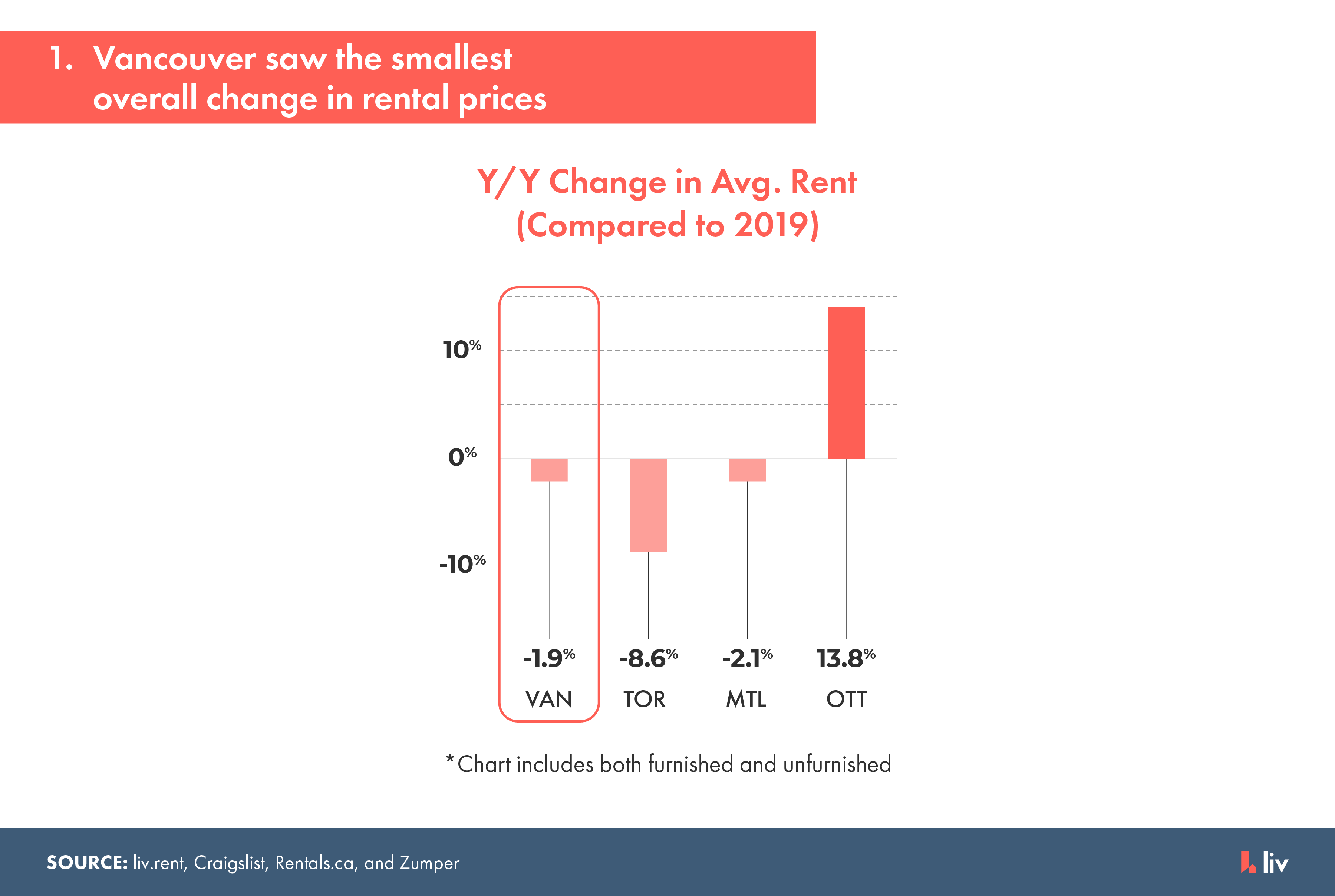 Compared to other Canadian cities (Toronto, Montreal and Ottawa), Vancouver experienced the smallest overall change in rental rates and overtook Toronto as the most expensive city in Canada.
In terms of where the most significant changes occurred, Vancouver saw the steepest declines for furnished 1 bedroom rentals (down 2.4%) and unfurnished 1 bedroom rentals (down 1.4%).
2. Steepest declines in demand were for 1 bedroom rentals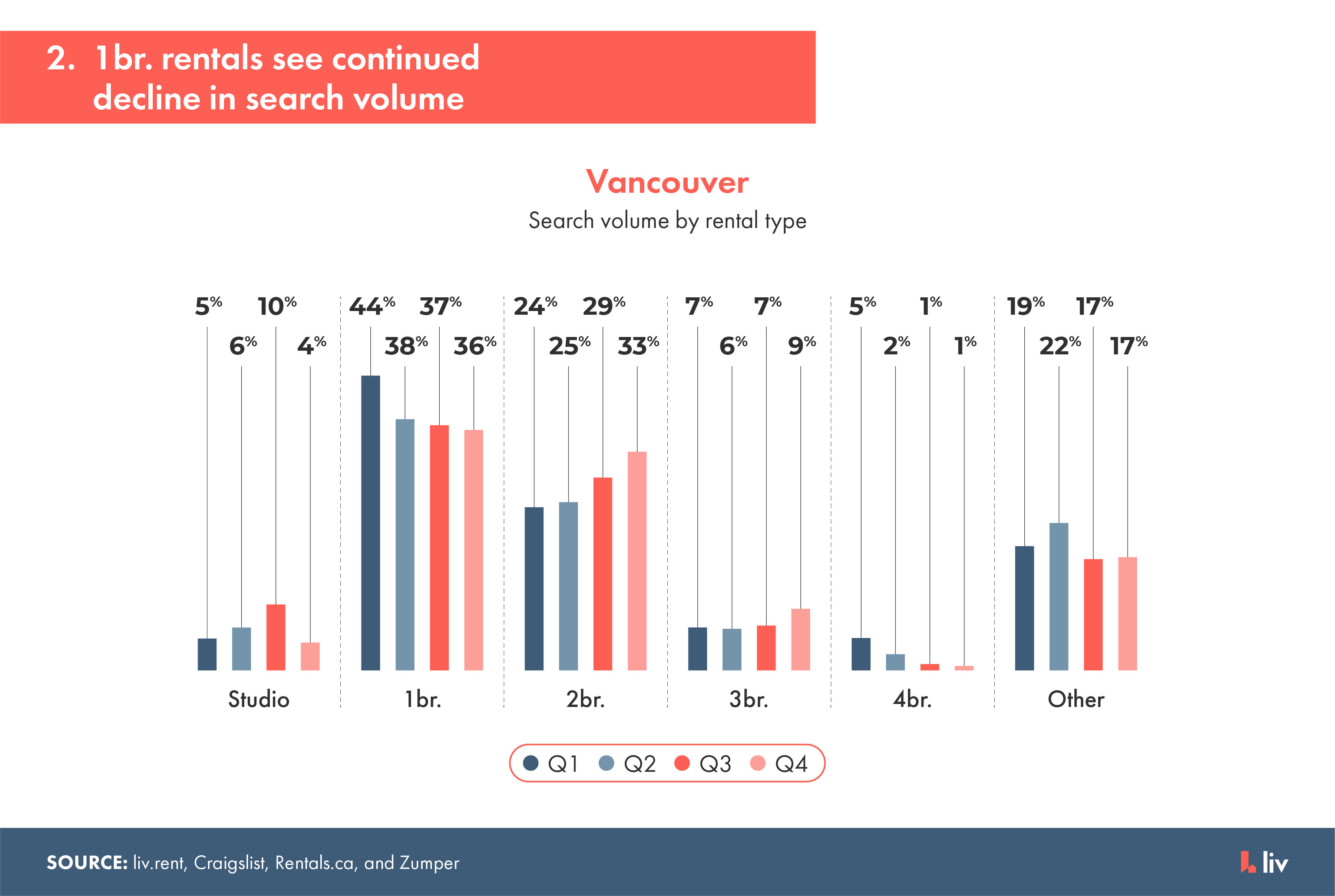 The average rent for an unfurnished 1 bedroom rental fell by 1.4%. In comparison, an unfurnished 2 bedroom rental saw a lower decrease at 1.1%. Given that many people started working from home, there was also a noticeable increase in demand for 2 bedroom rentals; people sought for more space often designating the second bedroom as an office.
3. Furnished rentals saw a larger % drop in rental rates compared to unfurnished units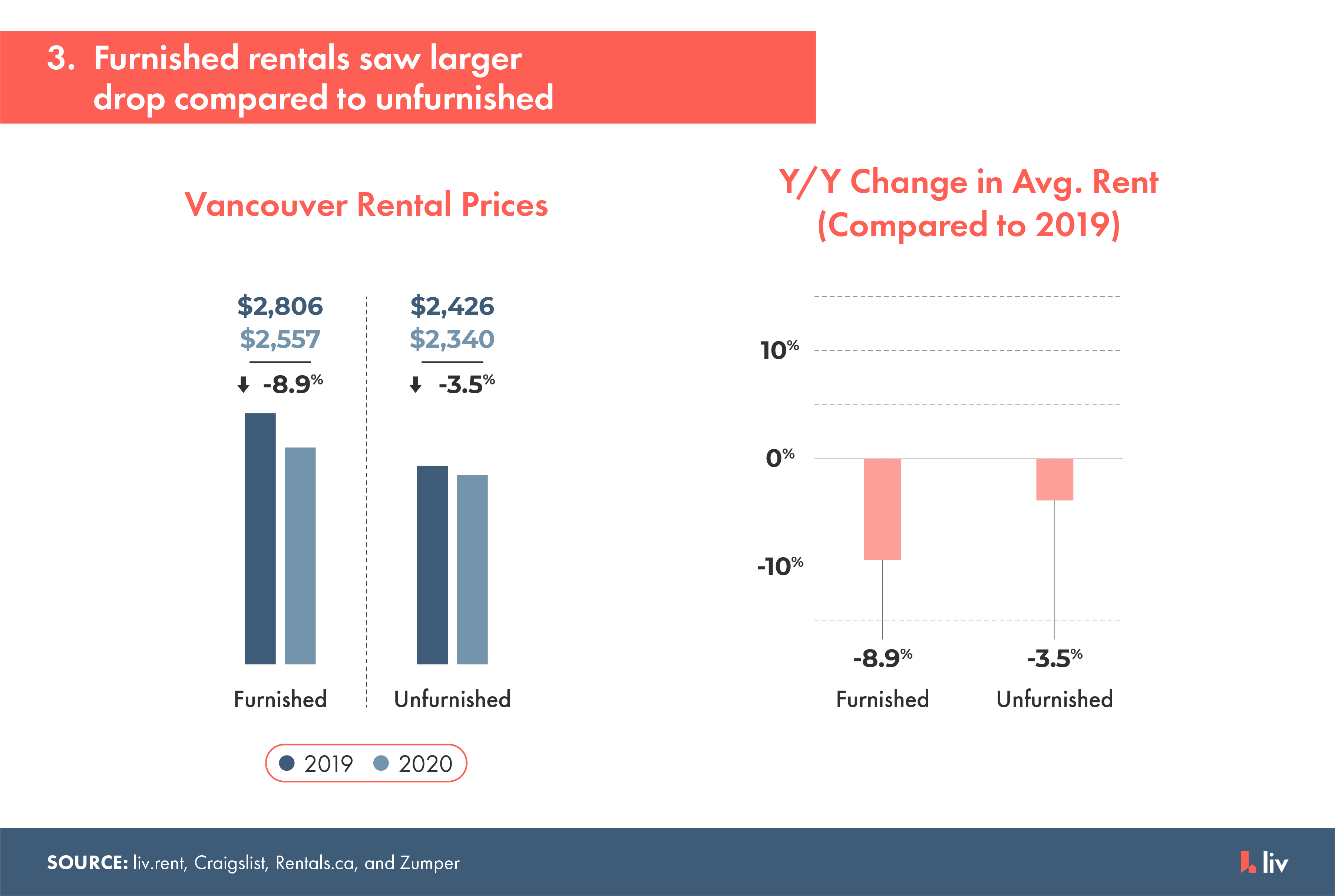 It isn't entirely surprising that the furnished rental market experienced bigger declines – an overall 8.9% drop vs only a 3.5% drop for unfurnished rentals. As international students returned home, tourism all but stopped, and business travel was curtailed, the market for furnished apartments faded, forcing prices downward.
Hit hardest were furnished multi-bedroom rentals which saw a significant decrease in prices – 2 bedroom furnished units experienced a 9.6% drop and 3 bedroom units had an 11.8% drop.
On the other hand, the average price drop for unfurnished rentals was mostly attributed to a decline in rental rates for 3+ bedroom units which saw a 6.5% decrease. In contrast, unfurnished 1 bedrooms dropped only -1.4% and 2 bedrooms dropped by -1.1%.
4. Unfurnished rentals saw a slight rebound during summer months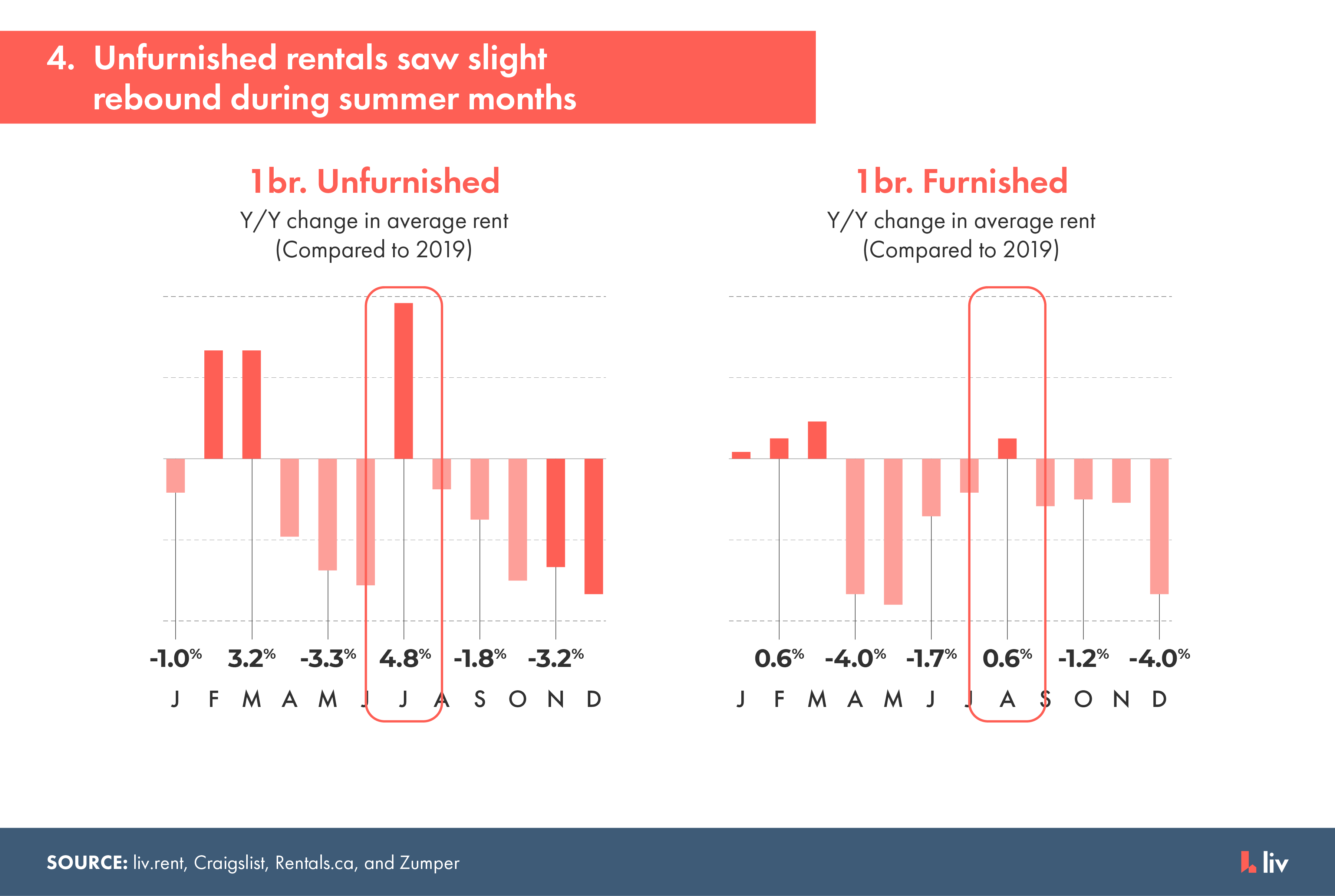 Due to a decline in COVID-19 caseloads during the summer months, Vancouver unfurnished rentals enjoyed a slight recovery with unfurnished 1 bedroom rentals increasing by 0.6% and 2 bedrooms by +4.8% (compared to 2019).
5. Downtown, South Vancouver and Surrey saw the largest % drop in rental rates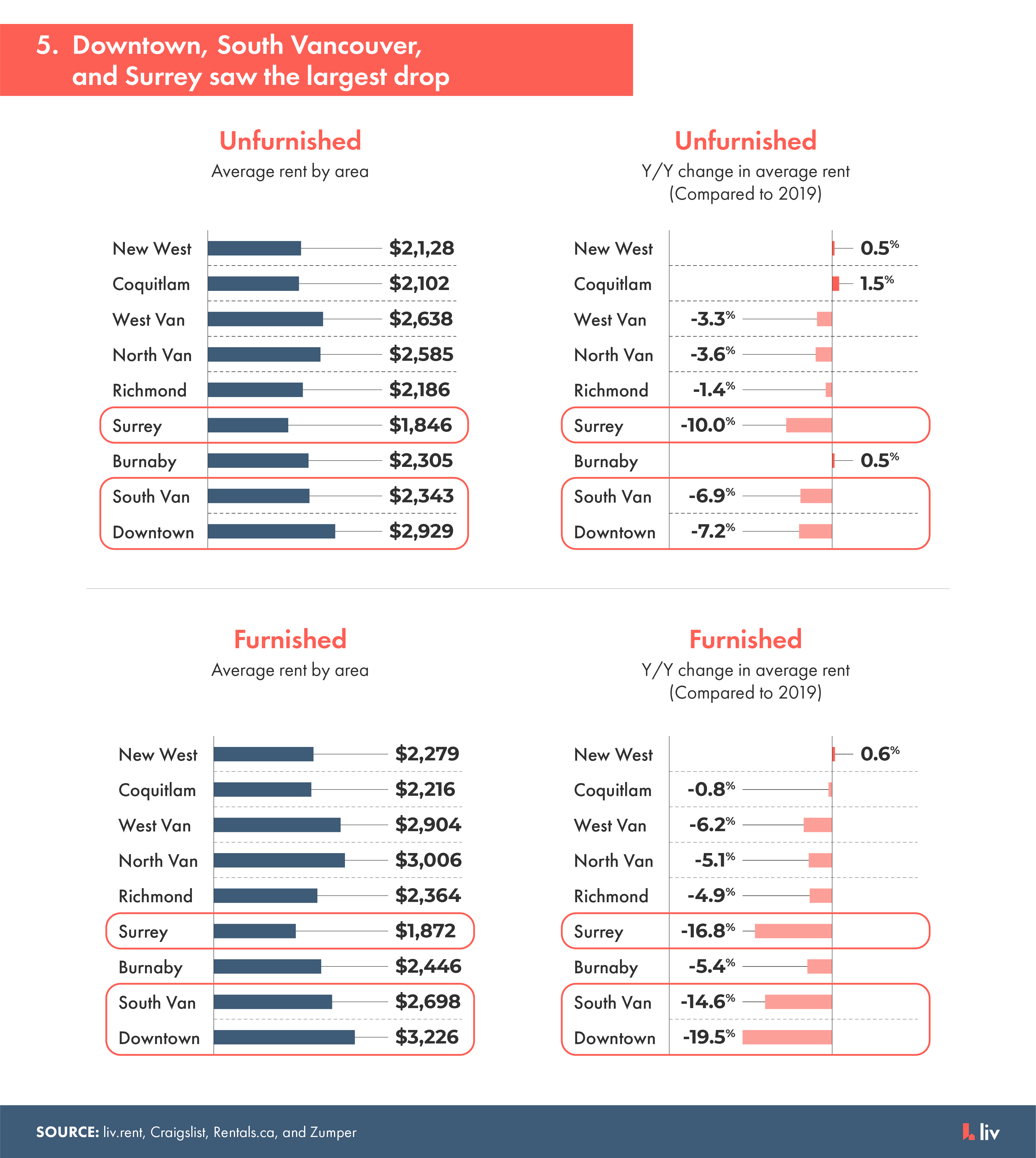 Vancouver's downtown core, as well as Surrey and South Vancouver experienced the biggest declines in rental rates. For furnished rentals, Downtown rates dropped by 19.5%, Surrey dropped 16.8% and South Vancouver dropped 14.6%. In comparison, for unfurnished rentals, Downtown decreased by 7.2%, Surrey declined by 10% and South Vancouver dropped 6.9%.
Vancouver:
The most dramatic decrease in Vancouver occurred in the furnished rental market; primarily, the average rent for 3+ bedroom rentals declined by 27.1%. This trend was likely caused by students returning home since larger units were often shared by roommates. Likewise, unfurnished 3+ bedroom units declined the most at -12.1%. In contrast, an unfurnished 1 bedroom rental only declined by 2.5%.
South Vancouver:
South Vancouver rentals saw the greatest volatility in the furnished market. Similar to Vancouver, 3+ bedrooms units experienced the biggest drop; furnished rentals fell by 17.3% and unfurnished rentals fell 8.8%. For 1 bedroom units, furnished rentals fell by 10.4% and unfurnished rentals fell by 6.4%.
Surrey:
With the biggest drop in 3+ bedroom units, Surrey saw a decline in rental price at 20.8% for furnished rentals and 18.3% for unfurnished rentals. Unfurnished 1 bedroom rentals held steady, experiencing a slight 0.3% decline while similar furnished units dropped 10.9%.
6. North Vancouver and Coquitlam markets showed resilience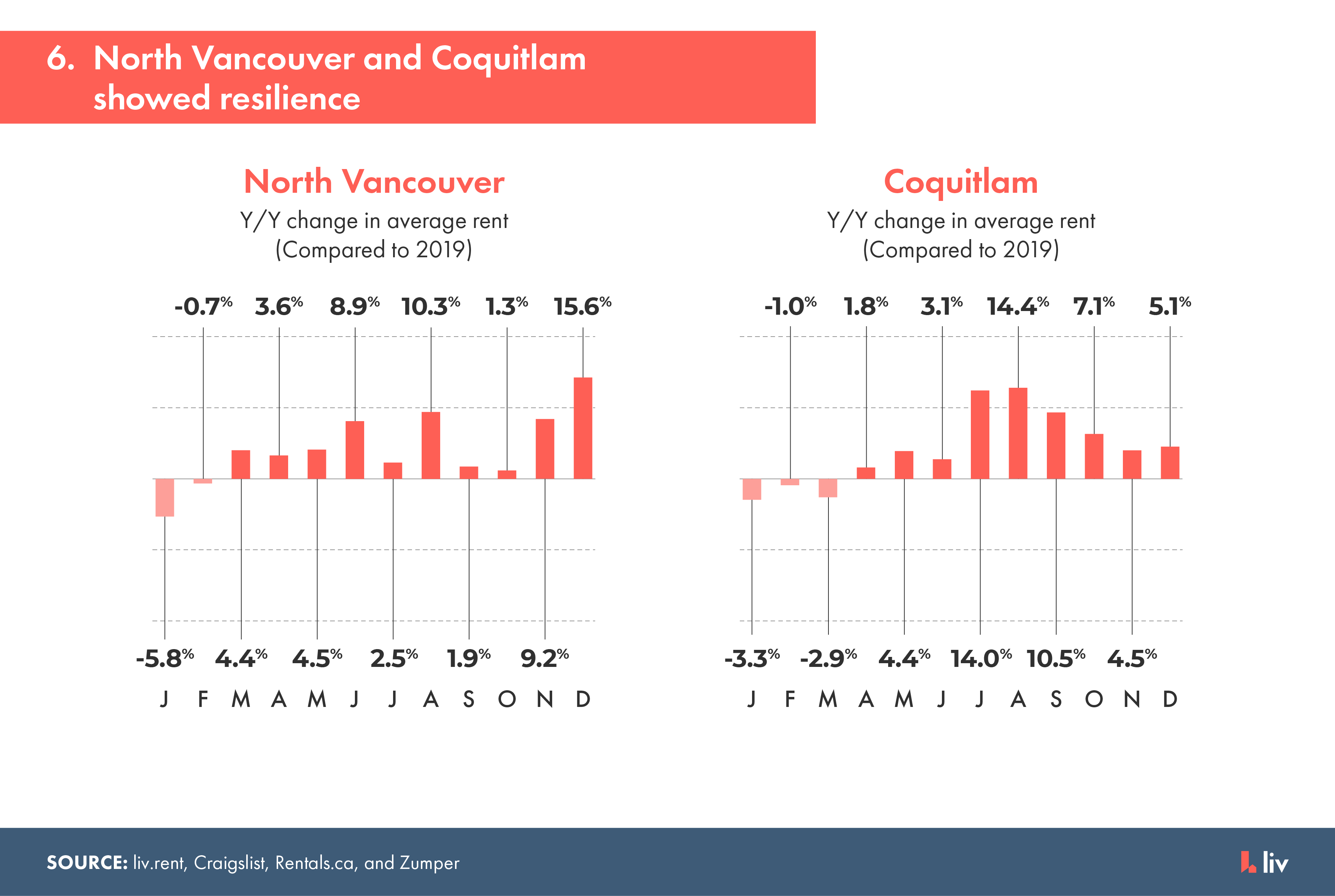 It wasn't all doom and gloom. Some Vancouver area suburbs actually saw rental rates increase. As many shifted to remote work, living centrally became less important. Without the need to commute, some took the opportunity to move to more spacious rentals in areas where the cost per square footage is much lower than in Downtown Vancouver; for instance. Coquitlam, North and West Vancouver all experienced positive increases in rental rates.
North Shore:
The North Shore rental market has been remarkably resilient. Since the early days of the pandemic in March, North Vancouver has experienced an upward pressure on rental prices. In fact, furnished 1 bedroom rentals in North Vancouver were the only rental product that saw a year- over-year rent increase compared to 2019. West Vancouver's rates also began to follow North Vancouver's upward trend in August and continued to stabilize.
Coquitlam:
Overall rental prices for unfurnished properties in Coquitlam increased by 1.5% with 2 bedroom units experiencing the largest increase at 12.2% and 1 bedrooms, a 2.2 % boost. Furnished rentals in Coquitlam also saw demand and rates for 1 bedroom units increased by 4.7%. However, rents for 2 and 3 bedrooms furnished units declined by 1.7% and 3.1% respectively.
7. Burnaby and New Westminster saw a slight uptick in rental rates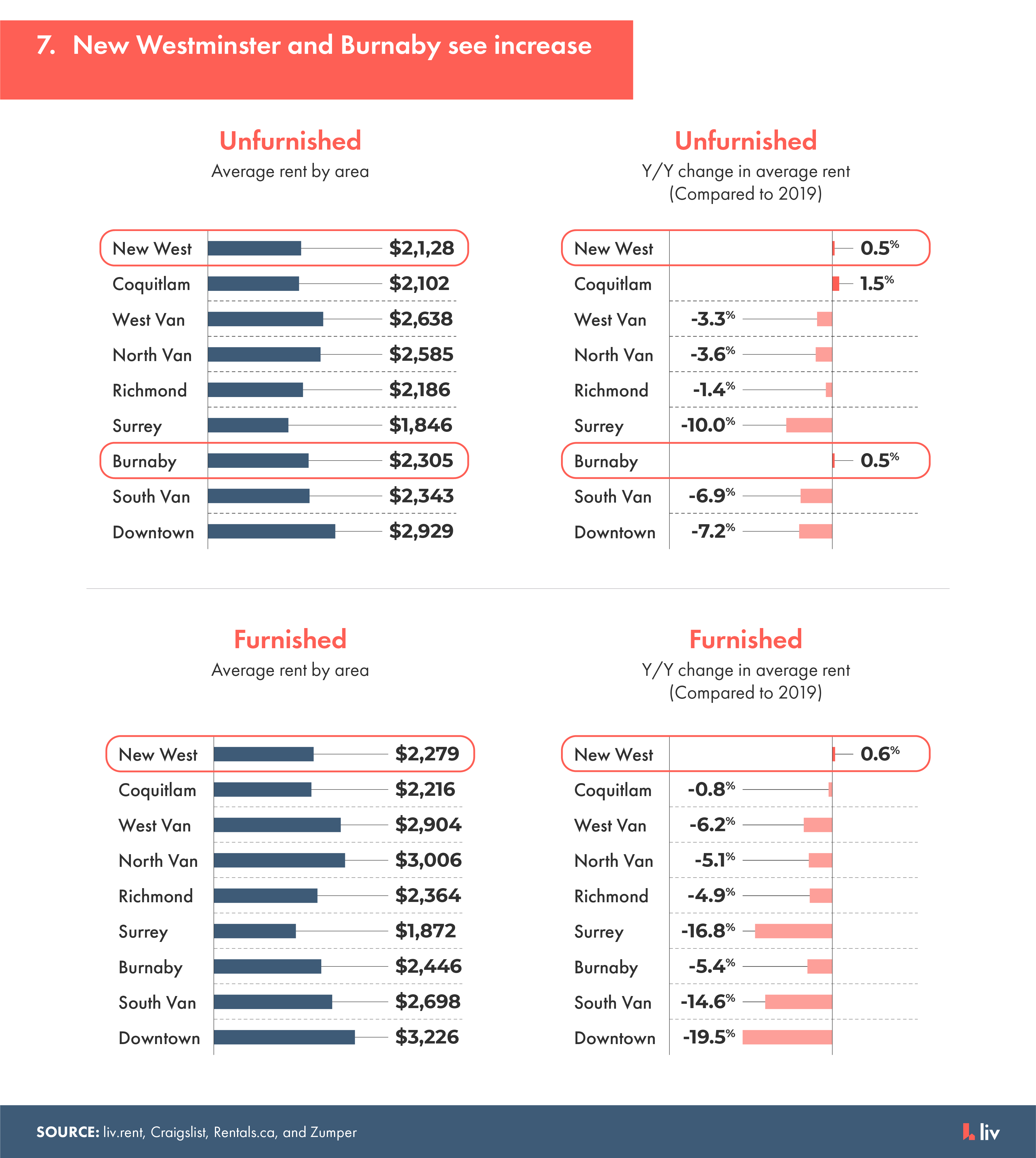 Burnaby:
Vancouver's closest suburb to the east, Burnaby saw rates increase slightly – 0.5% – year over year with a spike in rental rates in December – Furnished 1 bedroom units in Burnaby saw a 2.8% increase, while 3 bedroom units saw a 22.6% rental price increase.
New Westminster:
Furnished 1 bedroom units saw a year over year 0.5% increase for unfurnished rentals and 0.6% for furnished units. In December, furnished 1 and 3 bedroom rentals increased by 1.0% and 12.6% respectively.
---
Other cities in Metro Vancouver that saw a positive increase during December:
South Vancouver: Unfurnished 2 bedroom rentals increased by 7.6%
Surrey: Unfurnished 3 bedroom rentals increased by 7.5%
Coquitlam: Unfurnished 1 and 2 bedroom rentals increased by 0.6% and 12.4% respectively
North Vancouver: Furnished 1 bedroom rentals increased by 15.6%
West Vancouver: Furnished 1 bedroom rentals increased by 20.1%
liv.rent – Search apartments & houses for rent in Vancouver
Search houses, rooms, condos and apartments for rent in Vancouver. Chat instantly with verified landlords. Apply to multiple listings. Save your chat history & signed documents all on one platform.
2021 Vancouver Rental Market Forecast: Top 7 Upcoming Trends
1. Demand for space will continue to push renters further from Downtown Vancouver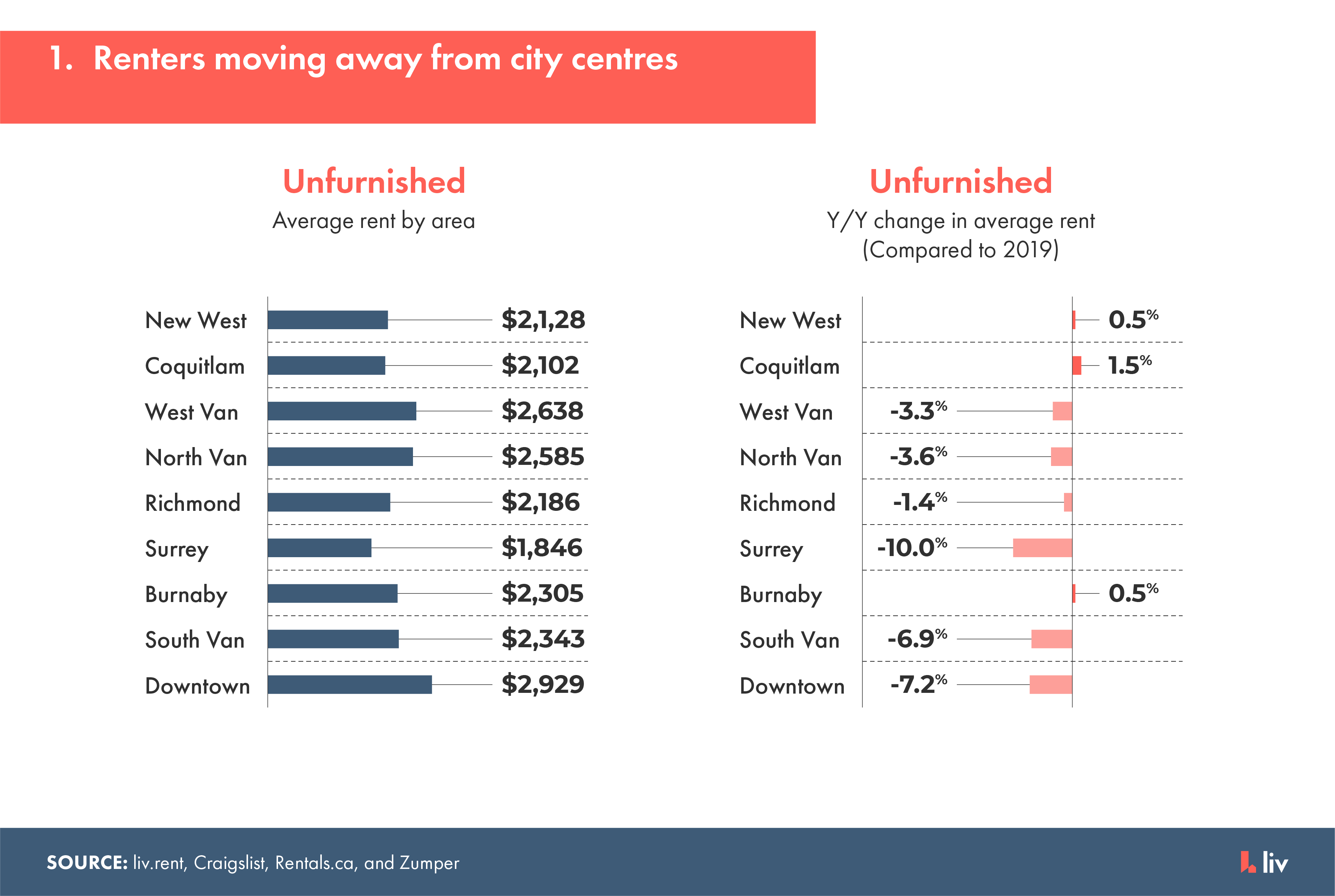 With remote work becoming the norm for many, people sought for extra elbow room. Vancouverites soon realized it was more cost-effective to move further away from the city centre where the cost per square footage was lower. For those wanting a bigger rental home, places like Surrey, Burnaby and Coquitlam which offer bigger spaces at lower rental rates than Downtown Vancouver became increasingly desirable
2021 Forecast – Once offices invite employees back to the office, universities resume in-person classes and travel restrictions are lifted, this trend will slow. The vibrancy of downtown living will lure renters back to the downtown Vancouver – especially students looking to enjoy the city's restaurants and nightlife. Moreover, greater condo availability could result in sustained downward pressure on city rental prices further enticing people to live closer to their workplaces and school to avoid a lengthy commute.
Amongst rental market watchers, the belief is that rents will start recovering in spring 2021 when the vaccine becomes more broadly distributed and restrictions are lifted.
2. Short term rentals being converted to long term rentals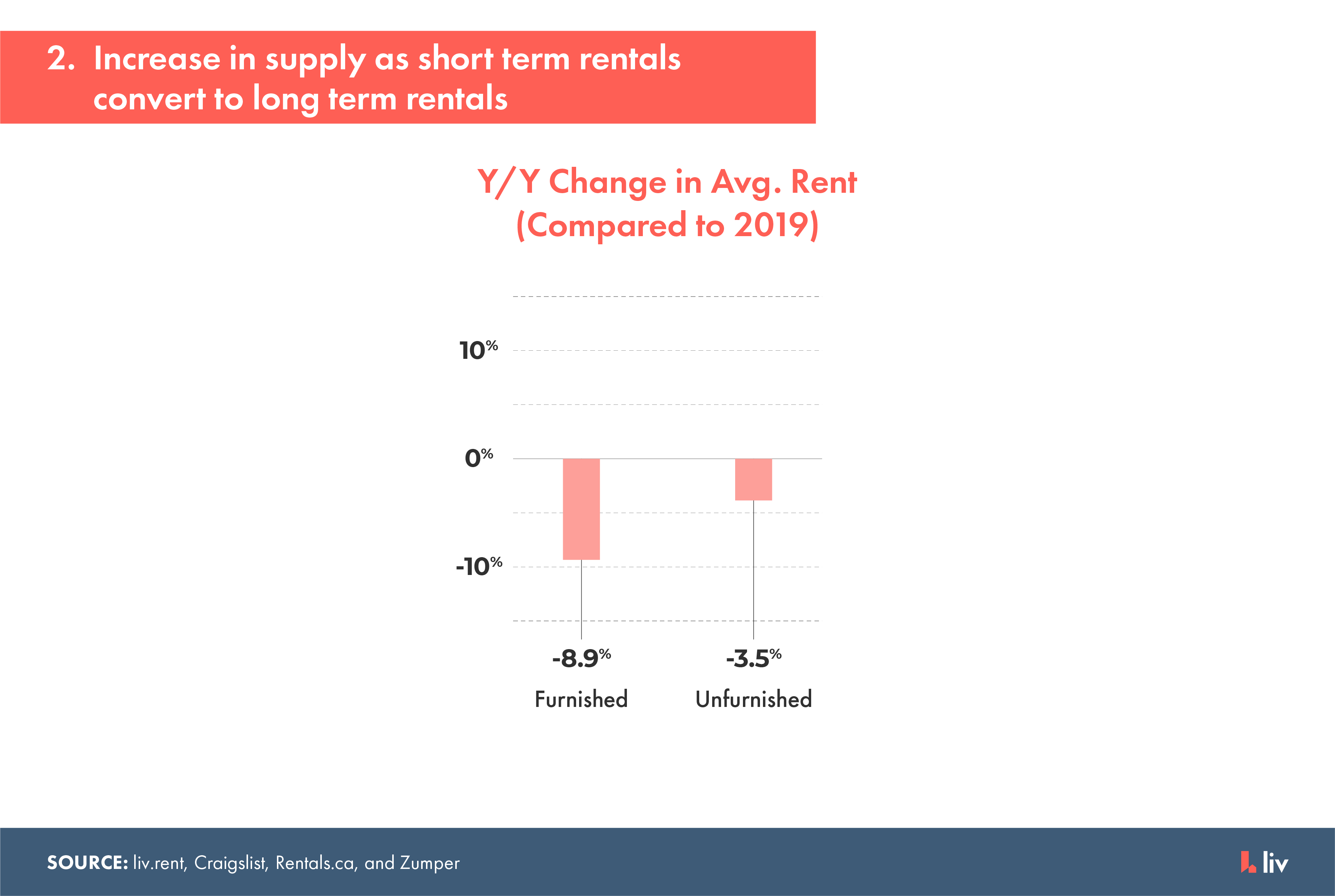 Given global travel restrictions, quarantine requirements and the severe slowdown in business travel, landlords and property managers of short term rentals experienced a dramatic downturn in demand compelling them to pivot and re-introduce their properties onto the market as long-term rentals, adding to the supply and downward pressure on rents.
2021 Forecast – As long as travel restrictions and quarantine requirements are still in place, this trend will persist for the foreseeable future. Nonetheless, short term rental options will be re-introduced gradually as things go back to normal. However, landlords that have managed to secure long-term tenants will be compelled to honour those rental arrangements.
3. Rental Incentives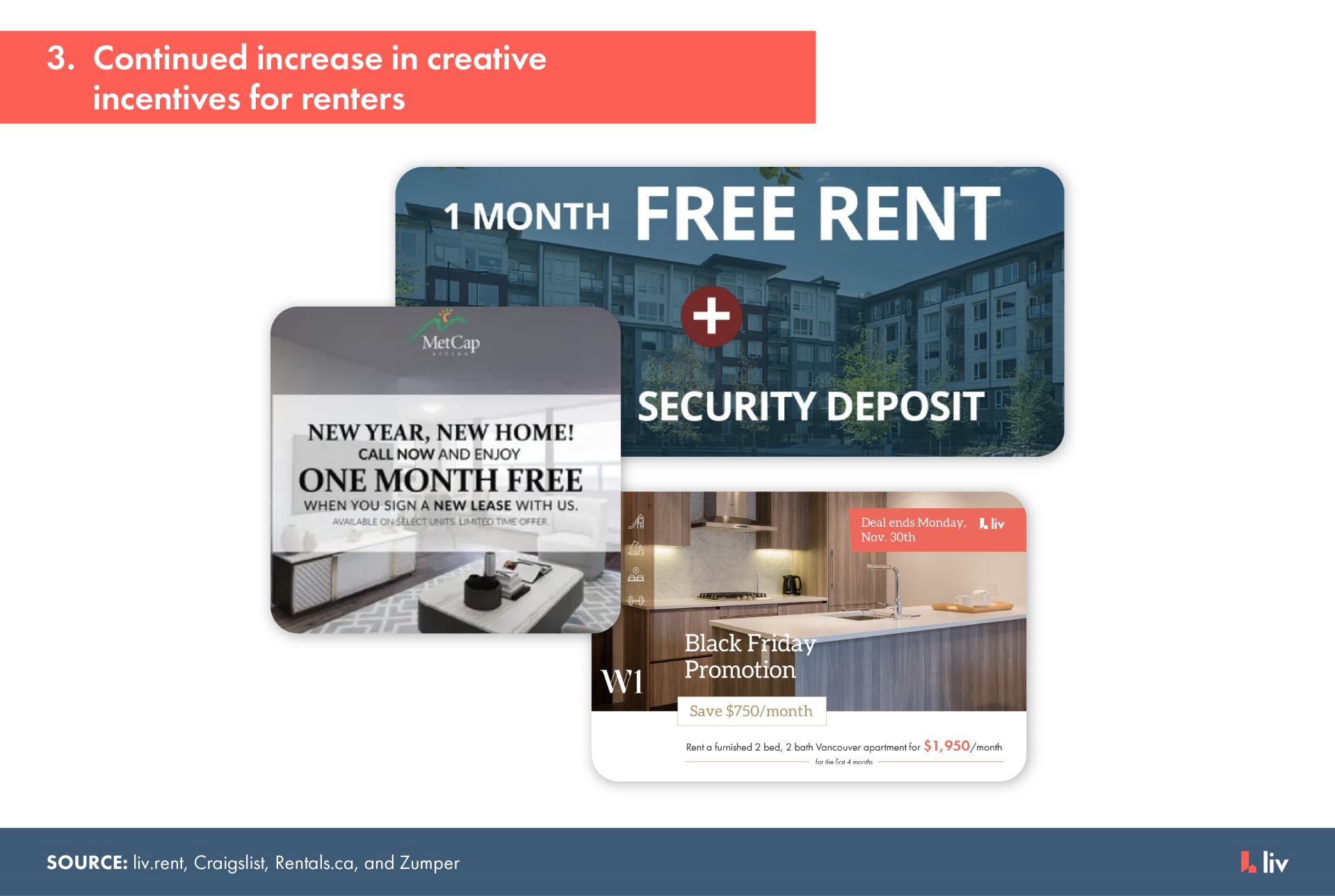 Due to the increase in available rentals, some cities like Toronto and Calgary saw a significant uptick in rental incentives that included cash bonuses, free internet or discounts on longer leases. Vancouver landlords though, were more reluctant to resort to these methods to attract renters and were also slower on the uptake to lower rents despite a significant drop in demand. For example, areas around the Cambie corridor normally saw high demand; instead, landlords have been struggling to secure tenants. Ultimately, some landlords began offering attractive incentives such as move-in bonuses, free parking spots and even new beds and mattresses.
2021 Forecast – Depending on travel restrictions and quarantine requirements in 2021, Vancouver landlords may need to continue to incentivize renters if they hope to fill their units and recoup on some of the losses experienced in 2020.
4. Broader adoption of digital tools and services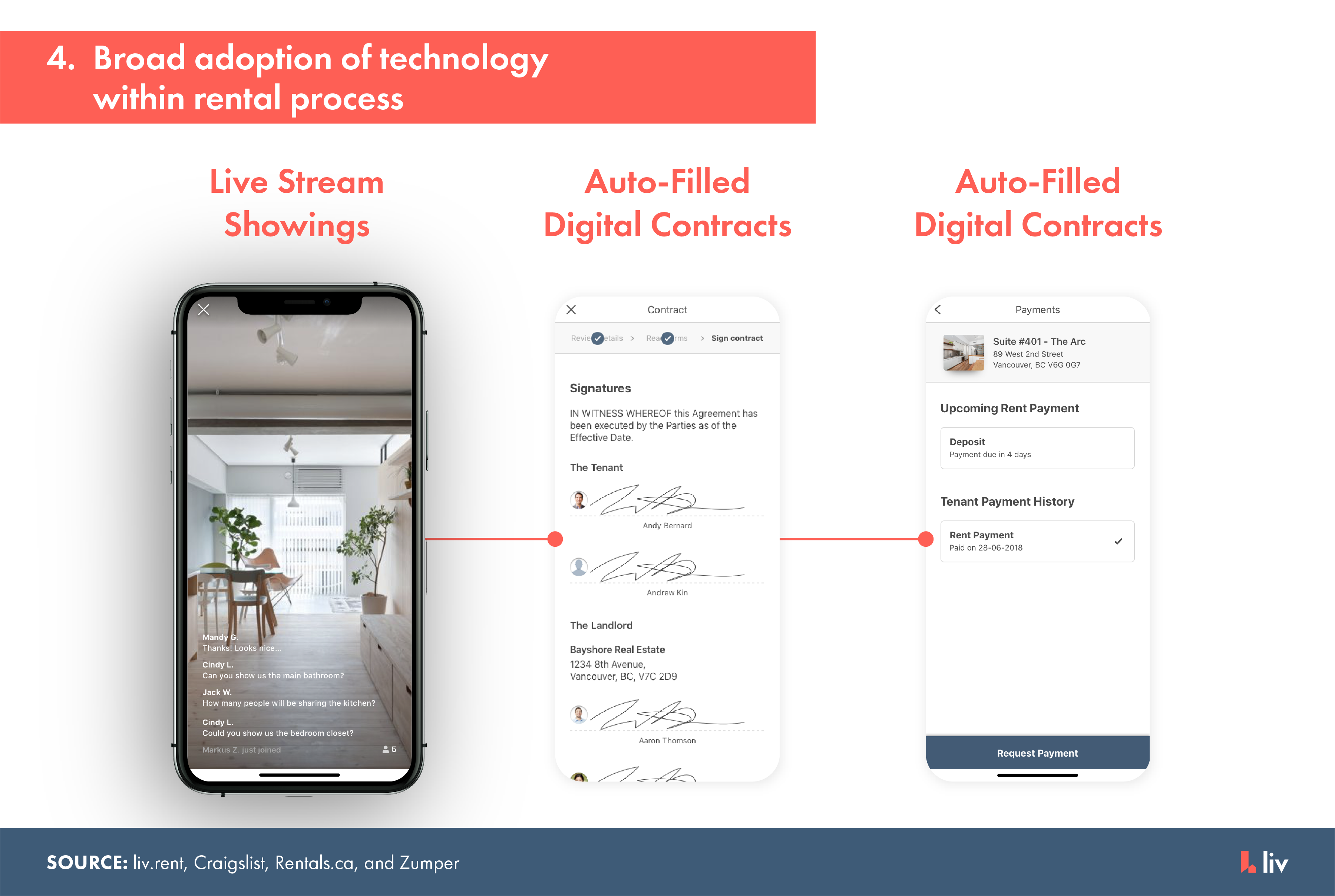 Globally, the world experienced a rapid digital transformation due to COVID. Businesses of all kinds pivoted and scrambled to reinforce their digital capabilities as in-person servicing was no longer recommended. The rental industry embraced this shift wholeheartedly and apps like liv.rent gained prominence as they facilitated a contact free, easy rental process for both landlords and tenants.
2021 Forecast – This accelerated adoption of digital tools will continue as people recognize the value of being able to streamline the entire rental process and save valuable time, positively impacting everyday lives.
5. Renter preferences continue to change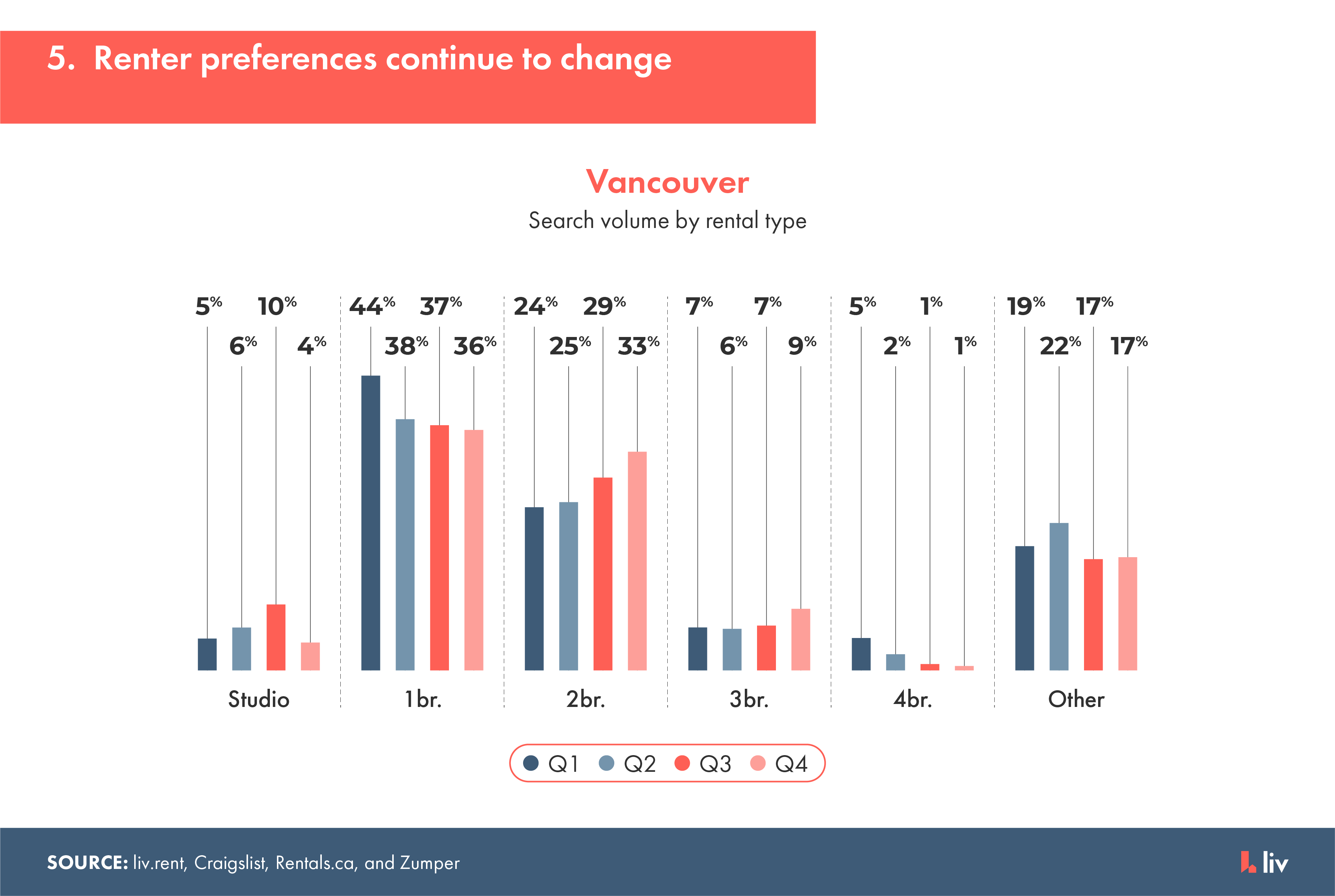 As people reprioritize and consider the lifestyle adjustments forced upon them by the pandemic, they have become more open to different housing options. Where once location was important, hence driving the demand for downtown condos; now space has been prioritized by some, thus necessitating a move to the suburbs or upgrade to a bigger rental. This is reflected in the buoyancy of Vancouver's 2 bedroom rental rates vs. the drop in rates for both furnished and unfurnished 1 bedroom rates throughout the year.
In addition to the demand for more space, renters' preferences are shifting in other ways. Repeated calls of public health officials for social distancing are making shared common spaces like elevators, lobbies, and laundry rooms less appealing. This is leading to more interest in renting houses, townhomes or units in older three/four-storey walk-up buildings. On the other hand, luxurious amenities that were once appealing are losing their lustre.
2021 Forecast – Most likely, COVID-induced preferences will not immediately change urban plans or impact developers' project designs in the near term. However, if the situation persists, Vancouver's development community will need to reconsider how Vancouverites want to live and create housing product that meets their revised requirements.
6. Low mortgage rates will incentivize renters to buy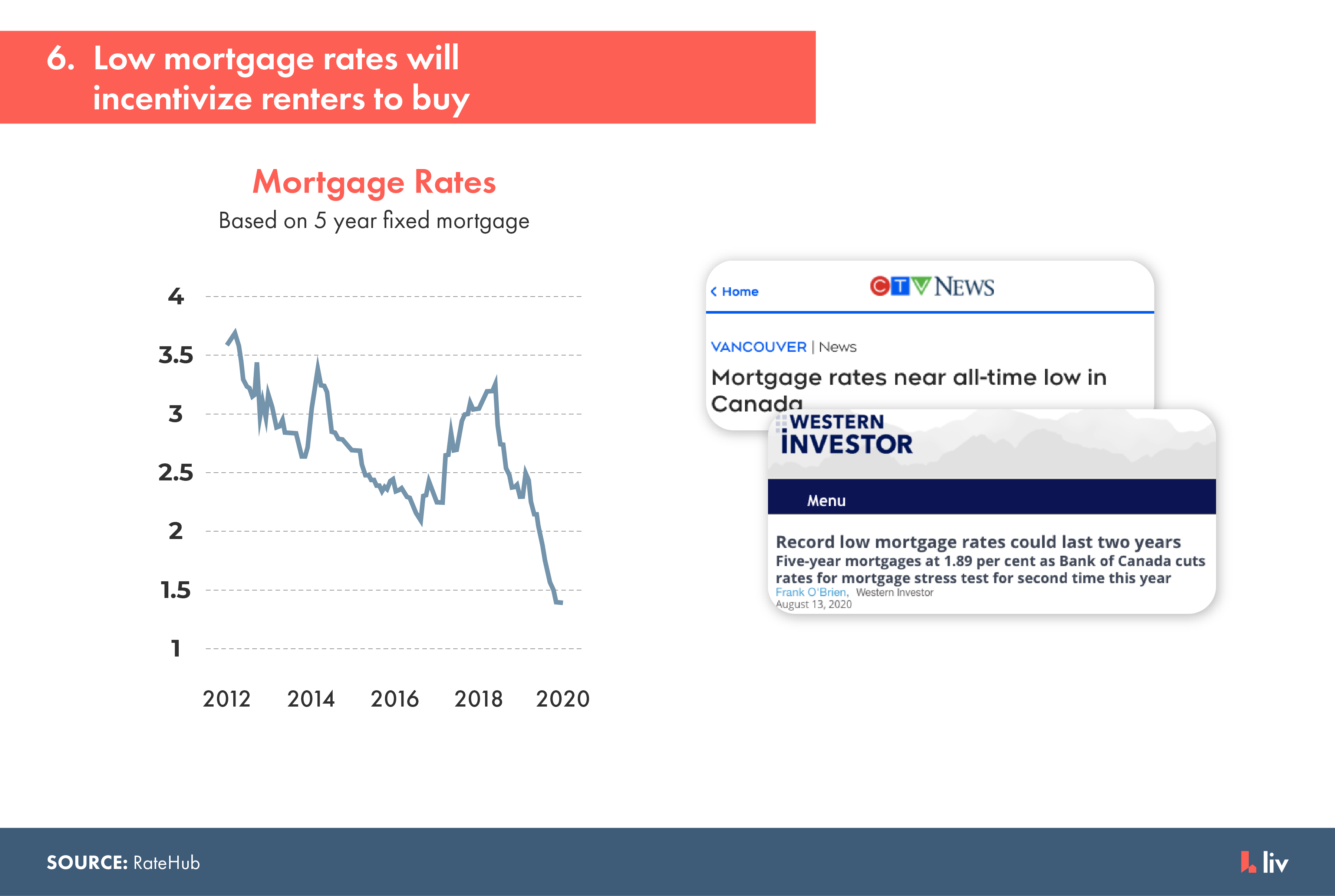 Despite a very hot housing market that saw average sales prices increase by 11.4% in Vancouver, historically low mortgage rates emboldened many renters to buy versus rent; thereby, further reducing demand for rentals. Additionally, some landlords are choosing to sell their rental properties for the short-term rental market will remain soft in the foreseeable future, and securing long-term tenants is proving more difficult.
2021 Forecast – Low mortgage rates are expected to continue throughout 2021. This suggests continued interest in home-buying despite rising sale prices (4% increase predicted for 2021). A healthy supply of downtown condos may attract first time home buyers, while others may seek more spacious homes in the suburbs. However, considering that many federal and provincial COVID support payments are coming to an end, some buyer insecurity can be anticipated and may dampen home-buying interest. This, in turn, would boost interest in renting once again.
7. Vancouver will be a renter's market in 2021
Due to the drastic decline of incoming international students and new immigrants, demand on the Vancouver rental market relaxed in 2020. Vacancy rates rose for the first time in a long while and renters had more choices.
2021 Forecast – For the first half of 2021, most Vancouver colleges and universities will continue to follow the remote learning model. Likewise, immigration will continue to be put on hold and tourism will be restricted. As a result, the demand for rentals will continue to be softer than usual, affording renters more choices and negotiating power when securing their leases. However, by spring and early summer, we'll start to see a reverse as vaccines become widely distributed and restrictions are loosened up.
---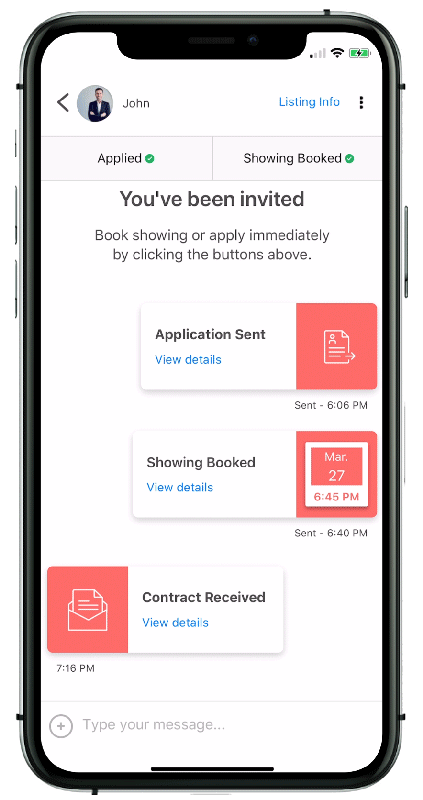 Rethink The Way You Rent
Not on liv.rent yet? Experience the ease of digital applications & contracts, verified tenants & landlords, virtual tours and more – all on one platform. Sign up for free or download the app.
Subscribe to receive the latest tenant & landlord tips and get notified about changes in the Canadian rental market.
>> Stay up-to-date on the average rent in Vancouver, Toronto and Montreal: Rent Reports