Vancouver's Enzo Design Build is a one-stop renovation, interior design, staging and construction management services company renowned for its quality, diverse skills and exemplary customer service. We took the time to talk to owner and head Project Manager, Meysam Pourkaram, for his insights and advice on renovations, specifically, what you need to know before embarking on a renovation project.
Why should you renovate your rental property?
1. More Rental Revenue & Better Tenants
The main reasons to renovate your rental property are to boost your rental rate and hopefully, attract more reliable tenants willing to pay more and stay longer.   Also, a newly renovated place typically makes for happier tenants who are less likely to leave thereby minimizing the costs related to tenant replacement (i.e. advertising, lost revenue when property vacant, headaches and hassles of securing new tenants).
Also, by updating and renovating your property you will likely minimize maintenance issues down the road. For example, an old pipe could burst which would cost you as landlord, inconvenience tenant and result in headaches as you try to seek compensation from insurance companies. If you act proactively, and update plumbing, you can potentially avoid these issues.
2. Improved Aesthetics and Design
Looks matter. A tenant wants to be able to visualize themselves cooking in the kitchen, primping in the bathroom and watching Netflix in the living room. You should try to create the perfect vision for prospective tenants. Especially if your unit is in an older building, you will likely want to invest in some updates to make your property as appealing as possible. Given recent government initiatives to build hundreds of new rental units, we recommend staying ahead of the game and making every effort to showcase your property in the best possible light.
3. Return on Investment
Renovations shouldn't be considered a cost. They are an investment with a solid ROI.  The ability to draw higher rents will also be attractive to a new buyer when it comes time to sell your property.
4. Tenant Request
Sometimes a renovation is the result of a request from a long-term tenant. Tenants may like to pitch in for the cost of a renovation in an effort to ensure it actually happens in a timely fashion and to their specification. They will also be more inclined to stay and respect the space if their requests are heeded. Keep an open mind to their ideas. They are living in the space and have unique insight into how to make it more livable.
What are the first steps to take before embarking on a renovation? 
Be prepared to plan, plan and plan some more!
Start planning as soon as possible. You don't have to wait until the unit is empty. Be proactive and plan while you have it rented. It might take a month or 2 from time of demolition.
If your rental property is a house you only need to contact the municipality as there is no strata involved. If, however, your unit is part of a strata, contact strata management and ask for renovation restrictions and requirements. If you choose Enzo Design Build, they will complete all the necessary documents and ensure requirements are met and changes are permitted by your Strata bylaws.
Lock in your contractor as soon as possible
Establish a budget and have a contingency plan
Purchase the finishes in advance as they may sell out and this will delay your project. Some suppliers can put your products on hold for a while.
Review the design and the finishes specs with your project manager and trades to ensure dimensions and specs match
You or your contractor should contact the neighbors and let them know when you are starting the work. This will go a long way to avoiding discord with your neighbours and your strata.
Make sure your contractors treat the building respectfully. Ensure they cover the common areas; this demonstrates you care about your neighbours and the strata; the courtesy will be appreciated.
When do you need building permits?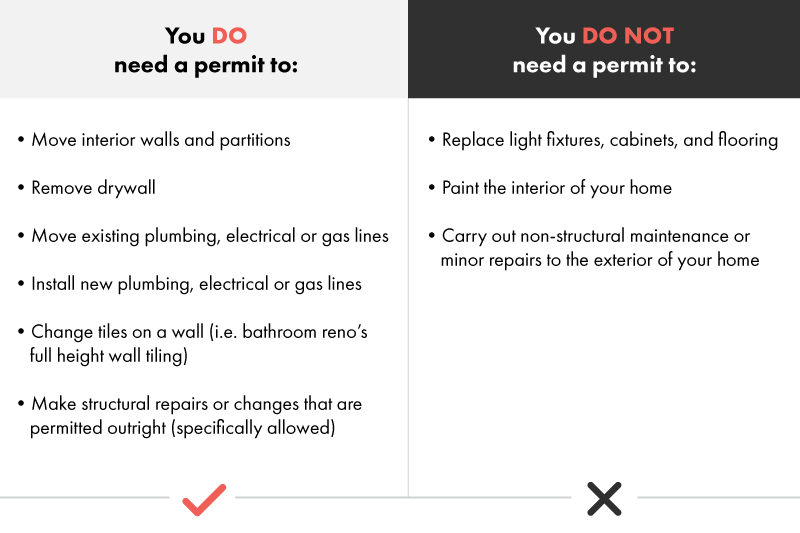 How long do renovations take?
This question is usually second only to how much will renovations cost! Much depends on the scope of work. A lot of construction work has to happen sequentially so allocate sufficient time. If you have the budget, get as much done as possible at once instead of in stages meaning if you can do the kitchen and bathrooms together, do so vs. waiting a year or two between.
For reference:
Painting and flooring a 600-800 sq.ft. condo can be done in about 5-6 days,
For a custom kitchen in similar space, it will take at least 3 weeks to make and install cabinetry and appliances.
For a full reno of a 1 bed 1 bath condo allow for up to 5 weeks.
For a full reno of a 2 bed 2 bath condo, 6-8 weeks.
For a basement, 4-6 weeks.
Who should you hire? 
A reputable renovation firm or design build firm.
A renovator with local or national affiliations. Membership in organizations like Renomark and Havan provide peace of mind. Renomark identifies profession contractors who have agreed to abide by a strict renovation-specific code of conduct. Havan (Homebuiders Association of Vancouver) has a wide variety of resources available to those about to embark on a homebuilding or renovating project.
Value the recommendations of family and friends. If they don't have any, make sure you ask for references and then arrange to see previous project work.
Hiring a renovation firm or tradesperson is like hiring any employee – look for professionalism, a good attitude, solid communications skills and excellent references.
Follow up on references. Ask if you can see previous projects and talk to previous clients.
Ask for a professional quote from 2-3 renovation firms and compare. Professionalism should extend to the quote. Look for a detailed breakdown of tasks and even a timeline.
Insist on WCB coverage and minimum $2 million in liability insurance (ask for proof)
Hiring a designer is highly recommended. Designers do much more than picking colours. They help you make smart, efficient decisions regarding use of space and materials.
Conduct a deep dive on Google to unearth reviews of the renovation company, testimonials, images etc.  Has the contractor and designer won any awards, Georgie, Ovation etc.?
Keep in mind that a single person operation may be cheaper at the outset but it often costs more to fix their mistakes in the long run. Cheapest firms are not always the best.
Get everything in writing!
What headaches can you anticipate?
Despite best intentions and diligent planning, you should still be prepared for some surprises. For example, often after the demo takes place, new problems, challenges and work are uncovered so ensure you have some contingency funding available.
Renos will be dusty. No one should be living in the place while they are underway unless the area is adequately sealed off from living space.
It is best to remove furniture from the space. Do not stack it up near the work area.
Strangers will be in and out of your place so remove all valuables.
Even if you've been friendly and kept neighbors informed of renovation plans, there'll likely be grumpy neighbors to contend with. Keep a level head, acknowledge their concerns and apologize.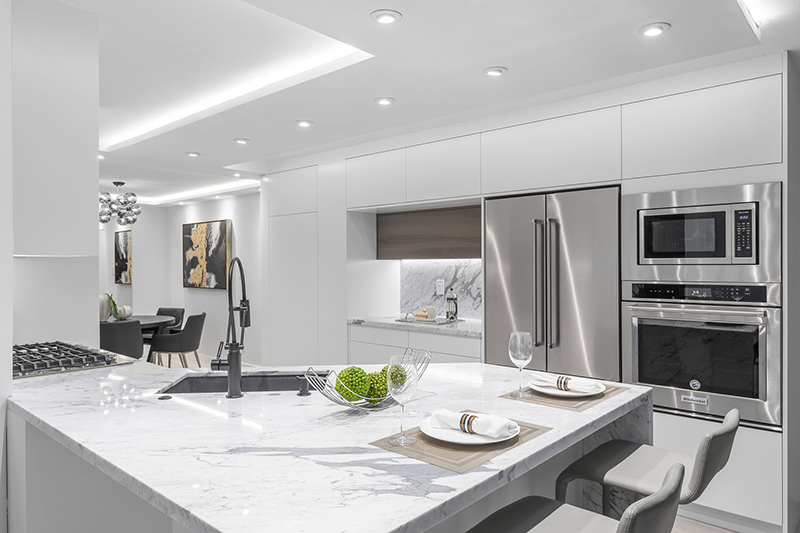 ---
To begin creating, managing, and sharing listings as a landlord, download the liv.rent app from the App store or the Google Play store or sign up here from your computer.