Metro Vancouver is known across Canada for two things: unmatched natural splendour, and high home prices. Rising interest rates may alleviate some of this pressure though, precipitating significant price drops in Vancouver's real estate market, albeit with higher mortgage rates to match. With the city's rent prices still higher than ever, this makes for a great opportunity to enter or re-enter the real estate market – whether you're looking to purchase your first property or your fifth. In this post, liv.rent takes a look at the best neighbourhoods to invest in real estate throughout Metro Vancouver, looking at some of the key characteristics of each area in order to help you decide. We'll be providing tips on how to choose where to buy, how to maximize your profits, and how you can ensure you stay safe and protect your investment while renting.
We've also collaborated with Jerry Wang of W Brothers Real Estate Group for some expert insights into Metro Vancouver's hottest real estate investment neighbourhoods. You can see W Brothers' listings here.
Table of Contents
Is your rental priced competitively?
Find out with a free rent estimate. Our team of rental experts will calculate your unit's true value based on your listing details & current market trends.
Is a rental property right for you?
When considering whether or not to purchase an investment property, one of the first things you'll need to decide is whether you'll be living in the property yourself, or renting it out. For most investors, buying an investment property means renting it out in order to maximize your profits while keeping the unit occupied.
This comes with its own challenges though, since managing a rental property requires both time and knowledge of the rental process. For those looking for a passive income stream, be aware that being a landlord requires more work than many think. Finding the right tenants, performing property inspections and maintenance, collecting rent, and more can all take tons of time out of your already busy schedule.
However, there are plenty of ways to automate and streamline these tasks. Rental management duties like tenant screening, contract signing, and rent payments can all be made easy and efficient using digital rental platforms like liv.rent. This all-in-one rental software was specifically designed for busy landlords in Canada, with features like built-in tenant screening through the Trust Score, digital contracts and addendums, and automated rent payments. If you'd like to learn more about how liv.rent can help maximize your rental profits, you can take a look at the platform's features here.
Average rent in Metro Vancouver
Each month, liv.rent analyzes rental data and trends from across Metro Vancouver to provide monthly rent reports for both landlords and renters. Below, you'll find average rent prices for unfurnished units across the different municipalities in Metro Vancouver as of June 2022 to give you a sense of how these numbers vary. For a more in-depth look into the region's rental averages, including a closer look at Vancouver's different neighbourhoods, you can find our latest rent report here.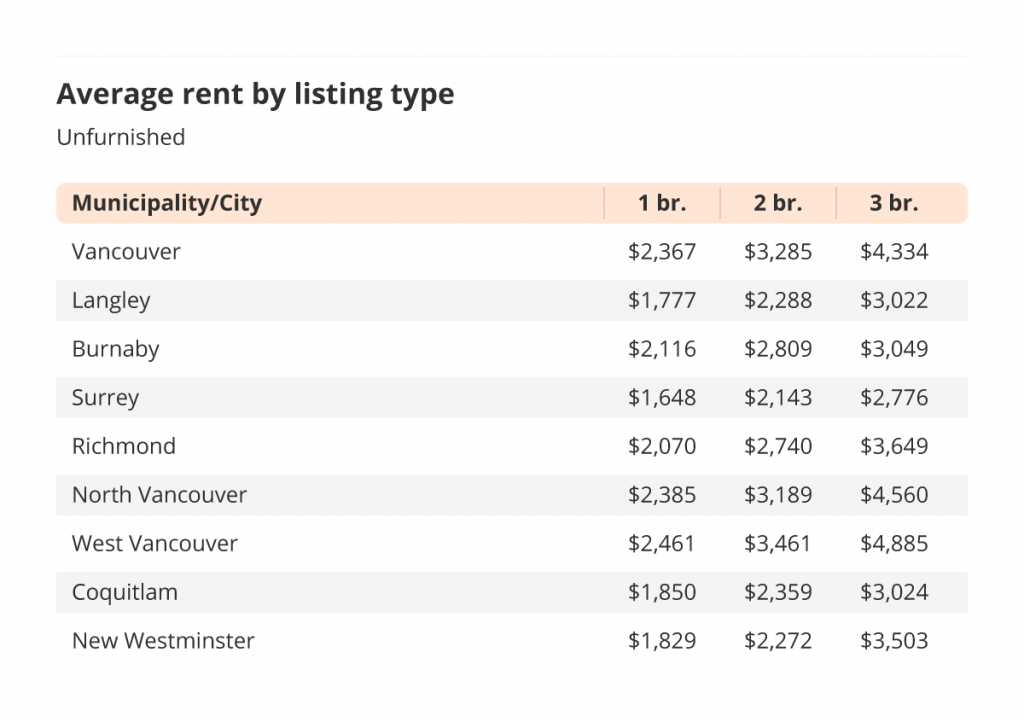 How to choose where to invest in real estate
Investing in real estate is a huge financial commitment, and it's always recommended that investors do their due diligence before settling on a neighbourhood to purchase property in. Forecasting which areas will hold their value over the long-term, and predicting up-and-coming neighbourhoods is no easy task, but looking to the future is always a good idea for real estate investors.
In breaking down the various areas of Metro Vancouver that offer the best value for landlords looking to invest in real estate, we've attempted to pinpoint neighbourhoods projected to increase in value while also attracting plenty of rental attention in the present. For each neighbourhood we'll look at in this article, we'll cover the following factors:
Renter demographics
Job opportunities
Crime rate
Nearby schools & amenities
Public transit options
Ultimately, the best neighbourhoods to invest in real estate balance all of these factors – though it's up to individual investors what they'll prioritize when deciding where to buy. We strongly recommend working with a licensed real estate agent who can help you narrow down where to look.
Best neighbourhoods to invest in real estate in Metro Vancouver
Fairview, Vancouver
Neighbourhood overview
Fairview is an expansive neighbourhood on Vancouver's west side, south of the city's Downtown. Encompassing some of the city's finest attractions, shopping districts, and residential communities, Fairview has something to offer just about everyone — whether you're looking to invest in real estate in Vancouver, renting, or just visiting town. The vibrant area is home to Granville Island, one of Vancouver's most popular tourist destinations and a great spot for locals to pick up fresh fish, produce, and more. Transit is another reason for investors to love Fairview. The many bus routes along Broadway and the nearby Broadway-City Hall Canada Line station make it easy to access the rest of the city, and Vancouver General Hospital is close by as well.
For investors, Fairview offers relatively low home prices compared to similar sectors of the city, but average rent prices are still comparatively high. The many elementary and secondary schools in the neighbourhood and in nearby Kitsilano make it popular amongst families, and UBC students often look for housing here as well. As much as 57% of Fairview's population rents, signalling that there's plenty of rental demand for the diverse neighbourhood.
Here's a quick overview of Fairview: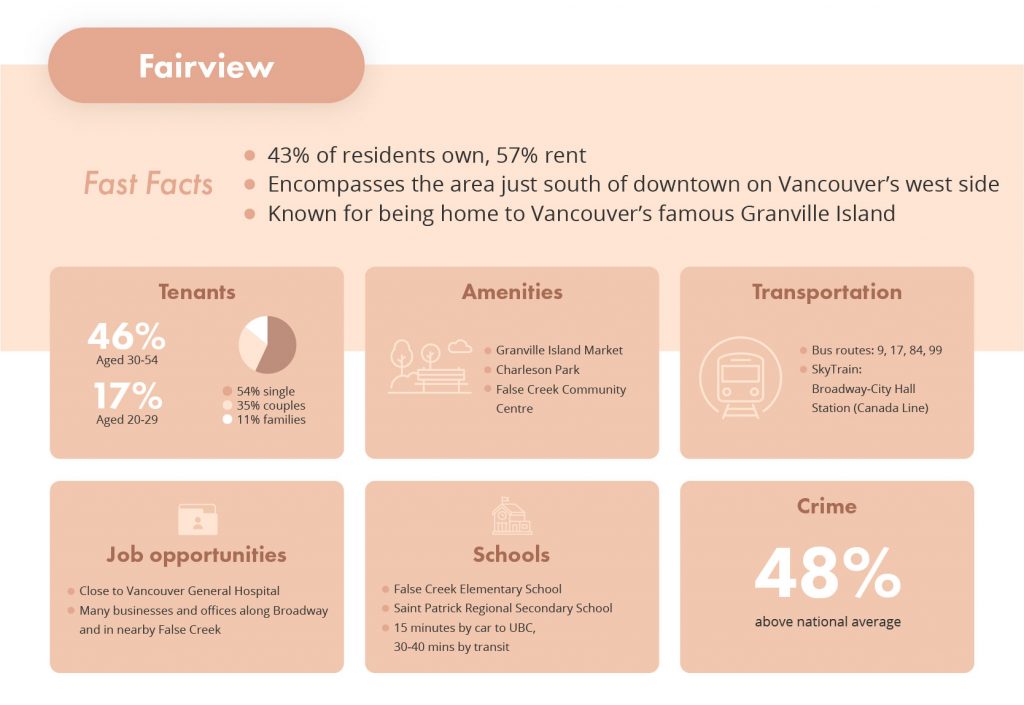 Source: nexthome.ca
Average home prices in Fairview
Below are the average house prices in Fairview as of June 2022. These numbers are from Zolo.ca with data drawn from MLS listings in the area.
| | | | |
| --- | --- | --- | --- |
| | 1 Bed | 2 Bed | 3 Bed |
| Condo | $688,000 | $1,200,000 | $1,800,000 |
| Townhome | $655,000 | $1,300,000 | $2,400,000 |
| Detached | N/A | N/A | $3,500,000 |
Source: Zolo
Sapperton, New Westminster
Neighbourhood overview
New Westminster's oldest neighbourhood, Sapperton is steeped in history while offering incredible value in the present and appealing to renters and owners from all walks of life. New Westminster as a whole has been a hotbed for investment activity as of late, and it's not hard to see why.
"Sapperton is still a hidden gem for investors that's North of Fraser River. Rental return is higher than most transit-oriented areas as property prices are still more affordable when compared with town centres like Brentwood Mall or Lougheed Mall" says Jerry Wang of W Brothers Real Estate Group, "young professionals are falling in love with this newly populated area as the lifestyle there is unparalleled."
As more people move to New Westminster, the area has developed a reputation for its tight-knit community just a short commute to Downtown Vancouver via the SkyTrain. With plenty of well-reputed schools, lush parks and trails, job opportunities and of course, New Westminster's famous breweries, purchasing a home in Sapperton is sure to pay dividends well into the future.
Particularly popular among first-time homeowners, 57% of Sapperton residents own their home, but there's still 43% of the population that rents — the vast majority of whom are in their 20s-30s. The neighbourhood is home to two popular parks in Sapperton Park and Hume Park, and also counts Royal Columbian Hospital within its boundaries for an added selling point. With schools catering to students of all ages, the area is also particularly popular with families.
Here's a quick overview of Sapperton: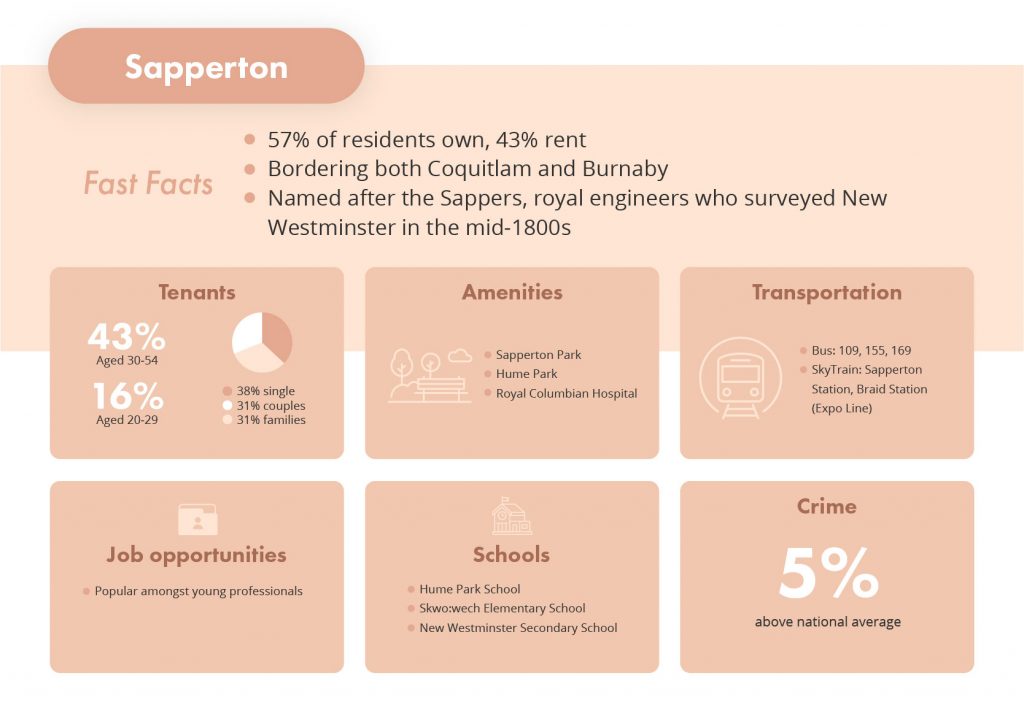 Source: nexthome.ca
Average home prices in Sapperton
Below are the average house prices in Sapperton as of June 2022. These numbers are from Zolo.ca with data drawn from MLS listings in the area.
| | | | |
| --- | --- | --- | --- |
| | 1 Bed | 2 Bed | 3 Bed |
| Condo | $478,000 | $726,000 | N/A |
| Townhome | N/A | N/A | $872,000 |
| Detached | N/A | $900,000 | $1,500,000 |
Source: Zolo.ca
Killarney, Vancouver
Neighbourhood overview
On Vancouver's far southeast end is Killarney, a diverse community that has long been a home for young families and those looking for urban convenience a little further away from the hustle and bustle of downtown. The neighbourhood shares a border with Burnaby which contributes to its wide-ranging appeal, since residents can quickly and easily commute to both downtown cores by way of the Expo Line at Joyce-Collingwood Station, or by one of the many buses with stops throughout the neighbourhood. With plenty of schools, parks, and a community centre close by, Killarney is a dream for families and those looking for a close-knit community.
For investors, the neighbourhood offers the perfect opportunity to purchase a first property in the city at prices well below Vancouver's averages. Despite ongoing development in the area and continued movement from young professionals, a one-bedroom condo in the neighbourhood sells for an average of $420,000 with comparatively low prices for townhomes and detached houses as well.
Here's a quick overview of Killarney: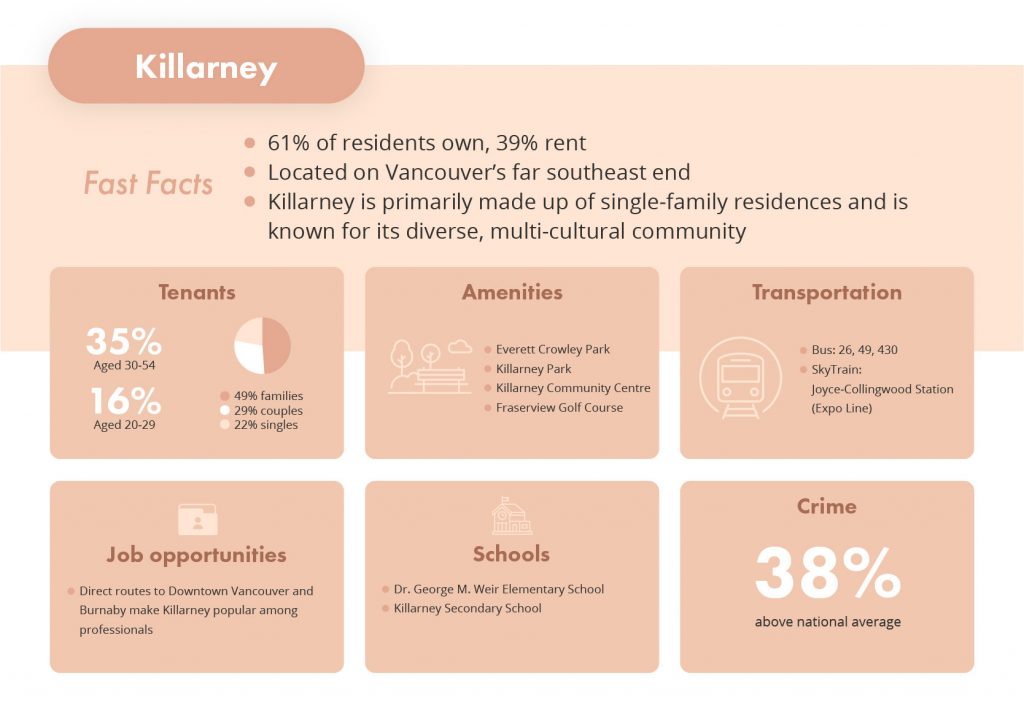 Source: nexthome.ca
Average home prices in Killarney
Below are the average house prices in Killarney as of June 2022. These numbers are from Zolo.ca with data drawn from MLS listings in the area.
| | | | |
| --- | --- | --- | --- |
| | 1 Bed | 2 Bed | 3 Bed |
| Condo | $420,000 | $637,000 | N/A |
| Townhome | $650,000 | $802,000 | $1,300,000 |
| Detached | N/A | N/A | $1,500,000 |
Source: Zolo.ca
Willingdon Heights, Burnaby
Neighbourhood overview
Willingdon Heights combines old and new in a centrally-located but safe and welcoming neighbourhood centred around a lively commercial district on Hastings Street. Easy access to Vancouver by bus, car, or SkyTrain has made Willingdon Heights exceedingly popular among working professionals, with the vast majority of residents in the 30-54 age group. Parks are everywhere within the neighbourhood, and the ever-expanding Brentwood Town Centre shopping district is close at hand as well.
Willingdon Heights is well-established as a premier residential community in Burnaby, but there's still plenty of opportunity for investors to get in on the action. Home prices remain lower than many similarly convenient areas of Vancouver and Burnaby, and the neighbourhood is consistently in demand with renters, despite just 27% of residents renting their homes.
"Willingdon Heights is one of our investors' favourite areas, since it attracts professionals of all stripes, making the neighbourhood extremely diverse. As more people return to their offices for work, areas like Willingdon Heights will become even more favourable for those who are going into the city on a daily basis, making it the perfect place to put down roots, or purchase another property as an investment." -Jerry Wang, W Brothers Real Estate Group.
Here's a quick overview of Willingdon Heights: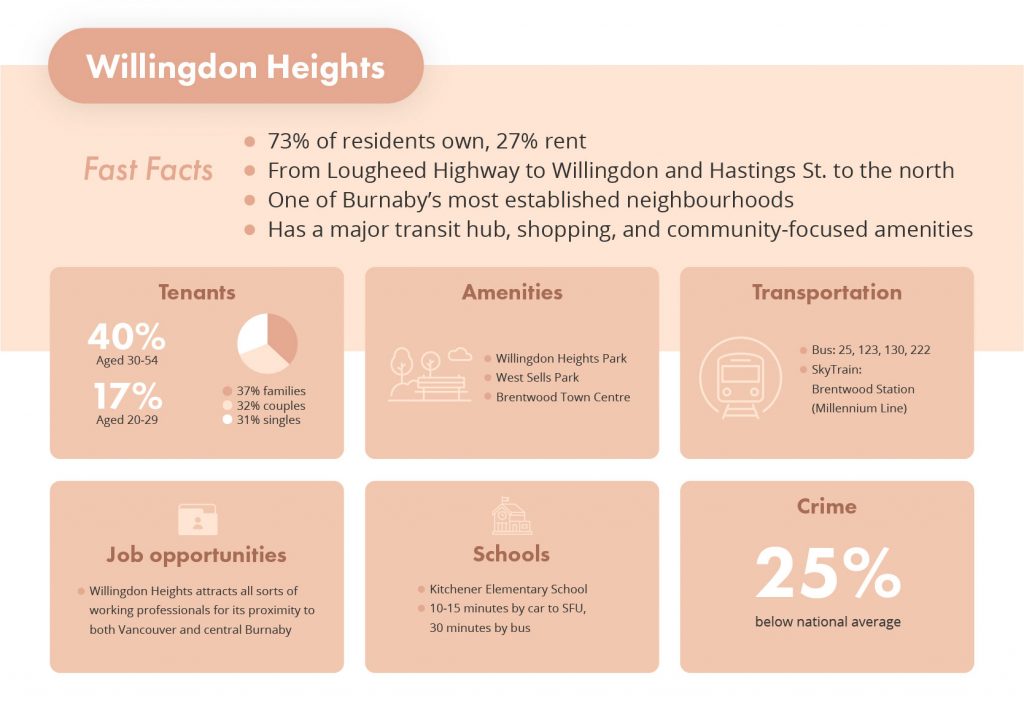 Source: nexthome.ca
Average home prices in Willingdon Heights
Below are the average house prices in Willingdon Heights as of June 2022. These numbers are from Zolo.ca with data drawn from MLS listings in the area.
| | | | |
| --- | --- | --- | --- |
| | 1 Bed | 2 Bed | 3 Bed |
| Condo | $523,000 | $610,000 | N/A |
| Townhome | N/A | $1,100,000 | $1,000,000 |
| Detached | N/A | $1,300,000 | $1,700,000 |
Source: Zolo.ca
Glenbrooke North, New Westminster
Neighbourhood overview
Last but certainly not least is Glenbrooke North, another excellent family-friendly community in the heart of New Westminster. The tight-knit neighbourhood has a well-defined identity that has been cultivated over many years, with its own neighbourhood association that meets bi-monthly to address issues concerning the area. This community pride is evident in Glenbrooke North's scenic tree-lined streets, and its signature Queen's Park which brings families from all over New Westminster and beyond. This popular destination has two playgrounds, a sports facility, a baseball stadium, a petting zoo, and so much more which makes it an essential stop in the summer months.
"Glenbrooke North is a favourite among young families because of its rich history and welcoming culture. Whether they're renting or buying, families like to stay in the area whenever possible. As a historically significant area, this neighbourhood brings the locally-focused, exciting Vancouver vibe to New Westminster, making it the perfect place for families to grow. Families are willing to pay more rent to stay in the area for longer periods when given the opportunity!" says Jerry Wang of W Brothers Real Estate Group.
Investors can still find many a bargain in this popular neighbourhood, with prices still not having caught up to similar areas in nearby Vancouver and Burnaby. Columbia SkyTrain station is close by to transport residents to other parts of the lower mainland, and bus service is excellent within New Westminster as well. The majority of Glenbrooke North residents do own their homes, but there's still a solid 41% who rent in the neighbourhood.
Here's a quick overview of Glenbrooke North: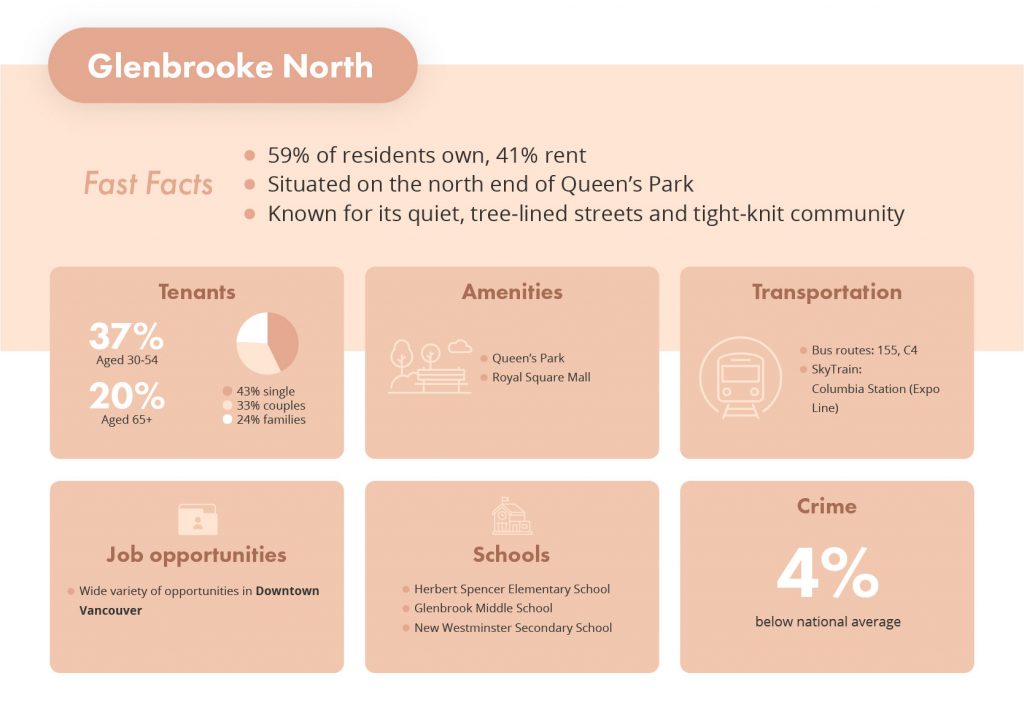 Source: nexthome.ca
Average home prices in Glenbrooke North
Below are the average house prices in Glenbrooke North as of June 2022. These numbers are from zolo.ca with data drawn from MLS listings in the area.
| | | | |
| --- | --- | --- | --- |
| | 1 Bed | 2 Bed | 3 Bed |
| Condo | $534,000 | $690,000 | N/A |
| Townhome | $555,000 | $850,000 | N/A |
| Detached | N/A | $1,400,000 | $1,400,000 |
Source: Zolo.ca
How to calculate profitability on your rental property
One of the key things investors need to look at before investing in a rental property is the capitalization rate, or cap rate, of their potential investment. To put it simply, capitalization rate denotes the expected rate of return on an investment property. In other words, your property's capitalization rate measures the ratio between your annual rental income and the property's current market value.
We won't get into the precise formula here since there's a good deal that goes into calculating this number, but there are plenty of calculators online to help you get a sense of how much you can make from your rental property, such as this one from calculator.net.
Interest rates & what they mean for investors
Rising interest rates have sent many Canadian investors into a frenzy, but what do they actually mean for real estate investors? For those who already own a home, this rise could be cause for concern as mortgage rates rise accordingly. According to a recent CBC article, as many as 1 in 4 Canadians will be forced to sell their home if rates continue to rise, a grim statistic that has caused panic across the country. Particularly for those with a fixed-rate mortgage, be prepared to see your monthly mortgage payments rise in the coming months.
However, a likely side effect of these rising rates is a significantly larger inventory of rentals and decreased demand, which likewise means lower sale prices — which could be good news for investors. It's also probable that rent prices continue to rise alongside mortgage rates as homeowners recoup their more costly payments, which signals that Canadian investors still have plenty of opportunities to turn a profit by renting out their units. If you're planning on investing in real estate in the coming months, it's a good idea to educate yourself on what these higher interest rates mean for you as an investor, and prepare accordingly for stress tests and other realities brought on by higher interest rates.
Tips for renting out your property
Should you choose to rent out your property, it's a good idea to get familiar with the rental process in Canada and Ontario specifically, including the terms of Ontario's standard lease. There's more to being a successful landlord than this though, particularly if you're trying to maximize the potential profit you can earn from your unit.
The most successful landlords are experts at both marketing and tenant screening — the two most important factors in ensuring your unit remains occupied with quality tenants. Many investors, especially those with larger portfolios, tend to use property managers to operate their rental units, but managing your own property can be easier than you'd think.
Here are a few tips for maximizing your property's capitalization rate while saving time and minimizing effort:
Share your listings to multiple platforms — In order to reach as many renters as possible, it's important for landlords to share their listings far and wide. Popular listing sites like Craigslist, Kijiji, and Facebook Marketplace help you expand your audience and rent out your listing faster.
Have a rental 'hub' — Once you have plenty of interested leads, it's a good idea to choose one rental platform to handle all of your communications, leases, and rent payments. One option is liv.rent, a Canadian all-in-one rental platform that allows landlords to conduct the entire rental process in one place.
Use technology to your advantage — The rental industry has evolved rapidly in recent years, with advances like 3D Video Tours and Bitcoin rent payments changing the way landlords do business. To stay ahead of the curve and accommodate more renters, choose a digital rental platform that supports these cutting-edge technologies.
How liv.rent helps investment landlords
Investors looking to become successful landlords can greatly benefit from liv.rent's suite of rental management and marketing features. This all-in-one Canadian rental platform gives you access to a complete range of property management features, such as the Trust Score, our proprietary tenant screening tool powered by Equifax® credit reports, in addition to essential tools like standard digital contacts and automated rent payments by credit card, Bitcoin, and UnionPay.
For growth-minded landlords looking to expand their portfolio and grow their reputation as an investor, we also offer a premium Growth Plan for just $18/month, with additional features like lawyer-vetted lease addendums, 15 included credit checks per month, and organization and management tools for up to 3 users.
To learn more about how liv.rent can help you grow your portfolio and maximize your investment property's profits, take a look at our pricing plans here.
---
About W Brothers Real Estate Group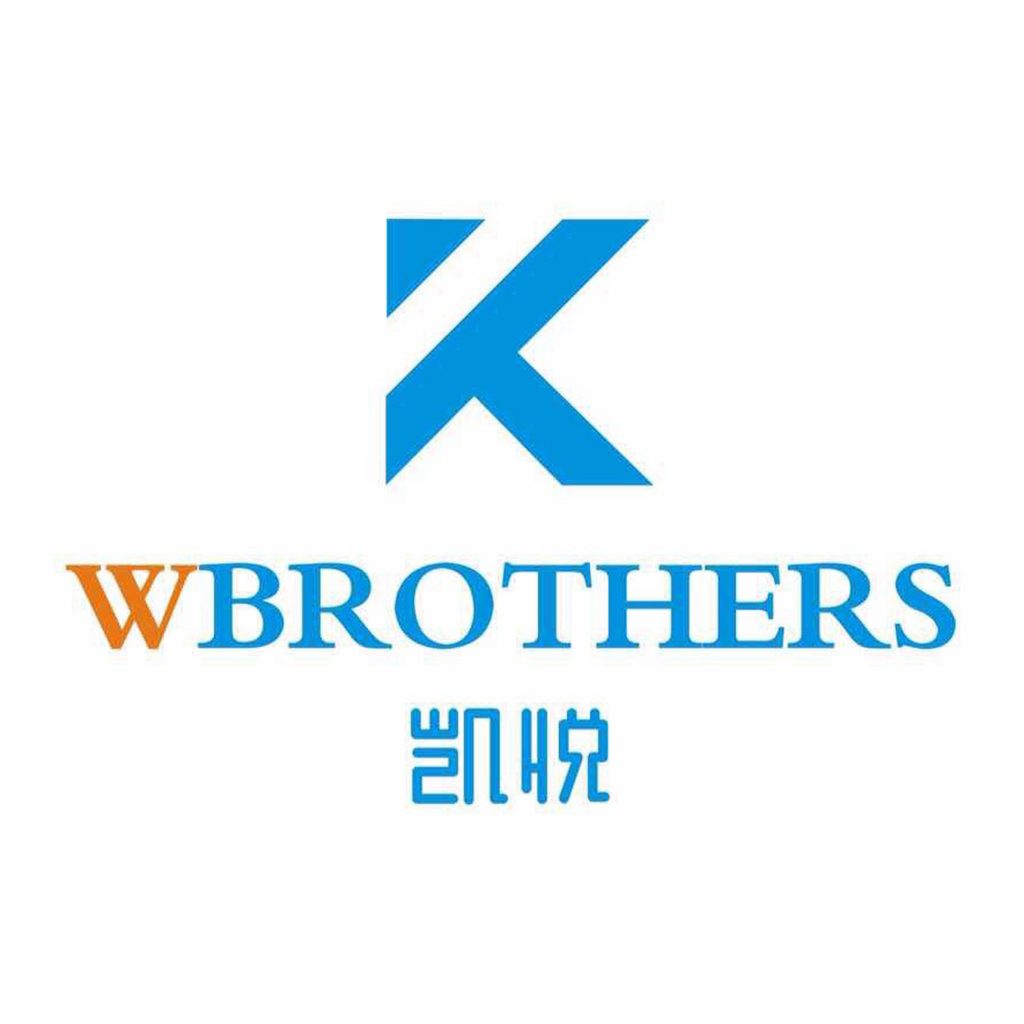 W Brothers Real Estate Group is a professional, one-stop-shop real estate agency that provides property rental and management, real estate investment, and real estate trading services. They are proudly connected with Macdonald Realty, Macdonald Commercial Services, and Macdonald Platinum Marketing Ltd.
W Brothers' Rental & Management services area includes residential apartments, condos and houses in the Greater Vancouver area. They serve both the homeowner and tenants, with services including property photography, taxes-related problem solutions, pre-rental property preparation, pre-rental consultation, tenants/properties searching.
For more on W Brothers, you can find their current liv.rent listings here and their company website here.
---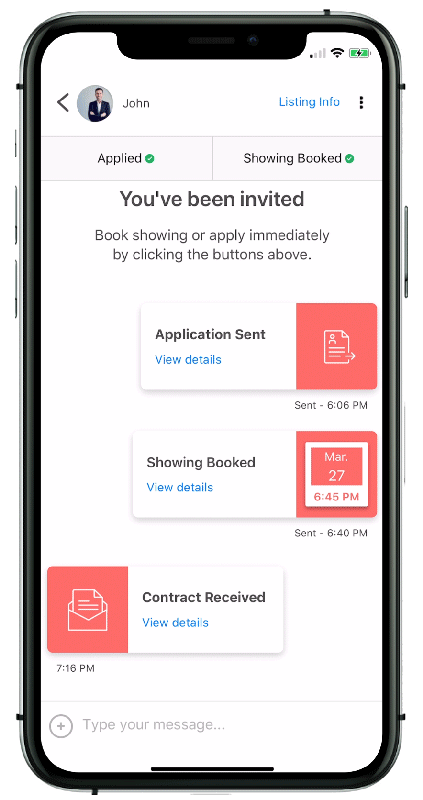 Rethink The Way You Rent
Not on liv.rent yet? Experience the ease of digital applications & contracts, verified tenants & landlords, virtual tours and more – all on one platform. Sign up for free or download the app.
Subscribe to receive the latest tenant & landlord tips and get notified about changes in the Canadian rental market.
>> Stay up-to-date on the average rent in Vancouver, Toronto and Montreal: Rent Reports.