Lifestyle
Project Highlight: Kitchen, Bathroom Renovations with Enzo Design Build
Renovating your rental can be a big job, especially when you are not sure on where to start. Kitchens and bathrooms often offer the greatest "wow" factor for most prospective tenants, which is why we've collaborated with Enzo Design Build's, Meysam Pourkaram, to share some tips and tricks for renovating kitchens and bathrooms in a way that is contemporary, but not too costly. We have deconstructed one of Enzo's recent renovations identifying the challenges they faced and the solutions they delivered to create a much improved, bright and contemporary space for their client.
Kitchen Renovations
The goal of this project was to create a home that felt contemporary, open and timeless for a young professional couple. A new kitchen would play a key role in achieving this. The client wanted a bright, open concept kitchen, ideal for entertaining. 
Challenges
Sink and dishwasher could not be relocated due to plumbing restrictions.
A concrete ceiling limited lighting options.
8-foot ceiling was too short to drop.
Limited storage space and more was required.
Dining nook temperature was poorly regulated – either too hot, or too cold.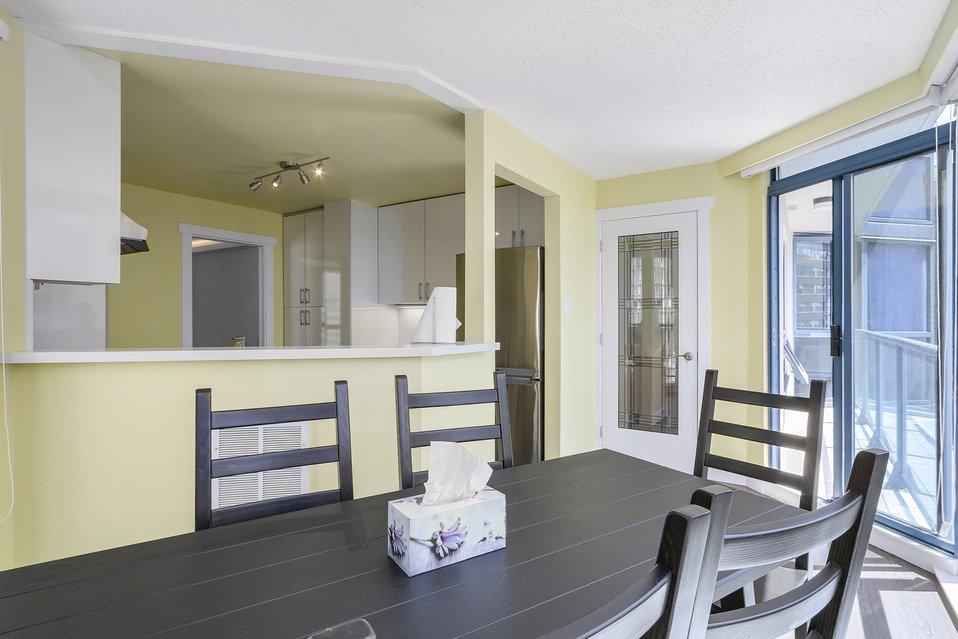 BEFORE
Enzo Solution:
Structural:
Removed nook walls for more natural light and to add space for a 5-seat peninsula (extended counter).
Removed second door to nook and added extra insulation to walls to provide guest bedroom with more privacy and for energy efficiency.
Removed kitchen entrance bulkhead and low-profile dropped ceiling giving the room added depth.
Created space for congregating.
Added studs to peninsula for structural integrity.
Design:
Installed 27" deep marble countertops including an 5.5'x7′ extended peninsula with an elegant waterfall finish – providing more counterspace for cooking and entertaining and creating a focal point in the open kitchen and a visual barrier to the rest of the space.
Used heat-resistant clear film on Italian marble to overcome porosity and prevent staining.
Built a hidden, extra deep, full-height, pull-out pantry.
Integrated spice rack by the stove.
Integrated stacked oven and microwave – aesthetically appealing and functional.
Added pot lights to low-profile drop ceiling and hidden, under cabinet LED lighting.
Employed local, custom millworkers to build Italian-grade cabinetry using easy to clean MDF.
Low-maintenance, durable, and easy to clean laminate floorings.
Installed counter-depth fridge with internal water and ice dispenser creating visual balance.
Used light grey painted MDF and Italian marble creating chic and soothing feel.
Green Features:
9% lower global warming potential and better energy performance appliances.
Energy efficient LED lighting.
Extra insulation in all service walls and spray foam at window connections to prevent heat/cold leakage.
Kitchen faucet with DIAMOND™ Seal Technology
Wi-Fi programmable thermostats.
3-way switches on both sides for easy access.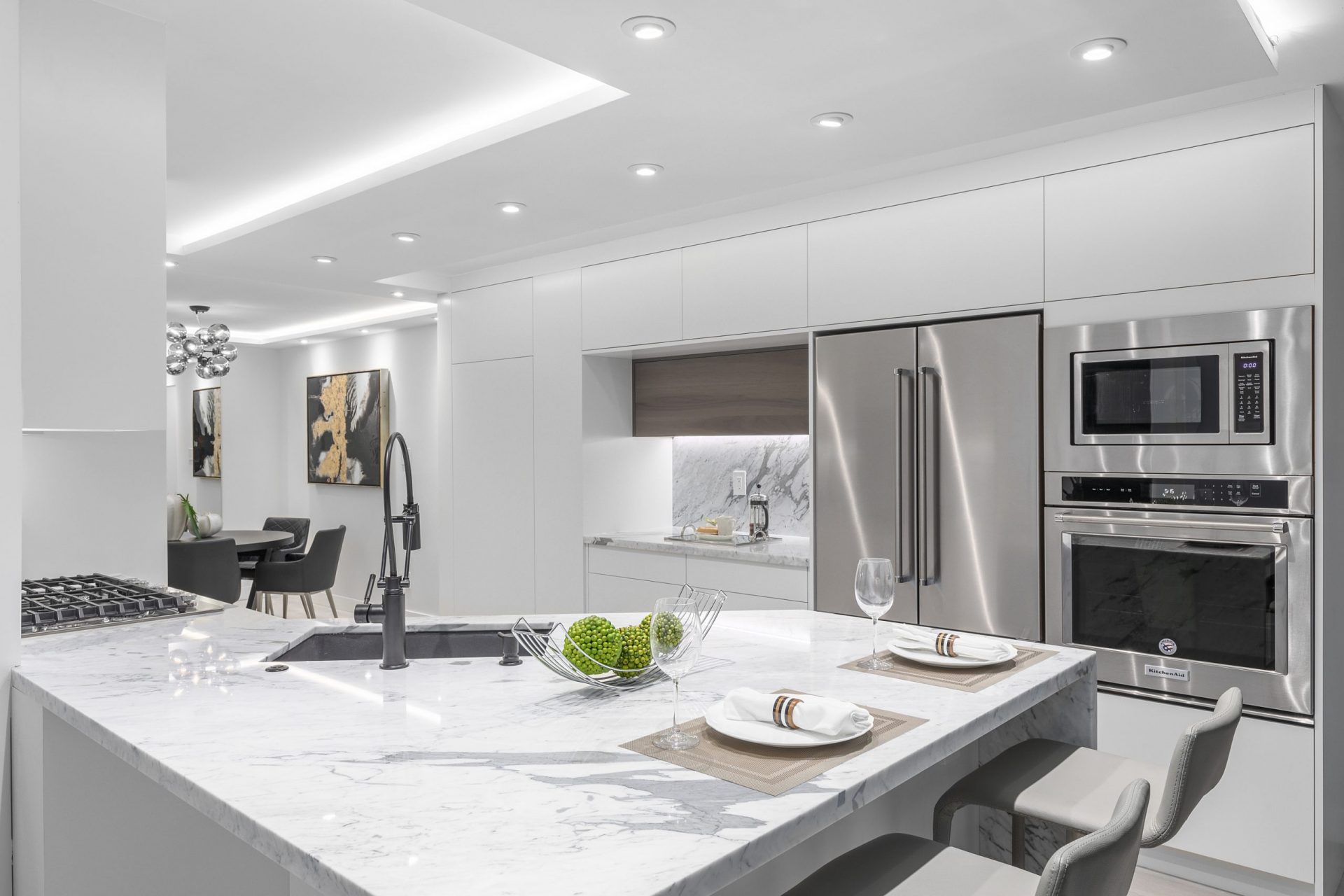 AFTER
Keep in mind, when renovating a rental property, you will want to budget smartly – spending money on items that ensure durability and less on luxury finishes unless, of course, you intend to eventually occupy by the home.
Bathroom Renovations
The client wanted a more functional, brighter, modern bathroom that made better use of the narrow space and featured a double vanity and large shower room.
Challenge:
Bulky, drop in bathtub
Outdated tiles
Under-utilized vanity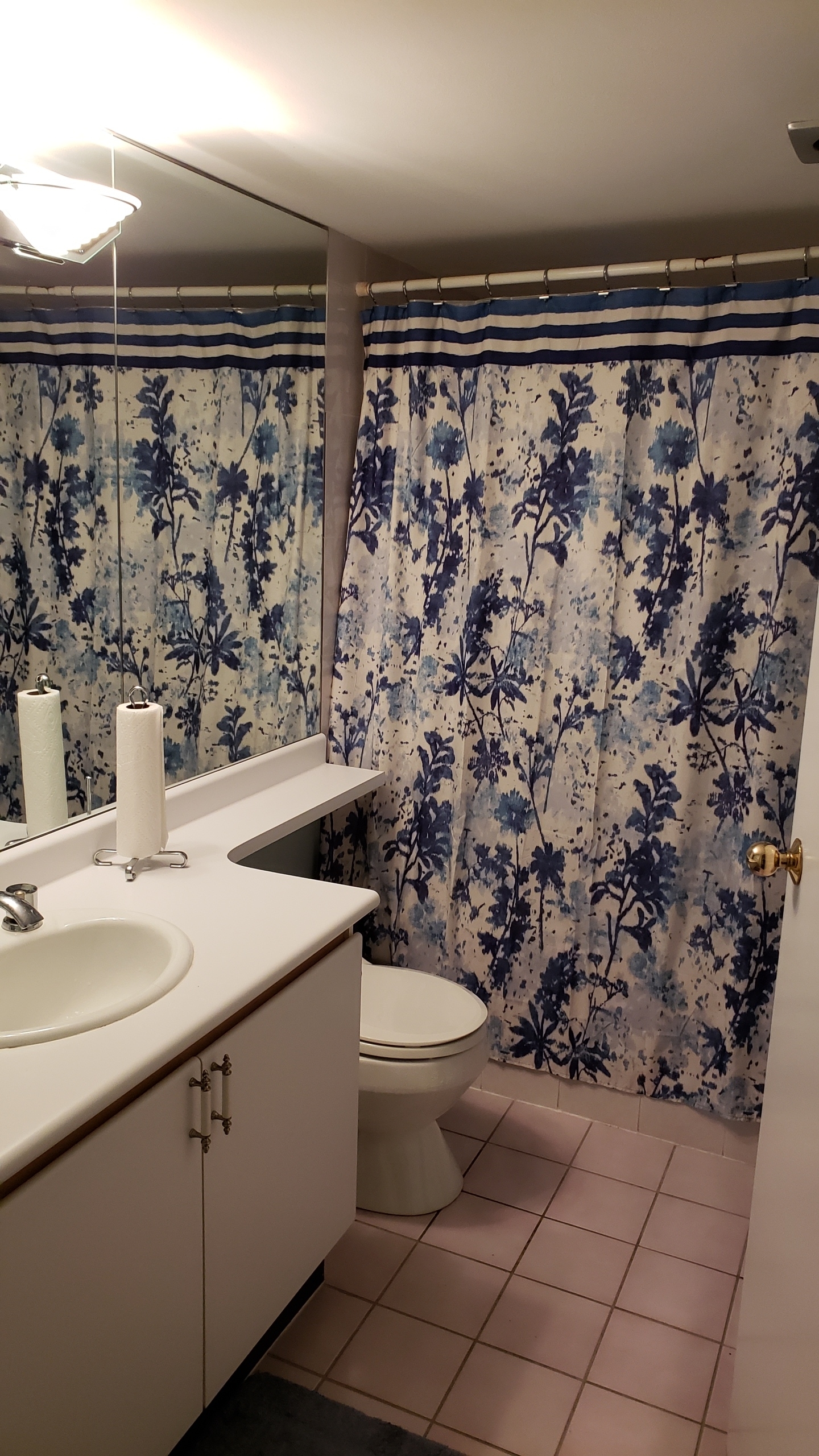 BEFORE
Enzo Solution:
Structural:
Existing bulky drop-in tub was transformed to a wide shower.
Curb-less shower, maximizing headroom in shower and easy entry.
Built-in niche in shower wall to add storage for cleaning products
Upgraded Pex plumbing system
Provided backing for future grab bars in shower and for accessories and shower glass.
Installed custom floating double vanity with storage drawers.
Soundproofing and extra insulation added to all service walls.
Energy efficient heated floors installed.
Design:
Added mirrored wall to create the illusion of space in the narrow room and painted end wall a darker colour to create depth.
Mounted round mirrors with LED lights that offer flattering illumination by eliminating shadows cast by ceiling pot lights.
Pattern matched floor tiles in different finishes to create water effect (Schluter tile system with 10 year warranty).
Motion sensitive, under vanity lighting adds comfort for night use.
Glossy finish on walls for ease of cleaning.
Hidden plugs added inside vanity drawers.
Locally made, grain matched, custom-made vanities without pulls  for a seamless look
Anti-fog spray applied on mirrors & shower glass
Under-mount sink for easy cleaning
Green Features:
Zero VOC, Low odour, mildew resistant paint
Wi-Fi smart and programmable lighting and heating system throughout
Nuheat floor heating, uses less energy and adds comfort
Energy efficient LED lighting was used throughout.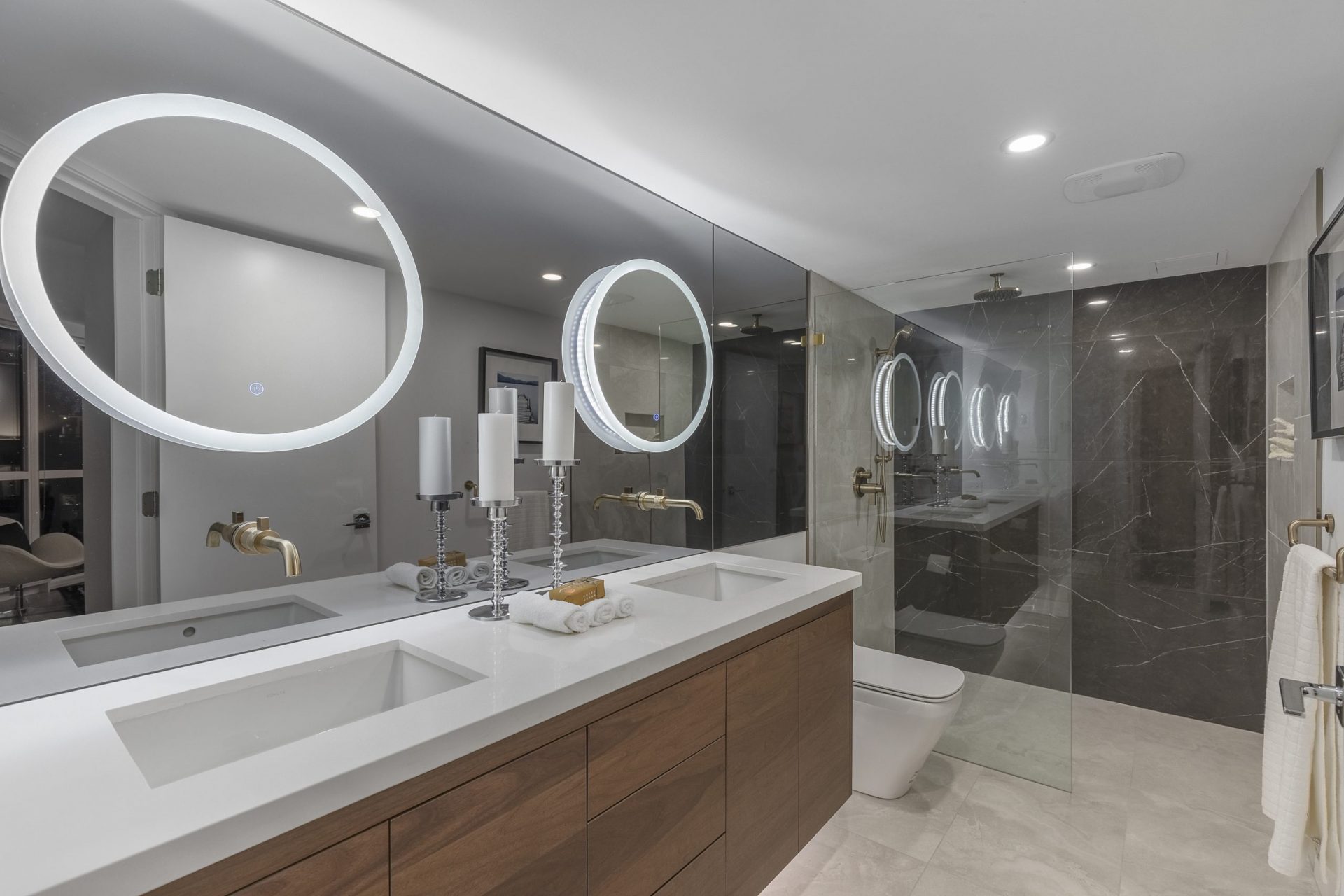 AFTER
The change was dramatic and the results delighted the Enzo client. The vastly improved space could easily command significantly more rent than before and the design choices will endure.
Before embarking on a renovation project, especially one on a rental property, carefully consider where money should be spent. The focus should be on durability and timelessness and less on expensive finishes. Regardless, the time and effort spent on renovations will be worth it, especially if you hope to boost your rental revenue.
Finished renovating your home and want to show it off? Check out our Top 10 Tips On Photographing Your Property.
---
To begin creating, managing, and sharing listings as a landlord, download the liv.rent app from the App store or the Google Play store or sign up here from your computer.