"Eviction" is a word that no landlord or tenant wants to hear or even think about. Sometimes, however, bad tenants can make it a necessary reality. As a landlord, you should know how to evict a tenant in case the worst comes to pass. In this article, we'll be going over some common reasons for eviction, types of notice landlords must give for different situations, and how to negotiate the end of a tenancy.
Table of Contents
Reasons for Eviction
If it comes to this, you will have to give your tenant approved notice with an acceptable reason for eviction outlined in the B.C. Residential Tenancy Act. These include:
This is not a complete list. Please refer to Section 47 of the RTA for more reasons for eviction.
Types of Eviction Notice to End Tenancy
There are four main types of eviction notices in B.C.:

1) 10 Day Eviction Notice for Unpaid Rent or Utilities
This is the most serious of the four types of evictions. You can issue a 10 Day Eviction Notice for Unpaid Rent or Utilities even if a tenant is only a few dollars short or one day late. The tenant will have five days to pay the missing portion in order to cancel this type of eviction notice. If the tenant believes you have unfairly issued this notice, they have five days to apply for dispute resolution to prove they in fact paid the rent in time. If neither action is taken, the tenant will have to vacate in 10 days. You can use the Residential Tenancy Branch's "Direct Request" process to quickly obtain an Order of Possession without even participating in a dispute resolution hearing.
If a tenant fails to pay you for utilities owed, you can issue this type of eviction notice too but only after you have given the tenant a 30 day written notice demanding payment.
Being evicted for non-payment of rent does not relieve a tenant of their debt for that month. You can pursue the tenant for the entire month of rent owed.

2) One Month Eviction Notice for Cause
The most common reasons for receiving a One Month Eviction Notice are:
Unreasonably disturbing you, the landlord, or other occupants;
Repeatedly paying rent late (at least three times within an unreasonably short period);
Causing serious damage to the rental unit or building and not fixing or repairing the damage.;
Causing danger to your landlord or other occupants;
Too many occupants living in the rental unit;
Engaging in illegal activity that negatively affects your rental unit, building, landlord, or other occupants; and
Breaching a "material term" (serious rule) of your tenancy agreement and ignoring a written warning from your landlord.
If the tenant does not dispute eviction, they will have until the last day of the next month to move out (assuming they pay rent on the 1st of the month).
If, however, the tenant is causing extremely serious problems, you can ask the RTB for permission to evict the troublesome tenant before a One Month Eviction Notice takes effect. You do not have to give the tenant an eviction notice before applying for this type of dispute resolution hearing. However, you must provide the tenant with notice of the hearing so that they have a chance to present evidence and defend themselves to an arbitrator.

3) Two Month Eviction Notice for Landlord's Use of Property
According to sections 49 and 49.1 of the Residential Tenancy Act (RTA), you can issue a Two Month Eviction Notice if:
You or a "close family member" (RTA defines this as you, your spouse, your children or parents) wants to occupy the rental unit;
The rental unit has been sold and the purchaser or a "close family member" of the purchaser wants to occupy your rental unit; or
Tenant no longer qualifies for your subsidized rental unit.

4) Four Month Notice to End Tenancy
According to section 49 of the RTA, landlords may issue a Four Month Notice to End Tenancy if they plan to:
Demolish a rental unit;
Make major renovations that require the rental unit to be empty for an extended period;
Convert the residential property to strata lots under the Strata Property Act;
Convert the residential property into cooperative housing under the Cooperative Association Act;
Convert a rental unit for use by a caretaker, manager, or superintendent of the residential property; or
Convert a rental unit to a non-residential use.
As a landlord, you must obtain the necessary permits required by law before issuing a Four Month Eviction Notice.
Tenant Leaves Early
If your tenant wants to move out before the two-month or four-month notice period has ended, section 50 of the RTA says that they need only provide 10 days written notice to move out early. When giving short notice to move out, the tenant is only required to pay for the days they actually lived in the rental unit. For example, if they paid the full rent for the first month of a two-month notice period, but then gave 10 days written notice and moved out before the end of that first month, the landlord must provide compensation for the days they did not occupy the unit. In addition, the tenant is still entitled to one month's rent as compensation for the second month of the two-month notice period.
Right of First Refusal
In residential properties containing five or more rental units, tenants being evicted due to renovations or repairs have a "right of first refusal" to return to their unit once the renovations or repairs have been completed.
If interested, tenants must provide you, the landlord, written notice indicating their interest in the newly renovated unit. Then you will have to inform this tenant at least 45 days before the completion of the renovations or repairs to let them know the date your renovated unit will be available and provide a new tenancy agreement for that effective date. Rent can be set at any amount you choose.
There are strict penalties when it comes to this area of the law. If your landlord does not offer you a right of first refusal after you have given proper notice, they could end up owing you 12 months of your previous rent as compensation. See sections 51.2 and 51.3 of the RTA for more information.
When a Tenant Doesn't Leave
By law, tenants are required to leave the rental property by 1 p.m. on the effective date specified in the notice, unless they have disputed the eviction. Landlords should also try to talk to the tenant about this in advance to prevent confusion and disputes on the day of. Should a tenant refuse to leave, the landlord should apply for an Order of Possession, a legal document that orders the tenant to vacate the premises. For more information on Orders of Possession, consult the B.C. Government's information page on Serving and Enforcing Orders.
If the tenant continues to occupy the rental property, the landlord must seek a Writ of Possession from the Supreme Court of B.C., which allows them to hire a bailiff to remove a tenant or their belongings and change the locks if necessary. At no point can a landlord forcefully remove a tenant or their belongs by themselves.
Disputing End of Tenancy
As a legal notice has been served, talking it over in person or writing a letter isn't enough. Tenants must apply for formal dispute resolution within the specified time frame, at which point the Notice of Eviction will be put on hold until an arbitrator has made a decision on the matter. For 10 Day Notices, this means applying for dispute resolution within 5 days, and for One Month Notices the timeframe is 10 days. For a complete list of dispute deadlines and more information on the dispute process, consult the Landlord Notice to End Tenancy page.
Want more rental-related news, tips and stats delivered to you? Subscribe to our newsletter here!
---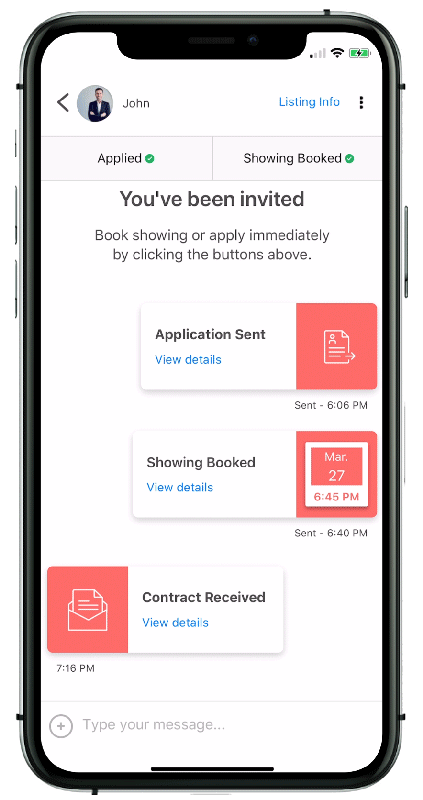 Rethink The Way You Rent
Not on liv.rent yet? Experience the ease of digital applications & contracts, verified tenants & landlords, virtual tours and more – all on one platform. Sign up for free or download the app.
Subscribe to receive the latest tenant & landlord tips and get notified about changes in the Canadian rental market.
>> Stay up-to-date on the average rent in Vancouver, Toronto and Montreal: Rent Reports.