Listings with better photos receive about 3 times more inquiries on the liv.rent platform. To attract the right tenants and to bring in more than one applicant, you need to present your property in the best possible way. This means taking beautiful photos of your rental property. If you don't have the budget or time to hire a professional photographer, here are 10 tips to follow to help you photograph your rental property.
Table of Contents
Landlords & Property Managers
Advertise your rental for free on liv.rent – an all-in-one rental platform.
Maximize Exposure: Multiplatform syndication to Craigslist, Kijiji, Zumper, Facebook Rental Groups & more.
Generate Quality Leads: Chat instantly with ID verified renters & search from a list of suggested tenants.
Screen Tenants Smarter: Easily assess a renter's reliability & trustworthiness with Trust Score – the new intelligent rating system.


.
1. Clean up and declutter
We can't stress enough how important this is. You want to make sure your prospective tenant can imagine themselves living there. If all they see is clutter, that won't happen! If you can't do it yourself, hire someone. Average cleaning costs between $75-$200 depending on how big your place is. Some quick cleaning tips if you want to do it yourself:
Hide messy cords
Hide all footwear
Hide your kitchen mess! When taking your photo, hide anything that is not a kitchen appliance. That includes dish rags and food.
Ensure pictures are hanging straight
2. Brighten up
Natural light is the best light, so plan to take photos in the daytime AND turn on the lights. Brighter always looks bigger and truly enlivens a space. It is also best to photograph without flash.
3. Add a pop of colour
Bring in a colourful focal point. This could be a bouquet of peonies, a bowl of green apples or lemons or bright throw pillows. This will help liven up your space.
4. Pick the right angle
The camera should ideally be at a height of around 4-5 feet and ideally on a tripod. These are inexpensive and available for phones as well. They ensure your shaky hand isn't a factor. This is the best way to avoid blurry images and to keep photos straight and consistent.
5. Show a realistic perspective
Shoot toward a corner or from a doorway to provide a realistic perspective on your space. Using fisheye lenses may make your place look bigger, but let's face it, they are misleading. You don't want a potential tenant to be disappointed by the size of your space.
6. Get low
When you are taking wider room shots, get a bit lower. This can make a space appear more open.
7. Highlight unique features
Showcase what makes your unit unique, like a cute reading nook, beautiful deck, or newly renovated kitchen or bathroom. This could also include a beautiful assortment of milk glass on your mantle or your vintage camera collection.
8. The Rule of Thirds
Employ the essentials of photography, specifically, "The Rule of Thirds". This basic guideline proposes that the focal point of a photo should fall at the intersection of 2 equally spaced vertical and horizontal lines (essentially dividing the frame into 9 imaginary, equal parts). Following this rule ensures harmony and visual interest in your photos. Experiment by comparing a centred subject vs. one that falls on a third.
.
Pro Tip: Cropping is your friend. Done well (with the rule of thirds in mind), it can turn an average photo into an excellent one.
9. Keep vertical lines vertical
Position your camera in an angle that allows all vertical lines to show as vertical. This includes windows, walls, millwork, pictures, etc. all vertical lines should read vertical. In other words, take a straight photo!
10. Use a proper camera
As sophisticated as your phone camera might be, it can't compete with the quality a DSLR camera delivers. These can be rented inexpensively if you do not own one.
While it may take a bit more time and effort, the return on your photography investment will be tangible and effective. Set your rental apart from the rest with clear images that inspire potential renters to want to apply and move in faster.
---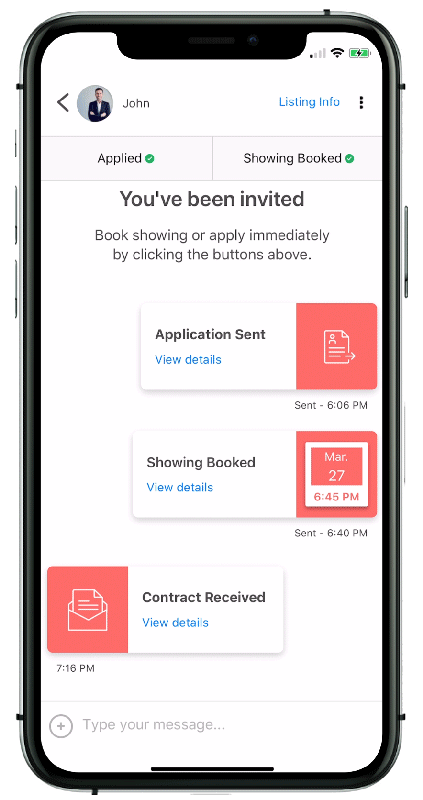 Rethink The Way You Rent
Not on liv.rent yet? Experience the ease of digital applications & contracts, verified tenants & landlords, virtual tours and more – all on one platform. Sign up for free or download the app.
Subscribe to receive the latest tenant & landlord tips and get notified about changes in the Canadian rental market.
>> Stay up-to-date on the average rent in Vancouver, Toronto and Montreal: Rent Reports