Rental Trends in March 2021
Before we get carried away into March, we're going to check in on what Montreal rent really costs on the ground. We made a report based on data from our own liv.rent platform and other listings websites to help our community of renters and landlords navigate the current rental landscape.
This month marks a difficult anniversary. It's been about a year since the COVID-19 pandemic turned life as we know it on its head. However, there are still bright spots ahead. After all, spring is here, and we're about to shed our winter coats. Plus, liv.rent is coming soon to Montreal — you can sign up for our newsletter to keep up.
This month, our rent report shows all the key rental market data and trends to help keep you informed. Let's take a look at the actual cost of rent in Montreal this March 2021:
Jump to the following Rent Report sections:
Average rent across Montreal
Taking a look at the six-month period from October 2020 to March 2021 — it's clear to see that Montreal's average cost of rent has significantly dropped overall. Continued downward pressure on rental rates means that it's dipped to a six-month low in March.
On the west coast in Vancouver, rent has already started to rebound up. And, in Toronto, it's still declining slowly in a similar way to Montreal.

Month-to-month rent change
Looking at the percentage change in average rent from February to March, the overall trend is down with a few remarkable outliers.
The cost of furnished rentals in Notre-Dame (-17.93%) and Villeray (-12.16%) took an astounding drop. Unfurnished rentals continued to drop in most areas, except for St. Henri-Westmount (+2.91,) Verdun (+6.69%,) and Villeray ( +7.19%.)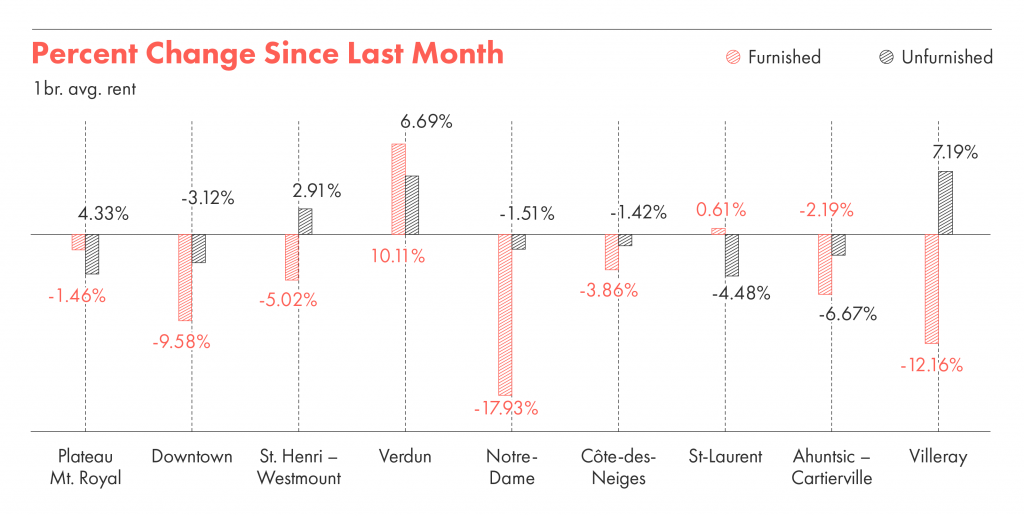 Montreal unfurnished vs. furnished rent averages
The average rent in Montreal for an unfurnished one-bedroom apartment in March stayed pretty static at $1,193 — a two-dollar difference from February's average of $1,195. The cost of a furnished rental dropped from $1,455 in February down to $1,375 in March.

Neighbourhood breakdown
Let's look at the different parts of Montreal to see exactly what's going on with rent in the different neighbourhoods. Ahuntsic-Cartierville continued to have the lowest average rent in the Montreal area with a one-bedroom unfurnished unit costing $929, down from February's $950.

Of course, it always costs more to rent Downtown. Rents there were $1,473, slightly down from last month's $1,521.

If we compare rent by listing type, we can see the differences in one, two, and three-bedroom rent rates across each area. Here are some key takeaways:
The lowest rent in every category is in Ahuntsic-Cartierville
For a two-bedroom furnished unit, rents are comparable in Downtown, Plateau-Mount Royal, and St. Henri-Westmount
The gap between furnished and unfurnished can be less than $100 in some neighbourhoods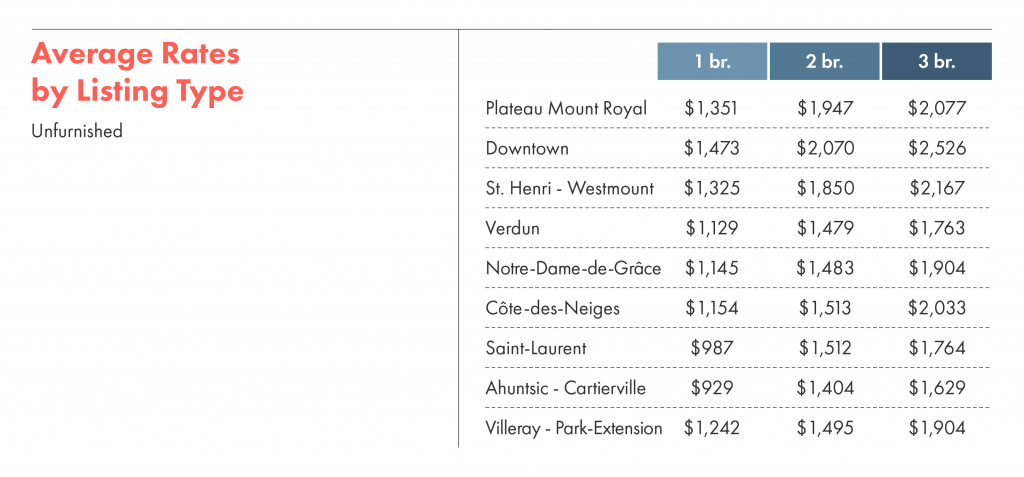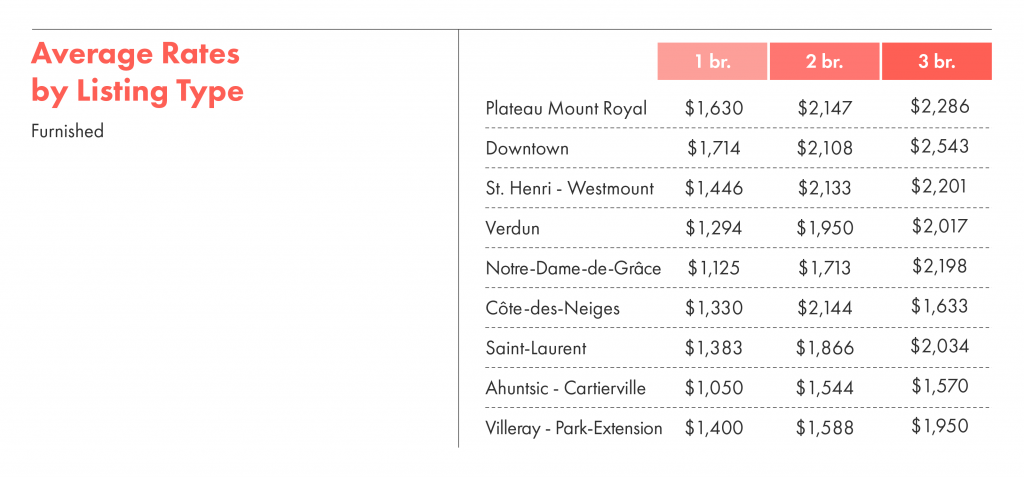 ---
Gain comprehensive insights about your listings with the new liv.rent Landlord listing Dashboard. Sign in to unlock live insights – find out the average rent for a comparable property, number of views your listing received and more!
Downloadable Resources
Looking for the full report? Download it for free here.
Bring the latest rental averages and trends to your next video conference with our custom virtual backgrounds.
Be sure to subscribe to our mailing list so you never miss an update on the Montreal rental market.
---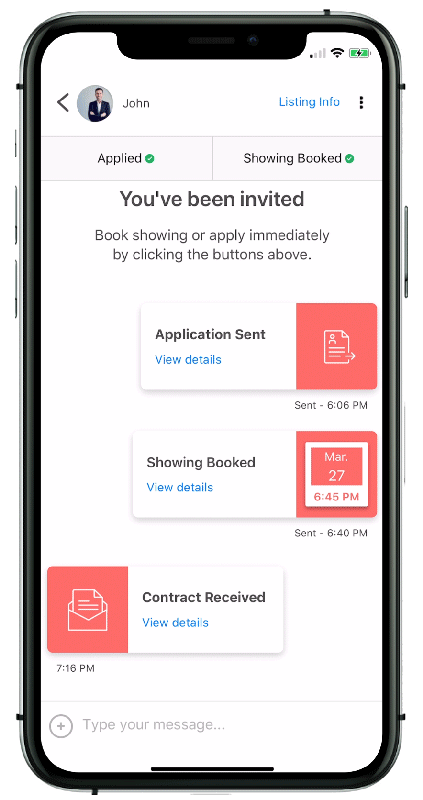 Rethink The Way You Rent
Not on liv.rent yet? Experience the ease of digital applications & contracts, verified tenants & landlords, virtual tours and more – all on one platform. Sign up for free or download the app.
Subscribe to receive these monthly updates on the Vancouver rental market. Discover last month's Rent Reports below:
February 2021 Vancouver Rent Report
February 2021 Toronto Rent Report
February 2021 Montreal Rent Report
---
COVID-19 resources
For information regarding COVID-19 and landlords and tenants, refer to these comprehensive resource posts. They include information on the various federal and provincial assistance initiatives available to help support landlords and tenants: