Rent seems to be on an upward trend, looks like the slump we saw in February, March, and April is over.
The unfurnished average rent for a one-bedroom in the city is $1,218
Meanwhile, unfurnished rent downtown dipped -3.15%, but went up between 6% and 11% in other neighbourhoods
Summer has arrived in Montreal and with COVID-19 restrictions loosening, it might finally be a time to celebrate. As Montrealers are busy catching up with friends they haven't seen for months on terraces, we're sharing our latest rental market data.
You can get the latest updates on the Montreal rental market straight to your inbox when you subscribe to keep on top of the trends.
Using both data from our own platform and manual collection processes covering all major rental listings, liv.rent is able to create the most accurate reflection of the true cost of rent in Montreal. Read our full report now and download the full version below to be in the know about rent in the city.
Jump to the following Rent Report sections:
Average rent across Montreal
First, we'll take a look at rental trends over the last six months for an unfurnished one-bedroom apartment in Montreal. There's a distinct difference between February and July, however, the trend has been gentle and sloping.
July's rental averages are slightly higher than June's and a general upward trend seems to be emerging.

Month-to-month rent change
Tracking how rent has changed from June to July 2021, we can see that unfurnished units went up quite a bit in Saint-Laurent (+11%) and Ahuntsic-Cartierville (+9%) as well.
Rent changes in Plateau Mount Royal and Downtown are very small, and the biggest drops in rent were in Verdun for furnished (-7%) and unfurnished (-5.9%) places.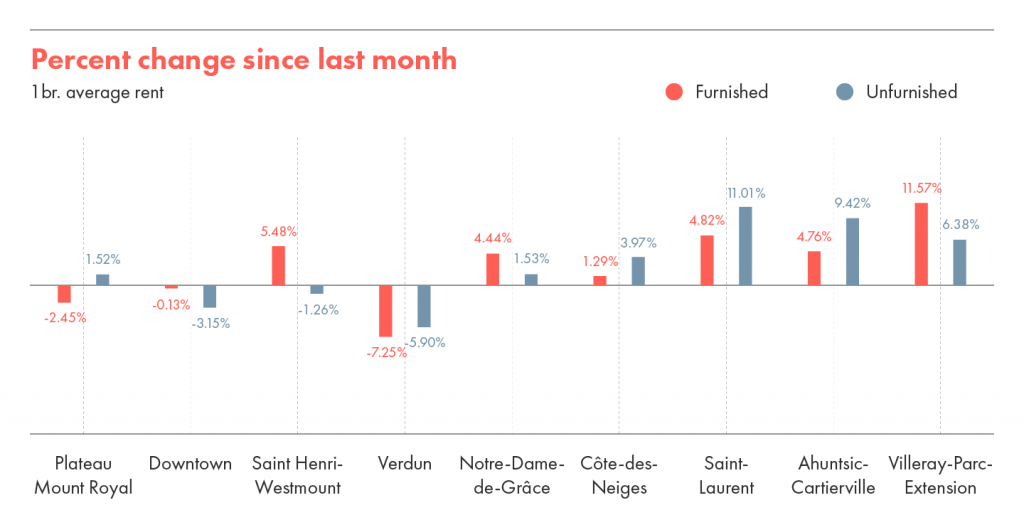 Montreal unfurnished vs. furnished rent averages
The difference between furnished and unfurnished one-bedroom averages is almost $200 in Montreal. It'll be cheaper for you to bring your own furniture if you're renting long-term in the city.
Meanwhile, for landlords and property managers, furnishing your rental could increase your return on investment.

Neighbourhood breakdown
Montreal is not a monolith. Each neighbourhood is distinct, so we've broken down our rental data into different neighbourhoods.
Historically, Ahuntsic-Cartierville is the most affordable place to rent while Downtown is the most expensive. Unsurprisingly, such is the case for July's rental averages as well.

Looking at the different listing types, we can see the differences in one, two, and three-bedroom rent rates across each area.
Unfurnished one-bedrooms are similarly priced in Verdun, Saint-Laurent, and Ahuntsic-Cartierville.
Furnished three-bedrooms are almost as expensive in Saint-Henri Westmount as they are Downtown.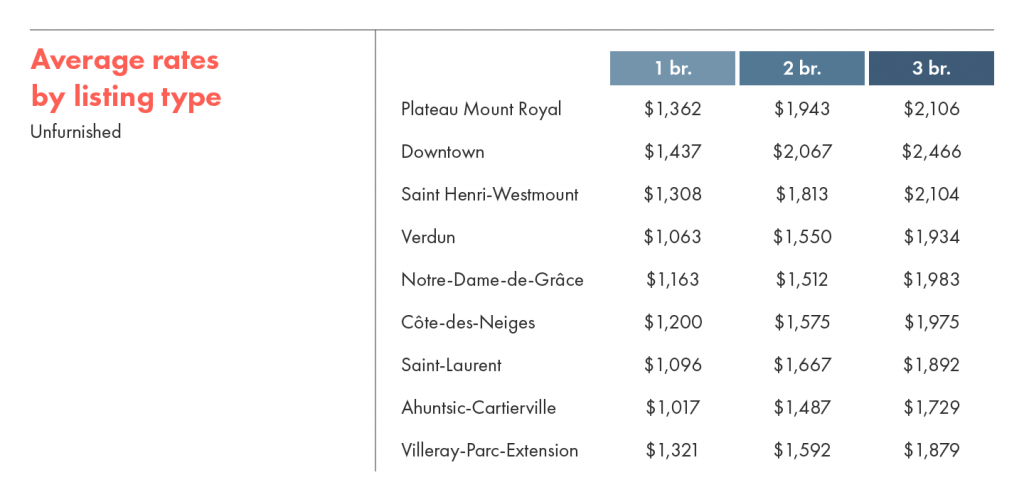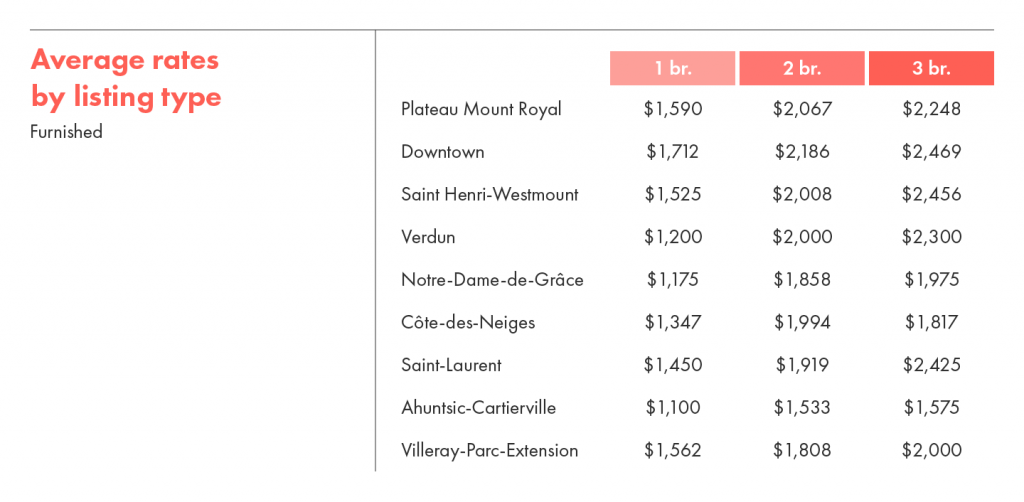 ---
Be sure to subscribe to our mailing list so you never miss an update on the Montreal rental market.

Downloadable Resources
Spice up your next Zoom call and show off the latest rental averages and trends at your next video conference with our custom virtual backgrounds.
Looking for the full report? Download it for free here.
---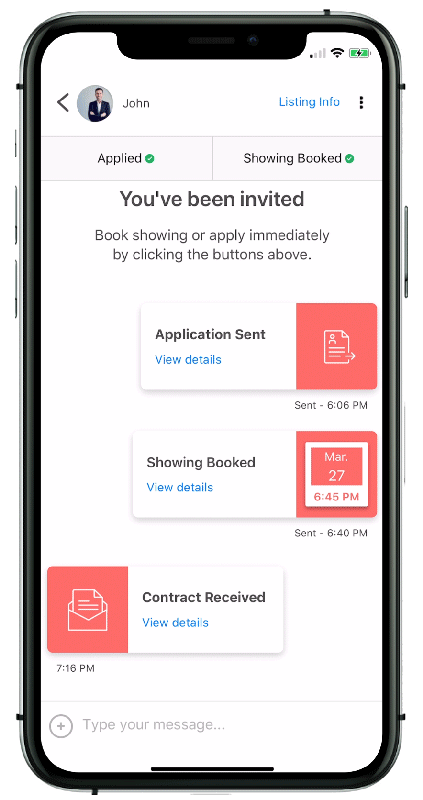 Rethink The Way You Rent
Not on liv.rent yet? Experience the ease of digital applications & contracts, verified tenants & landlords, virtual tours and more – all on one platform. Sign up for free or download the app.
Subscribe to receive these monthly updates on the Vancouver rental market. Discover last month's Rent Reports below:
June 2021 Vancouver Rent Report
June 2021 Toronto Rent Report
June 2021 Montreal Rent Report
---
Renting in Monreal
For information regarding COVID-19 and landlords and tenants, refer to these comprehensive resource posts. They include information on the various federal and provincial assistance initiatives available to help support landlords and tenants: