Lifestyle
Why You Should Buy An Electric Car In 2019
With the BC Electric Vehicle Rebate that kicked into effect May 1, it's hard not to wonder whether your next car should be an electric vehicle. Here are a number of reasons why you should buy an electric car in 2019 – saving money and the planet.
Reasons To Buy An Electric Car In BC
1. Selection and price range have never been better.
There are a record number of electric cars and hybrids on the market from affordable options from Chevy, Kia and Nissan, to pricier options from Audi and Tesla. See the table below for a summary of the different electric car price ranges:

2. Lower fuel costs compared to gas-powered vehicles.
According to BC Hydro research, there is a significantly lower fuel cost with electric cars compared to gas-powered cars – which makes sense with the increasing availability of electric charging stations around the city. See below for a comparison of fuel costs between the Nissan Leaf vs. Honda Civic:

3. Lower maintenance costs.
According to BC Hydro estimates, the average maintenance cost for a gas-powered vehicle works out to be about $100/month, with costs climbing as your vehicle gets older. Replacement battery packs for electric cars incur the most significant cost, averaging about $5,000-$8,000 depending on the model. However, most electric cars come with a 5-8 year warranty for battery replacements, which works out to be a lower cost than spending about $100/month for five years on regular maintenance.
4. Provincial Electric Car Incentives
As a BC resident, you are eligible for an additional $6,000 rebate on a new electric car costing up to $77,000 under the provincial CEVforBCTM (clean energy vehicle) program. These are point-of-sale incentives on eligible vehicles of up to:
$6,000 for the purchase or lease of a hydrogen fuel cell vehicle
$5,000 for the purchase or lease of a new battery electric vehicle
$2,500 – $5,000 for the purchase or lease of a plug-in hybrid electric vehicle
This program will be in effect until March 31, 2020 or until available funding is depleted, whichever comes first.
5. Federal Electric Car Incentives
The federal government's rebates encouraging Canadians to buy zero emission vehicles have been available to consumers since May 1, 2019. Recognizing that transportation is the second largest source of greenhouse gases in Canada, the governing Liberal's last budget laid out decisive measures to push sales of zero-emission vehicles (ZEVs) in our country. This category of cars includes:
Battery-electric
Plug-in hybrid electric
Hydrogen fuel cell
The new rebates offer Canadian car buyers rebates ranging from $2,500-$5,000 off the cost of zero emission or hybrid vehicles. In addition, the government raised the price threshold for eligible vehicles. Previously set at $45,000, and thereby excluding even the cheapest Tesla, the limit has now been raised to $55,000. In response, Tesla has launched a cheaper Model 3 for the Canadian market to ensure it qualifies for the rebate.
In addition, to encourage businesses to purchase electric vehicles, the government is offering a 100% write off for eligible vehicles purchased between March 19, 2019 and January 1, 2024 and up to a $55,000 limit plus sales tax. However, if you have already taken advantage of other purchase incentives, you will not be able to take advantage of this write-off – it is one or the other.
For a complete list of zero emission (iZEV) and hybrid vehicles eligible for rebates, please reference the Canadian government's iZEV Program Table.
6. Other Electric Car Incentives
Known as the Scrap-It program, British Columbians can trade in gas-powered vehicles for a number of incentives ranging from transit passes to full rebates up to $6,000 on the purchase of a brand new e-vehicle, or $3,000 for a used one.
Used, eligible EVs are well-priced and are also eligible for a $3,000 incentive as long as the vehicle is purchased from a participating dealership.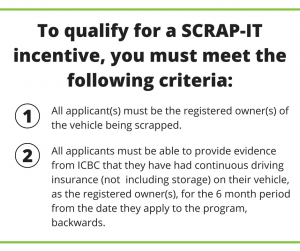 7. Resale values increasing
The average new gas-powered vehicle will be worth about 54% of its original price after 3 years and 39% after 5 years. Resale values for electric cars are improving as operating ranges improve. The Tesla Model 3, for example, is predicted to hold an impressive 64% of its value after 3 years.
With gas prices soaring and incentives like these, the time to shop for a low emission vehicle is now. Not only will you save considerable money, it will also enable you to extend your housing search to more affordable areas. The cost of a long commute is suddenly less of a factor when driving an electric vehicle!
Check out some of our Surrey, Burnaby, North Vancouver and West Vancouver listings!