Vancouver patio season is finally here! What better way to celebrate warmer weather than to enjoy a drink and a nibble outside at any one of our Vancouver 2019 patio picks:
615 Seymour St.
Yes, the renowned steak house has a lovely oasis awaiting you outside its back door. Surrounded by greenery, you could almost believe you were sipping that Aperol spritz on a Roman terrazza.  It is the perfect getaway from the every-day. Happy Hour, or Social Hour in Gotham parlance, features a live DJ, $8 hand crafted cocktails, 40% off bubbles and $2 shucked oysters.
Patio Cocktail: Pimm's Cup (Pimm's No.1, fresh mint and cucumber, ginger ale, lime juice)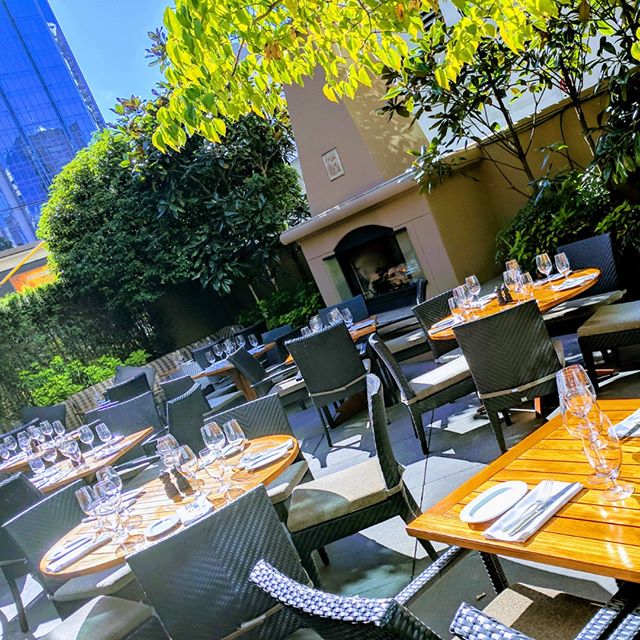 135 Keefer St.
Voted 2nd best bar in all of Canada, the Keefer is always a draw but when the weather is warmer, the cool outdoor space amps it up another notch.   Contemporary lounge seating, heating and atmosphere, this place oozes good times and serves up the very best cocktails (or Remedies & Cures) Vancouver has to offer.
Patio Cocktail: Xindu Shim (Lillet rose vermouth, Keefer happy wine, lemon, chinese rhubarb, gojiberry, soda)
1138 Homer Street | Second Entrance at 1137 Hamilton Street
This Yaletown stalwart is an exceptional choice for warm weather visits thanks to its 2 options – a completely renovated outdoor patio on the Hamilton Street side and a charming courtyard at its main entrance on Homer. Located in a beautiful 1912 brick building, Brix & Mortar serves up craft cocktails and innovative westcoast cuisine in a
Patio Cocktail: Beso de la Muerte (Kiss of death) (Sin Piedad Mescal, Pernod, Fresh Lime Juice, Housemade Pineapple Lime Cordial, Egg White)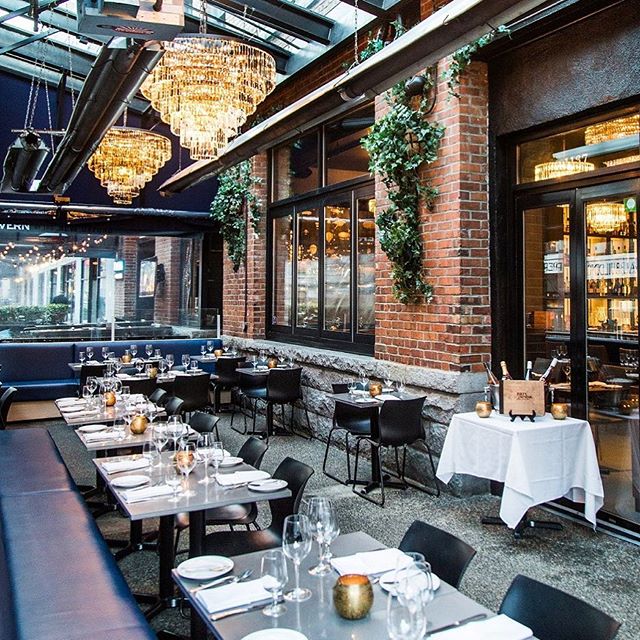 801 W. Georgia St, Vancouver, BC
Surrounded by buildings but open to the sky, this contemporary outdoor lounge is located on the 4th floor of the Rosewood Hotel Georgia. Removed from the traffic and noise of Georgia St, it gives off a seductive, South Beach vibe. Open seasonally between April and October and then again over the Christmas holidays, it is well worth a visit.
Patio Cocktail:   Limoncello Limonata (Botanist Gin, limoncello, lemon juice, chamomile syrup, soda)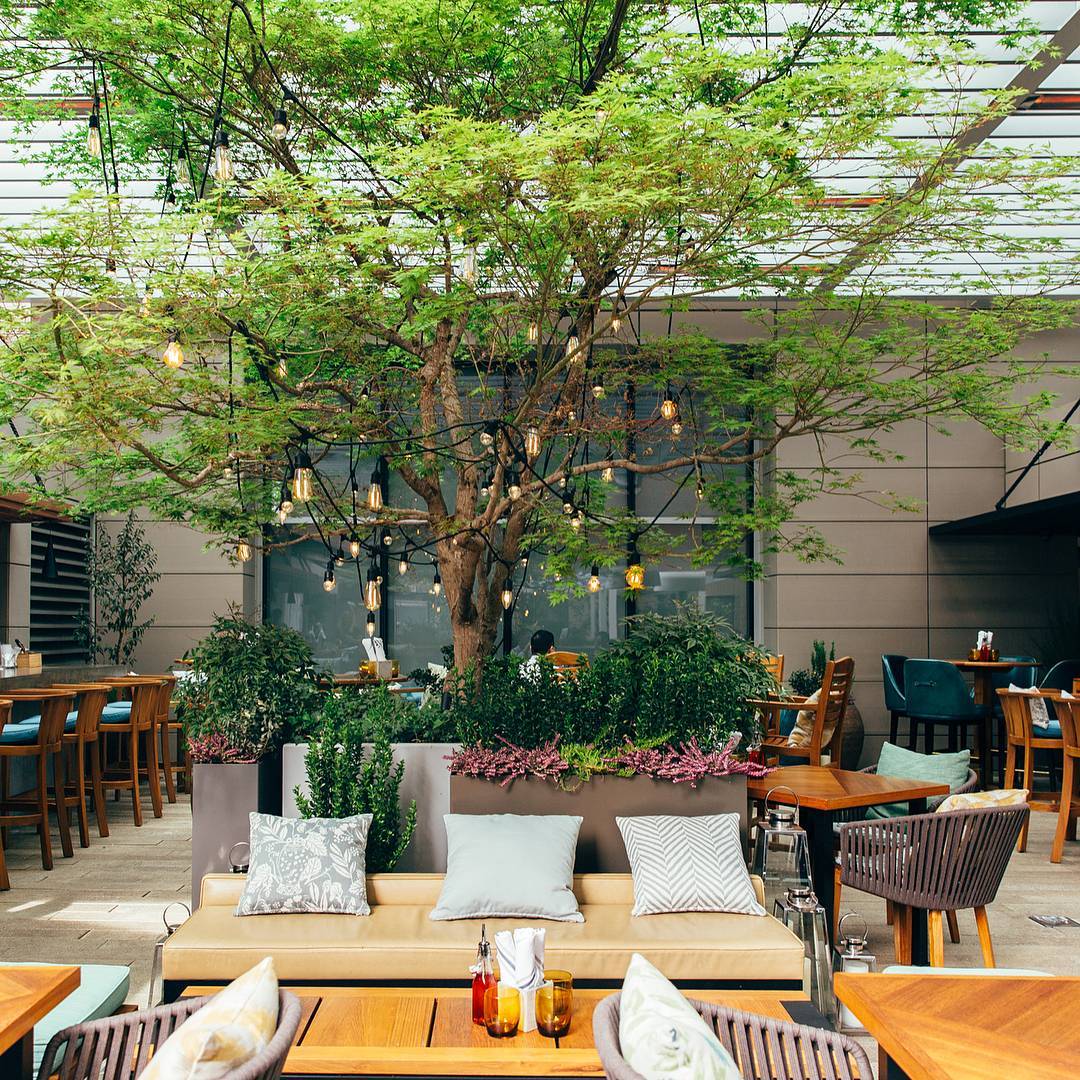 1118 Mainland St.
Last summer we featured Minami's gorgeous sister restaurant Miku but this year we thought this pretty, little patio was worth a mention. Surrounded by lush greenery, this Yaletown patio is perfect for happy hour or late night bites.
Patio cocktail: Pineapple Express (el dorado 21 year old rum, lime, pineapple anise bitters, cave de lugny sparkling rose, egg white)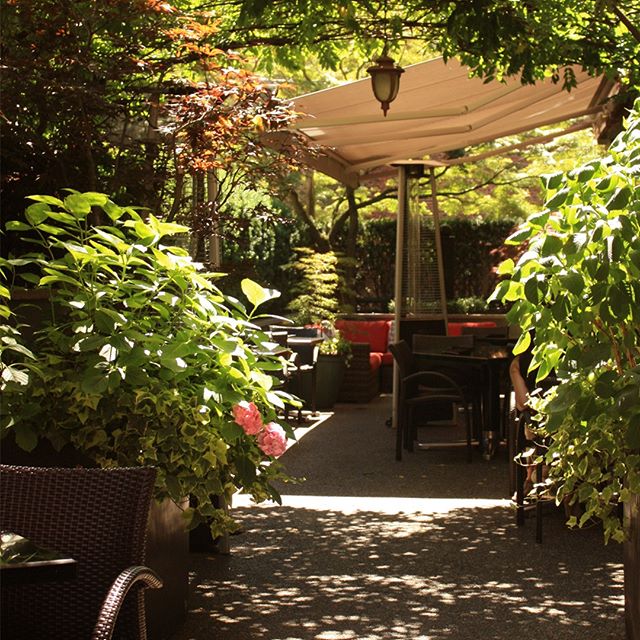 Vij's Patio
3108 Cambie Street
A sunny outdoor patio crowns Canada's most famous Indian restaurant. Looking out through rose coloured, perforated walls, enjoy Indian snacks and craft cocktails above the famous restaurant.
Patio Cocktail: Cambie Sour (Buffalo Trace Bourbon, Giffard Guava, Lemon & Claret)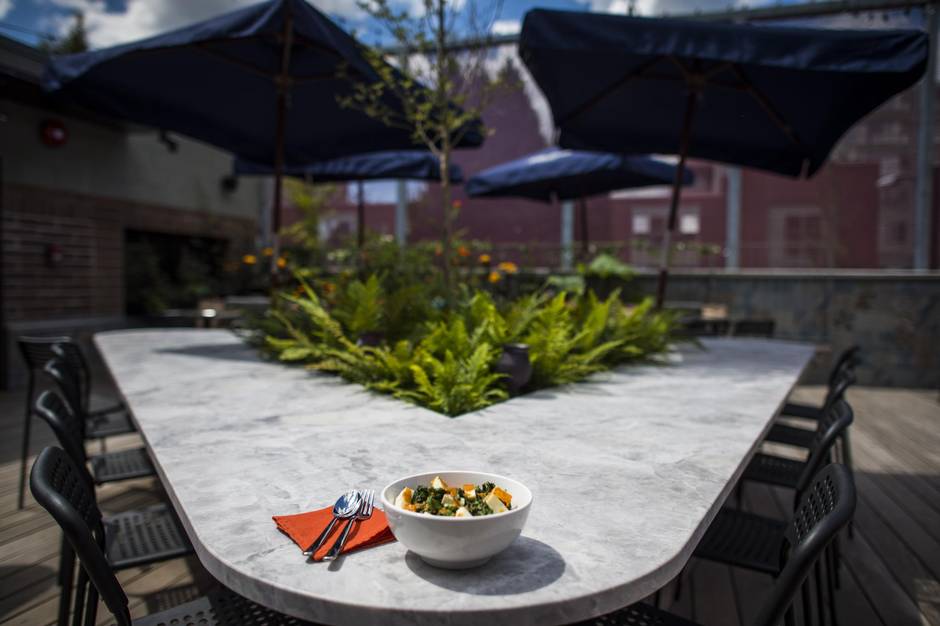 755 Richards Street
Who would think that behind this fairly standard pub, a courtyard patio awaits?  What a pleasant surprise. Enjoy pub fare surrounded by palms and trellises while the city sounds are drowned out by bubbly sounds of a fountain.
Patio Cocktail: Gin Basil Sour (Wallflower Gin, basil, simple syrup, egg whites, fresh lemon lime juice)

1300 Discovery St.
Located upstairs at the Jericho Sailing Centre, this patio is THE place to take in a Vancouver summer sunset. We recommend arriving early for outdoor patio seats though turnover is fairly quick. This is casual and informal but what it misses in terms of innovative cuisine, it makes up in views worthy of a Travel & Leisure shoot.
Patio cocktail: Classic Sangria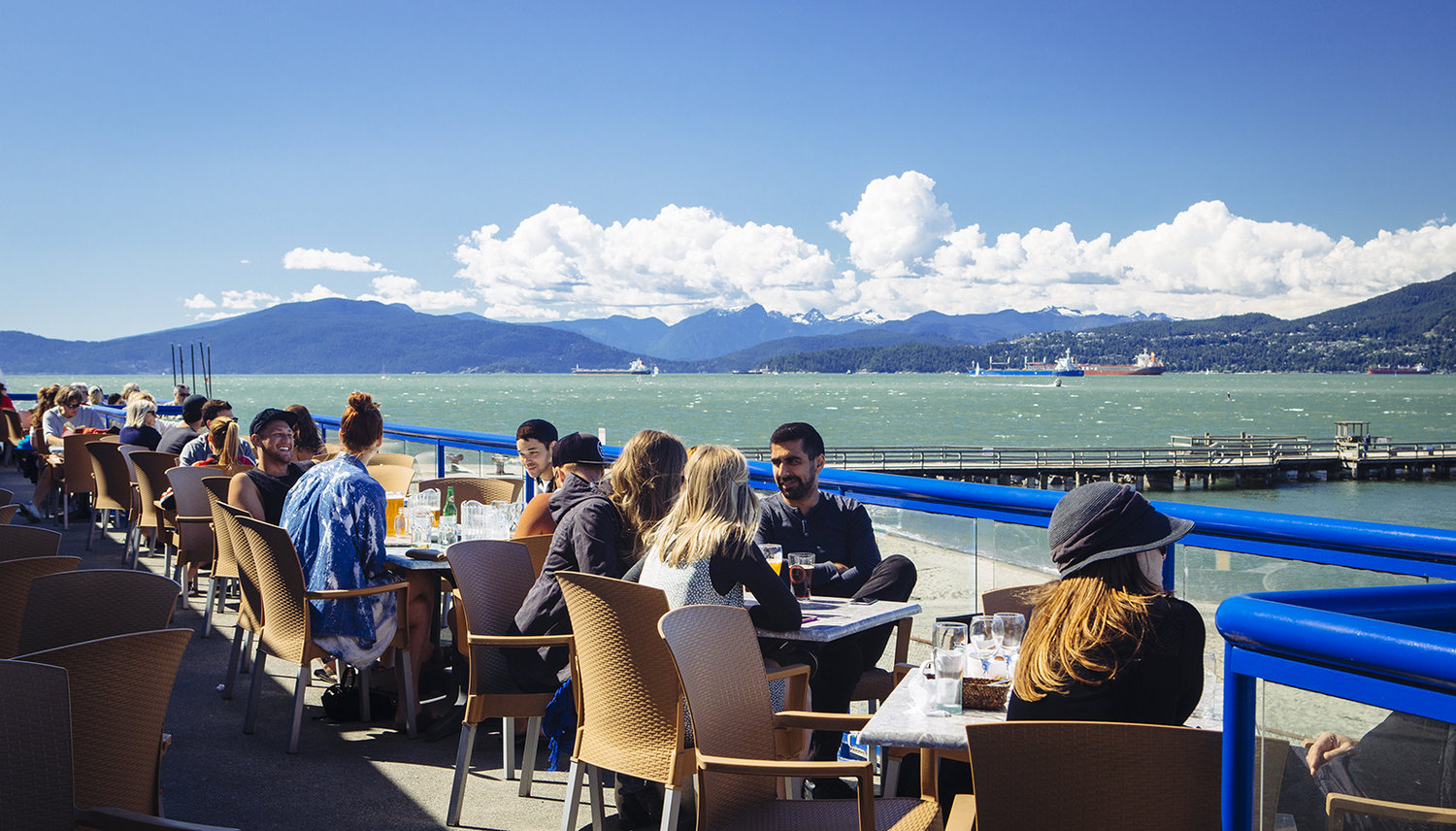 568 Beatty St., Vancouver, BC
For a more urban feel, check out Chambar.  The red brick restaurant, in the shadow of Rogers Arena, offers up a vibrant cocktail scene. Happy Hour named "Interlude" runs Monday-Friday, 3-5 pm. making this the perfect place to grab drink before a concert or Canucks game or simply enjoy a succulent meal from award-winning chef, Nico Schuerman's kitchen.
Patio Cocktail: Zenzero Spritz (Ginger infused Bianco vermouth, sparkling wine, soda)
601 Stamps Landing
The Mahoney & Sons mini chain has scored a pretty primo piece of real estate with their Stamp's Landing location.  The faux Irish decor flourishes can be forgiven when sitting on the expansive patio overlooking False Creek, Cambie Street Bridge and the City Skyline.
Patio Cocktail: Irish Rose (Strawberries, muddled mint, gin and pink lemonade)