The blur of Dine Out is behind us so we can sit back and more carefully contemplate all our fair city has to offer in terms of new (or nearly new) eating establishments.  Despite the demands and challenges of running any hospitality venture, and restaurants in particular, Vancouver's foodie entrepreneurs are continuously putting themselves out there so that we can enjoy some of the most innovative, beautifully prepared cuisine in the world –and to this we say THANK YOU!
Here are a 5 new places worthy of a visit:
Chef Lucais Syme and Dustin Dockendorf decided to close their critically-acclaimed Cinara in late 2018 in order to launch a second version of their Main Street success – Autostrada -in its place.  The old Cinara location will offer a slightly bigger menu than the OG Autostrada thanks to a larger kitchen and the option of alla famiglia-style sharing plates plus a vast selection of cicchetti (Italian nibbles and small plates).  Visit either the busy original on Main or the newly opened downtown one for some of the best, classic Italian fare in town.
Address: 350 W. Pender 
Phone: 604.428.9694

 @autostradaosteria
Inspired by numerous trips to Spain, founders Shaun Layton, Frankie Harrington (co-founder of very successful Meat& Bread) and Justin Witcher, set out to celebrate their love affair with tapas culture on the corner of Main & 7th in the beautiful Ellsworth building. ¿Como? is Spanish for what or huh but is often used as an expression what's happening? Well, this place is definitely happening. Enjoy classic Spanish fare like shisito peppers,  croquetas de jamon (ham & cheese balls), and a personal fave, Galician Octopus.  And then wash it down with a brilliant selection of Spanish beer, vermouth and cava ON TAP. Alternatively, there's a great wine list featuring the best of Rioja, Penedes and Ribera del Duero plus  premium gin and tonics.  Buon Provecho!
Note: We loved their use of the Waitlist Me app that let us know when a table was ready. The neighbourhood is teeming with local breweries like Brassneck where you can bide your time 'til summoned.   
Address: 201 E. 7th
Phone: 604.879.3100

  @comotaperia
The TopTable Group – the restaurant powerhouse behind the likes of Vancouver institutions like Blue Water café, Cin Cin, and West has opened a steak and seafood house in the old Milestone's location in Yaletown. The space has been transformed by New York's award-winning Rockwell Group into a stunning example of good design featuring thoughtful, elegant lighting, natural woods, blue tile treatments, creamy leather seating and much more – a welcome departure from typical steakhouse decor. The menu features an excellent tartare and oyster selection in addition to an incomparable selection of meat cuts from 8 different producers from across Canada. Trust us, Yaletown's new steakhouse will not disappoint.
Address: 1109 Hamilton St.
Phone: 604.362.5443

 @elisasteak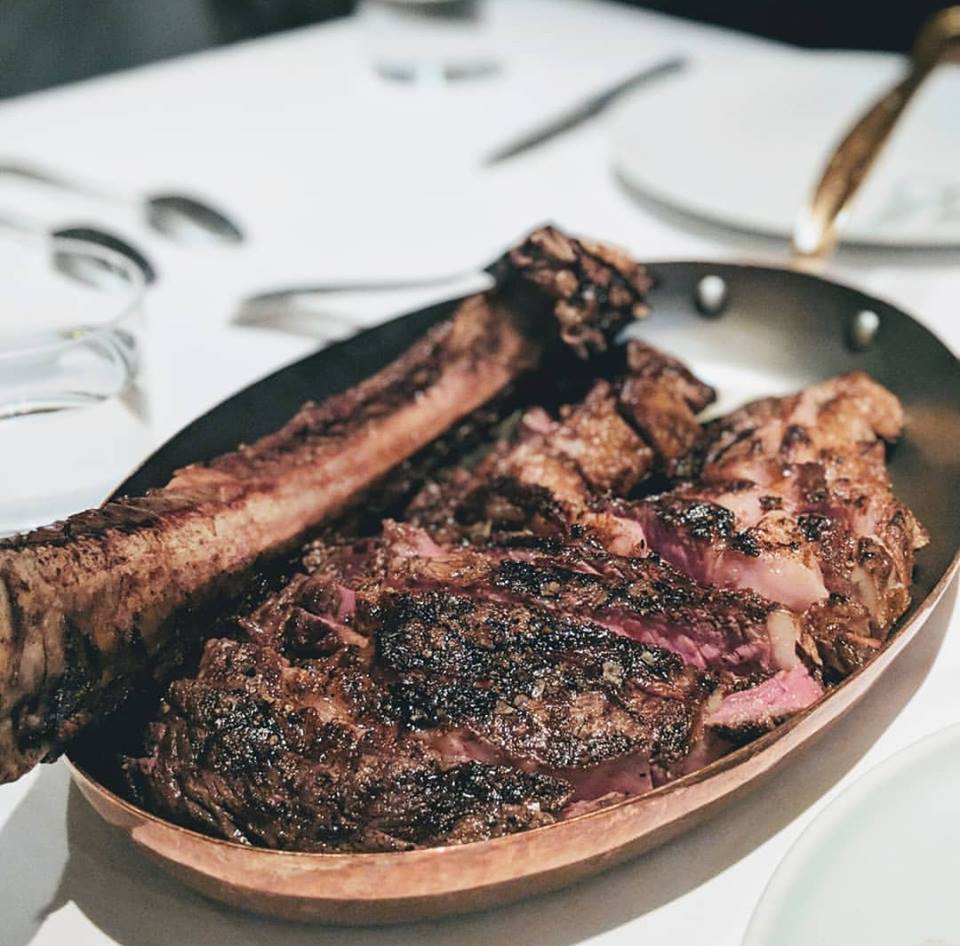 Aptly named 'Ocho', this Mt. Pleasant taqueria marks the eighth establishment in this BC-based mini chain of restaurants. It features a 100 seat dining room, a warm, accommodating U-shaped bar and a menu designed by Tacofino's very own Michelin-starred regional Executive Chef Stefan Hartmann.  The difference here is the stone charcoal grill which is central to the menu selections. Less focussed on tacos, at Ocho you can enjoy the pure, smoky flavours of food prepared on the open grill like grilled romaine, roasted corn, char roasted pacific shrimp and whole rockfish for example.  There is also a take out counter for those in rush (burritos are highlighted). Another step up and away from the chain's humble food truck beginnings, Ocho is already a buzzy destination for fresh, innovative Mexican food.
Address: 8 E. 5th Ave.
Phone: 604.709.0015

 @tacofinovan
Just steps away from Liv.Rent's offices, a sleek new French/Medietrranean restaurant awaits.  Verre, at the North end of Denman, boasts an interior inspired by a jewel-box and a 24 seat patio just waiting for spring to arrive. With Chef Liam Breen's modern European creations like parmesan-crusted veal chops or classic duck confit cassoulet and views looking out over Coal Harbour and North Shore mountains, Verre is set to take off in the coming months.
Address: 550 Denman St.
Phone: 604.428.4843

 @verreyvr
This is only the tip of the iceberg but it is a good start to your 2019 culinary adventures!